Turkey may soon have its own analogue of the "foreign agent" status. The country has prepared a bill according to which additional requirements will be imposed on the media receiving funding from abroad. The draft document, developed by the Nationalist Movement Party (MHP), states that all structures carrying out "information and investigative activities" that are supported from abroad should have a "special status" in Turkey. Individuals and organizations with this status must be clearly identifiable.
In addition, all media structures that directly or indirectly receive funding from abroad will be required to register their representative, who will have to regularly submit a report on the activities of the media to the Turkish Ministry of Internal Affairs.
Today, about 95 percent of Turkish print and television media are controlled by structures that are close to the ruling Justice and Development Party (AHP). The pressure on the rest – independent – media in Turkey has grown in recent years. Opposition forces publish their materials primarily on alternative platforms such as Mediascope, Mezapotamiya News or T24.
Turkish President Recep Tayyip Erdogan and Devlet Bahceli, Chairman of the MHP Party
These media do not have a large budget and often receive financial assistance from abroad, both from private and public funds. To the Turkish government's displeasure, such support often comes from Europe. The new bill could make these sources of funding unavailable.
Fines for "foreign agents" for failure to comply with conditions
Foreign platforms or media that do not register their representatives in Turkey or refuse to contact the Ministry of Internal Affairs may face a criminal penalty of two to five years or a fine of about one million lira. Feti Yildiz, vice chairman of the MHP party that developed the bill, said in an interview with DW that the document is only about transparency: "Our goal is to find out who is doing what. There are organizations and individuals who only receive money under the guise free speech oppose government. "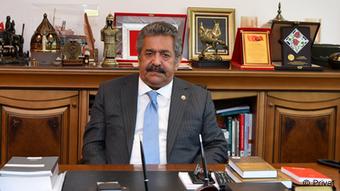 Feti Star
The bill will not affect major media outlets that carry out international broadcasting, such as the BBC and DW, because their funding sources are known and transparent, Yildiz assures. But there are foreign media outlets that are only interested in spreading criticism of the Turkish leadership. "We are trying to prevent this. But we are not talking about restricting freedom of the press in the country," says the party's representative.
And Fahrettin Altun, Public Relations Director under the President of Turkey, spoke about the bill: "We will take all necessary steps as soon as possible to protect public order and ensure the right of our people to real news and truthful information."
Journalistic organizations, meanwhile, talk about the dangers to press freedom. Renan Akyavaz, Turkish coordinator of the International Press Institute (IPI), told DW that he is now trying to gather more information about the bill by speaking with MPs: "The proposal of the MHP party is a real threat to the media … We are very concerned … destined for the continued existence of independent journalism. But we will resist that. "
"This has nothing to do with freedom of the press."
Yusuf Kanli, vice president of the Turkish Journalists Association, points out that foreign-funded media platforms regularly provide financial reports to Turkish institutions: "What is happening now is an attempt to stigmatize journalists who receive funding from abroad. a hot topic, it has nothing to do with freedom of the press. And of course we cannot accept it. "
Esra Kochak, head of the Turkish journalism association in Ankara, is also alarmed by the situation. It is no secret that the MHP and AKP parties use every opportunity to increase pressure on the press: "People decide for themselves whether they want to receive news from abroad. The government knows this and is trying to block these channels and intimidate them with fines." The association will fight to ensure that funding for independent media does not stop and that journalists receiving foreign funding are not called "foreign propagandists."
The pressure on independent media in Turkey has grown in recent years. Since October last year, the Turkish government has tightened control over Internet content through Law 5651. According to the document, the authorities ordered Internet platforms, which have more than a million users, to open representative offices in Turkey. If they don't, telecom operators have the right to reduce the speed of access to these platforms by 95%.
See also:
.