Google's web browser includes hidden experimental features. We have selected for you the 10 best ones to improve Chrome.
You may not know it, but Google's web browser comes with a number of hidden features. To test future functionality that will be integrated into upcoming updates to its web browser, Google integrates it into its browser, but without activating it.
The Mountain View company hides Chrome's experimental functionality in a secret menu that only insiders know about. In response to the name of the tags, these functions can in some cases add very practical new features to the browser. However, if some of them end up integrating natively into stable versions of Chrome, others disappear without a trace on browser updates. If you read this article several weeks after it was written, Google may have removed some of the tags.
Anyway, Chrome still includes dozens of these "flags" under the hood. We have reviewed them and selected the ten best browser boosting ones for you.
How to access the flags and how to activate them?
The way to access and activate tags is always the same. All you have to do is open a tab in your browser and go to the following address: chrome://flags .
After you locate the flag you're interested in, simply click on the associated drop-down menu and change the value from Default to Enabled. The third option, Disabled, as you can imagine, allows the flag to be deactivated. It also sometimes happens that other options are offered, with specific parameters.
Finally, after activating the flag, you must click the Restart (literally "restart") button to restart the browser so that the modifications made are taken into account.
Top ten flags for google chrome
1- Activate reading mode
As strange as it may sound, Chrome does not offer a reader mode natively. If you don't know what it is, know that Reader Mode allows you to view the content of a web page in a new layout. Fully exposed, it allows you to focus on the essentials: reading the content.
To enable reader mode simply search for enable reader mode or go to chrome://flags/#enable-reader-mode .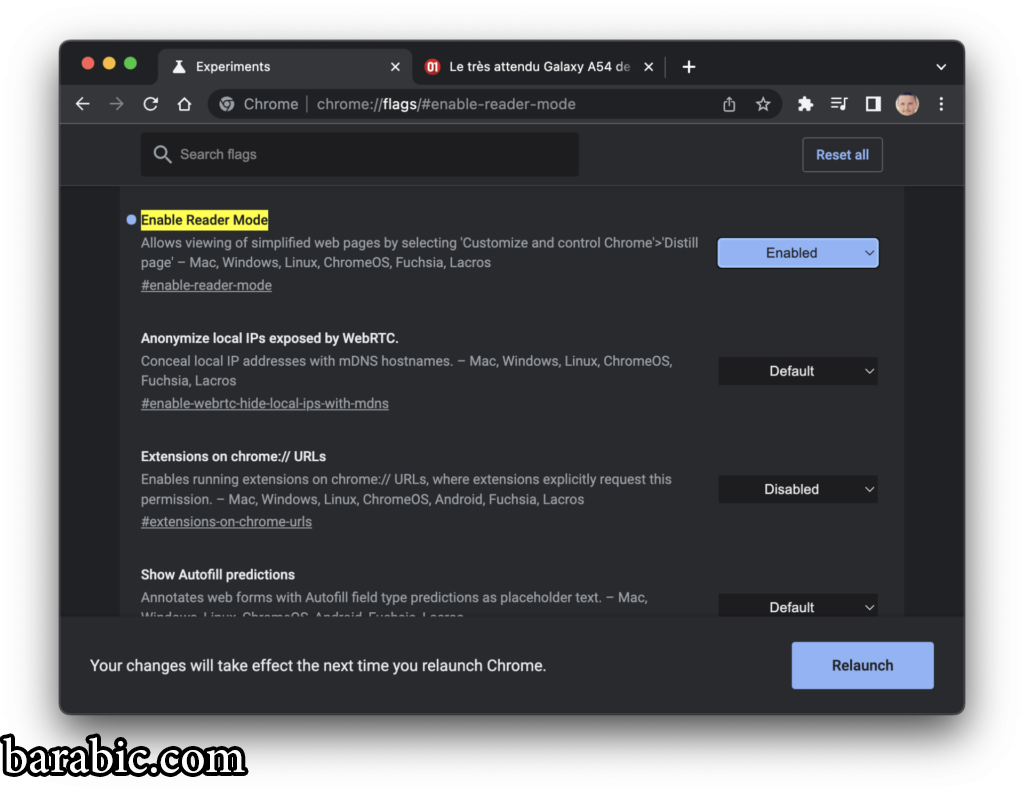 After restarting Chrome, the book icon should appear in the address bar when you visit a compatible site. Clicking on it will allow you to view the content in reader mode.

2- View all dark theme websites
Would you love to be able to view websites with a dark theme? Google Chrome is fully capable of forcing the use of dark mode on your favorite sites. To do this, simply activate the Auto Dark Mode flag for web contents, at: chrome://flags/#enable-force-dark.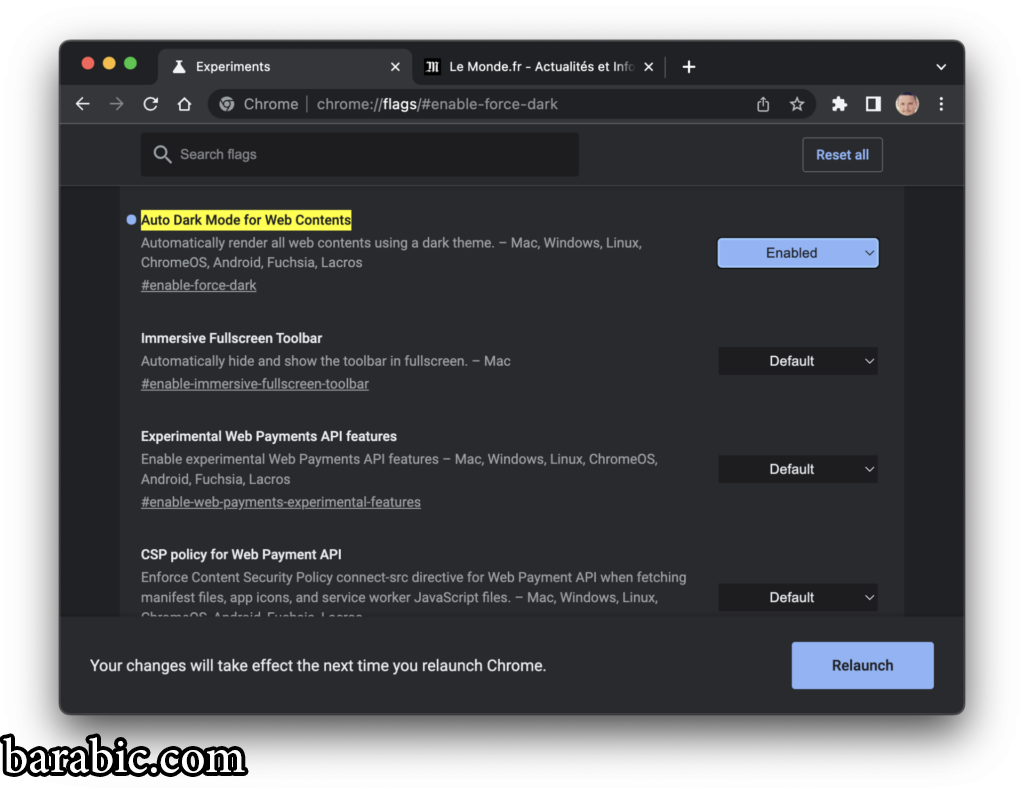 Websites that use a light background should automatically switch to the dark theme.

3. Accelerate file downloads
If you happen to download large files and your internet connection isn't always at its best, you can tell Chrome to speed up a file's download by splitting it into several parts.
To do this, find the parallel download flag, or go directly to chrome://flags / #enable-allel-download, and enable it. Future downloads of large files should be significantly faster.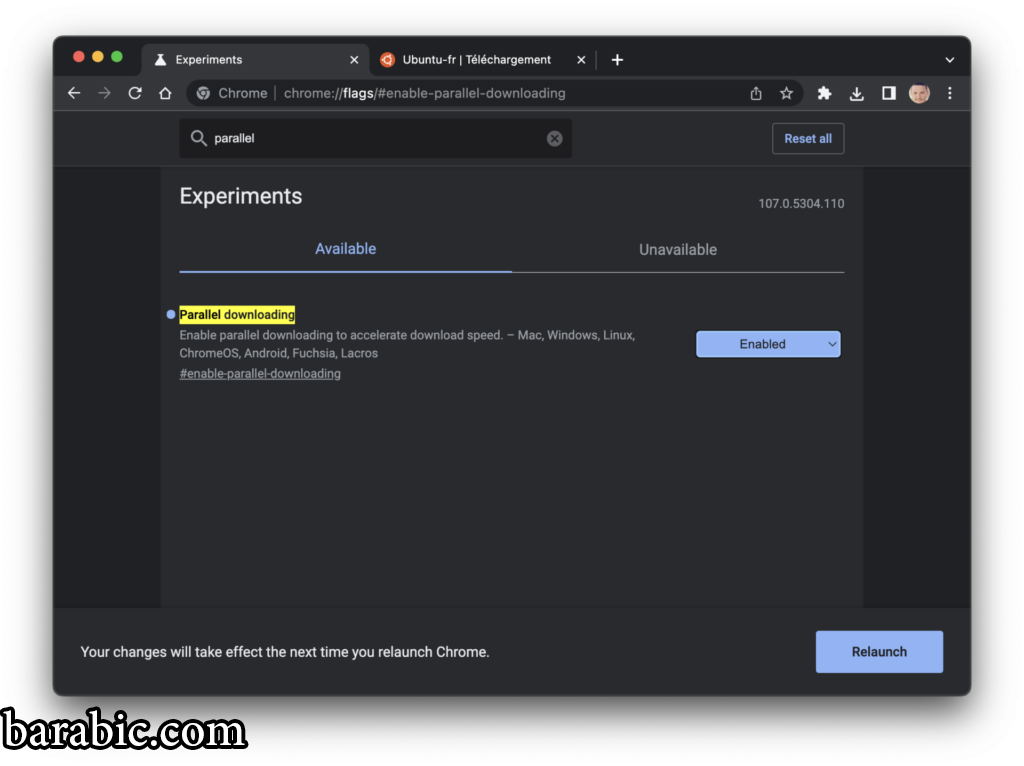 4. Enable the touch navigation interface
If you've been using Chrome on a touchscreen device, you may have noticed that it wasn't always easy to use the various buttons and navigation menus. However, Chrome has a dedicated interface for touch, but it is not available by default.
To enable it, find the Touch UI Layout flag or go to chrome://flags/#top-chrome-touch-ui to enable the custom flag.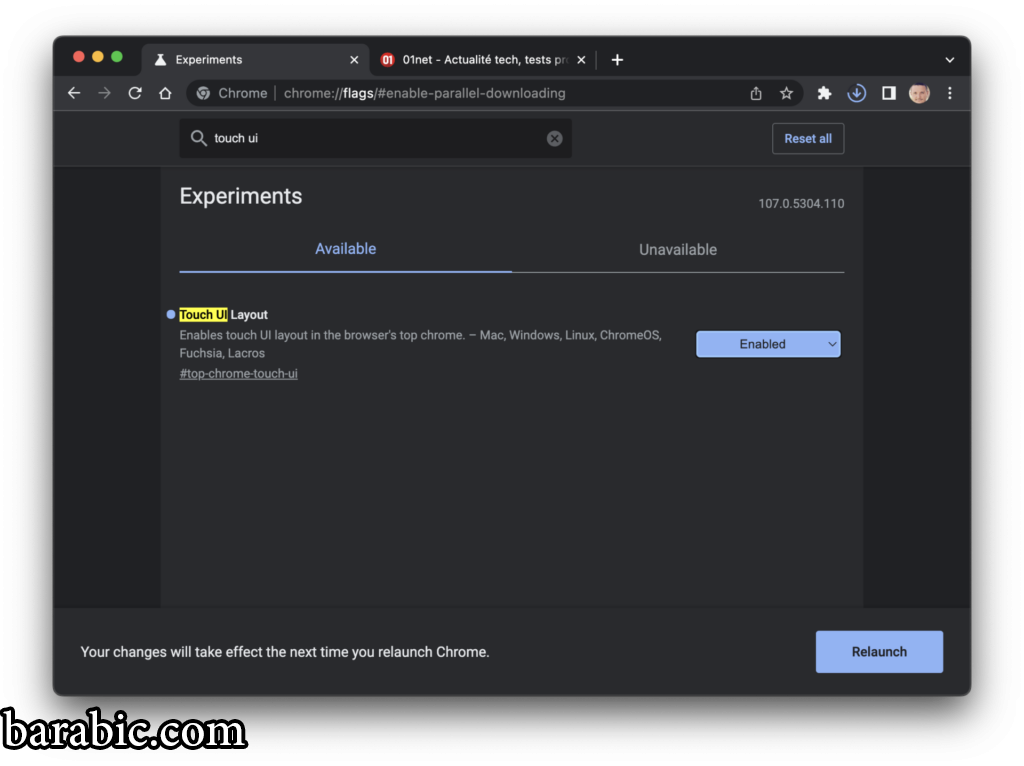 After restarting Chrome, the various buttons on the interface should have taken up a small amount of volume.
5. Import your passwords
Have you been using Google Chrome for a while and not all your passwords are saved there? It is entirely possible to import Keychain Access into a Google web browser. Provided, of course, that you have the import option activated. Because if Chrome is natively able to export the passwords it stores, it doesn't offer to import them locally.
To fix this, you can search for the password import flag, or go directly to chrome://flags/#password-import to enable it.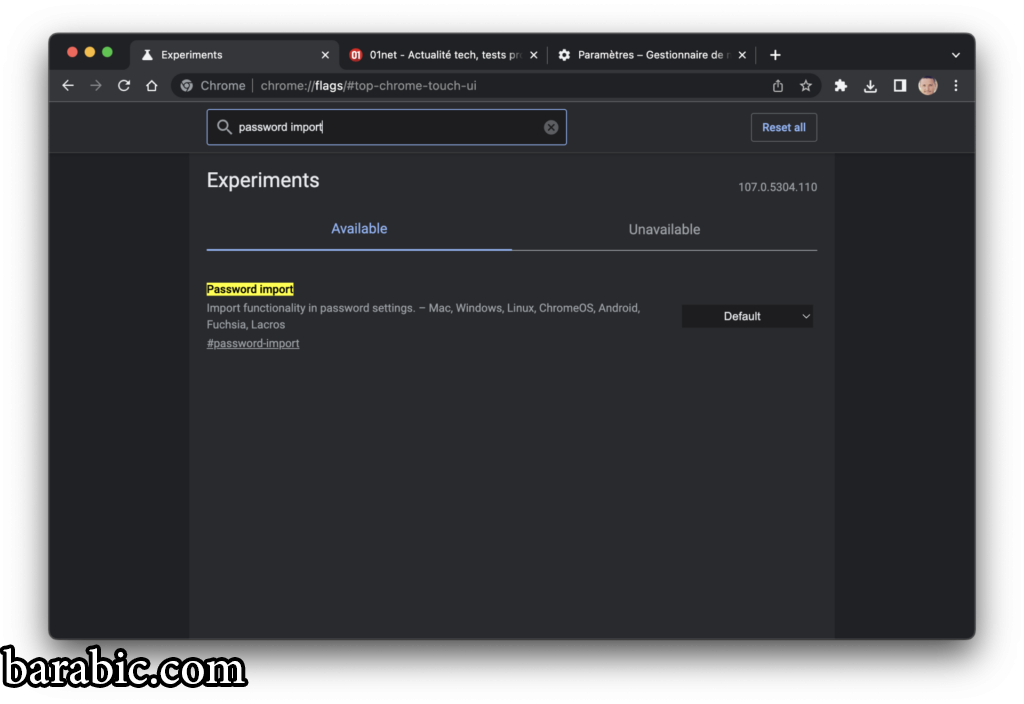 After a clean Chrome restart, your list of saved passwords should include a new option to import an existing keychain.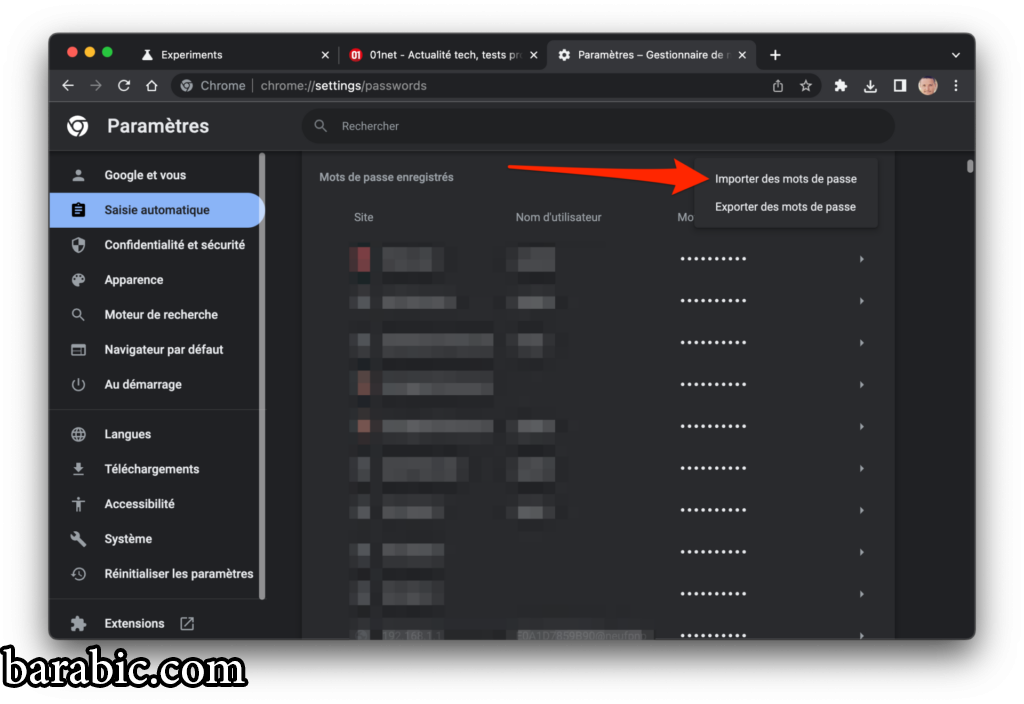 6. Preview tabs
By default, Chrome does not preview the contents of open tabs. A sad bubble with only the name of the page and website is displayed. However, you can search for the Tab Hover Card Images flag, or go to chrome://flags/#tab-hover-card-images to enable it.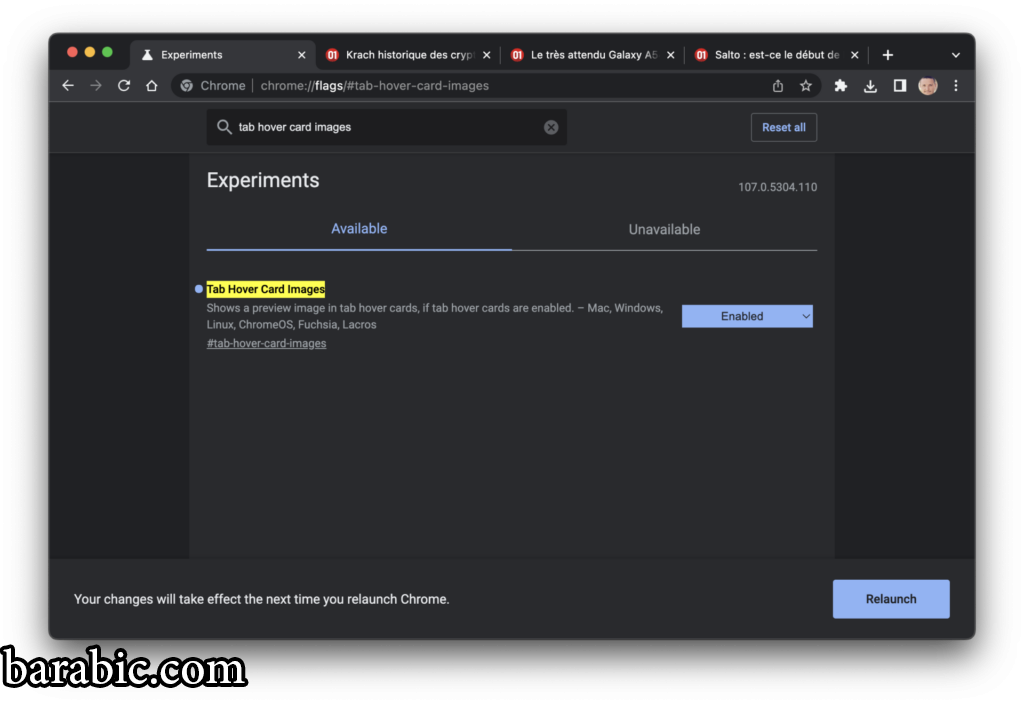 After restarting Chrome, by hovering over a tab with your mouse, you will see a thumbnail of the respective page.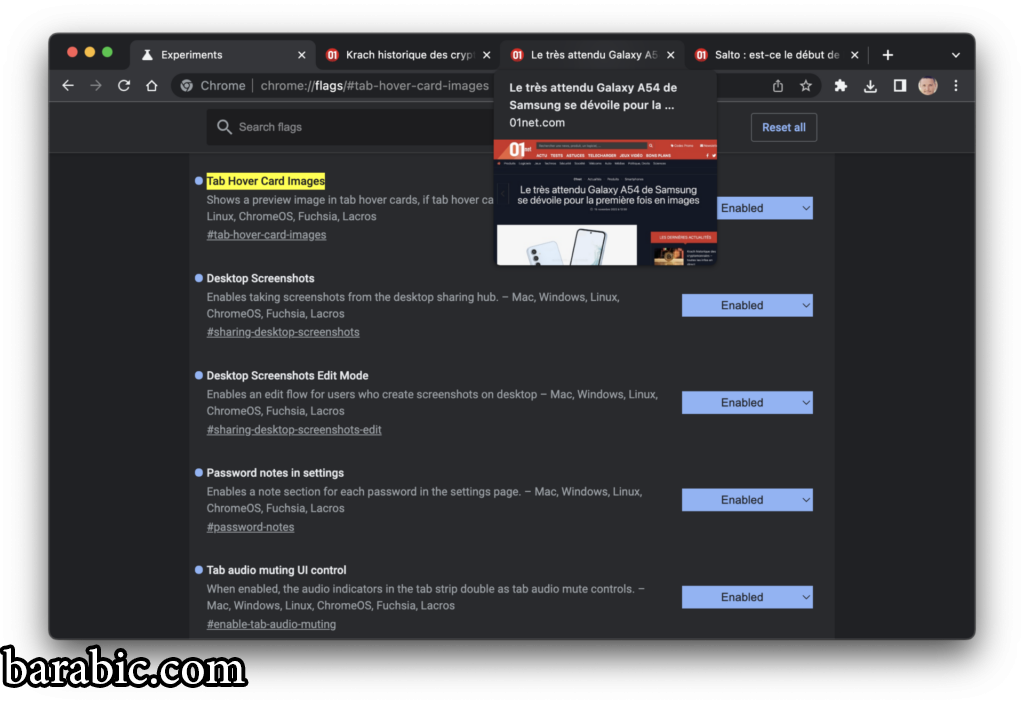 7. Activate the screenshot module
If Firefox had a screenshot module for a long time, that's not the case with Chrome. However, Google seems inclined to integrate one into its browser since many tags are for it. Just search for desktop screenshots and activate the two suggested tags: desktop screenshots and desktop screenshots, edit edit.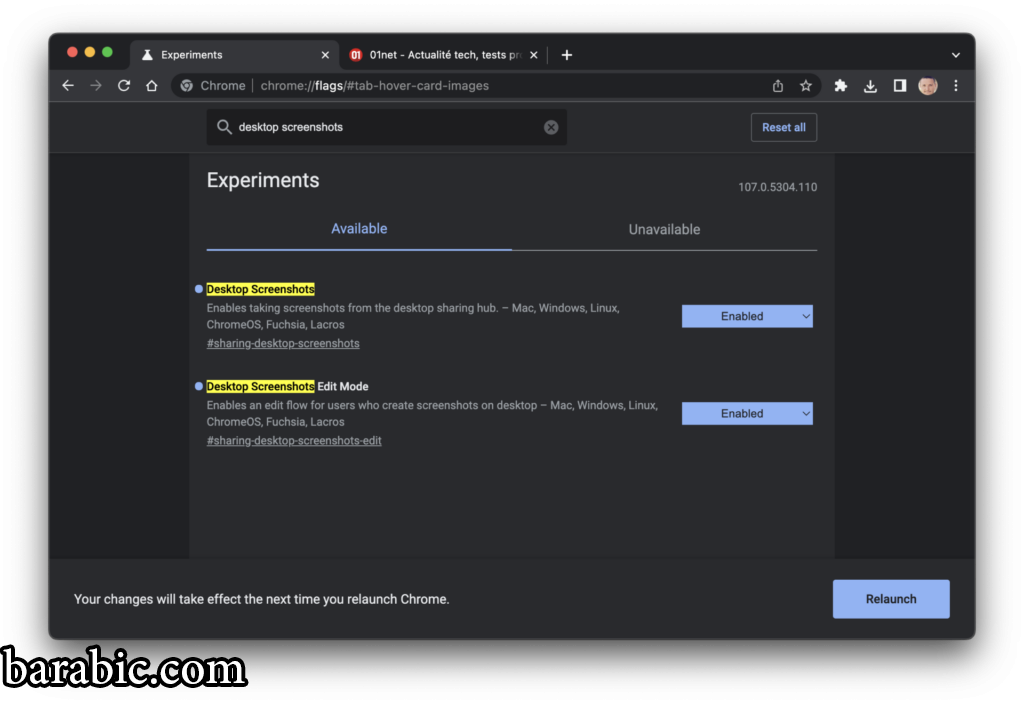 After restarting Chrome, go to the page you want to capture and click on the share button displayed in the browser address bar. You should find a new screenshot option there.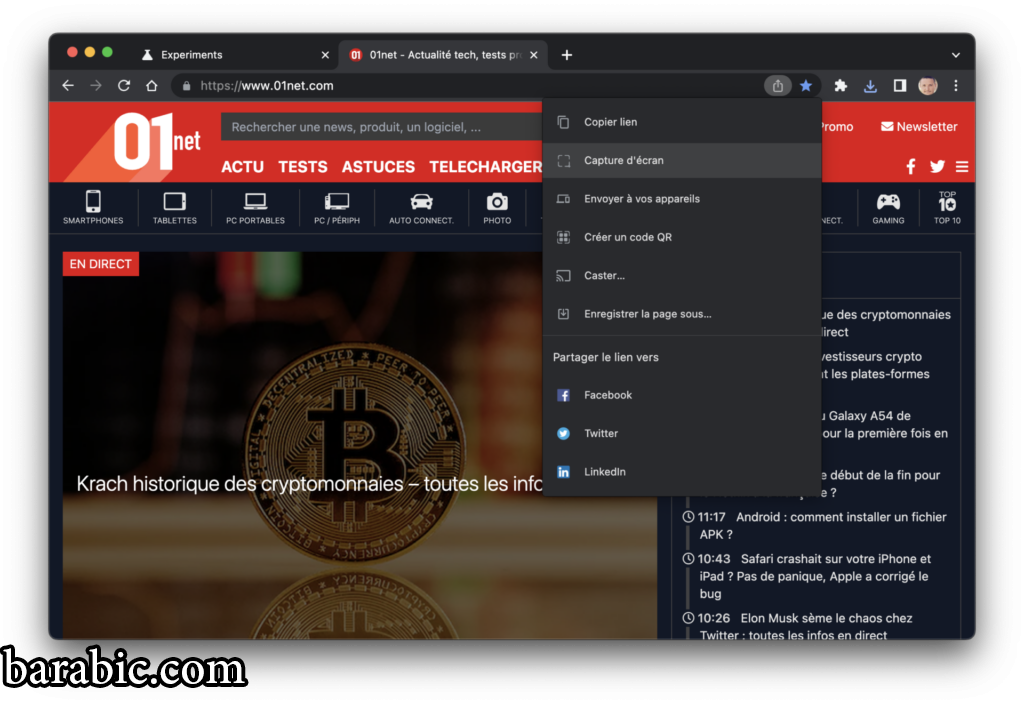 After selecting the area of ​​the web page to capture, you will be presented with two options. You can choose to download or edit the image in Chrome's built-in screenshot editor.

8. Add a button to save your tab groups
Do you frequently use tab groups in Google Chrome? Instead of having to reopen them every session, it is possible to save them so that Chrome can easily reopen them the next time you open them. To do this, find the Groups Save tab or go to chrome://flags/#tab-hover-card-images to activate the custom flag.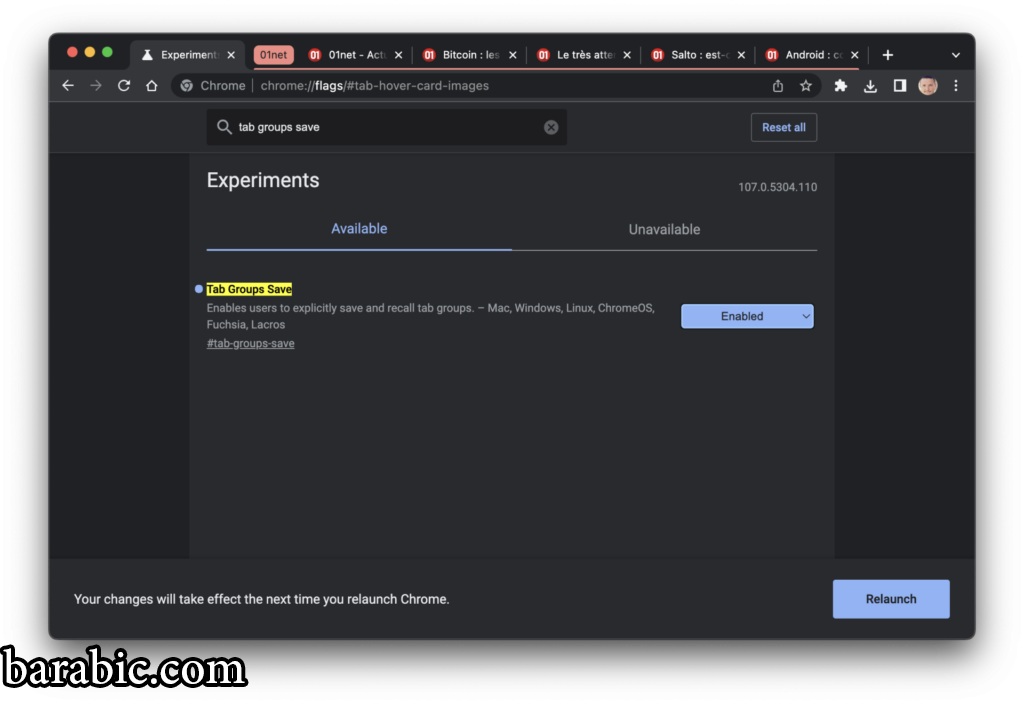 Now, when you right-click a tab group, the option to save the new group should be available.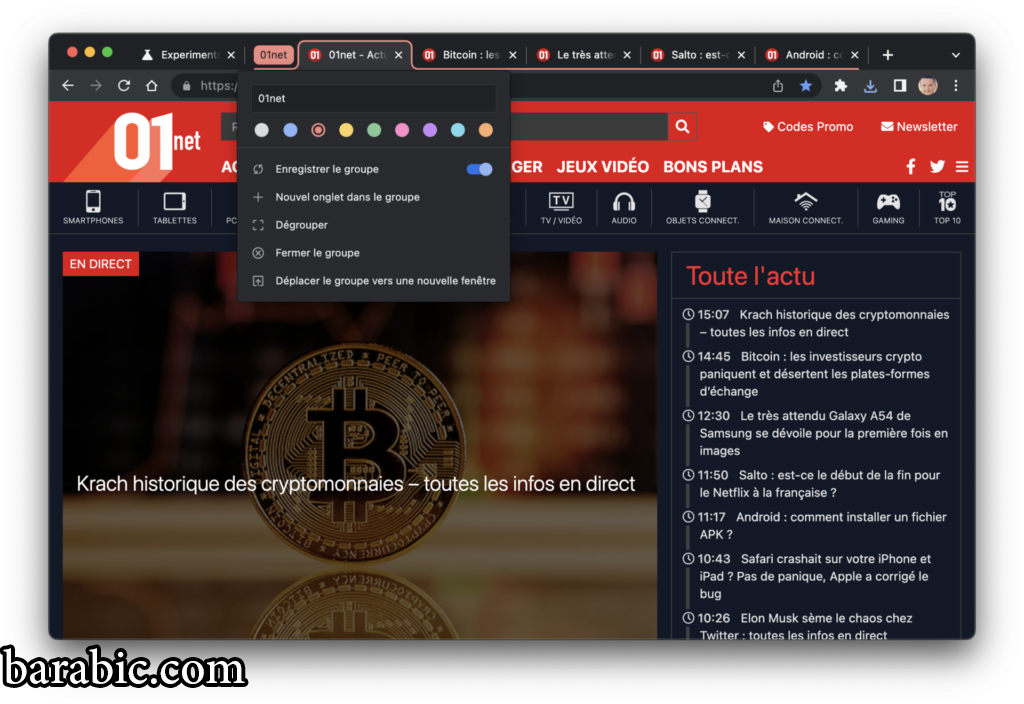 9. Add notes to your passwords
When you save a username and password in Chrome, there may be times when you need to attach a rating or comment to it. Unfortunately, Google's web browser does not offer this type of option. At least not officially.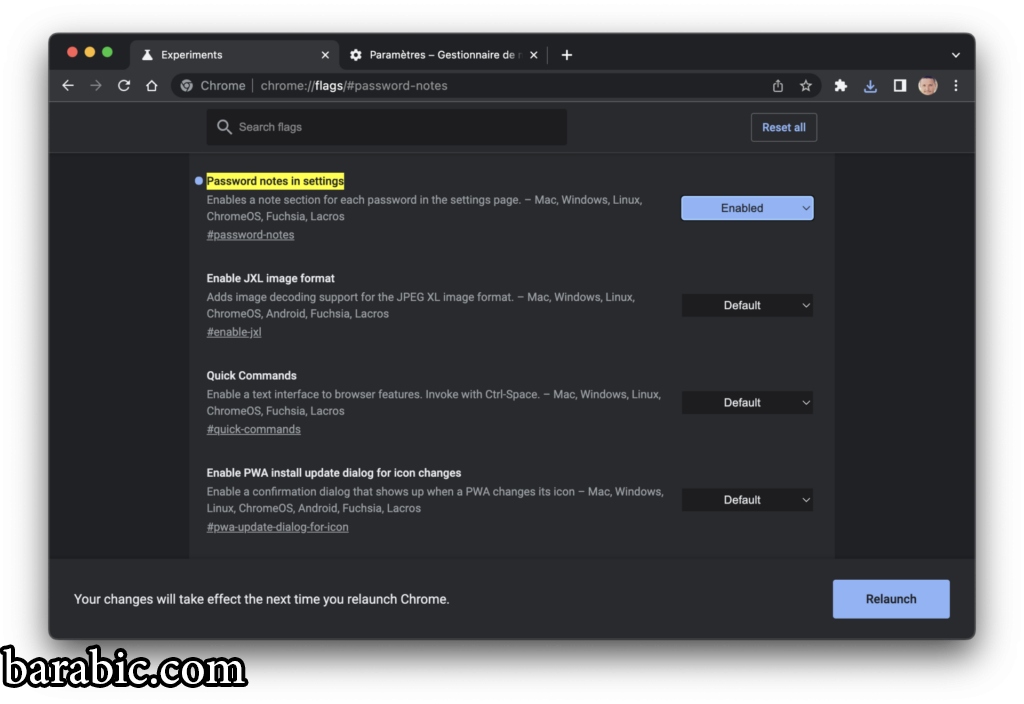 On the other hand, if you look for the password notes flag in Settings or if you go to chrome://flags/#password-notes to activate the appropriate flag, the password-modify window will embed a new field in which you can add a comment.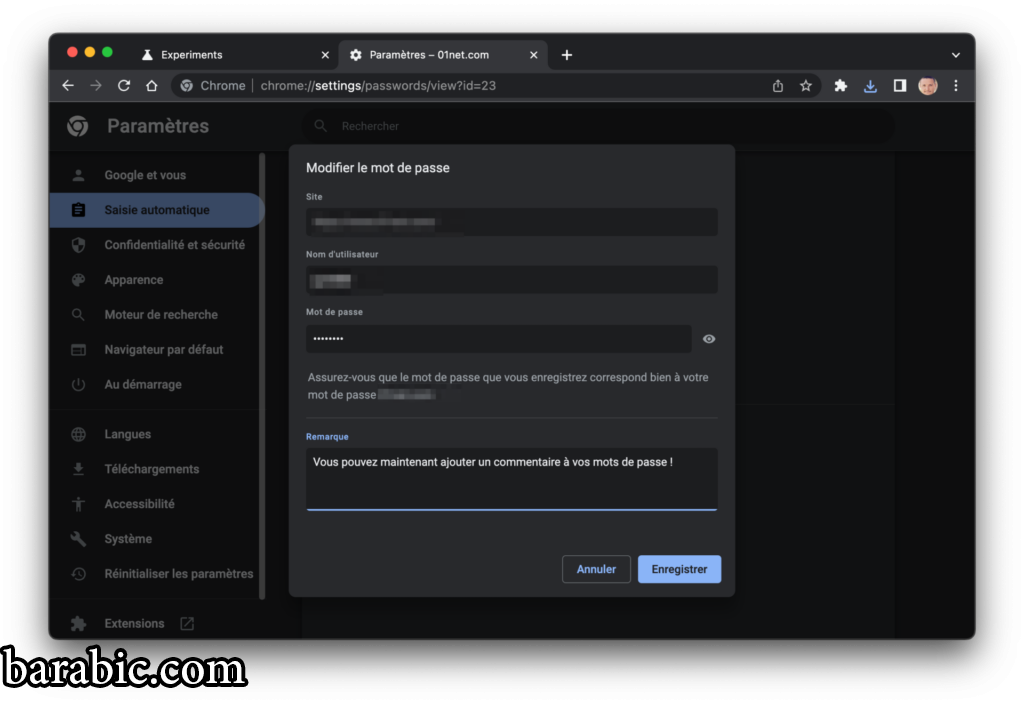 10. Improve scroll smoothness
If you are using Chrome on a Windows PC and find that the screen lacks fluidity when scrolling through a page, there is a hidden option to improve this.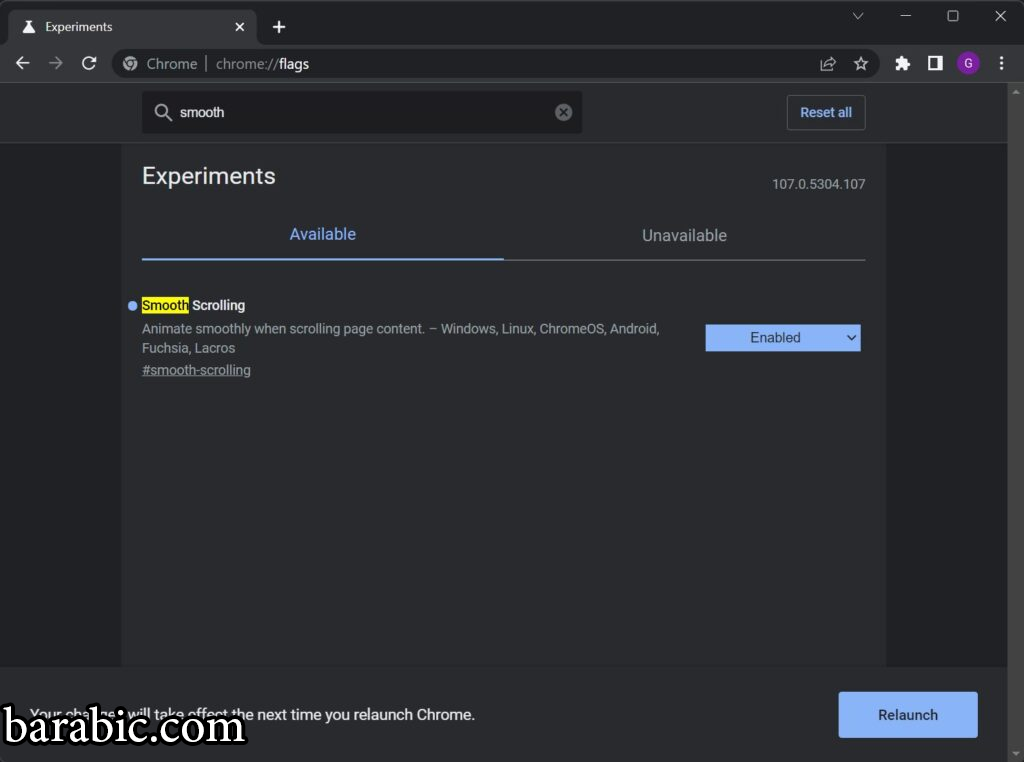 The flag to be enabled, which is only available on Chrome for Windows, can be found by searching for the term smooth scrolling, or by going directly to chrome://flags/#smooth-scrolling. After restarting your browser, scrolling through your web pages should, in principle, be much smoother.
Source / 01net.com