Earlier in 2019, "Green Brendan", known as the "Unknown Player", who is considered the godfather of the famous battle royale game "PlayerUnknown's Battlegrounds" or known as PUBG, announced his departure from Krafton, the company that developed the famous game, to build a development team. He's new to working on a new game project called Prologue.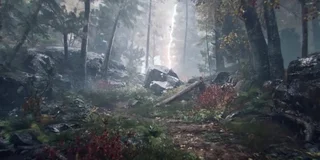 A breakthrough in the world of games
Prologue is expected to be a technological leap in the world of electronic games that takes the world of video games to fairy levels, as Green stated that the new game will be one of the categories of games that allow players to move realistically within the game world, as well as interact with the surrounding environment, where the player stumbles and uses Natural and logical tools to achieve goals, and fight for survival through real elements.
Everyone calls the game, which is expected to be released soon, as a living example of the interaction of the gaming and entertainment world with the Metaverse technology, and the exploitation of the tools of this world to create a more realistic experience and give people advanced doses of fun.
Green seeks to create a vast virtual world larger than any game the game industry has witnessed until now, and this world is the size of an entire planet, through which a huge and huge number of players can interact and enjoy inside it, and from here it turns out that this game will be more like a world within the Metaverse technology, and it will be It has its own economy of supporting blockchain technology and non-fungible tokens (NFT).
According to the developer's statements, the Prologue will take place on an area of ​​64 kilometers by 64 kilometers, which is an unprecedented space for a video game environment, in which it creates terrain resembling European forests, and through which it will present a realistic weather system, which means that the new game will be a technical introduction to the final project. Artemis", the largest multiplayer game that offers a map the size of an entire planet.
PUBG competition
Although Green left the company that developed the game PUBG in 2019, the features of the serious game began to appear in 2021, and it is expected that during the coming period more details will be provided about the "Artemis" project, in general, and the new game in particular, with the identification of target platforms.
Here, it should be noted what the parent developer company did a few months ago, in the context of competing with Green, where "Krafton" revealed a hyper-realistic virtual human, a character she called Ana, which means that the new development in the famous PUBG game will be based on On the world of metaverse and Web 3 simultaneously, the company has also hinted that it will rely on non-fungible tokens (NFTs) and blockchain technology in its reward system backed by cryptocurrencies, which is an unexpected shift for PUBG.