The author of the synagogue at the site of the massacre of Jews during the Nazi occupation in Kiev, architect Manuel Herz spoke in an interview with DW about how the unique building was created and how he managed to embody the hope and beauty of life on the site of one of the worst tragedies in history. humanity.
DW: The book-shaped synagogue at Babi Yar is an example of transformative architecture. Is this your unique style?
Manuel Herz: This can hardly be called my special stylistic device. In my work, I concentrate on the task and argue what an architectural solution could be, taking into account a specific place and everything connected with it. Therefore, a transformative architectural project was created for the construction of a synagogue in Kiev.
Babi Yar is a place where an unthinkable number of murders were committed, where the earth is literally soaked in blood. It is important that our response to the annihilation of more than a hundred thousand people is not architecture that calls for silence, but architecture that embodies their polyphony and engages us. Especially in Babi Yar, where almost 34 thousand people were shot in two days, and tens of thousands more in the next few weeks. Each of the killed wanted to live. This is why I aimed to create polyphonic in architectural form. It was the impulse that later led me to the idea of ​​an object in the form of a transformative book that opens up a new world.
Of course, the building has a memorial value, but not only. Let me emphasize that this is a synagogue that should live and urge us to look to the future. For the first time in decades, a building has appeared here, and it is wonderful that this is a synagogue. Because this is how we start with life, not death.
– How did it become possible to embody semantic metaphors in the material?
– During the construction, we used the wood of century-old oaks from different parts of Ukraine, which makes the building all-Ukrainian. It reminds of the wooden synagogues of Western Ukraine and Poland. Due to its fragility, wood is practically not used in memorial architecture. But it is precisely because of its ephemerality that it encourages us to take care of the building with care and love every day.
We have developed a hand-painted vault design, where individual elements refer to the painting of wooden synagogues of the 17th and 18th centuries. For example, to the Gvozdetskaya synagogue, richly decorated with floral ornaments. The image of the night sky with stars-flowers on the ceiling repeats their location over Kiev, as it was on September 29, 1941. And we, looking at this beautiful hand-painted painting, at the same time imagine the starry sky that the Jews saw shortly before the execution. This is how beauty is connected with the theme of death, and this is how the synagogue is connected with a historical place and event. And here the synagogue celebrates life and its beauty.
– The concept of Ilya Khrzhanovsky, artistic director of the Babi Yar Holocaust Memorial Center, has often been criticized. Is it fair?
– What I really appreciate about Ilya is that he dared to undertake a project that was an incredible challenge both technically and in time. The construction of the synagogue from the first discussion to its practical completion took only six months.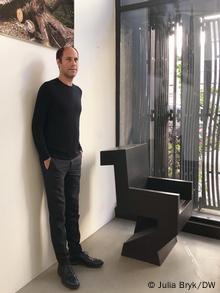 Manuel Herz
We must be extremely careful with the legacy of Babi Yar. I think one of the many lessons we need to learn is that national identity should never be defining. It is impossible to reduce everything to some kind of label – "Jew", "Israeli", "Russian" or "Ukrainian". We are all too complex and multifaceted. What can I say about myself? He was born in Germany, lived for many years in England and the USA, and for 15 years in Switzerland. I am Jewish, but I do not go to synagogue every week. Which shortcut is right for me? No.
– You teach a lot and give lectures all over the world. What will the architects of the future be like?
– I look to the future with optimism and rejoice at each new generation of architects. We are one of the last generalists, and must understand different topics: from statics and building law to sociology, history and philosophy. That is why self-confidence, intelligence and curiosity are so important for an architect.
– Today the younger generation in different countries is concerned with the problem of climate protection. How can architecture contribute?
– We can do a lot. The construction of residential buildings, their heating, cooling and, as a result, their demolition take from 30 to 40 percent of all energy consumption. Using environmentally friendly materials, we must create buildings that will consume a minimum of energy. How to redesign buildings so that they do not have to be demolished, or at least how to extend their service life? We have a lot to rethink.
– How actively do modern architects use new technologies? What is the role of artificial intelligence?
– Of course, we use digital technologies every day. For example, for geometric calculations of the position of the sun and cast shadows, which are almost impossible to calculate manually. However, my wife and I love to repeat: "We remain un-AI-able" (play on words: "unable" from English "incapable" and "AI" Ed.). We want to do what an artificial intelligence system can never come up with. Sometimes you ask yourself: "How did it just come to mind?" That's the beauty of it, we don't know it.
See also:
.