In the last 4 to 5 years, the Indian team has performed poorly in T20 matches only at the T20 World Cup. That I had never seen him play so badly before BCCI Chairman Saurav Ganguly Said for the first time.
At the T20 World Cup in the United Arab Emirates Indian team Super 12 came out round. They have not lost to Pakistan in the World Cup so far Indian team It lost to Pakistan for the first time, lost to New Zealand and missed out on the semi-final. Only Namibia, Scotland and Afghanistan as puppies Indian team Won.
Led by Virat Kohli Indian team The run rate of the other teams and the success or failure of the other teams were in jeopardy as they were looking for a chance to advance to the semi-finals. But nothing happened
At the T20 World Cup The performance of the Indian team Was severely criticized by various quarters. Former players and fans have been critical of the Indian team's performance on social media. But, BCCI Chairman Saurav Ganguly Only have not yet commented
In this case, on a show on a private channel BCCI Chairman Saurav Ganguly Interviewed. Then he said:
To be honest, the last 2017, 2019 Champions Trophy, World Cup in England Indian team Performed better. We lost to Pakistan in the final of the Champions Trophy at the Oval. We beat all the teams in the World Cup in England in 2019 and lost to New Zealand in the semi-finals 2 months of hard work was wasted.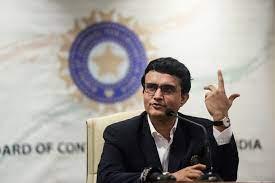 But, at the T20 World Cup Indian team The way it was played hurt me so much. As far as I can see in the last 4 to 5 years Indian team I think playing in the T20 World Cup was the worst.
I do not know what the reason is. But, I think the Indian players did not play in this World Cup with enough freedom. Sometimes this can happen in a big series. I saw this situation in the matches against New Zealand and Pakistan. The Indian team played showing only 15 per cent of their talent. This is why it can sometimes be said that something like this happened for some reason
Thus said Ganguly.
.