Last Updated : 09 Aug, 2022 10:23 PM
Published : 09 Aug 2022 10:23 PM
Last Updated : 09 Aug 2022 10:23 PM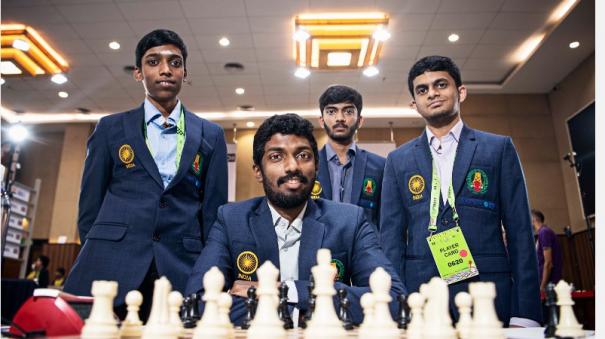 The ongoing Chess Olympiad series has been going well in Tamil Nadu. Let's take a look at the teams that have won various medals and awards including gold, silver and bronze in this series.
The Chess Olympiad series started on July 29 and concluded on August 9. Around 1,736 international players and players participated in this series. Let's take a look at the teams that won medals in the Open and Women's categories.
Open Division
Uzbekistan's 20-year-old Nodirbek Yakubov, 16-year-old Zavogir Sindarov, 20-year-old Shamsidin Vokidov and 27-year-old Jahongir Vakidov won gold in the open category. It has also been reported that the Hamilton-Russell Cup has been awarded to the top finishers.
Armenia's Sarkisian Gabriel, Melkumian Hrant, Petrosian Manuel and Hovhannisian Robert won silver.
Indian 'B' team Gukesh, Sarin Nikal, Pragnananda and Sadwani Raunak won bronze.
Women's Division
In the women's category, Ukrainian team Maria Musychuk, Musychuk Anna, Ushenina Anna and Buksa Natalya won the gold. The first place team in this category has been awarded the Vera Mencic Cup.
Georgia's Dzagnidze Nana, Patsyashvili Nino, Javakishvili Lela and Arabitse Mary won silver in the women's team.
Koneru Hampi, Vaishali, Thania Sachdev and Kulkarni Bhakti of Indian Women's 'A' team won bronze in this category. The team was also awarded the Nona Kaprintashvili Trophy.
Apart from this, medals have been awarded to the best players in the individual board category.
Don't miss out!