During the pandemic, many in Germany continue to work remotely, but office space and production facilities are not empty. And with the coronavirus vaccination campaign, firms have hope for more or less normal workdays. To do this, employers need to know how many vaccinated there are in their team. And here is the catch.
Health status – hidden information
Health issues are personal, and employers in Germany have limited access to them. Germans take personal data protection seriously. Therefore, employers have the right to receive, process and store such information about employees only if it is necessary for the implementation of the employment relationship. When employed, the employee must provide the address of residence, contact information, bank details, and the name of the insurance company. Of course, it is important for an employer to know about his education and professional experience.
For the employer in sick leave, a separate sheet with encrypted data is assigned
At the interview, the applicant may also be asked about specific health problems, but only if it is impossible to carry out activities related to the position with them. Roughly speaking, a chemical laboratory worker may be asked about allergies to certain substances. The same applies to people with physical or mental disabilities. General questions that are not directly related to the vacancy can be ignored. And after employment, in case of illness, the employee is not obliged to inform his boss about his reasons – this information is encrypted on the sick leave. Only if there is an infection that can be dangerous to others in the workforce, the boss should be notified – as is the case with the coronavirus. If an employee cannot notify the boss and the team himself, the epidemic service will do it for him.
Vaccination data is a controversial issue
Information about vaccinations for a German employer was also banned earlier. Only for hospitals and private medical practices there were special rules: there, the authorities had the right to request information from the staff about the presence of antibodies to a particular pathogen. But against the background of the spread of the "delta" variant of the coronavirus, in early September, the government coalition in Germany agreed to expand the list of information provided to the employer. In the future, employees will have to inform employers about their vaccination status or natural immunity after covid if they are employed in institutions where there are many people at the same time at risk of the disease – in nursing homes, kindergartens, schools. Corresponding changes must be made to the law on epidemiological protection after the Bundestag has voted for them. The new rules will remain in effect while Germany has a national epidemic regime introduced in March 2020.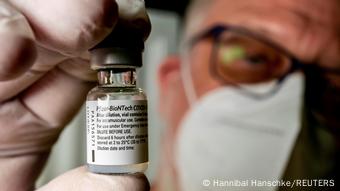 To be vaccinated or not is a private matter in Germany
The issue of informing the employer about the status of vaccinations has grown into a political debate. Health Minister Jens Spahn is confident that the new regulations will make work processes safer. He would not even mind the wider application of innovations without reference to certain areas and would introduce a duty to inform about the vaccine, for example, in collective offices. On Spahn's side are patient advocacy organizations and German business associations. But the Minister of Labor of the Federal Republic of Germany and the trade unions are opposed. Their argument: if this is allowed once, then it can go into other areas. "And then suddenly they want to know from you not only about vaccinations, but also about other diseases, as well as whether you regularly go to preventive examinations," Maike Finnern, head of the union of education workers and science GEW.
In Germany, there is no universal compulsory vaccination, vaccination is voluntary. The employer cannot force it to do, but he must ensure protection against infection in his organization. And he is free to decide what to do with those who flatly refuse to get vaccinated. For example, an unvaccinated specialist may not be allowed access to a seriously ill person, he may be transferred to a department where there is less contact with employees and clients, or he may be ordered to have more frequent antibody tests. In this regard, workers fear social pressure.
In other countries: no vaccination – no work?
How do other countries deal with this problem? In neighboring Denmark, it is difficult for an employer to obtain data on whether an employee has a vaccination or immunity. The relevant law allows rare exceptions. In France, medical workers who are not fully vaccinated will be sent on unpaid leave from 15 September. And in the areas of gastronomy, hotel business, entertainment services and public transport, the employer must now control a special QR code from employees, which is issued in case of vaccination, negative test result for SARS-CoV-2 or in the presence of antibodies after illness.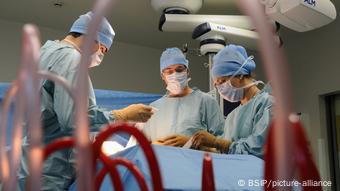 Vaccination of medical personnel becomes compulsory in France
In Spain and the UK, firms have the right to ask employees about their vaccination status. In addition, in the UK, from November, nursing homes will only be able to work with vaccinations. Compulsory coronavirus vaccination for all health care workers has been introduced in Italy. In the United States, an employer can prescribe vaccinations to employees, which was used by the giants Google, Facebook, McDonald's. Some states mandate vaccinations for certain occupational groups, such as California for teachers.
Up-to-date measures to protect employees
While some in Germany are in favor of universal compulsory vaccination, there are no plans to introduce it yet. To protect employees working in offices and factories, employers, in addition to hygiene measures, are required to provide an opportunity for free express testing at least twice a week. Free medical masks are also included. The regulation on occupational safety (Arbeitsschutzverordnung), updated in connection with the pandemic, also prescribed the reduction of contacts in the team.
In addition, firms are required to inform staff about vaccination opportunities and to take them off the job for vaccination. These are the requirements for employers throughout Germany. And in some federal states additional rules apply. For example, in North Rhine-Westphalia and Saxony, employees returning to work from vacation after at least five days of pause are required to present a negative coronavirus test result or vaccination information.
See also:
.