The government order that has been issued to hand over 2,152 hectares of tea plantation lands belonging to the Tamil Nadu Tea Plantation Corporation (Tandee) to the Forest Department is now a matter of discussion.
The announcement has created fear and confusion among workers. Opposition parties including AIADMK and BJP have opposed the decision of the Tamil Nadu government.
AIADMK MLAs Amul Kandasamy and Pon Jayaseelan protested in Valparai against the decision to hand over Dandee land to the forest department.
Speaking at the demonstration in Kudalur, BJP state president Annamalai said, "If the Tamil Nadu government is unable to run the Dandee Institute, let the central government do it."
The trade unions have also been demanding a review of the decision to return Dandee lands.
In this situation, BBC Tamil conducted a field study to find out about the controversies that have arisen around the Dandee company.
What is Dante?

The Tamil Nadu Tea Garden Corporation, owned by the Tamil Nadu government, was established in 1968 and has been operating for more than 50 years.
Workers from other towns of Tamil Nadu are also working in Dandee, a company specially started for Tamils ​​who have returned home from Sri Lanka.
Dandee is operating in 4,431 hectares in eight divisions in Valparai in Coimbatore district and in Coonoor, Kotagiri, Madhuvattam, Serambadi, Serangode, Nellialam and Pandiyar in Nilgiris district. The factories owned by Dandee are operating in six zones. The teas picked from the plantations are graded here and taken to the market as tea powder. 3,800 workers are employed in Dandee plantations and factories. In this situation, the Tamil Nadu government had issued an ordinance on October 3. Accordingly, Dandee, which is running under severe financial crisis, has recommended several cost-cutting measures to bring about reforms in the company. It has announced that 2,152 hectares of land owned by Dandee Company will be handed over to the Forest Department. In this, the plantations operating in Valparai and Madhuttam Division are to be completely handed over to the Forest Department. The government says that it will hand over to the forest department only the areas with low productivity, abandoned areas and high levels of wildlife conflict.
What do workers say?
Dandee employs 3,800 workers. More than half of them are women. Male workers work in factories and gardens, spraying fertilizers and weeding. Most of the women workers are involved in picking tea in the garden. After registration at 8 am tea picking starts. One hour lunch break in the afternoon. Each person has to pick an average of 50 kg of tea per day. The plucked teas are weighed in the evening and credited to the account of the workers. Sunday is a day off. Indrani has been working in Pandiyar Division Tea Estate for the past 25 years. Her family is running on Indrani's daily income of Rs 350.
"I have been living here since I got married. My husband is dead. For 25 years, the family has been running on my income. In this, everything like study cost, medical cost should be considered. My son has no job. Our successors should be given jobs in Dandee. "If we close Dan Dee, we will have no other livelihood," he said.
What does Dante say?

According to the rules, tea estates should have 1.7 workers per hectare. But at present only 3,319 people are working in Dandee plantations where 7,094 workers are required, the decree says. Venkatesh, managing director of Dandee, says that the reason for the current loss is that there are not enough workers to work for Dandee and the continued decline in the Indian tea market.
Speaking to BBC Tamil, he said, "The next generation of tea plantation workers do not like tea plantation work as they study and go for other jobs. It is true that there is a shortage of workers. At the same time, the Indian tea market continues to decline internationally. Private tea companies are not profitable. So we are looking into how we can work effectively with the existing workers," he said. Tea produced in Dandee is auctioned through brokers. This is the reason for Dandee's financial crisis and loss, and the unions say that Dandee should do direct marketing. Managing Director Venkatesh refutes the allegation, saying, "National Tea Board rules state that 90% of production should be marketed through brokers. Those streets cannot be crossed. "Dan Tea works under the rules of the Tea Board," he said.
Workers looking for permanent employment
Paramaguru, who works at Pandiyar Estate, says that Dandee should continue to operate by giving permanent jobs to temporary workers. "We came here from Sri Lanka when I was five years old. I have been working here for 43 years. It is because of our efforts that Dandee has been running for so many years. But today's news that Dandee is closing down is troubling. They say there is a shortage of workers but there are temporary workers who want permanent work. They should be given jobs and continue to run Dandee," he said. According to Dandee rules, if you work continuously for 480 days, you will be given permanent employment. But workers do not come to work regularly. Venkatesh says that those who have completed 480 days of work and fulfilled the requirements have been given permanent employment.
Dandee Tea Estate is functioning in the mid-section of Ooty-Kudalur road. More than 400 workers are working here. The 483 hectare central plot is to be fully handed over to the Forest Department. The government has also announced that the workers in the closed units will be given voluntary retirement or transfer to other units. But the lack of proper notification and exchange of information from the Tan Dee management has raised concerns among the workers. This could be felt while talking to the workers working in the middle section. The middle estate, which was operating under the name of Cinchona, later came under the possession of Dandee. Ishwari started working at the age of 13. "I started working by tying my father's clothes. We have been working here since Cinchona. We are saddened to say that now the midstream division is suddenly closing down. We don't have any other town or any other profession except middle class. They say that they are going to transfer to other cities. We are in a state of uneasiness because of this," he said.
This is no different from the action of the central government
While Dandee is saying that there is a shortage of workers, the temporary workers should be given permanent jobs, says Sahadeva, the general secretary of Plantation Labor Liberation Front. Speaking to BBC Tamil, "It is not appropriate for the management to say that they will close down because there is no profit. There is no difference between the central government shutting down PSUs and privatizing them.
Dandee was born out of the labor of the workers. That is the only property of these people. If the management decides to give back the plantation lands to the forest department, it should be given separately to the workers. Two acres of land should be given to every family working in Dandee," he said.
But it is not possible, says Venkatesh, "Though the lands are in the possession of Dandee, according to the law, they come under the definition of protected forests. So if it is not in the possession of Dandee, it will be in the possession of the forest department. Land held on lease cannot be sublet. Therefore, according to the law, no one can claim this land," he said.
Forest department welcomes the decision
The Forest Rights Act does not apply to tea plantation workers. This is not the first time that unused land has been handed over to Dandee Forest Department. In 1990, Dandee had 6,496 hectares of land. Since 2012, 1,907 Hedcare lands have been gradually handed over to the Forest Department at different times. According to Dante administrators, the land conversion process is currently being carried out like that. Speaking to BBC Tamil, Kudalur District Forest Officer Kommu Omkaram said, "According to the law, they are forest department lands. Lands have been returned earlier for different reasons. The forest department will take a decision on what to do with such lands after a formal survey by experts," he said.
Forest department officials point out that more than 80 percent of the deaths due to human-animal conflict in the last 10 years in the Kudalur forest area have occurred in tea plantations. Forest inspector Ramakrishnan says that the re-allocation of unused land to the forest department is a welcome decision. Speaking to BBC Tamil, he said, "Kudalur is an area where there is a lot of human-animal conflict. Elephants take their places. Therefore increasing forest cover will help reduce conflicts. But it will be enough if the forest department is left as it is without any changes," he said. There are private tea estates and private estates around the Dandee estates. Sagadevan says that it is not clear how allotment of land to the forest department will help reduce wildlife conflict. The Tamil Nadu government has recently announced that housing will be built for retired Tan Dee workers. Dante Management is exploring ways to run Dante Management profitably through Ernest and Young. They are confident that the recommendations made after its report will enable Dante to become profitable again. Meanwhile, the workers in Dandee are fearful and anxious about their future.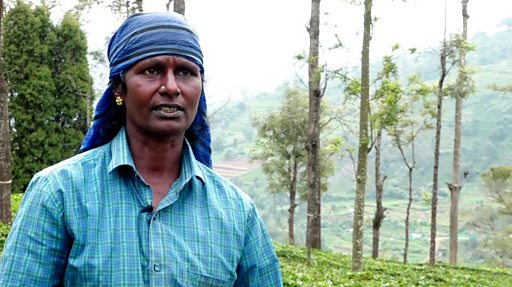 BBC Tamil on Social Media: