Three and a half years have passed since the first Boston Dynamics Spot videos invaded the networks, and just over two years since the American company began to market its robot dog. Since then this expensive $75,000 device has become very popular and has done many jobs, especially as a security element, checking critical infrastructure that is already a few years old, such as refineries or power plants.
There, Spot patrols in search of cracks, analyzes vibrations or constantly controls temperatures, he makes his rounds and checks that everything works correctly 24 hours a day, and, best of all, without anyone being in any danger.
It is clear that we are relatively close to consumer robotics, the moment in which we will go from having a few hundred 'Spots', to millions of them. Soon, we will see them as robots of service or company, or working in the industrial and military sector, these devices will be increasingly present in our society. Above all, thanks to the great advances in generative artificial intelligence, which will allow them to make decisions almost as if they were human beings.
From guides to weapons
For this reason, this year's Mobile World Congress had dozens of robot dogs roaming the congress. From the Huawei stand, where we could find a DEEP Robotics Jueying X20 wandering around. The Ghost Robotics Q-UGV of the Spanish company Alisys, which has been the result of controversy for showing photos with built-in weapons last year.
We also saw Tefi, from ITEFI (Institute of Physical and Information Technologies), belonging to CESIC, where he has been "trained" to act as a guide dog, capable of guiding a blind person down the street by simply indicating an address, trying to solve the problem. problem of the scarcity of their biological homonyms.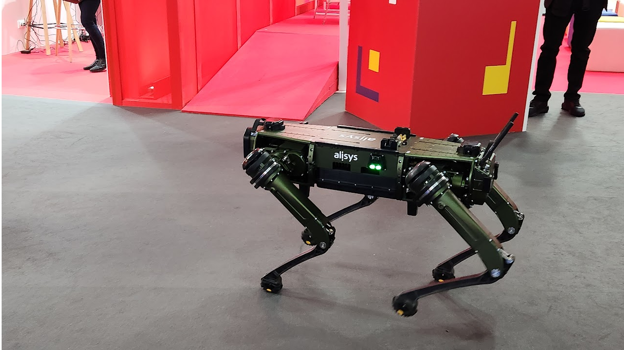 In addition, we find the Xiaomi Cyberdog, a low-cost, open-source robot whose objective is to serve as a platform for developers to train their artificial intelligence algorithms and find new solutions and products in the field of robotics. Priced at just $1,500 for the first 1,000 units in Asia, it wants to be an affordable research robot.
Boston Dynamics has pioneered the creation of robotic devices with its famous Spot and SpotMini. But, in addition to them and the companies that we have found at the MWC, others such as Sony, Agility Robotics or Alphadog, have also developed their own versions, each with different capabilities and features.
One of the great controversies of robot dogs is their use in the military industry. Although they are already being used to carry out dangerous missions, such as the detection of explosives and the exploration of hostile terrain, there is a great social rejection regarding the next step, the manufacture of automated weapon platforms.
Up until now Boston Dynamics controlled the robot dog market, and since they had pledged never to arm Spot, there was no danger of this happening, but with competition growing sooner or later we were going to see armed military versions, something that already happened last year. Even Russia threatened its own robot, which turned out to be a hoax. This same Monday, more than 30 countries signed a statement to prohibit the use of these platforms.
"The development of weapon autonomy is accelerating, and the growing application of new artificial intelligence and machine learning technologies is extremely concerning. These machines threaten to kill automatically, as if it were a technical task, and this poses human rights risks and humanitarian, legal and ethnic concerns. Autonomous machines will make life and death decisions without empathy or compassion," said Agnès Callamard, Secretary General of Amnesty International.