The Ministry of Education will approve in exceptional cases to shorten the school week to five days, due to the severe shortage of kindergarten teachers and teaching staff. In addition, it will be possible to shorten the study hours in special education by almost two hours. The decision was conveyed by the director general of the Ministry of Education in letters to the district administrators.
The crisis in the education system: "The shortage of teachers – harms the start of the school year"
The teachers union calls on politicians to intervene in the crisis in the education system
In response, the Ministry of Education stated that it is "turning every stone to give appropriate answers to the existing shortage of teaching staff. In light of this, it is taking a series of steps and actions, which so far have led to the reduction of the shortage from about 6,000 to about 2,000 for the coming year. With the continuation of the measures, it is expected to continue to decrease ".
It was further stated that "at this stage, the ministry is required to provide a specific response to cases in which the required manpower is not found in certain educational institutions. These responses will be given sparingly and after all options have been exhausted so as not to infringe on the children's right to receive appropriate educational services."
Last month, the Ministry of Education published the data regarding the shortage in the system, this in light of the guidance of the Minister of Education, Dr. Yifat Shasha Biton, and within the framework of the need to formulate a strategic national plan to deal with the shortage and improve the quality of teaching. According to the data, a total of 5,671 teachers are currently missing in the system.
Looking at the data, it appears that the kindergartens lack 117 kindergarten teachers, the middle schools lack 855 teachers, and the elementary schools lack a total of 2,351 educators. In addition, in the field of special education there is a shortage of 1,103 teachers and in the upper divisions the shortage is a total of 1,245. Looking at the data, it can be seen that there is a severe shortage of 1,495 educators and disabled people. In addition, 871 English teachers are missing in the system, 352 in mathematics studies, as well as 329 in the field of language and Hebrew.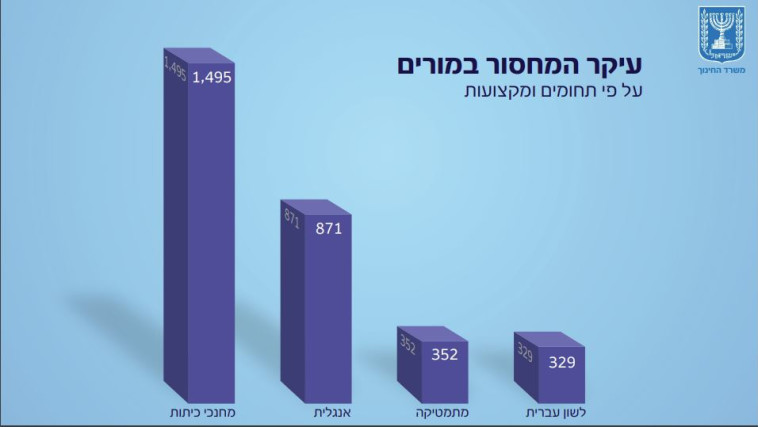 From mapping the shortage of teachers by district, it can be found that the Tel Aviv district is the most severe, with 1,847 teachers missing. There is a shortage of 1,642 teachers in the Central District, 457 in the Haifa District, and 340 in the Southern District. Other districts that can be found in the mapping are the North District, with 132 missing teachers, a shortage of 305 teachers in the Jerusalem and Manchai District, as well as 948 teachers who are missing in the settlement district.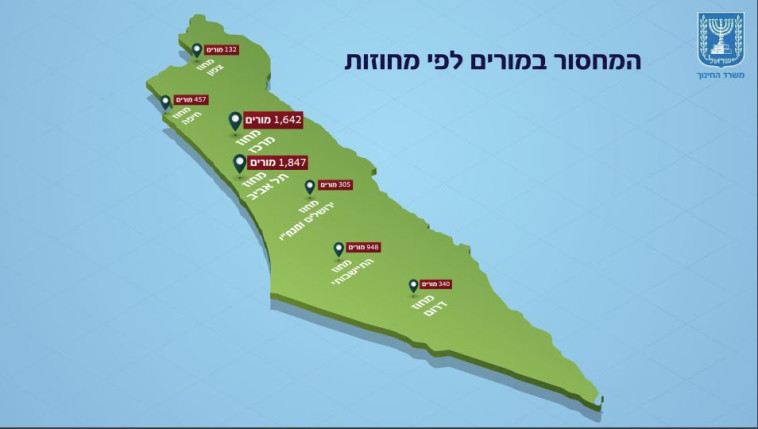 The head of the Teachers' Union, Yaffe Ben-David, responded to the data and issued a threat regarding the start of the next school year: "There are not enough teaching staff in the system." They run away from the profession because of the disgraceful pay and conditions. I call on the Prime Minister, Yair Lapid, and the Minister of Finance, Avigdor Lieberman, to wake up and come to their senses soon! If he doesn't sign a salary agreement soon – the school year won't start and the parents will know very well who is responsible for this dragging of feet."
In response to the data, the Ministry of Finance stated: "The data published today by the Ministry of Education emphasize the need for significant compensation for the young teachers, the possibility of personal contracts in popular professions and an agreement that will move the education system forward."
The Minister of Education, Yifat Shasha Biton, also responded to the alarming data, saying that "the data prove beyond any doubt that we are at the height of a serious manpower crisis that has intensified in recent years, endangering the future of the education system. The crisis is not localized, or in individual subjects, but comprehensive and deep In all the professions in the system."