"This is a very significant deal for us. It is a move that will do us a lot of good things in the near future, both in our development in Israel and abroad. The personal connection between us and the Phoenix was very special, and we are happy about the move, "Elias Tannos, CEO of the construction and real estate company Best, told Calcalist, after the deal was revealed in Calcalist, according to which the insurance company buys 20% of Best in exchange Of NIS 220 million into Best, at a value of NIS 900 million before the money and NIS 1.1 billion after that.
Read more in Calcalist:
This is one of the largest transactions made in the real estate market in recent years, a market in which Phoenix is ​​one of the most significant investment entities. Ben Simon and Chief Investment Officer Hagai Schreiber.
Although it is a family company, it is one of the largest construction companies in Israel. It is active in the field of construction, urban renewal and price per occupant, and it also has significant activity overseas, particularly in Canada.
Why were you even looking for a partner? As far as is known, the Phoenix is ​​not the only body that wanted to invest in you.
"We were not looking for a partner. We explored options for raising capital to invest in real estate in Israel and abroad and that's how the connection was made. We appreciated the level of interest the Phoenix has in the company. They wanted this connection so much, and that's what made us feel like Phoenix "The personal connection created with Eyal (Ben Simon, CEO of Phoenix – GH) helped a lot in closing the deal."
On housing prices: see no reason why they should not continue to rise. There is no quick fix. The state needs a five-year plan "
Your company has worked alone all these years and has developed nicely even without partners.
"We are a very liquid and strong company. We have very large projects so the next step requires a capital jump. To date the company's activities have been done through its family and capital. A team like the Phoenix can get us to our goals faster."
Best's agreement with Phoenix becomes more interesting when you remember that Best has a partnership with one of Phoenix's competitors, Menora Mivtachim Insurance Company. A year ago, a cooperation agreement was signed between Best and Menora Mivtachim Real Estate, which has already spawned several projects such as housing for rent in Canada, an office project of 40,000 square meters in the Galilee landscape and a partnership in a commercial center in Nazareth. Tannos says that "with Menora Mivtachim we have established a framework of cooperation for the establishment of income-producing properties in the country. The fact that we have an agreement with the Phoenix does not mean that we will not continue cooperation with other entities."
Best was founded by the father of the family Badie Tenos about 50 years ago. About four years ago, at the age of 75, he died, and his four children took over the company. Elias serves as CEO, and Sim is the VP of Assets, Ala leads the company's operations in Canada, and Radir manages the contracts and engagements.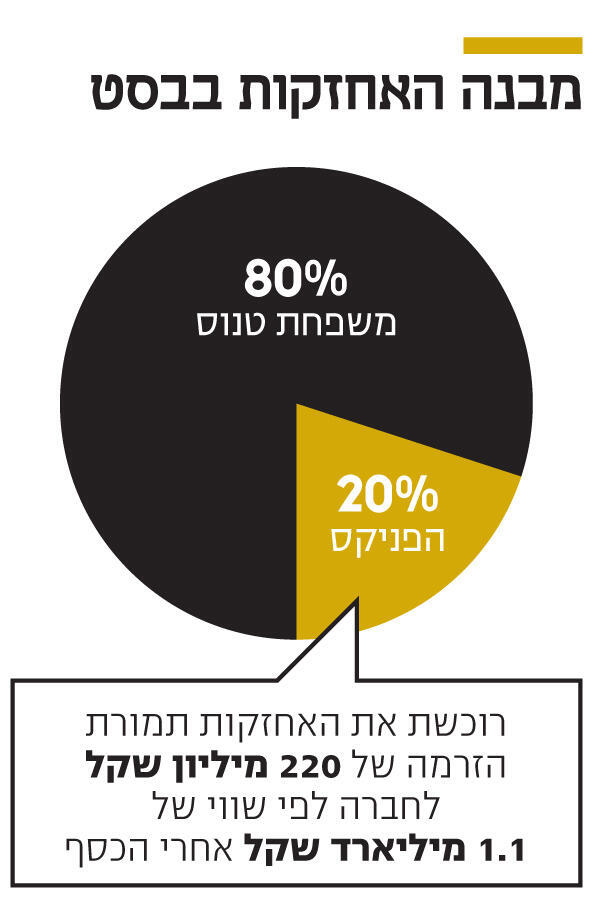 Best's entrepreneurial arm is the largest of its three arms in the country. Under this arm, the company builds housing projects for the free market, at a price per occupant and within the framework of urban renewal. These are dozens of projects. Among the projects she is building are 230 apartments in Or-Yam in Or Akiva, evacuation-construction projects in Holon, Or Yehuda, Kiryat Bialik, Rishon Lezion and Petah Tikva, as well as the academic campus project in Tel Aviv. Two other arms of the company are the construction arm and the arm. Final work (Best Build-Up) In total in the country, the company is involved in the construction of about 3,200 apartments and 2.5 million square meters of offices, and it employs 200 permanent employees.
On the expansion plans: We will turn the income-producing real estate into a significant field. We will examine acquisitions of companies in Israel and abroad. There are negotiations over properties in London "
The company's operations abroad are concentrated in Canada and Ala lives in the country. The activities include, among other things, the rental of a medical center and rental housing. The company is also examining the possibility of entering the British market. Teshuva in a deal of about a billion shekels, but withdrew from the race when Canadian entities offered higher sums.
What do your investment plans now include? Which directions will you turn?
"We play on the whole pitch of real estate. Residential, commercial, offices in the country. We have close to a thousand apartments under construction as part of evacuation-construction, and we are very big in the field of construction and development. We want to expand in the country, Canada and the UK. We started developing operations in the UK two or three years ago, and now we're starting to pick up the pace, after the corona put things on hold. Supporting a body like the Phoenix can help us a lot in this regard. We are already in talks about properties in London. "
You are originally and mainly an entrepreneurial company. What is your advantage in income-producing real estate?
"There is not much difference between the areas. We want to make the income-producing real estate a more significant area of ​​activity. We will also look at acquiring companies or portfolios of properties in Bart and abroad. If there are opportunities, we will do it. "
And what about an IPO? Did Acro's successful offering make you want to go?
"We're thinking about it too, but it's not something that will come to fruition in the short term. It will take a few more years. Contacts with the Phoenix began even before the release of Acro. What is important now is to bring this partnership to great success."
For the Phoenix you are not an only child. They have investments in other real estate companies, such as Acro which became a very lucrative investment when it recently issued. And yet you chose them. Why?
"We feel we will be between their two favorites. They really appreciate us and are happy to be connected with us."
You are a family friend. Why did you bring in an outside chairman, and another well-known figure in the capital market like Bisker?
"For the last three years we have decided that we want to run not as a family company but as a public company. All the managers who work under me are external. My father brought Bisker to the group and it was a successful move."
About bringing a partner into the family business: We were not looking for a partner. The Phoenix very much wanted the deal and the personal connection to the company's CEO helped greatly in closing the deal. "
What do you think about housing prices? Can they cost more?
"Unfortunately, I see no reason why they should not continue to rise or that they should fall. Land prices are rising, construction prices are rising and demand is greater than supply. Demand for every project we build is insane. People are no longer deterred by the high prices of apartments."
What will the interest rate hike do to the market?
"It depends on the identity of the buyers, housing developers or investors. I do not think it will affect. The problem is old and the solution will not be short or quick. If the state wants to solve the problem, it needs a plan for five years ahead, not a year. "The problem is only through land prices. The solution is to increase the supply of land and use the tool of evacuation-construction. The procedures required for urban renewal projects must be shortened."