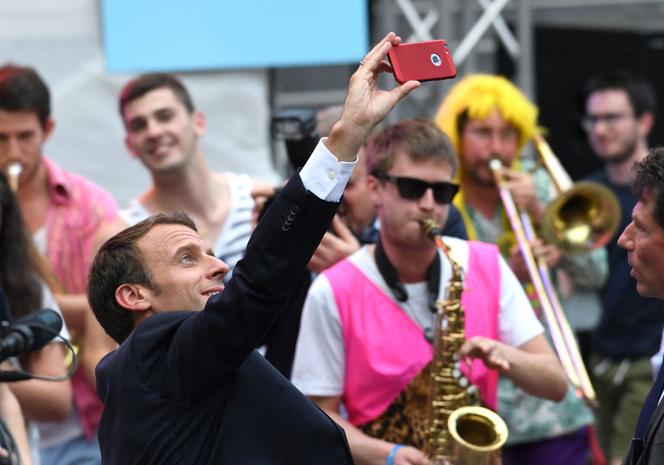 Emmanuel Macron is a TikTokeur like the others, and at the same time he is not a TikTokeur like the others. The proof: when his account finds himself mysteriously banned for a few hours from the social network on January 27 (which can happen to everyone), the information is widely relayed in the press and commented on by Internet users, who compete with explanatory scenarios wacky (which doesn't happen to everyone). "What did you do Manu to get TikTok banned? »then asks a user.
Frankly, we wonder. Because if we explore this galaxy of first-person images filmed with a framing close to the "MySpace Angle" (seen from above, to appear more beautiful), nothing truly transgressive appears on the horizon. One could say that the collection of Lacoste polo shirts that parade on the screen has a little provocative side in times of inflation, but that would be to launch into a bad lawsuit.
Inaugurated in 2020, the Head of State's account has more than 3.9 million subscribers and includes a large number of didactic videos on the policy implemented, exhortations to go get vaccinated, lessons on things the merits of the health pass, clarifications on the ongoing controversies. Every social problem finds an answer here in the form of an incantatory solutionism, as if we were faced with the great healing shaman of the nation. Endometriosis? "Get diagnosed, we will accompany you…" School bullying? " We will never let go ! » The climate crisis? "Before the end of January, I will, here at the Elysée, an ecological planning council. » Free condoms for minors? « Banco ! (…) Go out covered, as the great authors say. »
Brushing not without humor the youth in the direction of the hair, Emmanuel Macron does not hesitate to display the beautiful drawing offered to him by Eiichiro Oda, the author of the manga One Pieceto highlight his diet « flexitarian » or post a cover of The Marseillaise in metal version, without forgetting to congratulate as it should be the graduates, with a form of paternalism a little old school ("Celebrate it, enjoy it!"). Today as yesterday, the way in which a president stages himself in the media is never insignificant.
In direct contact with the people
Valéry Giscard d'Estaing tried to make people forget his particle by playing the accordion on TV and inviting garbage collectors to breakfast. Mitterrand accepted that Yves Mourousi put his buttocks on his desk to show that he was "wired" ("chebran", what). Hollande, he let himself be filmed dripping in the showers, normal president that he was. And Macron then? In his work A novel character (Julliard, 2017), the writer Philippe Besson lent him these words: "Journalists must be kept at a distance. (…) We must find a direct presence, disintermediated to the people. »
You have 46.88% of this article left to read. The following is for subscribers only.