The Russian Foreign Ministry announced the suspension of the work of the Russian mission to NATO and the military liaison mission of the alliance in Moscow, as well as the termination of the activities of the NATO information office in the Russian Federation. The Russian Foreign Ministry argued for this step by NATO's decision to expel eight Russian diplomats and reduce the maximum size of the diplomatic mission to ten people. In the alliance, these expelled diplomats were called undercover scouts. DW asked Jamie Shea, an expert at the Brussels-based think tank Friends of Europe, who previously worked in high positions in NATO, about the consequences of Russia's decision and which channels of communication between NATO and the Russian Federation will remain.
DW: Was Moscow's decision a surprise for you?
Jamie Shea: When we learned that NATO had decided to expel eight Russian diplomats for espionage, we could only expect Russia to respond. There is a long tradition since the Cold War: when the West expelled Russian diplomats, Russia retaliated. But, of course, NATO has no representatives in Moscow for a long time …
– But there is still a military communications mission and a NATO information office in Moscow.
– Indeed, these bureaus still exist, and local employees work there (mostly citizens of the Russian Federation. – Ed.). But international representatives have been persona non grata since 2014, when NATO ended normal daily relations with Russia following the illegal annexation of Crimea. And since that time, NATO diplomats have tried to do their job from their headquarters in Brussels. So these two bureaus have not been fully operational since 2014. NATO did not want to close them, because then it would be much more difficult to reopen them. I do not think that today's decision will change anything in the current deplorable state of political relations between NATO and Russia.
– That is, you do not expect serious consequences of Russia's decision?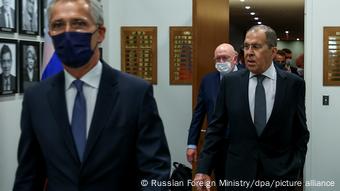 Jens Stoltenberg and Sergey Lavrov in New York
– No. For two reasons. First, contacts between NATO and Russia continue. For example, Secretary General Jens Stoltenberg met with Sergei Lavrov in New York on the sidelines of the UN General Assembly a few weeks ago. Second, the NATO-Russia Council has not met since 2019. Neither side was able to convince the other to return to the negotiating table, of course, subject to their terms. So at the working level, both sides didn't really talk to each other.
– But will there still be any additional risks or threats after the suspension of the work of the Russian mission to NATO and the alliance offices in Moscow?
– Obviously, it would be better if NATO and Russia continued to meet and have difficult but honest conversations. For example, on the topic of military exercises, such as those conducted recently (maneuvers. – Ed.) "West-2021". It would have been better, but honestly, it didn't happen anyway.
– At the same time, there are communication lines between the military leaderships of NATO and Russia.
– The Commander-in-Chief of the Allied Armed Forces of NATO in Europe, General Tod Walters, has an installed with (Chief of the General Staff of the Russian Federation. – Ed.) General Valery Gerasimov "hot line". Such a "hot line" must exist to prevent dangerous situations or crises. They can occur, for example, in the Baltic or Black Seas. But such a "hot line" already exists. And the secretary general has a connection with Sergei Lavrov. So the minimum required contacts are guaranteed. And we should not forget that NATO member states have bilateral lines of communication with the Russian General Staff.
– You have already said that this or that reaction of Moscow was expected. NATO understood this. Was it then a wise NATO decision to expel Russian diplomats or spies??
– The recommendation by the NATO Security Bureau to the Secretary General and the North Atlantic Council should have been very weighty. I think they felt that if the Russians began to abuse their NATO mission for aggressive intelligence gathering, it was doing more harm than good. In NATO, such decisions are not easy to make.
– NATO's approach to relations with Russia follows two "tracks": increased defense and dialogue. Can this approach be considered effective now?
– As I said, the hotline will continue to exist, and this is very important. It cannot be said that no Russian official will ever meet with a NATO official again. Russia will have an embassy in Belgium with a military attaché. This channel also exists. Believe me, there is no shortage of diplomats in Brussels – there are many of them, both in the embassy in Belgium and in the mission to the EU.
In addition, many countries (alliance. – Ed.) hold regular meetings with Russia. So the decision of the Russian Federation does not exactly freeze diplomatic relations with NATO countries. This is more of a symbolic decision. And what is more important, Russia has not denounced political agreements, in particular the Russia-NATO Founding Act of 1997 or the declaration of 2002. In other words, Russia means that it wants to preserve the possibility of a relationship with NATO.
See also:
.