DN has conducted a series of interviews with economists regarding Sweden's current economic situation. This time, personal finance expert Ingela Gabrielsson from Nordea was interviewed. When asked if there's a crisis looming, Gabrielsson believes it has already arrived from a personal financial perspective, citing factors like price inflation, interest rate increases, and energy prices. She states that there's already a recession happening, but the uncertainty lies in how long it will last and how quickly the economy can bounce back.
Gabrielsson notes that the younger generation, who have not experienced financial crises in adulthood, may struggle to adapt to the current economic climate where consumption must be limited, and saving must be a priority. She believes that households need to start making monthly budgets, planning their savings, and cutting back on entertainment to make ends meet.
Gabrielsson cautions that the situation may get worse before it gets better, and the recession could last at least five years. She also thinks that the overlapping crises of the pandemic, loss of financial support, Ukraine war, and rising fuel prices make this recession more complicated and difficult to predict.
Gabrielsson suggests paying bills on time, setting up monthly savings, and planning finances as a way to weather the crisis. She warns that those who don't understand the shift they're facing may end up accruing debts, facing bailiffs, and being unable to sign new contracts or take out new loans. Gabrielsson's advice for managing the crisis is to plan ahead, save aggressively, and prioritize financial responsibilities.
In a series of articles, DN interviews economists about the unusually difficult economic situation that Sweden is facing. This time it has come to Nordea's personal finance veteran Ingela Gabrielsson.
When asked whether the crisis is coming, she reasons that it has probably already arrived from a personal financial perspective.
– There is already a crisis in terms of price inflation, interest rate increases and energy prices, I think. I think we are in a crisis, but the question is whether it will get worse before it gets better, and how quickly we will get out of it, says Ingela Gabrielsson.
What do you mean by the term crisis?
– This could turn into a recession. It has been said that we will enter a recession in 2023, but it is not really possible to know until after the fact. That is how it works. If you are in the middle of it, it is hard to see.
At the same time, the reports of notices have increased during the beginning of the year and many believe that it will increase in the future. Households hold back on consumption and try to save more.
– All these are signs of a recession, and that is probably where we are now, says Ingela Gabrielsson.
There is a group of relatively new adults who live in owned homes, with mortgages, maybe car loans, children and all that that entails, but who have never experienced a financial crisis in adulthood. During the 90s crisis, they were barely born, and during the financial crisis of 2008–2009, it was probably the parents who had to deal with the challenges.
They have learned that prices are stable, the real wage should grow constantly and that interest rates are low. If you want something, you can buy now and pay later, rather than saving first and then buying as the older generations have learned.
– They have been able to live a fairly spontaneous and pleasant life. You have been able to go out when you have felt like it or buy what you have wanted when you have thought of it. The lesson now is that it will actually be just the opposite. You have to start making a monthly budget, plan your savings, your purchases, maybe cut back on entertainment.
Ingela Gabrielsson believes that they can have a hard time if they do not understand the shift they are facing.
– It's really a big change of scene and you shouldn't expect it to quickly fall back to what it was before. You need to understand that. It's not just this month but now it's like this. It requires a different way of thinking.
What happens otherwise, if you don't understand?
– If you drive as usual, you end up driving into the tile and then it can be very difficult. You incur debts, you may not be able to pay your consumption and your bills as usual, you may end up with the bailiff. Then you suddenly cannot sign any new contracts or take out any new loans. You have to try to avoid that.
How long will it be hard?
– Anyone who can answer that is talented. But think five years ahead. At least, says Ingela Gabrielsson
She points out that this recession comes out of a series of different crises in recent times and believes that this makes it more difficult. First there was the pandemic where the economy was inflated by various financial supports, then the Ukraine war came around the same time as several supports disappeared, and on top of that the energy crisis and rising fuel prices.
– One thing led to another and I don't think it has looked like that before.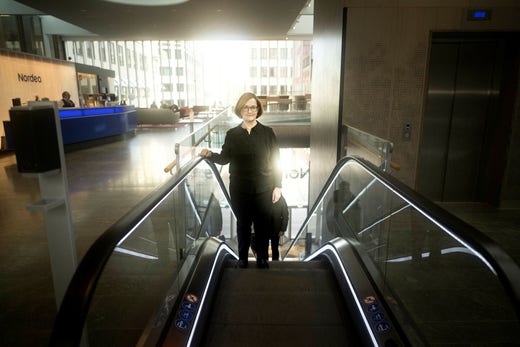 This makes it more difficult for both politicians and experts as well as private individuals to predict which direction various factors will take, she believes.
– You don't know because there isn't really anything to lean on. Can't say this is exactly reminiscent of that time, and then we did. It doesn't exist now, but it's a new scene that way, says Ingela Gabrielsson.
At the same time: the tougher times don't come like a bolt from the blue. It has become progressively more difficult for more than a year. This has meant that many have already cleaned up their finances and cut back on a lot, Gabrielsson believes. The problem is that it's still getting worse, and how much can you really cut spending?
– I think many are heading towards the limit where you have to start with the slightly bigger things now. You may have to move to a smaller home, get rid of the car or sell the holiday home.
What effect can it have on the situation?
– It won't be good either. Housing prices have gone down and you may not get what you need when you sell, there is uncertainty, it takes a long time to agree on prices and that is not good for the economy. Employment also goes down, you stop renovating and it hits the construction industry pretty hard. You can see it in housing construction as well, says Ingela Gabrielsson.