Bill Cosby is facing a new lawsuit: Five women have filed a lawsuit against Bill Cosby, alleging that he raped, drugged or sexually assaulted them. The alleged victims said that Cosby promised to be a mentor for them as they tried to find their way to success in the entertainment industry; According to them, the actor, now 85 years old, took advantage of his position and sexually abused them.
The five plaintiffs are not only suing Cosby, but also NBC Universal, Kaufman Astoria Studios and the production company Carsey-Werner – this, because those companies failed in their duty to protect the women. In fact, the women even claimed that the companies "encouraged" Cosby's violent behavior.
The five women – Lily Barnard, Eden Tyrrell, Jules Gittens, Jennifer Thompson and Cindra Ladd – said Cosby volunteered to be a mentor for them, but took advantage of them when they were young and vulnerable. Some of the women participated in "The Cosby Family" themselves. Four of the allegations refer to events that allegedly occurred in the late 1980s or 1990s, when the actor was at the height of his fame as the star of "The Cosby Family." The fifth accusation is that of Ladd, a former Hollywood producer, who claims that Cosby raped her in 1969.
Bernard guest-starred on The Cosby Family, playing Mrs. Minifield. According to her, Cosby drugged and raped her on two separate occasions in 1990. During the second attack, Barnard said, she woke up while Cosby was on top of her, screaming "No"; So, he smothered her with a pillow. He also allegedly forced her to perform oral sex on him in a separate incident at his Manhattan home. So, Bernard said she was going to call the police and go to the hospital.
"In response, Bill Cosby told Ms. Brand that if she went to the police or the hospital, he would make sure she stayed in jail for a long time, file a defamation lawsuit, and blacklist her from the entertainment industry," the lawsuit alleges. It is further alleged that on the same day, Cosby pushed Bernard down the stairs and left his house. Brand said she feared the consequences of a complaint against the actor on her career, and even said she feared for her life.
Tyrrell said she was offered a small role as a cop on "The Cosby Family" in 1989, and claimed she was repeatedly invited to lunch in Cosby's dressing room – an offer she repeatedly turned down. On one occasion, one of the workers "grabbed her by the arm and physically escorted her to the dressing room." Tyrrell managed to escape the locker room several times, but on the fourth time, Cosby allegedly locked her inside the room. "He touched her breasts without her consent, forcibly pressed his penis against her back and forcibly kissed her neck without her consent," the lawsuit claims. Then, Cosby allegedly whispered to her, "It's called making love."
Gittens, who at the time talked with Cosby about her possibility of getting a role in "The Cosby Family", claimed that the actor drugged her and assaulted her in his Manhattan home in the late 1980s. According to her, he reached under her skirt, then inserted a finger into her anus. Thompson, who was just 17 when she first met Cosby, said he forced her to touch his penis after she turned 18.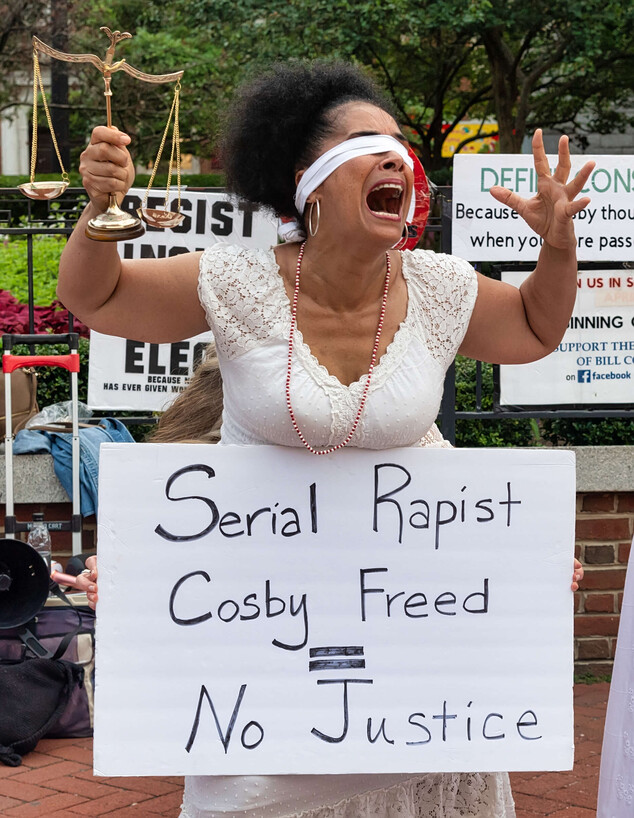 Ladd said that she and Cosby met and became platonic friends in 1969. According to her, during one of their visits to a movie theater, he gave her an unidentified pill, claiming it was a pill to help with her headache. Later, she claims, the bullet made her lose consciousness. When she woke up, she was in bed with Cosby, wearing a robe, "with signs that Cosby had raped her while she was passed out, including his semen on her legs," according to the suit.
The lawsuit was made possible thanks to a new law recently enacted in New York, which suspends the statute of limitations for one year. Thus, adult victims of sexual assault are given the opportunity to bring their abusers to court. "With the enactment of the law, these five women can now come forward and pursue justice," said attorney Jordan Merson.
Dozens of women have accused Cosby of sexual assault and rape over the years; He, for his part, strongly denied the allegations. The actor was found guilty of three counts of sexual assault in 2018, and was sentenced to ten years in prison. He appealed the decision to the Pennsylvania Supreme Court, which overturned his conviction – leading to his release from prison in June 2021.
In June 2022, a jury in a civil trial held in California found him guilty of sexually assaulting a 16-year-old girl in 1975. As a result, Cosby was required to pay the victim, Judy Hoth, $500,000 in damages.