After Hurricane Ian, Florida wakes up "devastated". More than 2.6 million homes or businesses remain without electricity.
Source AFP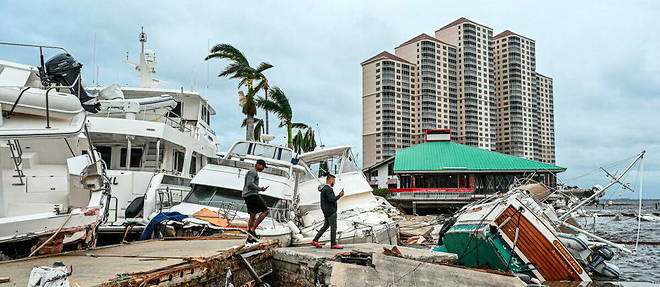 Published on


Link copied
Copy link

LThe damage is "historic". The power of Hurricane Ian completely "devastated" some Florida cities on Wednesday, September 28 and could have caused the death of two people, according to the governor of this state, Ron DeSantis. However, it must be confirmed that the death of these two people is linked to the storm, even if this is "probable". "We have never seen floods like this," said Ron DeSantis. "Some of these areas, Cape Coral, the city of Fort Myers, were really flooded and really devastated by this storm. »
It is still too early to draw up an assessment, but some material damage was already visible a few hours after the passage of the hurricane. Thursday morning, more than 2.6 million homes or businesses remained without electricity, out of a total of 11 million, according to the specialized site PowerOutage.
Ian, since downgraded to a tropical storm, made landfall Wednesday afternoon as a Category 4 hurricane (on a scale of 5) in southwest Florida, before continuing its passage through the state, carrying strong winds and torrential rains.
READ ALSOHurricane Ian causes 'catastrophic flooding' in Florida
"It was incessant, it was blowing constantly above our heads"
Punta Gorda, a small coastal town located in the path of the hurricane, woke up without power. As firefighters and police roamed the streets to assess the damage, a bulldozer cleared fallen palm branches. Ian uprooted some trees and knocked down utility poles and street signs. Its rains flooded the streets of the marina, where the water still reached the calves Thursday morning. Townsman Joe Ketcham chose to stay home on Wednesday, despite evacuation orders. "For now I'm relieved, but yesterday I was worried," said the 70-year-old. "It was incessant, it was constantly blowing over our heads. You could hear the metal banging against the building. It was dark. We didn't know what was going on outside. Lisamarie Pierro, who also lives in the city, said she was relieved to see her house "still standing", without flooding. "It was long and intense. And then it stopped. And then again," she explained.
In Naples, images from the MSNBC channel showed completely flooded streets and cars floating in the current. The Southwest Florida town's fire chief, Pete DiMara, told CNN that his fire station was suddenly flooded by up to two meters of water, preventing his crews from responding to calls. emergency.
Slightly away from the hurricane's path, near the US archipelago of the Keys, poor conditions capsized a boat carrying migrants. As of Thursday morning, the coastguard was still looking for 20 people, three having been rescued the day before and four others having managed to swim to shore.
Joe Biden has declared a state of major natural disaster
Although weakened, Storm Ian continued its destructive course towards South Carolina on Thursday. It creates winds of up to 100 km / h and "catastrophic" flooding in east-central Florida, according to the US National Hurricane Center (NHC). Ian is expected to emerge over the western Atlantic by the end of the day, according to the NHC, which forecasts further light reinforcement of Ian, which "could approach hurricane strength. when it arrives near the coast of South Carolina on Friday.
Faced with the extent of the damage, US President Joe Biden declared a state of major natural disaster on Thursday morning, a decision to release additional federal funds for the affected regions.
With the warming of the surface of the oceans, the frequency of the most intense hurricanes, with stronger winds and greater precipitation, increases, but not their total number.
READ ALSO"We must prepare for these more frequent and intense heat waves"