October 13, 1965: Philip of Edinburgh at San Siro awards "MilanInter United" who, by beating Chelsea, win the Italian-English Friendship Cup
British sport mourns Prince Philip of Edinburgh, that in the course of his life a lot has been spent on this sector. Despite being less passionate about football than other members of the Royal Family, from 1955 to 1957 he presided over the Football Association (the English Football Federation) also attending historical moments such as the World Cup final '66 (the only one won by the national team from the Three Lions) or the inauguration of the Emirates Stadium, stadium of'Arsenal, in 2006.
The memory of the Football Association
I "Gunners" they also hosted him in their former home, the mythical one Highbury, a few weeks after the ascension to the throne of his wife Elizabeth, in October 1952: the occasion was a charity match against the Scots of theHibernian. Not only all the English clubs, but also the Scottish ones busy over the weekend will bring the mourning on the arm to remember a figure who has always been very involved in the promotion of sport: he practiced polo and followed with passion the cricket, while regularly attending various events of all sports.
On 13 October 1965 the Prince took part in another very special historical event: the Italian-English Friendship Trophy at the stage of San Siro. On the occasion of the celebrations for the "British week" in Milan a friendly was played between a mixed team made up of Inter and Milan players, as opposed to Chelsea. It was one of the only five times in history in which the two Milanese teams took the field united in a Rossonerazzurri selection, which on that occasion won 2-1 with goals from Angelillo e Peirò.
The "Milaninter United" (that time he was called that) had both the Rossoneri on the bench Nils Liedholm than the Nerazzurri Helenio Herrera, to whom Philip witty remarked: "For one evening you are friends", before distributing the medals in memory of the event.
Formula 1 also fondly remembers the Duke of Edinburgh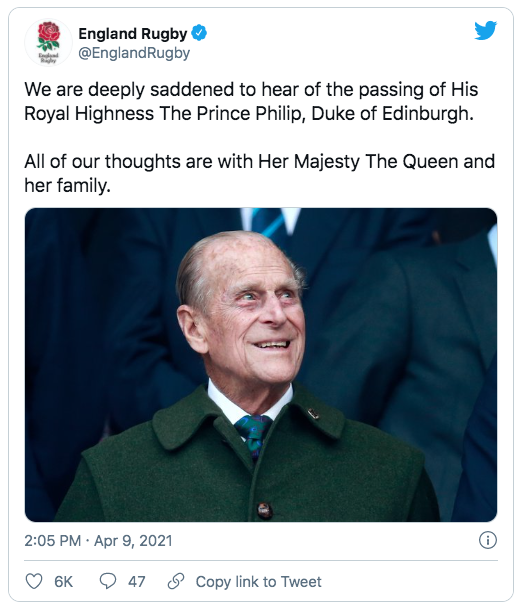 Rugby thus remembers the Prince Consort, who passed away at 99