Police officers on motorcycles have blocked the road and are languishing in the 30-degree heat, but the procession is delayed and delayed – a motley crowd of several hundred gay pride participants in Berlin's Marzahn district slowly march towards the final point of the route. For the second year in a row, the Russian-speaking LGBT organization Quarteera is holding a gay pride parade here in a panel area in the east of the German capital, which is historically popular among immigrants from the former USSR – because of cheap apartments in GDR high-rise buildings, it has historically been the case that Russian-speaking residents prefer to settle here. Berlin.
In the end, the procession approaches its end point. "Rainbow" flags, posters "Homophobia is a sin" in Russian and Ukrainian, short shorts and thin T-shirts, guys in women's dresses and girls in black and boots on a high platform, "Blue Moon" performed by Boris Moiseev from speakers and a policeman an escort with flashing lights, whose task is to ensure the right of citizens to freedom of assembly.
Gennady Bogolepov, 36, does not participate in the procession. He came to the pride without a flag and a poster, and in general – did not come, but came, and not by bus or tram, but by taxi.
Despite the heat, he wears boots, a suit, a hat and a white shirt.
He has bright red nails – he did a manicure specially for the Pride in Marzana.
In 2017, Bogolepov fled to Berlin via Finland from his native St. Petersburg – after he was attacked, and the police refused to open a criminal case and issue him a certificate of the loss of his passport, as a result of which he was left without vital medicines.
Three years ago, in July 2018, the German authorities tried to expel Bogolepov from Germany to Finland – early in the morning the police took him from the hostel for LGBT refugees, giving him half an hour to get ready, took him to the airport and put him on a plane flying to Helsinki. However, at the last moment, he managed to persuade the pilots through the flight attendant to take him off the flight – and thus remained in Germany.
Having changed his lawyer, a year later he received refugee status.
Pride for him is more than dancing.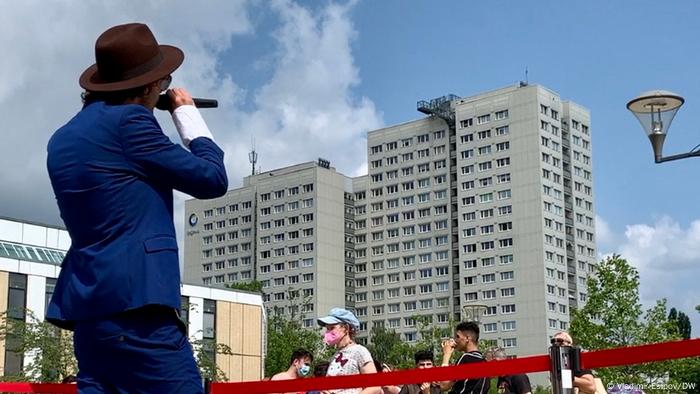 LGBT–refugee from Russia about gay goals–prides
Why bother with a gay pride? Gennady Bogolepov answers without hesitation: "As long as at least one place in the world is killed, attacked and fined for belonging to the queer community, prides are needed everywhere."
He gets a little worried preparing for his performance – two songs of his own composition, in English. He will sing and dance – in a suit, in a 30-degree heat. He says that art is his greatest passion and that art can achieve more in politics than political posters. "Be honest with yourself and don't be afraid to be yourself," he addresses the audience after his speech.
Bogolepov says that he is doing well, that he works for Amnesty International, writes music and plans to launch his own label. "Finances are tough, but when you're doing what you love, you don't need so much," he smiles.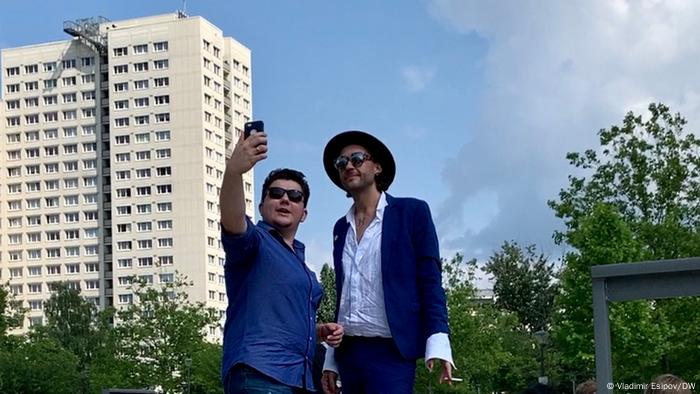 He describes himself not with the cosmopolitan word "gay" and not with the newfangled politically correct "homosexual". He uses the phrase "queer", adding that it is rather a concept that describes not sexual preferences in themselves, but rather their political aspect – "whatever I do and feel, no one has the right to judge it."
He refused the word "gay" after a Polish gay "ran into" him in a Warsaw gay bar because of his painted nails – gays, they say, do not paint their nails.
"It was hard for me in Russia because of the feeling of sacrifice and humility, we, they say, will tolerate. I love myself too much to allow others to mistreat me," says Gennady Bogolepov about the reasons for his departure. was, I am sure that I can do much more while in Germany, because here I have more strength and more freedom of speech. "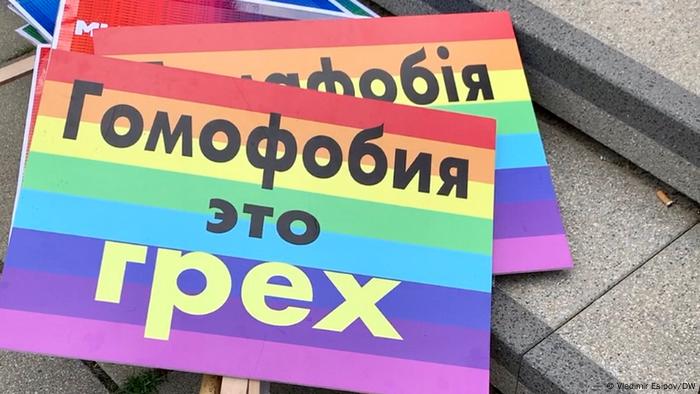 Admiration for Navalny, but "I have one life"
According to him, he admires Navalny, who returned from Germany to Russia. And he adds: "But I can't do that. I have one life, and I don't even want to spend some part of it behind bars."
When asked what freedom means to him, he answers: "Freedom is when you are guided by love, not fear. I fled from Russia out of fear of death."
Drenched in the heat from the show, he takes off his jacket and sits down in the shade on the lawn with his friends. Why did he come to the pride without a poster? Gennady Bogolepov explains it this way: "Art affects people globally, and through art you can reach anyone. And this is the power of art, because politicians may not be trusted, and art is a direct delivery to the heart. So with the help of art you can influence politics more than politicians themselves. "
What must happen for him to return to Russia? Bogolepov thinks for a moment. "I want people to stop lying in Russia, and at all levels – it annoyed me a lot," he says.
The participants of the Russian-speaking pride, warmed by the heat, disperse over the area surrounded by panel high-rise buildings. The pride is coming to an end. Gennady Bogolepov says that he really misses his native St. Petersburg, relatives and friends who remained there.
Does he regret something? "No, about nothing and never!" he instantly blurts out in response.
See also:
.