"Püppi at work" – this is the nickname she is known to users of social networks. However, a successful career as an influencer is just an addition to her core business. The flamboyant red-haired girl with a tattoo on her arm (in the title photo) actually loves heavy equipment, especially hydraulic mining excavators. Agnes Borchers is probably the most famous woman in the construction industry in Germany. She shares with her followers on Facebook, Instagram and TikTok daily details of her work at Hagedorn. Agnes received her professional education in the field of landscape design, but got a job in a completely different field – a mechanic.
Excavators and trucks haunted her since childhood. Even today she does not cease to admire their power: "What kind of masses can be lifted with the help of technology! At the same time, it is equipped with electronics, which requires very precise control and dexterity, and then this powerful technique can make very precise movements – up to a centimeter!" In the construction industry, the girl was able to fulfill herself. And she never stops enjoying her job. "Even a few years later, as I drive past the project I was involved in, I am overwhelmed with positive emotions," says Borchers, who is the face of the Frau am Bau campaign (which can be translated as "Woman at the construction site").
On the list of professions prohibited for women
The campaign was initiated by Hagedorn CEO Barbara Hagedorn. Together with her husband, she runs a family business and knows that the biggest "construction" in their industry is in personnel policy. Over the past decade, there has been a boom in construction, which, due to a shortage of qualified personnel, can hardly be covered: there are orders, but there are not enough people to carry out construction contracts.
In addition, in the coming years, about a quarter of the workers who will retire will leave the ranks of construction workers. With such a shortage of personnel, the construction industry of the German economy still remains the most "male": no other industry has such a low female share. In Germany, only 13 percent of construction workers are women. And most of them work in the administration sector or in engineering. That is, in the bureau. Workers like Agnes Borchers, who work directly on the construction site, are rare.
According to the Central Association of the German Construction Industry (Hauptverband der Deutschen Bauindustrie, HDB), the proportion of women in occupations such as concrete worker, carpenter, construction equipment driver does not exceed three percent.
The shortage of women in the construction industry is also explained by a historical premise. The fact is that until the 90s of the last century, the profession of a builder was on the list of prohibited for women in Germany. Too hard physical work, too dirty work. At the same time, in the GDR, cranes and excavators were boldly operated by women. Moreover, it would not surprise anyone there – to see a woman engineer or an architect. Today, already in a unified Germany, the proportion of women is growing in all areas of employment.
More positive examples
"Heavy and dirty" – this description is already somewhat outdated, I'm sure Barbara Hagedorn. Its goal is to train more women in professions that go beyond administrative work. As part of the campaign, special advertising posters were prepared, which featured women working as drivers, builders, and project managers. Those who want to try themselves in this area can first sit in an excavator simulator. What if you like it? The Hagedorn company provides its services for the demolition and dismantling of buildings and structures and belongs to the world leaders. Only a few months have passed since the launch of the campaign to attract women, but the results are already there: four girls have begun training in technical professions, and two women – an engineer and a truck driver – have joined the ranks of the firm's employees.
More female role models and professional development are the dreams of participants in an industry survey that was launched in 2021 by Hagedorn. What are the challenges facing the construction industry? 75 percent prioritized sexism and prejudice. Even 80 percent of the men surveyed agreed with this. And the fact that women with the same qualifications have a harder time than men, all survey participants agreed.
Women earn less in construction than men
According to the Central Association of the German Construction Industry, the wage gap between men and women reaches 25 percent. Of course, the construction boom has also improved the position of women in this area. They began to earn much more than 10 years ago. However, they still lag behind their male counterparts.
Hagedorn and 15 other construction firms have jointly formed an alliance representing women in the construction industry. Bianca Weber-Lewerenz in 1997 became the first woman in Baden-Württemberg to become a bricklayer. During her internship while studying, Bianca realized that "construction is hers." And even the fact that there was not a single woman at the enterprise, and a female toilet was not provided at the construction site, Bianca did not make him reconsider his choice. Relationships within the team at the construction site have always suited her. "Women who can work in the wind and bad weather and have a plan are respected by men," she says. Today, Bianca already holds the position of an engineer, provides independent consultations, is engaged in scientific activities and acts as a mentor in MINT specialties for schoolgirls and students.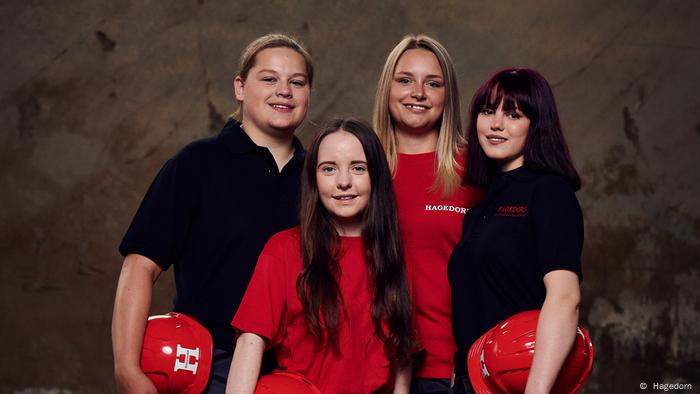 These girls are taking their first steps in the construction industry. And Hagedorn is proud of them
Artificial intelligence (KI) is conquering this area, perhaps at a slower pace than others, but promises new opportunities for new professions. It becomes possible to automate many processes, optimize and increase the efficiency of equipment, eliminate errors that occur due to the human factor. However, most algorithms work like a black box: you never know how they make decisions.
And if the industry continues to experience a shortage of women, then there is a danger that the created programs and machines will work one-sided, says Weber-Leverenz. Therefore, already at this stage, it is important for women to participate in all processes of the construction industry. For example, companies often use artificial intelligence to search for personnel, but they are based on outdated data. The selection of employees is based on the analysis of data from the construction industry, in which women play a negligible role. If technology does not take into account the modern needs of the industry, then only men will be nominated as candidates for a job in the construction industry.
See also:
.