A legendary man, an avant-garde bartender, a virtuoso of his craft, and also an icon of style, an intellectual, a thinker – this is how the world famous German bartender and restaurateur, writer and journalist, owner of the famous Munich Schumann's Bar Charles Schumann is called (Charles Schumann ). He is involved in the development of bar culture both in Germany and abroad. His classic cocktail recipes are renowned all over the world. And the book he wrote is the bible of drinking establishments.
Charles Schumann has been the face of advertising campaigns for many brands
However, even those who have never been to his bar know this tall, slender, always elegantly dressed and possessing incredible charisma man: Frey. Charles Schumann still looks like a magazine cover playboy today. It's hard to believe that he turned 80 on September 15th.
The restaurateur who fought in the ring with Klitschko
Incredible, but true: the cult bartender and author of several books on cocktails almost never drinks alcohol, and if he does, he prefers not cocktails at all, but pure drinks. In winter, Charles sometimes allows himself a little whiskey, and in summer he can drink beer or good red wine – and always chilled or even with ice. But as for coffee, here he almost does not limit himself: every day he drinks as many cups as it "enters", as he himself jokes. Earlier, Charles liked to combine coffee with a cigarette, but he had to say goodbye to smoking: it was hard, but health care is above all.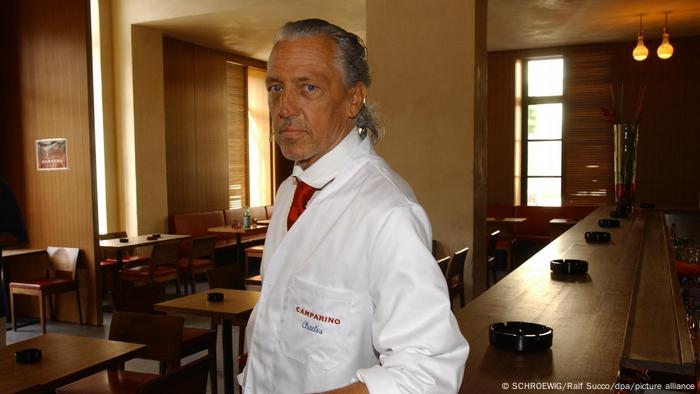 The famous bartender values ​​his physical form very much and does everything to maintain it: getting up at seven in the morning, gymnastics, regardless of the season – a cold shower, twice a week – boxing training. At one time, he even "fought" several times in the ring with Vitali Klitschko, with whom he became friends on one of the Hugo Boss projects. And Charles also adores classical music and loves to play music, is fond of reading philosophical literature, theater, cinema, travel, speaks six languages. But most of all he loves his bar, where he spends 12-14 hours a day: he makes cocktails, sometimes he peels and fries potatoes himself and, of course, receives guests.
Charles is always interested in who comes to his bar, and when communicating with guests, regardless of their status, he will listen with pleasure. But at the same time he behaves unobtrusively, maintains a distance. In his opinion, there should be no familiarity between the visitors and the bartender. And Charles does not accept loud music and DJs in the bar. So his own son, who became a DJ, is not allowed to enter Schumann's.
The guy who was preparing to become a priest
For almost 40 years, Schumann has been behind the bar. And I can't even believe that at one time he did not even think about this profession. Karl Georg Schuhmann – this is his real name – was born on September 15, 1941 in the Bavarian village of Kirchentumbach in a poor large family. His father was a farmer and his mother ran a grocery store. The parents were devout Catholics, raised their children in a religious spirit and dreamed that Karl Georg would become a priest. Therefore, the boy was sent to study at the Episcopal Gymnasium in Regensburg. However, at the age of 17, he left her: he had to earn money.
Karl Georg served for six years in the Federal Border Service. Then he studied to be a consular secretary-assistant at the Ministry of Foreign Affairs of the Federal Republic of Germany in Bonn, but did not work in his specialty – instead he entered the school of hotel management in Switzerland. However, after some time he dropped out.
In 1971, Karl Georg went to the south of France, where he worked for two years in various discos and nightclubs. Among other things, Schumann was the personnel manager of the branch of the Munich Tiffany's disco in Montpellier, and then the manager of a strip club on the French-Spanish border. There they began to call him "Charles", and later – "Charles". In the summer of 1973, he returned to Munich, completed his studies at the gymnasium, received a certificate of maturity and entered the university at the Faculty of Political Science and Journalism. As a student, he began to work as a bartender and was so carried away by the creation of cocktails that in 1982 he opened his own Schumann's American Bar in the center of Munich. The final choice was made.
Bars and cocktails became the main thing in Charles's life
Schumann's Bar quickly gained great popularity and became not only a point of attraction for writers, journalists and artists, but also a meeting place for the wealthy Munich public. Schumann became even more famous for his book American Bar, which was published in 1991 and became an overnight bestseller. It was reprinted 20 times and translated into eleven languages.
One of the most famous recipes is the Swimming Pool cocktail: made with rum, vodka, blue curacao, coconut liqueur, cream with sugar and pineapple juice. Today in Munich there are more than one Schumann's bar: new establishments have appeared, which are slightly different in concept from the first and the main one, however, everything is done in them the way Charles loves.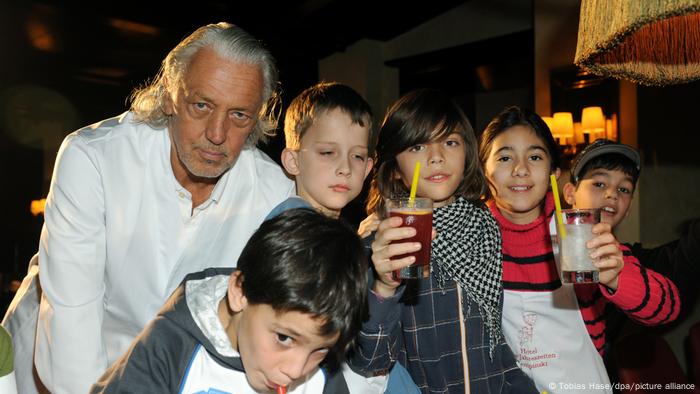 During one of the charity events, Charles Schuman treated 80 children with non-alcoholic cocktails
The legendary Munich bartender is known all over the world. He is an example for hundreds of thousands of bartenders and restaurateurs. Three years ago, Charles Schumann was greeted with applause in Moscow, where he was invited as a guest of honor to the Eat Film Festival. Within the framework of this forum, the Russian premiere of the documentary "Conversations with Charles Schumann at the Bar", which was filmed by German director Marieke Schröder, took place.
However, the master also has to listen to criticism. In 2019, during the presentation of the "The World's 50 Best Bars – Industry Icon Award" to Schumann, accusations of misogyny were made against him. The fact is that in 2009, in an interview with the German edition of Playboy magazine, he said that there is no place for a woman in a bar, and in an interview with the Japan Times, he said that the main persons in a bar are always men. In response to criticism, he returned the award …
See also:
.