Those who see wind turbines from afar are unlikely to have an idea of ​​their true size. After all, usually windmills are located too far or too high to see them in detail. And only if they lie on the ground – disassembled, ready for installation or have already served their time, you can understand how huge they are.
Despite the fact that wind energy is not yet actively developed and only a few wind farms are allowed in Germany, many wind turbines have to be dismantled – due to wear, replacement of blades or because the installation needs to be increased.
How many wind turbines in Germany
Wolfram Axthelm, head of the federal wind energy group and the head of the renewable energy group, in an interview with DW named the number of wind turbines currently operating in Germany: "We currently have about 30,000 wind turbines installed on land. that is the number of blades that are spinning and generating green energy. "
Technicians adjust the work of the wind generator from the inside
Will these installations work further, or will they be dismantled and replaced with new, more efficient ones? "At the moment, this is a secondary topic," says Akstelm. There is a plant in Bremerhaven "which, by subjecting the blades of wind turbines to heat treatment, recycles them for use in the production of cement."
What to do with old wind turbine blades
"It's no good when waste of this kind, materials no longer usable in wind energy, is dumped in conventional landfills," says Eva Philipp of Vattenfall, commenting on his decision from October 2021 to recycle for recycling or acceptable a way to dispose of spent blades of wind turbines.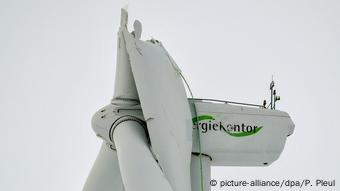 Broken Wind Turbine Blade
By 2025, about 50 percent of the old blades should be recycled, and by 2030 – all one hundred percent. Given the complexities of sorting the various materials from which the blades are made, this plan looks very ambitious.
The East Frisia region is one of the most favorable in Germany for the construction of offshore wind farms: near the sea, the wind almost always blows and there are no mountains, hills and tall buildings that would impede wind flows. Wind turbines have been built in this area for many years and they know how to disassemble them and the best way to dispose of the giant blades.
Matthias Philippi, spokesman for the company that owns the wind farm Enertrag AG, says in an interview with the local newspaper Ostfriesische Rheiderland Zeitung: "For most of the components – among them steel, cement, copper wire, electronics – the recycling system is very suitable ". But the blades, which are composed of a mixture of different materials, including fiberglass, must be disposed of differently, using special chemical treatment.
This is confirmed in an interview with DW and Christian Dreyer of the Frauenhofer Institute for Applied Research in Polymers (IAP). He cites the example of a wind turbine, which contains a lot of copper. Converting it into recyclable materials is the best way to get money for it. And in the case of carbon materials, it will be 20 times more profitable.
Make new ones out of old ones?
Can wind turbine blades be renewed and re-started? Or can only some of them be replaced and the unit will work again? "No, this is not so," says Eva Philip. "If a wind farm can no longer function, then its components are mostly worn out and must be recycled or used for some other purpose, for example, the blades can act as dividing barriers. …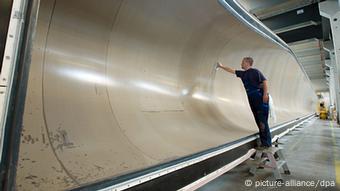 Wind turbine manufacturers try not to use materials that are poorly recycled
Wolfram Axtelm also believes that making one new one out of two old blades is not realistic. He supports the energy concerns' plan that by 2030, 50 percent of worn-out wind turbines will be disposed of and turned into recyclable materials. Eva Philip, in turn, notes that the implementation of these plans will be quite expensive: "At the moment, recycling the blades for secondary use will cost more than just burning them. But we hope that these technologies will become cheaper, because the technology is constantly evolving." …
See also:
.