Boris Grebenshchikov was one of the first Russian artists to speak out against the war in Ukraine. Soon his concerts in Russia had to be cancelled. But he was gladly received in Visaginas, the youngest and most Russian city in Lithuania. How it was – in the DW report.
How the "atomic capital" became a province in a pine forest
Visaginas is the youngest city in Lithuania, this year it turned 47 years old. The main attraction is the Ignalina Nuclear Power Plant. It began to be built in 1975, followed by a satellite city. Visaginas is also called the city in the pines, it stands in the middle of the forest on the shore of the lake. Atomic scientists from all over the Union came here, earlier 36 thousand people lived in the city, today – a little more than 18 thousand – all because the nuclear power plant has already closed. Some of the specialists left for Russia and Belarus to continue working in their specialty, some managed to get offers in Finland and Norway. The second power unit was stopped in 2010, but work on dismantling and decontamination continues. According to forecasts, they will be completed by 2040, about 1.5 thousand personnel continue to serve the station.
Visaginas – a city in pines
"How long have I been living here? It's been 39 years," Calina, a women's clothing seller, and a former employee of a nuclear power plant, calculates on a calculator. "I arrived in 1983 from Ukraine. "And people began to leave. Qualified specialists went to other nuclear power plants, especially the younger ones. Our specialists with Russian passports went to Belarus, to the Ostrovets nuclear power plant. There is little work in the city itself, basically everyone goes somewhere. Young people go either to Vilnius, or further to Europe, I have a son in the Netherlands."
But, according to Galina, in recent years retired Russians have begun to come to the city. A modest two-room apartment here could be bought for 30-40 thousand euros. And when the war started, many Ukrainians came. "In schools – we have both Russian and Lithuanian – I heard that they even began to teach Ukrainian as an elective, teachers from Ukraine also came here. I myself want to take my father out of Kyiv, he is disabled," she says.
"If a person does not speak Lithuanian, we switch to Russian"
In Visaginas, you immediately notice that the majority speaks Russian – not only older people, but even children. This is the most Russian-speaking city in the country. According to statistics, more than 50% of the city's residents are ethnic Russians, there are both Belarusians and Ukrainians, most of them also use Russian. In stores, customers are addressed in Lithuanian – and immediately translated, if it is not clear, into Russian. The concert on August 6 in honor of the city's day is in Lithuanian, but at the end of the performance, the artists congratulate the residents in Russian. The mayor of the city, when he delivers a welcoming speech, begins to applaud only when he switches from Lithuanian to Russian.
"Everyone understands each other," explains barista Diana. "If a person does not speak Lithuanian, we switch to Russian. Moreover, Ukrainians have come to us now, we understand that they need time."
Unlike Vilnius and Kaunas, where Ukrainian flags hang on many public buildings and just residential buildings as a sign of support, there is almost no such thing in Visaginas. There was a case when the flag on the wall was covered with black paint. In a local group on social networks, opinions were divided on this issue: some residents called it barbarism, but there were also those who believed that it was inappropriate to hang Ukrainian flags. "We had Lithuanians who drove cars with Lithuanian and Ukrainian flags. "What is it for? – says the seller of women's goods Galina. "There is an embassy – let them hang flags there."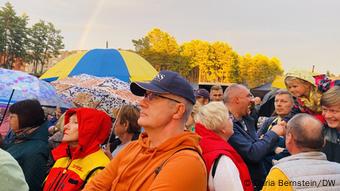 Spectators at Grebenshchikov's concert in Visaginas
Visaginas is still called the "atomic capital" of Lithuania, although today it is already a small provincial town. In 2019, he suddenly became known to the whole world – after the premiere of the popular American series "Chernobyl", it was the Ignalina nuclear power plant that was used for filming. Tourists flocked here, but the pandemic prevented big plans. Local authorities do not give up and are looking for new solutions: they accept the collection of TV presenter and fashion historian Alexander Vasilyev for safekeeping, they organize a free concert by Boris Grebenshchikov on the day of the city. Both spoke out against the war in Ukraine, and now the big question is whether they will be able to work in their homeland.
"I came specially from Vilnius to Grebenshchikov's concert," says pensioner Viktor. "I was lucky to hear him once, I hope today the rain will not derail the concert. go underground."
"Let me be in the dark, but I see the light"
Boris Grebenshchikov with his musicians is setting up the equipment for the concert. A real downpour begins, and people who have come to Visaginas specifically to hear Grebenshchikov are anxiously asking if the concert will be cancelled. The musician calmly plays melodies, not paying attention to the fuss.
Closer to the beginning of the performance, people fill the entire small area, some climb onto the roofs of the entrances of brick houses – to see better. The rain slowly calms down, and a rainbow appears in the sky – Grebenshchikov enters the stage: "I'm very glad to see you!"
He was one of the first Russian artists to condemn the attack on Ukraine. "What is happening in Ukraine is a shame. A shame on the whole world, and a shame on Russia in particular," he said in his social networks. "What is happening is genuine madness. The people who unleashed this war have gone crazy.
After that, Grebenshchikov's concerts in Russia were canceled "for obvious reasons" for an "indefinite period", and the musician himself left for the UK, part of the group, according to him, remains in Moscow.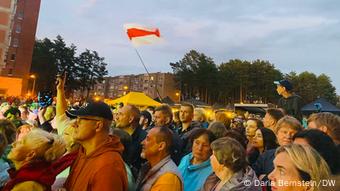 Belarusian white-red-white flags were also at the concert
There are no political statements at the concert in Visaginas. "While I breathe, I still ask that the clear light return to us", "Let me be in the dark, but I see the light," the songs sound. And after each, he says thank you to the audience, and they answer: "We were waiting for you!"
While Grebenshchikov's concert is coming to an end, young guys from Vilnius gather their street concert at the next site, just by the shopping center, they came to congratulate the residents of Visaginas. They are a little over 20, they fervently and to order sing Max Korzh, Basta, "Tender May", "Boombox". Everyone sings along, and for a moment you remember that there was a time when you didn't have to think about why Basta, who has been collecting concerts in Ukraine for many years, is silent about the war, why Max Korzh can't perform either in Kyiv or Moscow, and whether he was seriously injured boombox leader. In the pause comes the final word from Grebenshchikov: "Try to find the beginning if you want to untangle the ends."
See also: