For the world media, there is no doubt: the new world heavyweight boxing champion, Alexander Usik, is Ukrainian. So the leading publications write about the new "king" in the most prestigious category of this sport. On the night of September 25-26, 34-year-old Usik defeated Briton Anthony Joshua and won the WBA, IBF, WBO and IBO titles, repeating the success of the brothers Vitaly and Wladimir Klitschko. "The belts are going home," said Usik, a native of Crimea, on Instagram immediately after the fight. Ukrainian President Volodymyr Zelenskyy echoed on his Facebook page: "Ukraine is returning its own!"
Usyk will carry championship belts to Crimea
In fact, Usyk's victory caused a mixed reaction in Ukraine. A rare case – a fight of this level was not broadcast by any Ukrainian TV channel. Those interested were forced to follow him on Russian TV or by subscription. Some were happy and proud, others criticized Usik on social networks for his previously expressed ambivalent position regarding Russia and the annexed Crimea, his homeland.
Alexander Usik – the winner of the fight in Berlin, 2017
The tendril is not an easy case. The Russian-speaking boxer went to fight with Joshua wearing gloves with the inscriptions "Simferopol" and "Ukraine", and after the victory he picked up the Ukrainian flag. Returning to Kiev, he added fuel to the heated discussion, saying that he planned to go to Crimea with champion belts and hold a rematch in Kiev.
The athlete, who after 2014 moved to mainland Ukraine, regularly visits the peninsula, trains there and calls Crimea his home. Earlier in Ukraine, he was, among other things, criticized for calling Russians and Ukrainians "one people", as Russian President Vladimir Putin does, for ties with the Moscow Patriarchate, for participating in a Russian film about Orthodoxy and, most importantly, for unambiguously refusing to answer the question regularly asked to him: "Whose Crimea?".
It is known, however, that Usyk went to the front in Donbass and trained the Ukrainian military there. True, some of them publicly criticized him for what they consider to be the pro-Russian statements of the boxer.
Ukrainian dilemma: what to do with people like Usik?
Film director Oleg Sentsov, also a native of Crimea, formulated a Ukrainian dilemma on Facebook: what about those famous Ukrainians who do not publicly call Russia an "aggressor" and maintain ties with it? Encourage them to emigrate to the Russian Federation or try to convince them? In Russia, where TV presenter Vladimir Soloviev called Usik "the greatest", and singer Yuri Loza suggested inviting the athlete to live and work in the Russian Federation, it seems that they are ready to accept him with open arms.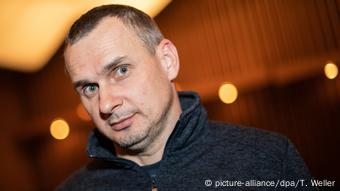 Ukrainian film director Oleg Sentsov
Sentsov called Usyk's statements "Putin's propaganda cliches," but suggested "not to repulse, but to explain, especially when a person considers himself Ukrainian, what it really means and why he cannot coexist with the" Russian world. " , it takes time and "the help of those who have already realized their identity."
Meanwhile, the case with Usik is not the first reason for such a discussion in Ukraine, when sports and politics clashed. In August, athlete Yaroslava Maguchikh was criticized in the country, who became the bronze medalist of the Summer Olympic Games in Tokyo in high jump and was photographed with a Russian woman who won gold. Both athletes were holding flags – Ukrainian and Russian Olympic Committee (ROC). Maguchikh was criticized for this at home, the Deputy Minister of Defense spoke to her.
German publicist: Ukraine should move away from templates
German publicist Christoph Brumme living in Ukraine said in an interview with DW that he is sympathetic to both sides – those who criticize Usik and Maguchikh, and to the manifestation of "spontaneous joy in Tokyo." He believes that Ukraine lacks "political thinking beyond black and white templates." "Usyk fights for Ukraine, improves its image," says Brumme. "And this is decisive." According to him, one can sympathize with the fact that "after seven years of war, someone cannot distinguish where the friend is and where the enemy is", but it is necessary to speak also "with such people."
See also:
.