The caravanning sector is booming. Although they do not reach the levels of the rest of Europe yet, sales of these models have skyrocketed in the last two years, due to the effects of Instagram and the pandemic, which has encouraged travel outside the hotel circuits. However, the upper limit is only marked by the imagination.
The average price of a fully equipped camper van is 31,000 euros, while if you opt for a new one, it can be around 50,000 euros. The rental for days, depending on the season, starts at 100 euros and can reach up to 180, according to the Alquivan company.
An increasingly established industry is emerging around the campervan and motorhome sector. Whether it's rental companies like Roadsurfer or preparers like Tinkervan or Furgotola, it's much easier to get in (and out) of this world than it was, say, 30 years ago.
When converting a van, the same thing happens as with reforms at home: you can pay a considerable amount and have it done by professionals or invest less but more time to do it. In this last case, in addition, it can be done exactly to the taste of each one.
Before starting

Building a camper is a job that should not be taken lightly. In this contained space, insulation, electricity, plumbing, DIY and gas will have to be carried out, if you intend to cook inside… all in a vehicle that, given that it affects safety, has to be approved in order to pass the ITV.
Therefore, it is important to be aware of three pillars: the budget, the time available and your own capabilities. There are some processes that can only be carried out by professionals —for example, gas installation— and others that, if you do not have knowledge, it is faster than others, such as electricity.
The budget will depend on what you want to do and the space of the van. Although putting an inflatable mattress on the folded seats can already be considered a viable way of sleeping inside, the average is around 4,000 euros. Going to companies, these can start from 5,000 and reach up to 10,000.
It is essential to have a detailed budget of everything you want to carry out and it would be reasonable to leave some slack, for unforeseen expenses that may arise. It is also a good time to contact a homologation engineer to find out what modifications need to be declared. Once this is done, you can start.
The van

The first step to camperizing a van is always to have one of them. In general they can be classified into three categories, which vary by size:
tourism derivatives: They are the smallest vans, which are used for urban deliveries and to carry light loads. An example of this is the Citroën Berlingo, a sales success in Spain since its introduction in the mid-90s. They admit a light and removable camperization.
vans: The most versatile option for space and price, in them it is rare to be able to stand up inside, but they have an amazing capacity to install a bed and structures for the passenger compartment. An example is the Opel Vivaro or Toyota Proace.
vans: The largest models, in which you can stand inside and configure them in their entirety, with space for beds, motorcycles, kitchen and even bathroom. Examples of these vans are the Fiat Ducato or Mercedes Sprinter.
All of these can be found on the second-hand market, but certain considerations must be taken. In the first place, the use that was given to it before being put up for sale. If it was an urban delivery, the clutch will be more affected, while if it was a delivery van, the suspensions will have suffered.
It is recommended that they have a high ceiling and a flat floor, to maximize interior space, as well as to know the maximum weight that the vehicle can support, because the B license only allows a vehicle of up to 3,500 kilos.
The transformation

The first step to camperizing a van is to cover it with insulation, which can be rock wool or self-adhesive foam. If its use was for the transport of goods, it is possible that this step had already been carried out by the previous owner.
Then it remains to know what kind of furniture to include. Beds, bunk beds, cabinets, pantries… it all depends on how much you want to equip and how much weight you want to carry inside. It is necessary to choose thin and resistant boards, especially with regard to the rest area.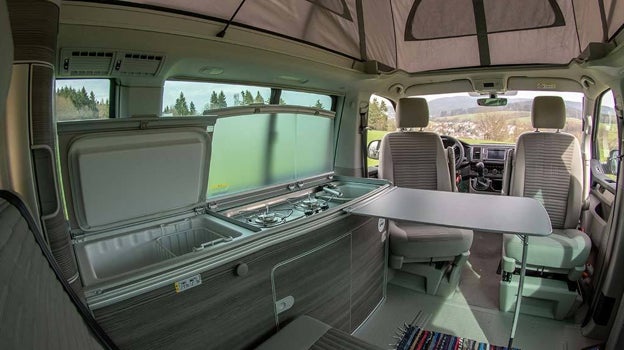 Once the work is done, the final step is to have it approved by an engineer so that it is reflected in the technical sheet and can pass the technical inspection. Finally, we must not forget about insurance, which with a campervan it is convenient to add coverage for theft, fire and personal damage, due to its high cost. Also, if possible, that the mandatory insurance has good travel assistance.