"Come little girl in my comic strip/Come blow bubbles, come make WIPs!/ CLIPs! CRAP! BANGs! VLOPs! and ZIP!/ SHEBAM! POW! BLOP! WIZZ! » The invitation to the fusion of the box and the song had been launched in 1967 by Serge Gainsbourg, and the title of the exhibition presented at the Museum of the comic strip of Angoulême pays homage to him.
"Rock! Pop! Wizz! When comics mount the sound" explores until December 31 the links between forms of expression long relegated to the rank of minor arts – one in relation to literature, the other in relation to "great music" – before being ennobled and finding their place in the museum. "Two subcultures that have become heritage"as summed up by the scriptwriter and designer Hervé Bourhis, author since 2007 at Dargaud of "little books" devoted to rock, the Beatles, the black music (with Brüno) or French pop (with Hervé Tanquerelle).
The subject deserved an update since it had not been exhaustively treated since an exhibition "Rock & BD", still in Angoulême, in 1983. The recent trend is indeed to a profusion of graphic novels devoted to musical icons . The curators, Clémentine Deroudille and Vincent Brunner – who notably directed Rock Strips. The history of rock in comics (Flammarion, two volumes in 2009 and 2011) – therefore brought together around fifty designers and around three hundred pieces, original boards, record covers, film archives, clips, and entrusted the Dutch designer Typex with the design of an animated dancefloor offering to dance with the stars.
Robert Crumb et Janis Joplin
The route shows how rock culture has conquered the ninth art. With Beatlemania as a Trojan horse, when the group from Liverpool found itself, in 1965, on the cover of Girls'Romances, these rose water stories that Roy Lichtenstein recycles. As early as 1967, publisher Archie Comics and pop mogul Don Kirshner teamed up to create The Archies, a fictional band that "represented as an ancestor of Gorillaz", notes Vincent Eches, director of the International City of Comics and Images. His tube Sugar, Sugar, number one in the United States and Great Britain in 1969, will become the emblem of a "bubble-gum pop", aimed at the adolescent market of chewers.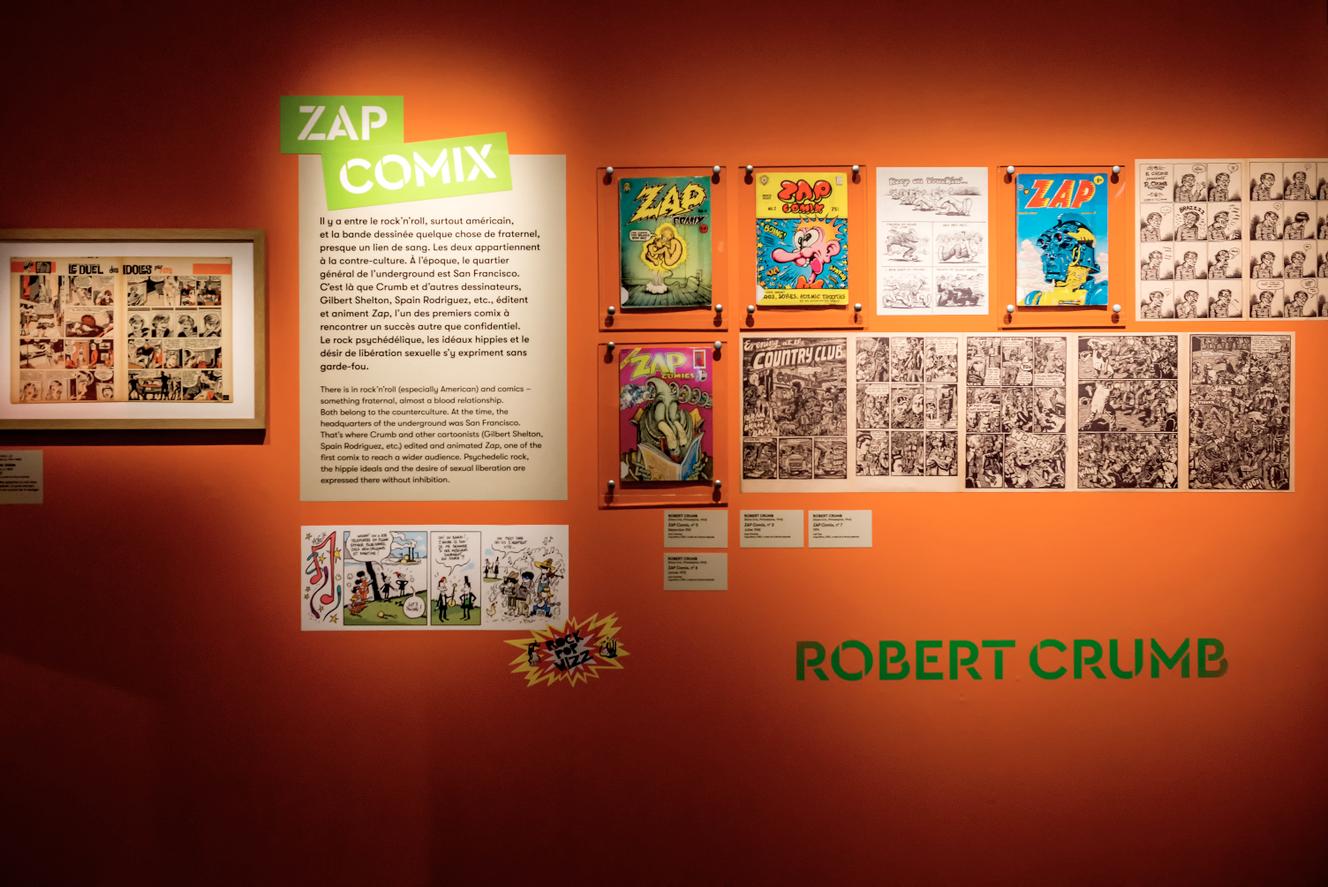 At the antipodes of these basely commercial operations is Robert Crumb when he broadcasts in San Francisco, from 1968, Zap Comix, the "x" indicating that it is not a publication for young people. There is sex, drugs, but not really rock'n'roll, Vincent Brunner recalling that the designer swears by "pre-war blues, jazz and country". But his deviant universe populated by stoned hippies associates him with the counterculture, and Crumb promotes comics on the cover of a best-selling album, Cheap Thrills, by Big Brother and the Holding Company, with artwork for each of the seven songs. At the request of the singer of the group, an admirer named Janis Joplin.
You have 65.53% of this article left to read. The following is for subscribers only.