The work Impfbanane, by the German graffiti artist Thomas Baumgärtel, best known as the Bananensprayer, went under the hammer for 13,200 euros. As reported on Wednesday, December 2, the official representative of the auction house Van Ham in Cologne, this is more than double the starting price of the lot.
To get vaccines for everyone
According to published information, "Banana for grafting" went to a collector from the federal state of Schleswig-Holstein for 10,000 euros. In addition, as is usually the case at such auctions, the collector should have paid the auction house a so-called "buyer's premium" in the amount of 32 percent of the final price of the lot.
"Banana for vaccinations" at the vaccination center in Cologne
In this case, it was 3200 euros. But since the auction house refused this money, the entire amount, a total of 13,200 euros, as Thomas Baumgertel planned from the very beginning, will be donated to the international COVAX project, the goal of which is to ensure that residents receive vaccines against COVID-19. not only developed but also developing countries.
The COVAX Project for Equitable Vaccine Distribution is a one-of-a-kind initiative of the World Health Organization (WHO), the United Nations Children's Fund (UNICEF) and the GAVI alliance, which includes, among others, the governments of several developed countries, WHO, UNICEF, the World Bank, companies – vaccine developers and manufacturers from different countries, research and technical agencies, civil society organizations, various foundations, including the Bill & Melinda Gates Foundation and other philanthropists. COVAX purchases and organizes the logistics of billions of doses of coronavirus vaccine for people in the world's poorest countries.
"Banana Specialist"
Bananas have long become a kind of "trademark" of Thomas Baumgertel. The sprayer artist depicts them using the screen-printing technique "pochoire" (French pochoire – a stencil for drawing) – in the image and likeness of the famous "Banana" by Andy Warhol, which the king of American pop art originally created to decorate the cover of the debut album of the American rock band The Velvet Underground Banana & Nico.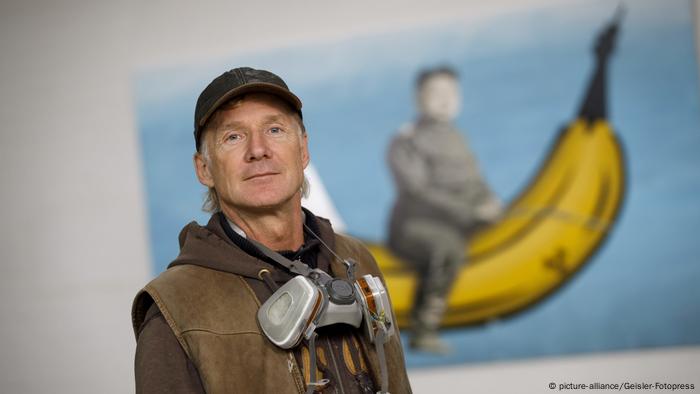 Artist Thomas Baumgertel
For several decades now, the Cologne artist has been applying banana graffiti to the facades of museums, art galleries and residential buildings around the world. And when a vaccination campaign was launched in Germany this spring in connection with the coronavirus pandemic, Baumgertel turned his signature banana into a "vaccination banana" and began to decorate the facades of vaccination centers and hospitals with such bananas. The auctioned piece was displayed on a dividing wall at a vaccination center in Cologne.
See also:
.