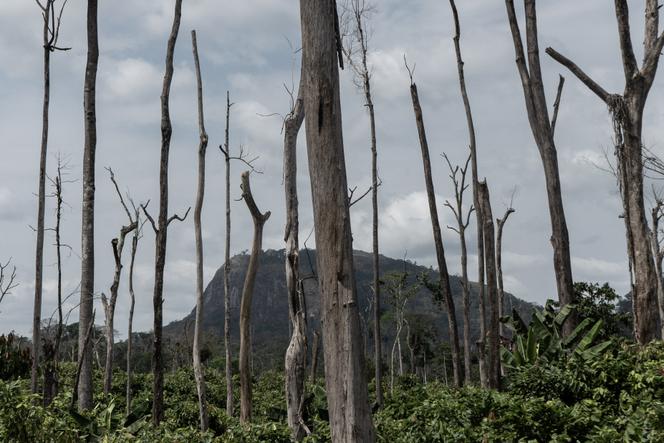 « Silence ! », exclaims a resident of Bébou, nearly 200 kilometers northeast of Abidjan. Machetes and slingshots in hand, guns on their shoulders, about twenty volunteers enter the classified forest of Bossématié, not far from the village. The villagers jump off their motorcycles and discover, behind the dense vegetation, small fields of corn and plantains. Further on, hundreds of cocoa trees have been growing here for almost three years. Illegal plantations in this forest supposed to be protected by agents of the Ivorian state.
Read also:
Article reserved for our subscribers

At COP15 against desertification, major declarations but no major political decision
"We cut everything! », launches Pascal Assa Koffi, president of the association Save the classified forest of Bossématié, created in July 2021. At his side, a villager fires a shotgun into the air to call for volunteers who have gone in another direction. Those who are also cocoa and rubber planters in their village cut down with determination all the plants they come across in their path. "We put our hearts into it, because we were asked not to come and cultivate on these lands. Meanwhile, illegals get rich here »assures Modeste Anet Bilé, secretary of the executive office of the association, a machete in hand.
Their clandestine plantations have destroyed 60% of the Bossématié forest in ten years
For the past ten years, thousands of clandestine loggers have infiltrated this forest, killing the trees and growing cocoa which they sell to local cooperatives, as well as food crops for food. According to the NGO Mighty Earth, 40% of Ivorian cocoa comes from protected areas. To fight against this phenomenon, the residents of the ten villages located around the classified forest have come together in an association and armed themselves. The illegal immigrants are mainly from Burkina Faso, according to François Ruf, researcher at the Center for International Cooperation in Agricultural Research for Development (CIRAD) in Côte d'Ivoire and cocoa specialist. Their clandestine plantations have destroyed 60% of the Bossématié forest in about ten years, according to observations by CIRAD.
They burn down the big trees one by one
Their technique is repeated on dozens of plots. The illegals begin with " to do the housework ", that is, they clear the space, then plant the seeds. Then, as the cocoa trees need the sun, they burn the big trees one by one – frakés, framirés, irokos, bétés… – at the base of the trunks, which causes their gradual death and then their fall. "It allows them not to be identified by drones, because the trees will only fall a few months later"develops Galo Kla Abelle, president of the NGO Initiative for the development of cocoa, one of the first supporters of these villagers.
You have 63.77% of this article left to read. The following is for subscribers only.