The wet bends of the road plunge towards Hienghène, between the green hills, up to the black wall of the rocks of Lindéralique resting on the sea. Monday, December 5, everything is drowned here, tears or rain the pinkish Pacific and muddy rivers, under the low ceiling of the tropical storm hitting New Caledonia. Going up towards the tribe of Tiendanite, that day, one fears to remain prisoner of the flood which descends the mountain. But, on arriving in the stronghold of the family of Jean-Marie Tjibaou, the Kanak independence leader assassinated in 1989 by a radical militant, all is calm.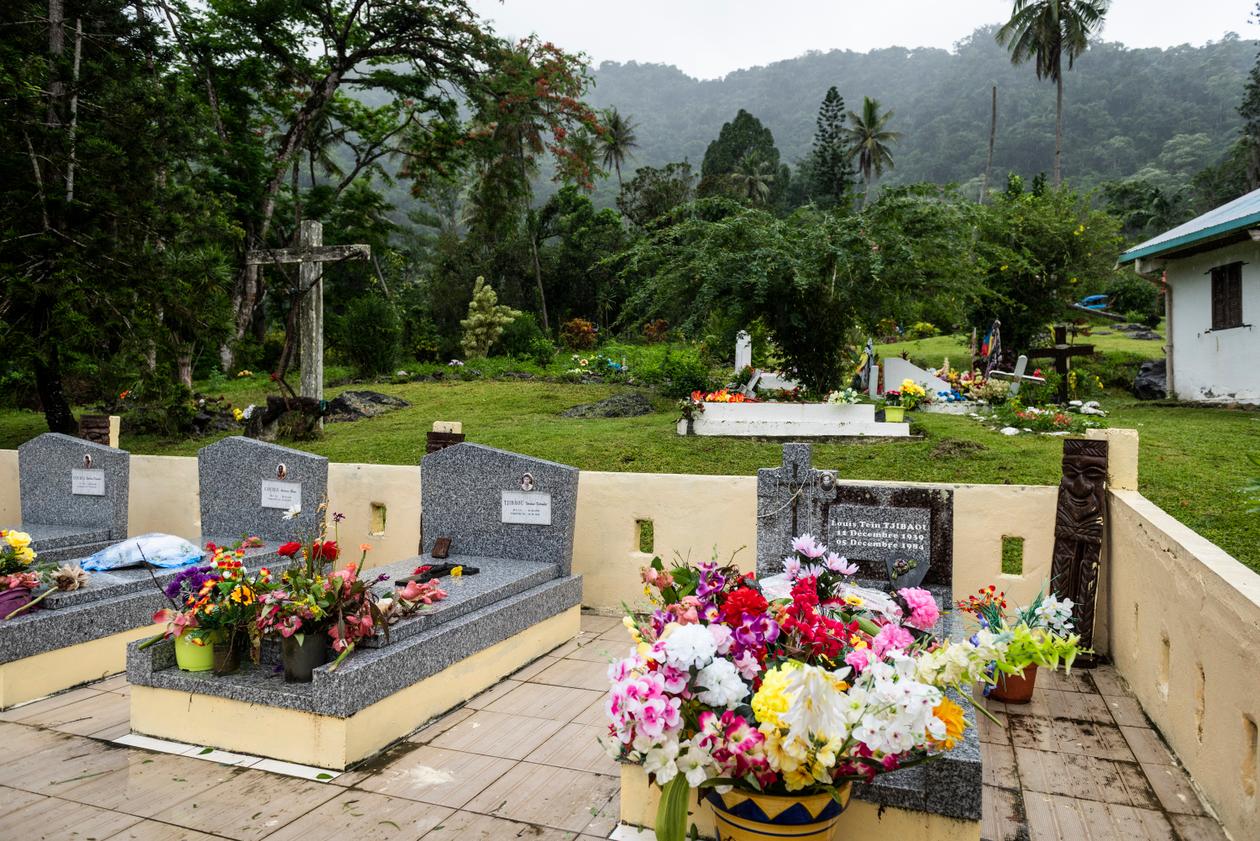 An assembly is held there, under the shelter of the roof of the common house. In the morning, a hundred people gathered for mass, in the tiny chapel perched on the open site between the mountains. Alongside him, fresh flowers were placed on the graves of ten militants of the Kanak and Socialist National Liberation Front (FLNKS) who were savagely murdered on December 5, 1984 by Europeans not far from here, in Wan'yaat, where a memorial was erected. Among them fell two Tjibaou brothers, Tarcisse and Louis. Closer to the family home, here, the tomb of Jean-Marie Tjibaou has also been decorated. His sons, Emmanuel and Pascal, exchange with each other, thank those who leave for the valley to return before nightfall.
"The priest told us this morning that you can learn other people's stories, but if you don't know your own story, you're going to fail. » Françoise Wetewea, 35, a young mother from the Gossanah tribe on the island of Ouvéa, is an activist in the Caledonian Union (UC), the main component of the FLNKS. She chairs the Association Jeunesse Kanaky Monde (AJKM), a branch of the UC. She is "come to commemorate". With Brenda, an activist from the local committee of the city of Mont-Dore, Françoise left Noumea in the middle of the night to arrive in time at Tiendanite, after a six-hour drive.
"Important to pass on"
The activists have just crisscrossed New Caledonia to awaken among young people the memory of those who marked the fight for independence. "We are the heirs", they say. But, at school, Françoise remembers, "we just had the image of the 1988 handshake between Jean-Marie [Tjibaou] and Jacques Lafleur [le dirigeant loyaliste du Rassemblement pour la Calédonie dans la République]. Nothing about events. Many young people do not know contemporary history". For her friend Brenda, "the problem of our country is that we still hide the truth too much".
You have 57.36% of this article left to read. The following is for subscribers only.