Reserved for subscribers
REPORTAGE. At Wembley, near the temple of English football, fans are preparing for the clash on Saturday against France in the quarter-finals of the World Cup.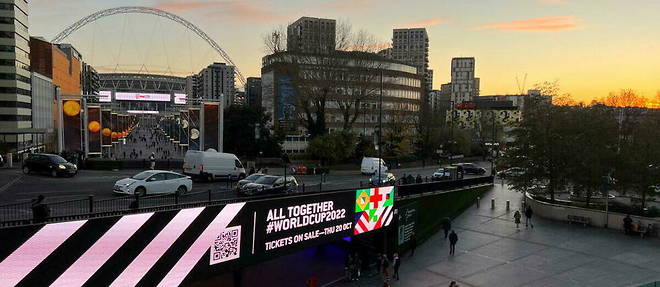 « Get ready for the quarter final ! » ("Get ready for the quarter-finals!"). Coming out of the tube, all you can see is this spot on Wembley Stadium, west London. Below is a statue of Bobby Moore, captain of the England team in 1966 when they won their only World Cup. Ball at the foot, he watches over the few tourists and locals who cross the esplanade leading to the mythical stadium.
Saturday evening, it will be crowded. On the right, a fan zone, inside Boxpark, a giant warehouse, is preparing to welcome 2,000 English – and only English – supporters for the quarter-final of the World Cup which will oppose England to France .
No bluster
Chris will watch the reunion with friends, celebrating his 60th birthday. "The match will be exciting, because the two…
I subscribe
Exclusive offers: -50% the first year