Has the North Korean fashion police gone one step too far, even for the most closed and dictatorial country in the free world? A new storm in the country following a ban on wearing leather jackets, which have become one of the favorite clothing items of leader Kim Jong Un.
North Korea has issued an official ban on its citizens wearing leather jackets of any kind, after the prestigious fashion item became a favorite of the controversial dictatorial ruler, with heavy fines and penalties expected to violate the order.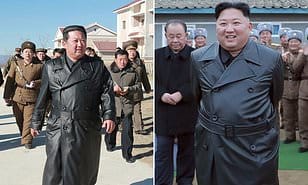 Jong Un first wore the dark leather jacket identified with him only in 2019 and it became popular among North Korean upper class people who wanted to show loyalty to the top leader and could afford such genuine leather.
But recently, an imitation marketing of the coat began, which became a hit in the most isolated country on earth. To enforce the ban the fashion police were deployed to punish merchants who sell them and take them off people even on the streets, amid a possible fear that this would cheapen leader Kim, and infringe on his authority.
Comments on the article(0):
Your response has been received and will be published subject to system policies.
Thanks.

For a new response
Your response was not sent due to a communication problem, please try again.

Return to comment