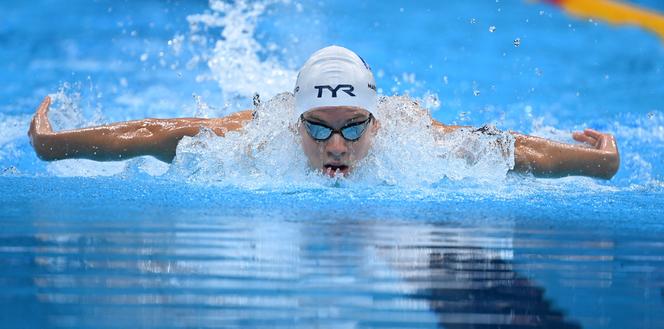 Frenchman Léon Marchand improved his own record for the 200 yards (about 180 meters) medley on Thursday March 23 at the United States University Championships, which take place in Minneapolis.
The Toulousain, who is studying computer science in Arizona, won in 1 minute and 36.34 seconds, 1.3 seconds less than his previous record, established a year ago during the same championships.
The 20-year-old prodigy also holds the French records for the 400m and 200m medley, 200m butterfly and 200m breaststroke. He also became world champion in the 200 and 400 m medley last year and vice-world champion in the 200 m butterfly.
Read also:
In the wake of Léon Marchand, triple medalist at the swimming world championships, a new blue wave
Best French chance of a medal in swimming, he says to himself « impatient » to compete in the Paris Olympics, which he hopes " live to the fullest " and for which he is preparing " calmly ".
"It's a chance to have the Games in France. I am reaching my performance peak. Between the ages of 20 and 24, that's about when you reach your peak in your sporting career and it's lucky to have the Paris Games at that time. So already, you have to take advantage of it and take everything there is to take. At the level of all that is pressure, media, etc., I train for that with a mental coach "he said in an interview with Agence France-Presse five hundred days before the opening of the Games.
"It's true that it's a big deadline and I will be under more pressure than in previous years, that's for sure. I might be the favourite, so it will really be a different approach to other competitions. At the last world championships, I didn't really have any status, so it's true that it was easier, you don't have much to lose when you arrive like that. There, it's a slightly different approach, but it's also a challenge. I'm happy to be able to move forward and work on that to manage better afterwards. And we still have time, there are five hundred days left, so we will work quietly! »
Also read the interview:
World Swimming Championships: "There is still a lot of work to do to make the Paris Games a success in 2024"
RIDICULOUS 😈

@leon_marchand destroys his own 200 IM NCAA record in 1:36.34.

#BackThePac | @ASUSwimDive https://t.co/9Iijmcgehe