Lorenzo Musetti (Lapresse)
Lorenzo Musetti beats Dimitrov: semifinal at the ATP 500 in Acapulco
Lorenzo Musetti makes the fans dream. Italian tennis is starting a golden period thanks to its players. After Matteo Berrettini (world number 10 and two years ago qualified at Atp Finals year-end among the top 8) and with a Jannick Sinner ever larger reality in the world (the 19 year old South Tyrolean is back from the quarters in Dubai, defeated in comeback by Karatsev), now the very talented class 2002 of Carrara is also arriving. There had been no doubts about its potential for some time and at Mexican Open di Acapulco even the big names in world tennis are realizing it. After passing the three qualifying rounds, Lorenzo Musetti beat a top-10 of the caliber of Diego Schwartzman. In the round of 16 he passed the test of 9, with the victory (in 3 sets, reassembling the 2-6 of the first and passing 6.3, 7-6) over the 23-year-old American Francis Tiafoe. And now a new gem: success in the quarter-finals against the 29-year-old Bulgarian Grigor Dimitrov (current number 16 Atp, but with a best ranking that has seen him reach third place in the world). At 19 Musetti wins his first semifinal in a Atp 500 (against the very strong Greek Stefanos Tsitsipas who beat the Canadian Felix Auger-Aliassime, 7-5, 4-6, 6-3) and is already certain to have entered the top 100 in the world (93rd position to be precise). But his climb is only at the beginning …
Lorenzo Musetti after the victory over Dimitrov: "I feel like I can do everything this week"
Lorenzo Musetti tells his joy after beating Dimitrov at the ATP tournament of Acapulco: "Right now it's hard to describe how I feel. I'm sure I'm tired, almost exhausted, but really happy. Finally one semifinal; I will be in top 100 Since Monday, I've accomplished a lot of goals tonight. I am really proud of myself, I played very well. I feel like I can do it all this week. I do not want to lose. Also tonight I failed some match points before winning, I was above and below a break; tennis is a mental game and the key is to always stay in the game. Dimitrov is a very good player. It moves very fast, it is very flexible. I served and responded very well, I tried to command the exchange from the first point with the forehand. He is a great defender, a good fighter and he likes to slice, shuffle the cards. In the end I won a fantastic match, also very physical ".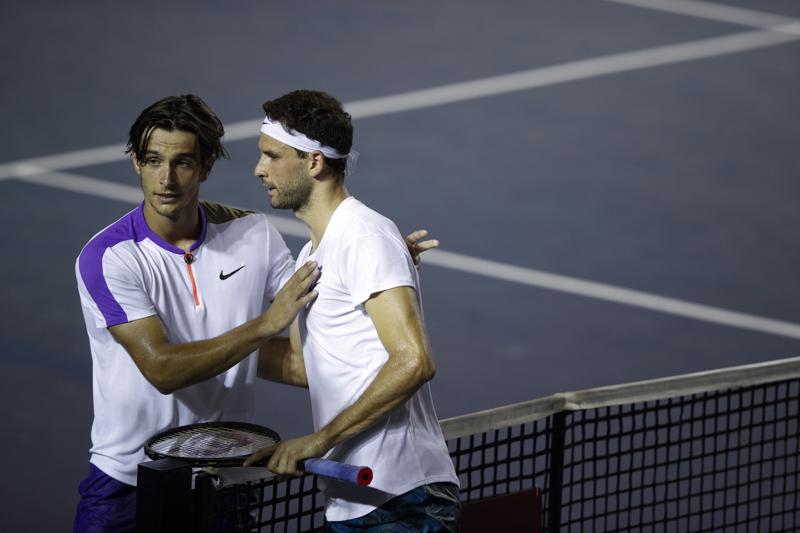 Lorenzo Musetti and Grigor Dimitrov (Lapresse)
Lorenzo Musetti beats Dimitrov and enters the top 100 of the ATP ranking
Lorenzo MUSETTI wins a semifinal at the Acapulco tournament. The 19-year-old from Carrara, who started the week as number 120 Atp and started from the qualifiers, has secured at least the penultimate act of the Abierto Mexicano Telcel ", ATP 500 with a prize pool of $ 1,053,560 that is being played on the hard court. from Acapulco The Italian, after having eliminated the Argentine in three sets on his debut Diego Schwartzman, 9 Atp and third seed, then the American Frances Tiafoe, 56 in the world ranking, also imposes itself on the Bulgarian Grigor Dimitrov, # 16 ATP and fifth seed, winning in two sets with a score of 6-4, 7-6 (3) in two hours and eight minutes of play. For MUSETTI it is the second ATP semi-final, the first in a "500", a result that will allow him to enter the top 100 and reach his best ranking (at the moment he is virtually n.93).