Towards the end of Barak Bachar's contract at the end of the season, and after his name was linked with the Israeli team, Maccabi Haifa made a decision – to submit a formal offer to extend the contract to the coach who returned the championship to Carmel after a decade, the Sports Channel website learned.
Unlike last season, where Bachar accepted the offer at the end, this time it will happen beforehand and is expected to happen immediately. The new contract is expected to be until 2024 and will ensure Bachar closes four seasons at the Green Club. Regardless of his candidacy for the team, Maccabi Haifa would like to see the esteemed and successful coach continue.
Bachar recently emerged as a candidate for the position of national coach, after the end of Willi Rotensteiner's career, and the club does not want his candidacy for the Israeli national team to employ Maccabi Haifa or any of the officials in Carmel, so the management decided to "cut" the story.
So far, Barak Bachar has made little public reference to his candidacy for the Israeli team and in his various interviews stated: "It is a great honor for every coach to coach the Israeli team, but at the moment I am with Maccabi Haifa and deal with it." Maccabi Haifa would like to see Bachar continue for another year and may deviate from their custom with a contract for only one more season and before the end of the season significantly.
Last season, Maccabi Haifa under Barak Bachar had 73 percent success, and although this season is 63 percent success at the moment, the champion is two points away from the top, Carmel is satisfied with the process the team went through under Bachar, and believes that in the future there will be success with the 42-year-old coach.
Bachar began his coaching career immediately upon retiring at the age of 31, as an assistant coach at Kiryat Shmona, and was later appointed coach of the youth team. The following year he was already appointed the senior coach where he worked for three years, and at the end of it he continued to play for Hapoel Beer Sheva for four and a half seasons. In the summer of 2020, as mentioned, he signed with Maccabi Haifa.
The championship at Maccabi Haifa was his fourth in his career as head coach, and he also has a championship as an assistant coach at KS. In addition, he won the state cup with the northern team and has a total of ten titles as head coach in nine seasons.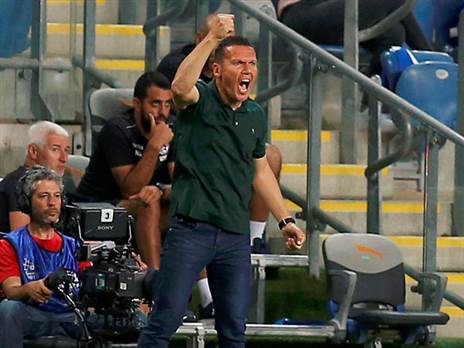 Bachar. The club wants to secure his future (Maor Elkelsi)
.