Valentina Giacinti (Lapresse)
Milan, Valeria Giacinti, 4 goals against Inter in the sign of Altafini. Josè's message: "Now four to Juve"
Four goals in a derby Milan-Inter they are a company that will remain in history. He had succeeded José Altafini on 27 March 1960 (Milan-Inter 5-3) and now the feat has been accomplished Valentina Giacinti (4-1 for the girls with the Devil's shirt), 27-year-old Rossoneri bomber of the team coached by Maurizio Ganz. It is not the first time that a poker has already happened against Bari ("In the first season with Milan, the day my grandfather Riccardo died: he guided me from there"), but this against the cousins ​​obviously special flavor. "Altafini sent me an exciting message: good Vale, I'm happy you have equaled my record but now you have to do four at the you", he says in an interview with Corsera. Valeria Giacinti underlines:" I went out on the pitch focused on myself: I wanted to respond to certain criticisms. The first header: not exactly my specialty. Then the penalty. After the third I took off my shirt and stayed in my bra: a spontaneous and angry reaction, but what a liberation. Veronica Boquete approaches and says to me: woe to you if you get a second yellow card! On the fourth goal I said to myself: it's my day ".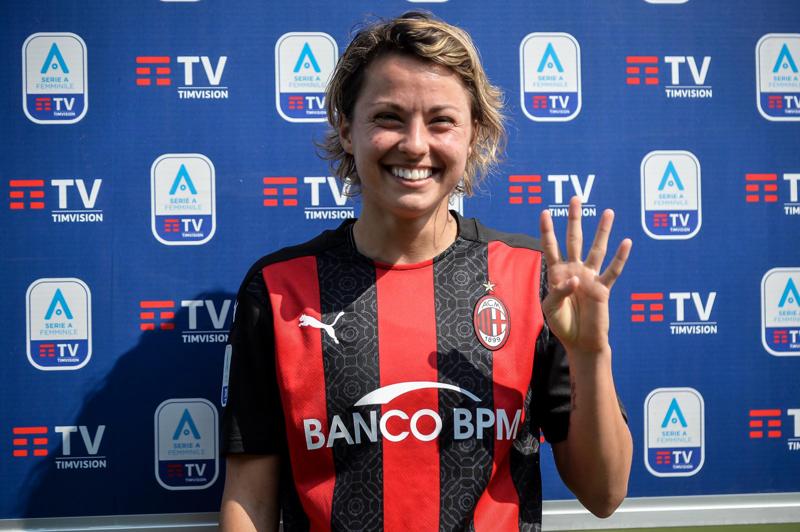 Valeria Giacinti (Lapresse)
Valeria Giacini: "Van Basten bomber ideal. I was a Vieri fan. And I look like …"
Milan's best 9 after Pippo Inzaghi, they say. "My ideal bomber is Van Basten; the idol as a girl, despite supporting Atalanta from Bergamo, was Vieri. Today they say I look a bit like Morata, a little a Immobile, a little a Inzaghi. I don't know Pippo but I would like to meet him ", he stresses to Corriere della Sera." I would ask him why he exulted in that way, always angry but with a smile on his lips. And then how did he float on the offside line: who was watching? What points of reference did he have? "Not only Milan. Lo scudetto it won't be easy to conquer since the Juventus the goal is more than 6 when there are 5 days to go ("Championship is not arithmetically closed) Champions it is concrete ("We have to secure second place from the threat of Sassuolo"). But Valeria Giacinti dreams big even with the jersey of Italian national team. Target Euro 2022: "The Global made us discover, in England we will have to be competitive against the best national teams in Europe. It will be a fundamental step for the development of the whole movement ".