2023-06-08 02:42:00
The problem of tourism northwest of Da Nang
For a long time, Da Nang has been one of the tourist destinations not to be missed by domestic and foreign tourists. However, most of the names mentioned by tourists are usually located in the central or eastern districts of Da Nang city, towards Hoi An. Possessing natural resources and rich landscapes, the Northwest area of ​​Da Nang for many years has been like a "sleeping princess", full of potential but untapped.
Nam O fishing village owns a beautiful coastline embracing the landscape of Da Nang Bay, green mossy rapids attracting thousands of visitors every early spring, cultural, historical, spiritual, and diverse culinary works. unique… but for a long time, tourism activities in Nam O fishing village were fragmented and spontaneous, lacking in synchronous planning. The consequences of this undirected development are serious environmental consequences as well as difficulties in stabilizing and improving the quality of life of indigenous people.
Nam O fishing village has a lot of potential but has been neglected and neglected for a long time
Be aware of the natural values, the rich cultural history of the region. More than 10 years ago, Trung Thuy Group took the first steps to Nam O to learn and shape the direction of tourism development for the whole region.
Accordingly, Trung Thuy Group determined that, in addition to implementing tourism projects, social security factors and improving the lives of local communities are also valued and given top priority. Since then, the regional tourism picture has gradually taken shape in a complete and sustainable appearance with the cooperation of the authorities, businesses and residents.
Nam O eco-tourism area – An initiative model from private enterprises
With the motto of developing together with the locality, Trung Thuy Group not only focuses on project implementation but also pays special attention to social security. Contributing to local economic development, creating opportunities for people to stabilize their economy and increase income is one of the important priorities for this unit.
On April 15, 2023, at the launching event of Nam O eco-tourism area project, Trung Thuy Group also officially announced the Program to support the transformation of community occupations with a support budget of up to 1 billion VND. copper. These include the implementation of a snack street along Nguyen Tat Thanh Park, the donation of 50 meals to support disadvantaged people living in Nam O village, and a program of cooperation with universities in Da Nang. to train tourism professionals for local people.
From that right orientation, from a sprawling, sloppy rock, now Nguyen Tat Thanh Park has become a spacious, clean and beautiful place to welcome thousands of tourists to visit every day. As one of the central landscapes of the park area, Nam O waiting house with bold Vietnamese architecture has become a favorite check-in point for young people in Da Thanh.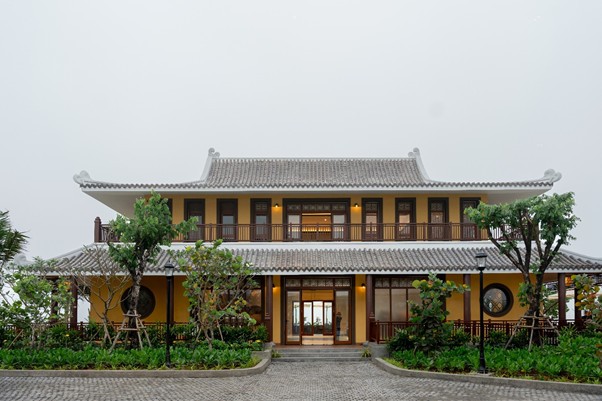 Nam O waiting room with architecture imbued with Vietnamese identity
The snack street along Nguyen Tat Thanh Park was formed from the vision and orientation of a destination that brings value to both visitors and the local community. All 50 vending carts have been sponsored by Trung Thuy Group for households living in Nam O village to sell local dishes. As a result, from this support of the group, each household here also has an additional source of income from tourism activities in addition to traditional occupations such as fishing.
As noted by the snack street management unit, after just over half a month of official operation, the street has attracted thousands of visitors every day. It is not uncommon to see images in the early morning or late afternoon of people coming here to have fun. This place is a dating check-in place for couples, a play area for the little ones and a place of exercise and yoga that is popular with many people around.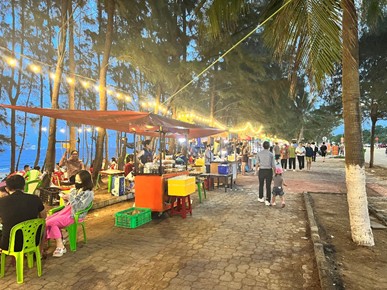 The area of ​​Nam O snack street attracts thousands of visitors every day
In addition to creating new livelihoods for people, the association with educational institutions in Da Nang to train tourism professionals for local people has shown the foresight of the project developer. That is the goal to help the community understand and access information, skills and professions, contribute to increasing personal and household income, and at the same time affect the process of changing the occupational structure in Vietnam. local.
When people's livelihood is guaranteed, Nam O will also have sustainable development steps, an opportunity in preserving and promoting inherent cultural values.
In order to get those results, thanks to the detailed orientation, prioritizing sustainable development, preserving culture in parallel with improving the lives of local residents, Nam O tourism is gradually taking shape in a Fresh and ready to become the mainstay of tourism in Northwest Da Nang.
With the above achievements, recalling the words shared at the launching event of the Nam O eco-tourism area project by Ms. Duong Thanh Thuy, Vice Chairman of Trung Thuy Group: "With unremitting efforts and companion of the locality, I believe that Nam O will become an indispensable stop for all visitors on the Hue – Da Nang – Hoi An heritage journey" to see that the vision, orientation Sustainable tourism development is playing a very important role in the current period.
#Model #sustainable #tourism #Nang