"Atmosphere post-apocalypse"
30 years ago, on September 28, 1991, the most grandiose event at that time took place – the Monsters of Rock festival. He gathered at the Tushino airfield an unthinkable number of spectators to this day – according to various sources, from 600 thousand to 1.5 million people, which became a Guinness Book record. Rock musicians, who saw the legendary "flying bottles" with their own eyes, shared their memories.
This rock festival was remembered not so much by the music as by the atmosphere on the field in front of the stage .. But 30 years ago everything was perceived differently: only, only – in August – a coup took place in the country. There is an opinion: the longer the hair of the people, the freer they are. Rock has always been an expression of this freedom – in lyrics, music, appearance of musicians and fans. People, inspired by ideas about freedom – freedom of expression, freedom of thought – went to listen to music and do what they wanted. Free admission and the lack of a competent organization (and for this it is difficult to condemn, because there was no such experience then) made this festival not only a Guinness book holder. Two years before that, top teams had already come to Moscow and played an excellent Moscow Music Peace Festival, super-star bands Bon Jovi, Mötley Crüe, Ozzy Osbourne, Scorpions, Cinderella, Skid Row, Gorky Park came to see 120 thousand spectators in two days … But "Monsters of Rock" broke all records: 600 thousand in one day! Can you imagine an uncontrollable crowd of half a million people (and according to some sources, all 1.5 million spectators were there), which is allowed to do anything: to drink any drinks, jump, shout, push? This is rock and roll. And in the 90s it was gaining momentum.
The monsters AC / DC and Metallica who arrived from overseas were super-popular in the new Russia. Pantera and Black Crowes were still unknown at the time. But this did not prevent people from arranging many problems for the organizers and the police: the festival was guarded by more than 10 thousand soldiers and policemen. When you ask eyewitnesses about the brightest impression from the festival, even 30 years later, everyone answers the same way: there was a hail of bottles and a crush. The organizers have not forbidden to carry liquids of any degree in any container, even in cans. And especially "hotheads" used them for other purposes, throwing glass bottles into the crowd, which means, probably, at someone's head. The injured, according to official statistics, are more than 150 people.
And nevertheless, it was a significant event in the history of the country: the best rock bands in the world came to us, which means that the doors opened.
Rock musicians who attended that festival have fresh memories. Guitar virtuoso Sergey Mavrin, who in 1991 was the guitarist of the "Aria" group (also played in different years with "Black Coffee", "Metallaccord", in the "Kipelov" group and founded the "Mavrin" group), remembers this historical festival very well:
– It was enchanting and unforgettable. Superstars on stage, a record number of people, thanks to the free entrance, most likely … a huge puddle of mud on the field. Alas, I can't find other words. Unfortunately, there was absolutely no way to get close to the stage itself. It was both unsafe and unrealistic. Flying empty bottles are legendary. I almost fell under one of them, dodging in time. And drunken bodies underfoot, over which the walkers simply stepped over. All this is knee-deep in mud. It was scary, honestly … The atmosphere of the post-apocalypse. But at the same time, a gorgeous star cast of world stars on stage .. The strongest impression left, of course, Metallica. A unique event from all sides. And I was there!
But to the frontman of MAD DOG and SKIFFLE Artem Makarov managed to visit the very thick of things: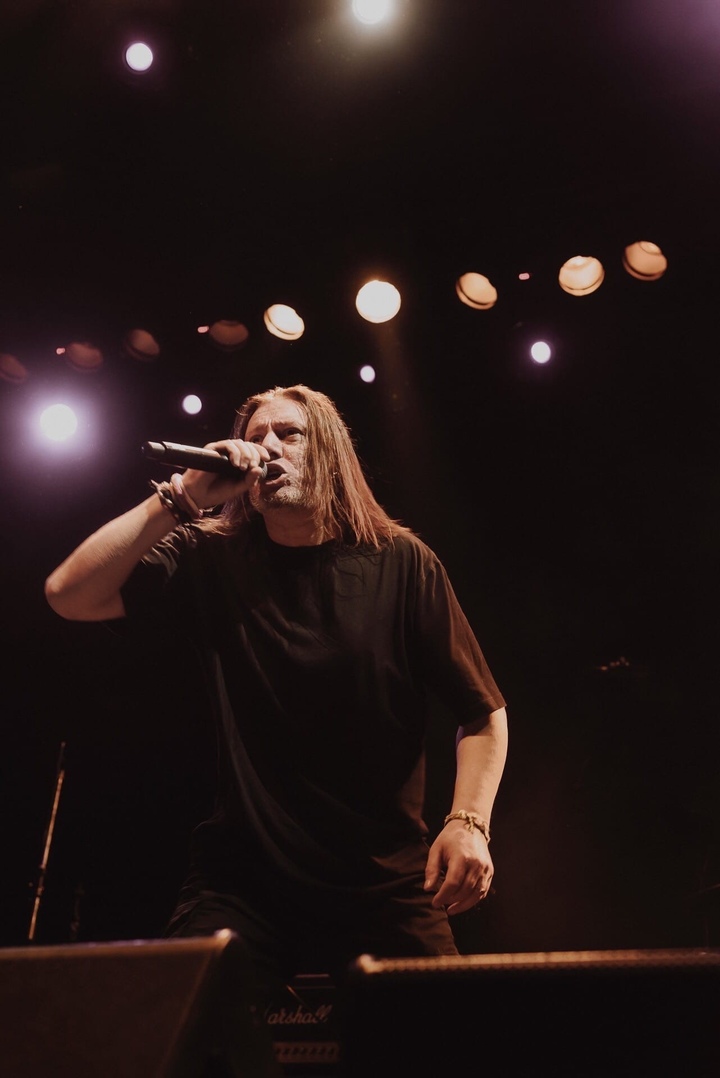 – We found out that Metallica and AC / DC would come – they were very popular with us then – and decided to go. We got to the Tushino field without incident. There were ranks of soldiers in helmets, ranks of militia. And it all started out quite peacefully. We calmly stood about 50 meters to the left of the stage. The weather was with rain, people trampled all the grass, there was porridge on the field, and people inserted bottles into the ground with their neck down and stood on them – it was higher and better seen. Pantera came out first. We have not heard this group before. And some hellish meat grinder began: these were crazy bass drums, they made some kind of "boxy", "printed" sound – no one then had drums like that. Then, if I don't confuse it, EST came out – the people also came off to them. Then Black Crowes. I also never heard this group, and somehow they did not make a particular impression on people. "Mesilovo" started on Metallica: the crowd rushed one way, then the other. I fell, but I was caught in the middle of the crowd, and it was scary. I remember my feelings: I caught myself thinking that it became very difficult for me to breathe. I think, guys, if you don't swing in the opposite direction so that I'm thrown out, I'll just suffocate. Metallica played great, but most of the fans were not looking at them, but backward, as if something flew into their heads. And not only glass bottles flew there, but also wooden flagpoles. In my presence, one girl was touched by such a shaft with a sharpened tip on the cheek. All this was further aggravated by the "living corridor" along which tired and mostly drunk fans walked to the metro: the police and soldiers just went wild in the evening, and many were hit on the back with a truncheon. But we discussed this festival for a very long time.
.