One round remains until the end of the regular season in the Winner national league, and even tonight (Tuesday) the picture of the playoffs did not become clear. Maccabi Rishon Lezion beat Elizur Netanya, which is hanging on in the battle for second place. Maccabi City Ramat Gan beat Elitzur with Ashkelon 65:70 thanks to a big three-pointer by Kevin Kipers at the end, and both teams have not yet secured their place in the top four. Here's what happened in the minor league.
Maccabi City Ramat Gan – Elizur Ashkelon 65:70
A strange game in Zisman ends with a victory for Maccabi Urban Ramat Gan, which takes an important step towards securing a place at home in the playoffs. The southerners led almost the entire game, but in the last quarter they conceded 26 points and surrendered. Kevin Keifers (28 points) provided a tremendous three-pointer at the end, while on the other hand Shlomi Harush missed a three-pointer that could have sent the game to overtime. In the final round, the southern teams will host Hapoel Afula, while Maccabi Urban Ramat Gan will go to Yashoreon.
Ramat Gan scored: Kevin Kipers 28 points, Jordan Cohen 14 points, Dimitrios Treadwell and Elijah Hirsch 11 points, Harel Dadon 3 points, Amit Aharoni 1 point.
Ashkelon scored: Thomas Gipson 15 points, Eliran Haddad (13 rebounds) 12 points, Clark Rosenberg 10 points, Dekrai Tucker 8 points, Gal Gilinsky 7 points, Omer Ben David 5 points, Shlomi Harosh 4 points, Raviv Pitshon 3 pt., Yanir Binyamin 1 pt.
Maccabi Rishon Lezion – Elitzur Netanya 74:90
A huge victory for Maccabi Rishon LeZion, who received a great game from Igor Nesterenko (18 points) and on the way gained confidence for the quarterfinals of the playoffs. Nati Cohen's team widened in the second quarter for a double digit lead – 41:51. The guests managed to get back into the game in the third quarter, but in the last quarter only one team was on the floor.
For Rishon LeZion they scored: Jay Evans (4/6 for threes) 25 points, Cody Riley 19 points, Igor Nesterenko 18 points, Yariv Amiram 6 points, Guy Palatin (8 assists) 5 points, Tomer Cohen and Nimrod Tishman 4 points "A.
Netanya scored: Eitan Borg (6 assists) 22 points, Justim Robinson 15 points, Ben Sharaf 14 points, Dori Sahar (5 assists) 7 points, Jordan Lewis 6 points, Al Wahid Aminu 4 points, Yahal Peleg, Nadav Sahar and Ilai Shaul 2 point 21.
Maccabi Haifa – Hapoel Habel Modiin 89:84
Maccabi Haifa will play in the lower house this season after a home loss to Hapoel Hebol Modi'in. Mickey Gorek's team continues with its great run, and it also finishes this cycle above the red line. Both teams provided a balanced game throughout, but towards the end great actions by Shoham Gat in the attack ensured victory for the guests. Shmuel Malkov delivered another great game of 24 points, while on the other hand the home team left 8 points on the penalty line and allowed their opponent to score 60 percent for two points.
Haifa scored: Stedmon Lemon 16 pts, Edmon Gilder Vali Aviv 15 pts 21, Daniel Koperberg 12 pts, Danel Khozhinoff, DJ Sharp and Ofek Malka 7 pts 21, Anton Shutbin 5 pts.

Havil Modi'in scored: Shmuel Malkov (4/9 for threes) 24 points, Karon Deshields (4/9 for threes) and Avitar Mor Yosef 20 points, Michael Holyfield 15 points, Shoham Gat (7 assists, 6 rebounds) 10 points.
Modi'in with a great victory in Rome (photo: Ilai Aharoni, director of the National League)
Hapoel Afula – Maccabi Maale Adumim 84:77
A tremendous victory for Maccabi Ma'ale Adumim in Afula, who suffer only their second home loss this season. As I remember, the game was not critical for Afulaim because they secured first place, but Ma'ale Adumim knew that a loss would close their chances for the top playoffs. Yair Gvirtz's team provided a heroic game in which they controlled the entire length of the first half, which they finished with a 41:34 lead. Even when the home side made a turnaround, the visitors managed to come back and showed a lot of character towards the end with big actions that interrupted a streak of seven losses.
Afula scored: Jimmy Hall (15 rebounds) 27 points, Tuarlian Fitchpatrick 9 points, Roi Natsia 8 points, Dor Anbi 7 points, Alon Drucker, Tom Spector and Lucas Goldenberg 6 points 21, Korem Giorno (5 assists) 4 points, Tomer Assig and Daniel Najer 2 points 21.
Above Reds scored: Eddie Akure 23 points, Dewan Johnson (14 rebounds) 18 points, Simcha Halpert 14 points, Ben Ivri 11 points, Ido Shabbat 9 points, Ariel Deri 6 points, Matan Hammo 3 points.
Elizur Shomron – Ironi Nahariya 90:66
A great second half of Urban 'Rain' Nahariya was enough for her to win. Shai Seglovic's team conceded only 22 points in the second half, while they scored 29 points only in the last quarter. Balitzur Shomron will hope to look for a victory in the bottom game in Shoham on Friday. Yogev Ohion finished with an impressive double-double.
Samaria scored: Dashon Burke 19 points, Keith Stone 15 points, Yuval Levin 12 points, Ido Fleischer (11 rebounds) 10 points, Eyal Shulman 4 points, Ido Alon and Gal Sternberg 3 points.
Nahariya scored: Romloy Witt and Yogev Ohion (11 assists) 18 points 21, Ofek Ben Yaacov and Malik Trent 9 points 21, Alex Chubarevich and Omer Folg 8 points 21, Dola Drapitch 7 points, Amit Reuven 5 points, Ohad Dekal 4 points, Isaiah Eisendorf and Ader Ein Gal 2 points 21.
Maccabi Rehovot – Hapoel RG/Givataim 82:88
An important victory for Maccabi Rehovot in the battles of the bottom. Kobi Hasson's team rose above the red line despite the victory of Hapoel 'Mega Or' Hebol Modi'in. Hapoel RG Givatayim is officially very close to the national league.
Rehovot scored: Brandon Sherwood 23 pts, Josh Freund and Brent Jackson 17 pts, Shai Guetta 8 pts, Gal Halamish and Tomer Abramovich 7 pts, Yevgeny Kholodov 6 pts, Rom Cornelius 3 pts .
For RG/Givataim they scored: Lamonte Bearden (9 assists) 28 points, Storm Warren 14 points, Eliad Tal 11 points, Omer Harel and Niv Ozan 9 points 21 points, Aviv Shimoni 7 points, Gil Neyovich and Arad Harari 2 points 21 points .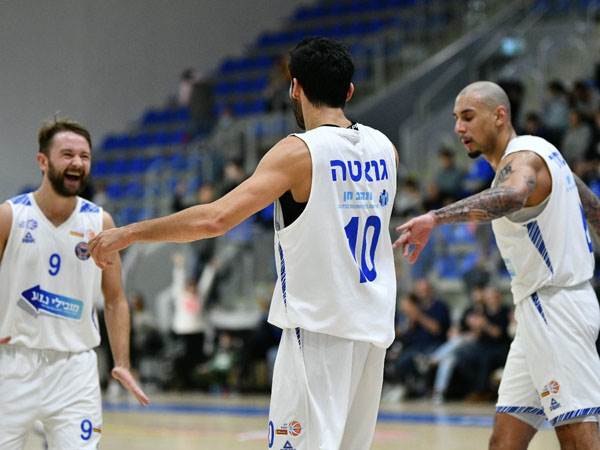 An important victory in the bottom battles. Rehovot (Photo: Maccabi Rehovot)