2023-05-25 17:59:11
After an emergency cabinet meeting, she announced help for households, businesses, farms, transport systems, schools, healthcare services and the tourism industry, while cautioning that the full extent of the damage has still to be determined.
"This first measure provides for a budget of over two billion euros for areas affected by the floods," said Meloni, who visited the worst-hit areas of the Emilia Romagna region on Sunday.
READ ALSO: Over 23,000 people still without a home after northern Italy floods
"We clearly know that we are talking about emergencies, that there will be a reconstruction phase in which we are not yet able to quantify the overall need and the damage," she added.
Some areas still remain under water after six months' worth of rain fell in the space of 36 hours one week ago.
As of Monday, 23,000 people were still unable to return to their homes.
Residents of Castel Bolognese in Emilia Romagna take shelter in a sports hall after being evacuated from their homes. Photo by Andreas SOLARO / AFP.
Almost half the money has been earmarked to help employees and the self-employed, while there are also funds to help businesses, particularly exporters, and farmers, including those who have to buy new machinery.
Meloni, who returned early from the G7 summit in Japan to meet residents at the weekend, said that businesses and taxpayers in affected areas would also benefit from a suspension of tax and mortgage payments.
READ ALSO: EXPLAINED: Why has flooding in northern Italy been so devastating?
The floods that wreaked damage across the southeast corner of Emilia Romagna were the second to hit the area within weeks, following a deluge earlier in May that killed two people.
In the most recent disaster, almost two dozen rivers burst their banks.
Water flooded entire neighbourhoods in the wealthy region, which boasts both rich agricultural farmland and industry.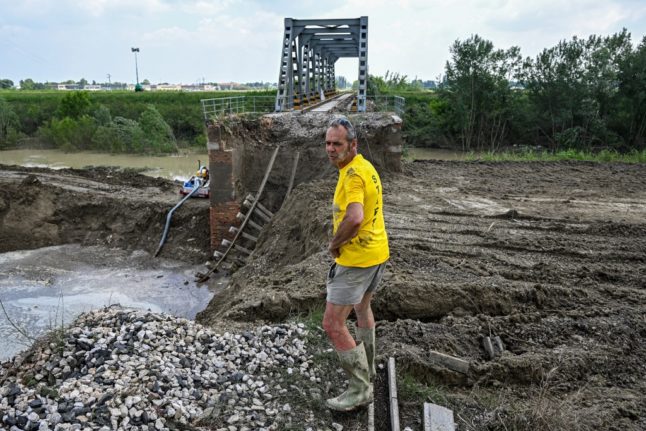 A man stands by a collapsed railway bridge washed away by floodwaters in Sant'Agata sul Santerno on May 21, 2023. Photo by Andreas SOLARO / AFP.
'Lost everything'
Schools reopened in Ravenna on Tuesday, although high schools in nearby Forli remained closed until Wednesday due to continuing disruption on the road network.
The region estimates that damage worth more than 620 million euros has been caused to infrastructure, including roads and railways.
Agricultural lobby Confagricoltura said at least 10 million fruit trees will have to be uprooted, and possibly as many as 40 million.
"There are people who have lost everything," said the head of the Emilia Romagna region, Stefano Bonaccini.
READ ALSO: 'I lost everything': Dazed residents clean up after northern Italy floods
"Some sectors have been dramatically affected," he told reporters in a joint appearance with Meloni.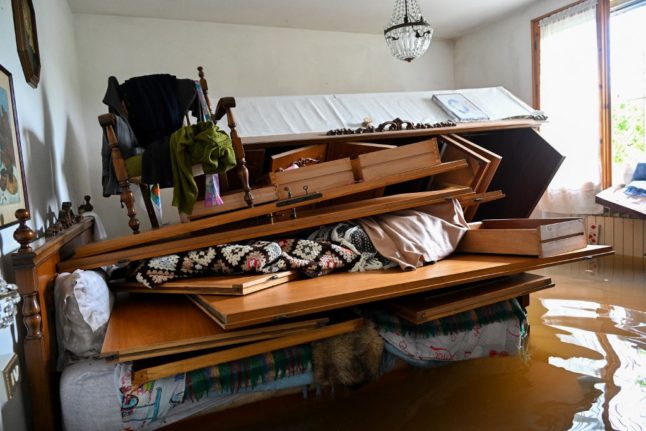 Furniture is piled up on a bed of a flooded house on May 20, 2023 in the village of Ghibullo, near Ravenna. Photo by Andreas SOLARO / AFP.
"I am thinking of agriculture even more than tourism but both are examples of sectors that employ many seasonal workers."
Some 14 mostly inactive bombs dating from World War I or World War II also emerged out of the floodwaters, which were "all blown up as a precaution" by the army, a local military source said.
Italy has been beset by a number of extreme weather events in the past year, which many people – including former premier Mario Draghi – have linked to climate change.
A dozen people died after flash floods in the Marche region in September, while a landslide on the island of Ischia in November killed 12.
#dead #severe #storm #flooding #hits #southern #Italy