MACHENIKE MK32UGSC2 32″ Gaming Monitor
▲ MACHENIKE MK32UGSC2 Gaming Display
Hanko recently introduced a 32-inch 4K 144Hz gaming monitor with high cost performance—MACHENIKE MK32UGSC2, equipped with an IPS Type panel provided by Innolux, with 99% sRGB color gamut and 10-bit color display capability , supports 48~144Hz Adaptive Sync refresh rate synchronization technology, and is equipped with 1ms MPRT motion blur suppression function, with perfect connectivity such as HDMI 2.1, 65W USB-C and USB 3.2 Hubs, the price is only HK$4,499, which is absolutely amazing ! !
screen size
31.5″
Zoom
16:9
surface curvature
–
Panel category
IPS
Panel Subcategory
AAS
sub-pixel arrangement
RGB vertical bars
backlight technology
COUNTRY
surface treatment
Anti-glare coating, Haze=25%, 3H hardness
resolution
3840 x 2160 (UHD)
pixel pitch
0.1816mm (139ppi)
SDR Brightness
350cd/m2
HDR peak brightness
400cd/m2
HDR Support/Certification
HDR10 standard
native contrast
1000:1
Dynamic Peak Contrast
–
Viewing angle
178°/178° (CR>10)
color display
1.07B – 10-bit (8-bits + FRC)
Gamut coverage
90% DCI-P3
GtG reaction time
7ms
Maximum update rate
144Hz
VRR certification

–

VRR range
48 ~ 144Hz
video interface

2 x DisplayPort 1.4

2 x HDMI 2.1 (24Gbps)

1 x USB-C

USB interface (upstream)
1 x USB 3.2 Type B
USB interface (downstream)
2 x USB 3.2 Type A
Audio interface

1 x 3.5mm audio output

built-in speaker
–
VESA Mount
100 x 100mm
inclination
+15° ~ -5°
swing angle
±45°
height adjustment
110mm
vertical rotation
support
power input
24V⎓5A
power consumption
not provided
Power Supplier
external type
size
716 x 422 x 477~587mm
weight
6.74kg (with base)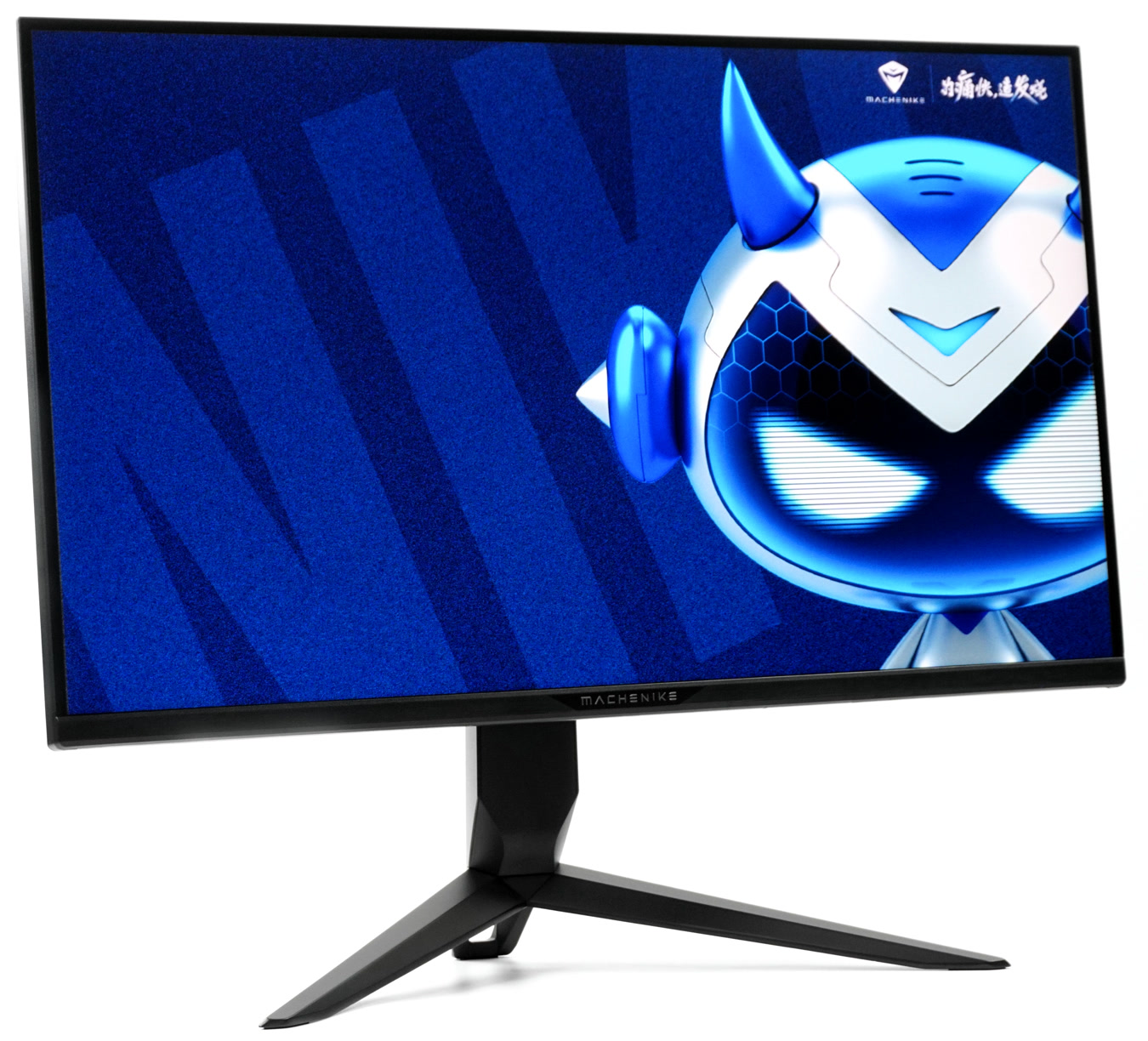 ▲ The front adopts a three-sided borderless design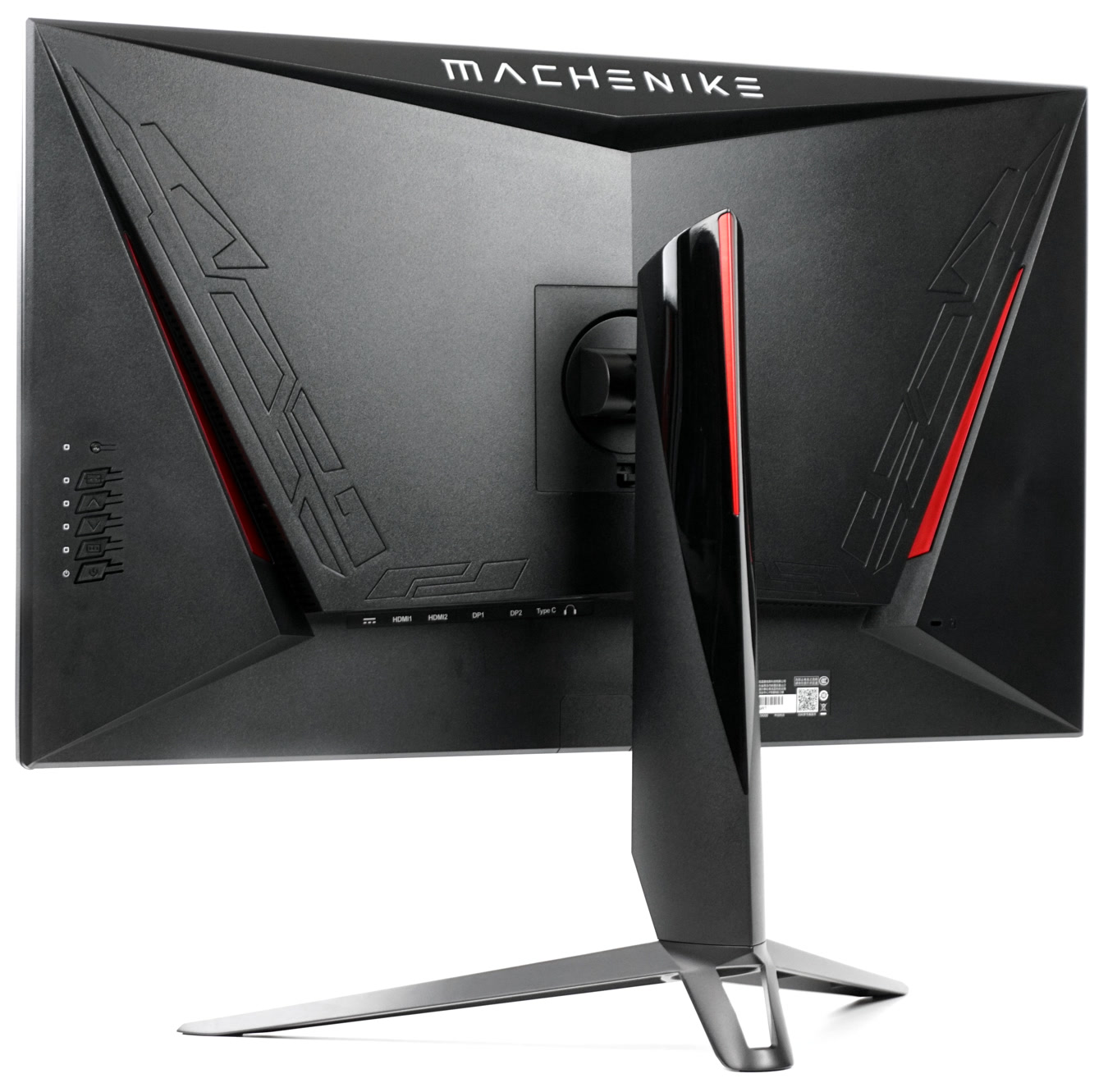 ▲ Add digital texture and red trim to the back
The front of the MACHENIKE MK32UGSC2 adopts a three-sided borderless design. The black back shell is equipped with symmetrical digital style textures and red reflective trims. Red elements are also added to the central pillar for embellishment. The overall appearance is simple and stylish.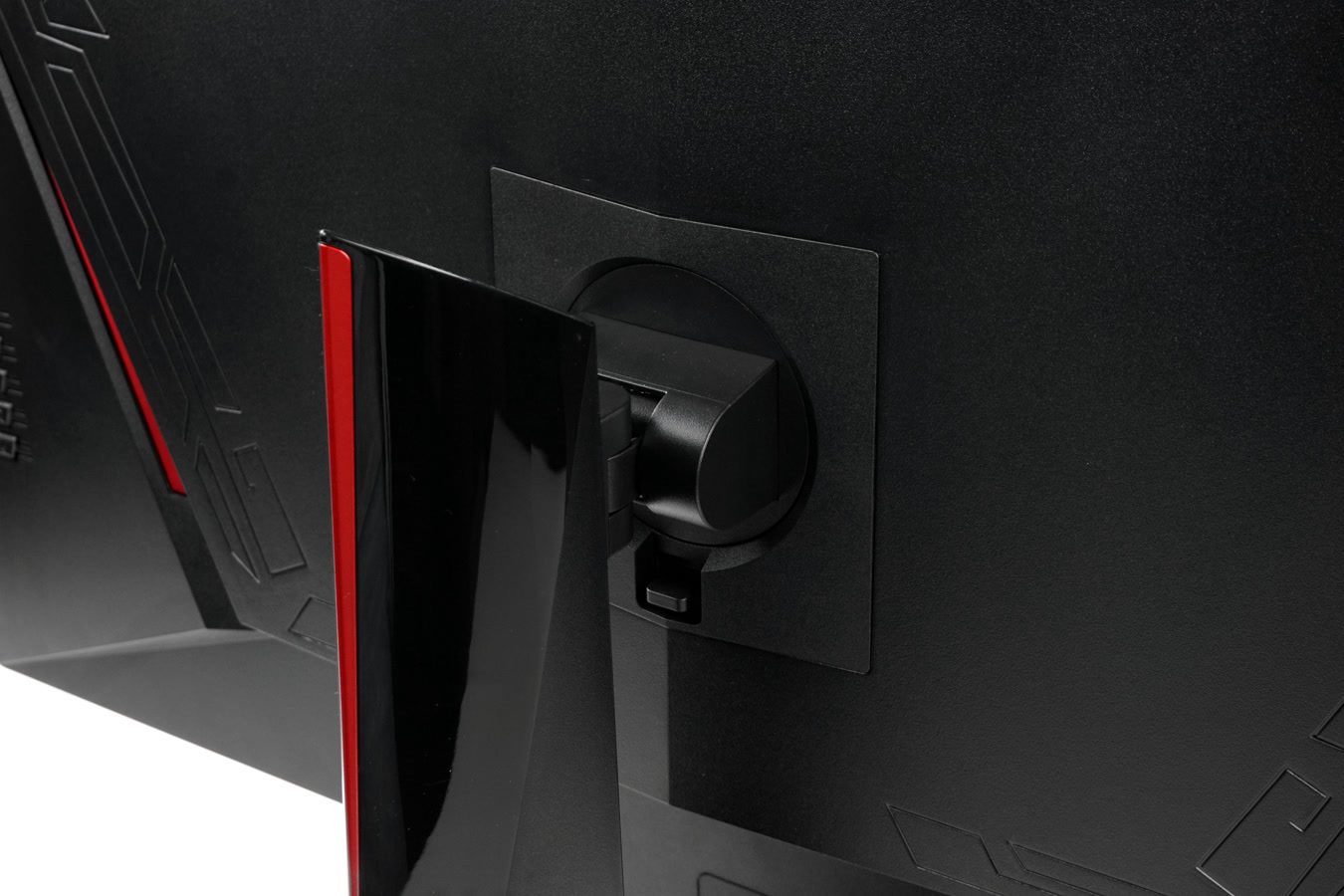 ▲ The bracket supports tilting, swinging, lifting, and vertical rotation
The monitor base has an ergonomic design, providing -5º to 15º inclination, plus or minus 45° swing angle and 110mm height adjustment, allowing players to watch the screen at the most comfortable angle and reducing the burden on the cervical spine caused by long-term use of the computer. It also supports 90° vertical rotation, which is convenient for vertical use as a secondary screen. In addition, the 100 x 100mm VESA Mount hole is reserved, and users can freely mount other monitor mounts for use.
Equipped with a 31.5-inch UHD IPS type panel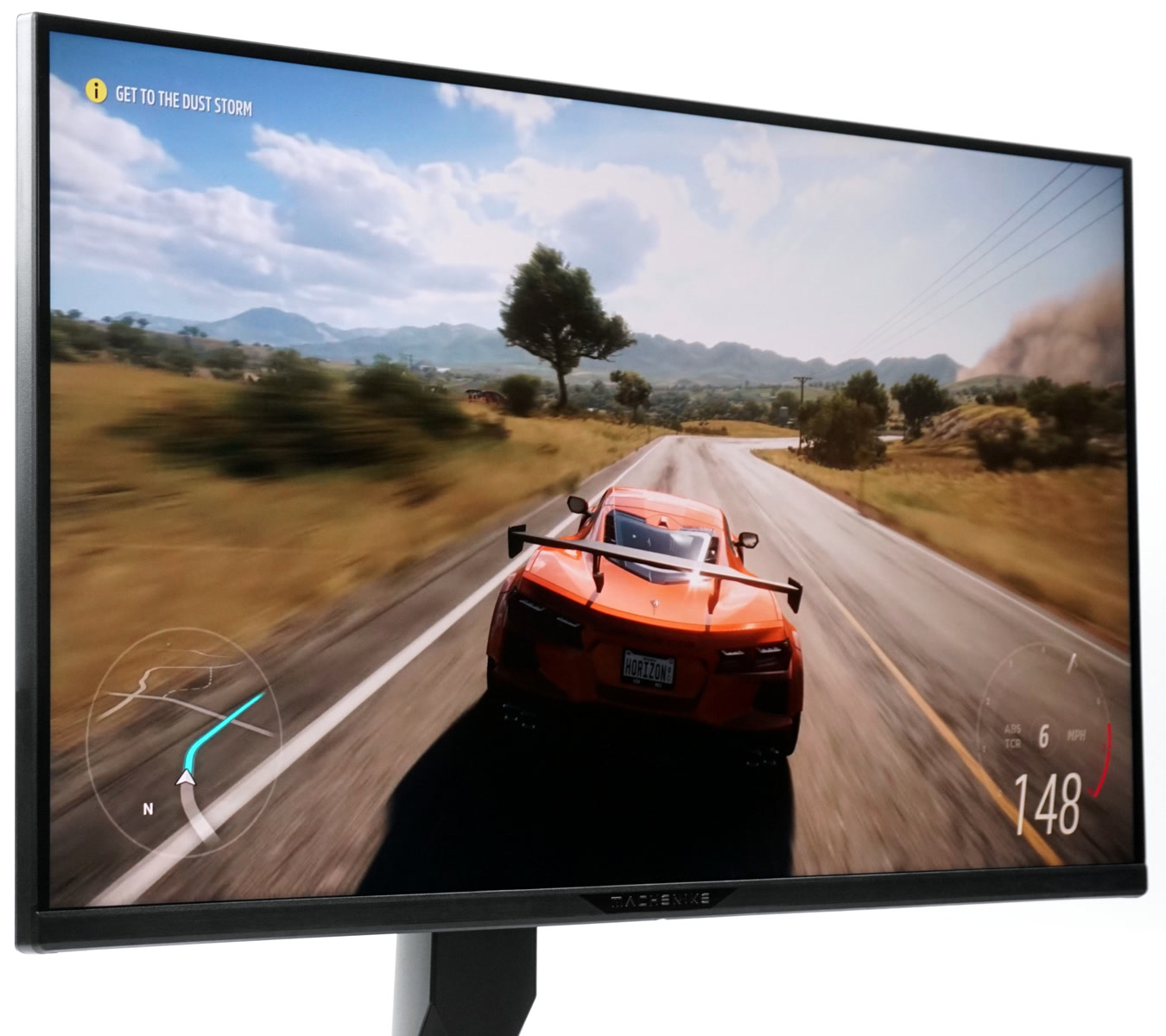 ▲ Equipped with Innolux's AAS panel, the overall viewing angle is good
In terms of display panels, the MACHENIKE MK32UGSC2 is equipped with Innolux's M315DCA-K7B LCD panel, which is a 31.5-inch UHD AAS panel that will be mass-produced by the factory from the second quarter of 2020. And the liquid crystal arrangement characteristics are very close to IPS, which can provide vertical and horizontal viewing angles up to 178°, and can maintain good contrast performance even when viewing the screen from the side. In addition, a wide color gamut WLED backlight module composed of blue LEDs and KSF phosphor coating is used to provide better color gamut coverage.
panel maker
Innolux Innolux
Panel model
M315DCA-K7B
Panel category
IPS
Panel Subcategory
AAS
sub-pixel arrangement
RGB vertical bars
panel size
31.5″
resolution
3840 x 2160
refresh rate
144Hz
color depth
1.07B – 10-bit (8-bits + FRC)
Backlight type
WLED (GB-LED + KSF) edge-lit backlight
Zone dimming
–
additional technology
–
surface treatment
Anti-glare coating, Haze=25%, 3H hardness
Support up to 144Hz refresh rate, AdaptiveSync variable refresh rate control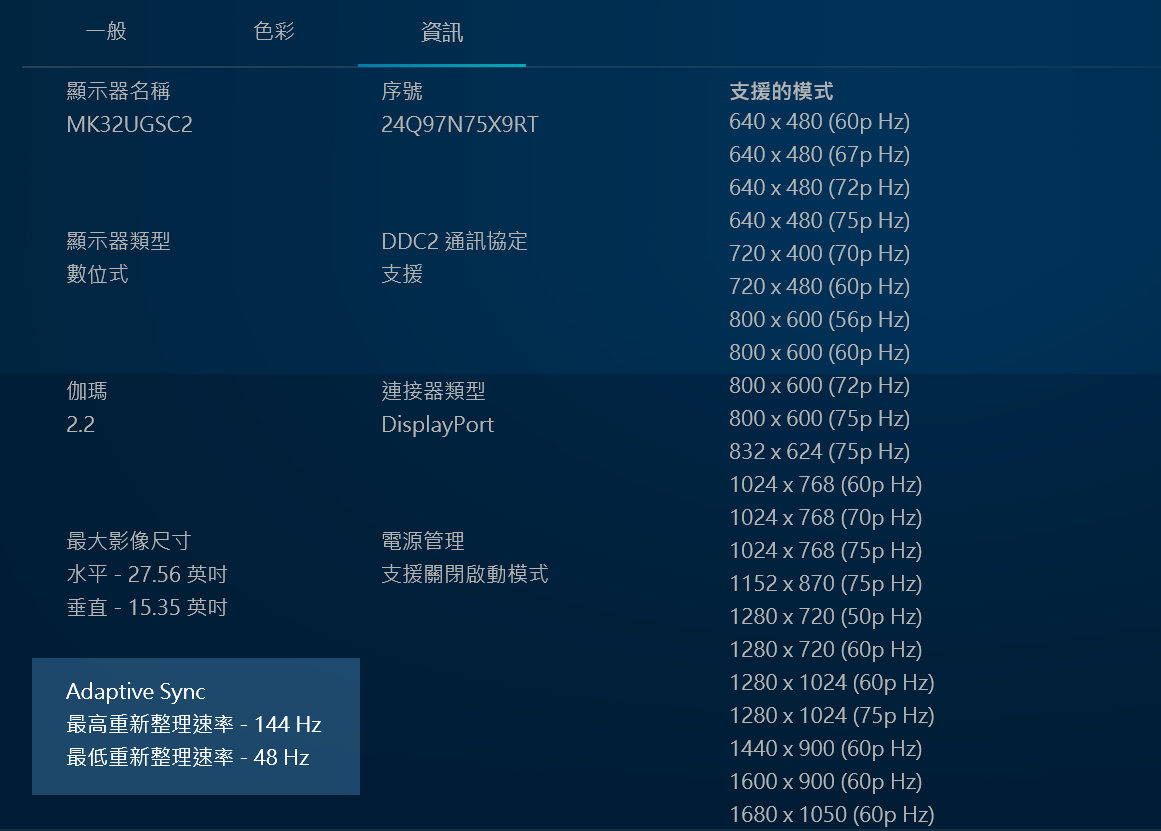 ▲ Support 48~144Hz AdaptiveSync
The MACHENIKE MK32UGSC2 gaming monitor supports a maximum refresh rate of 144Hz, and also supports 48~144Hz variable refresh rate control and LFC low refresh rate compensation technology. However, it is not compatible with VRR Over HDMI 2.1 technology, and it will suffer a little less than similar products when connecting to home machines such as PS5 and XSX/XSS.
VESA AdaptiveSync
Support (not certified)
AMD FreeSync
Support (not certified)
NVIDIA G-Sync
Support (not certified)
VRR Over HDMI 2.1
Does not support
VRR range
48-144Hz
LFC low refresh rate compensation
support
7ms native GtG, with 3 levels of reaction time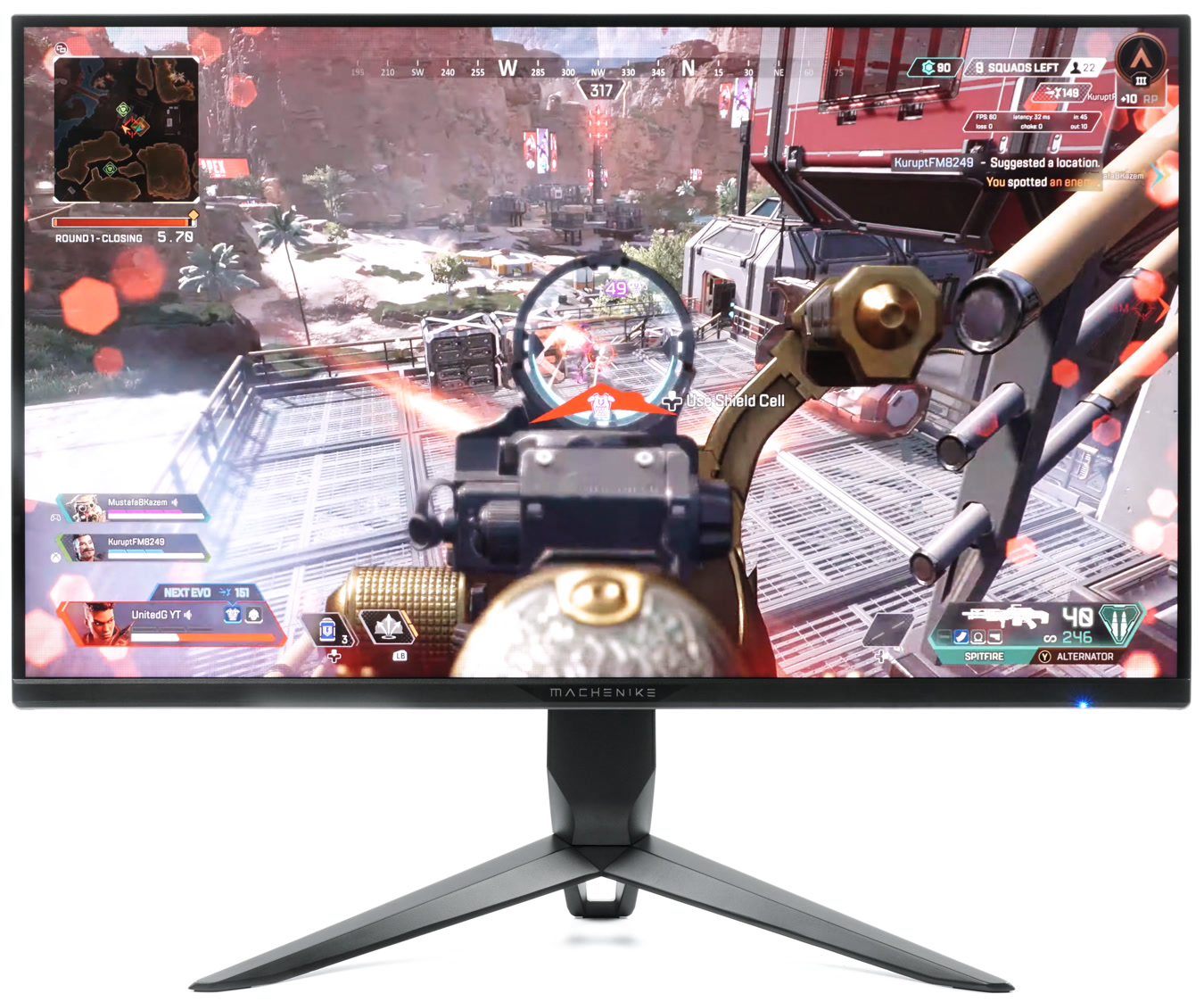 For gamers, in addition to high refresh rate and anti-tearing screen synchronization technology, the response time of the display is also important. The shorter the response time, the less afterimages will appear on high-speed dynamic screens. The Innolux M315DCA-K7B LCD panel equipped on MK32UGSC2 advertises that its native GtG response time is 7ms, but the official MACHENIKE does not indicate the GtG response time of the display, and only claims to support 1ms MPRT mode.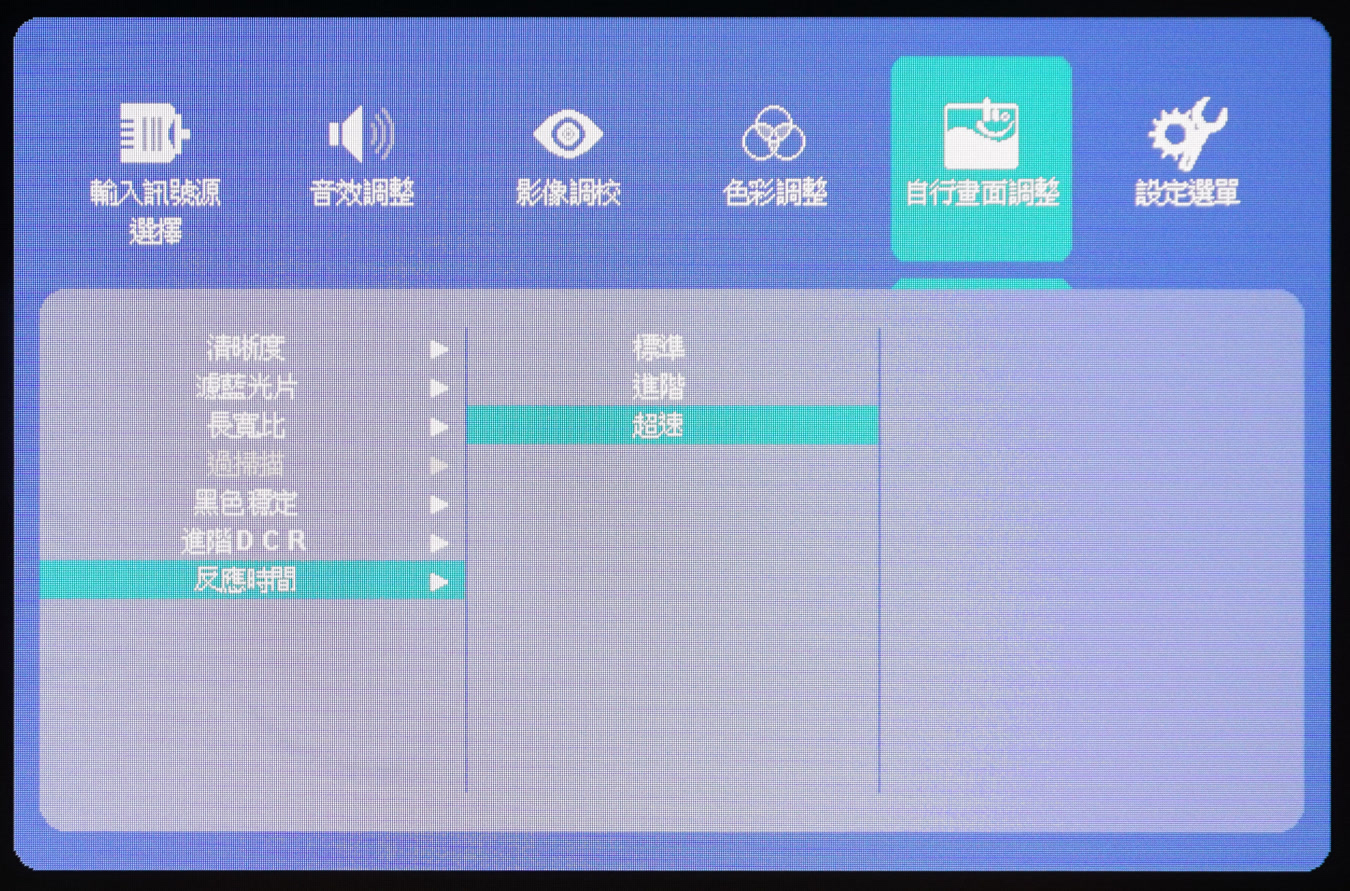 ▲ Provides 3 response time levels to choose from
In addition, the display provides 3 response time levels of "Standard", "Advanced" and "Overspeed" to choose from, which is also the common Overdrive mode. By pushing up the voltage driving the LCD liquid crystal layer, the process of liquid crystal molecule deflection is accelerated. Thereby reducing the response time of the panel and reducing the afterimage problem of the screen. However, increasing the LCD driving voltage to speed up the response time certainly has its disadvantages. If the voltage is too high, it will cause the problem of pixel overshoot (Overshoot), and the reverse image/ghost image will appear on the screen more obvious than the general afterimage. , even though the initial response time of the display will be reduced, the actual viewing effect will be worse.
In the following, the author will use a light-sensitive sensor and a voltage measuring device to measure the GtG response time and Overshoot offset data of the display screen at different response time levels.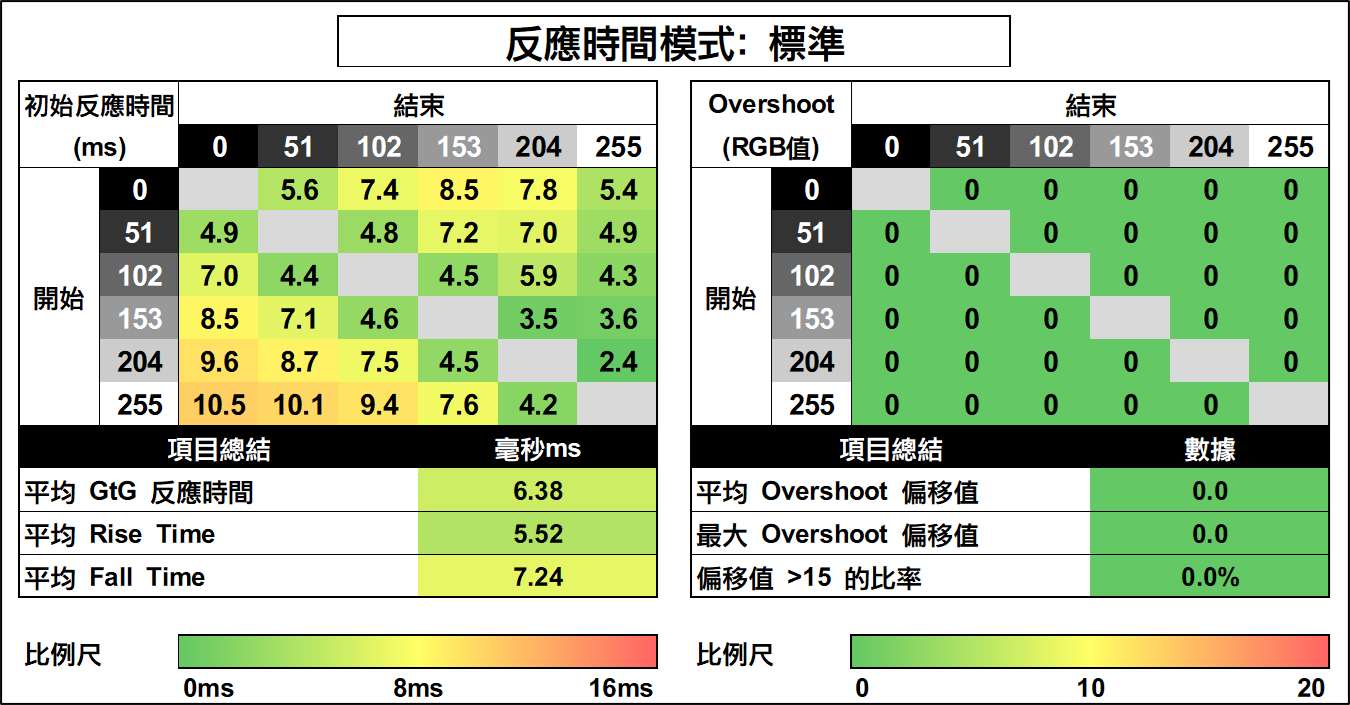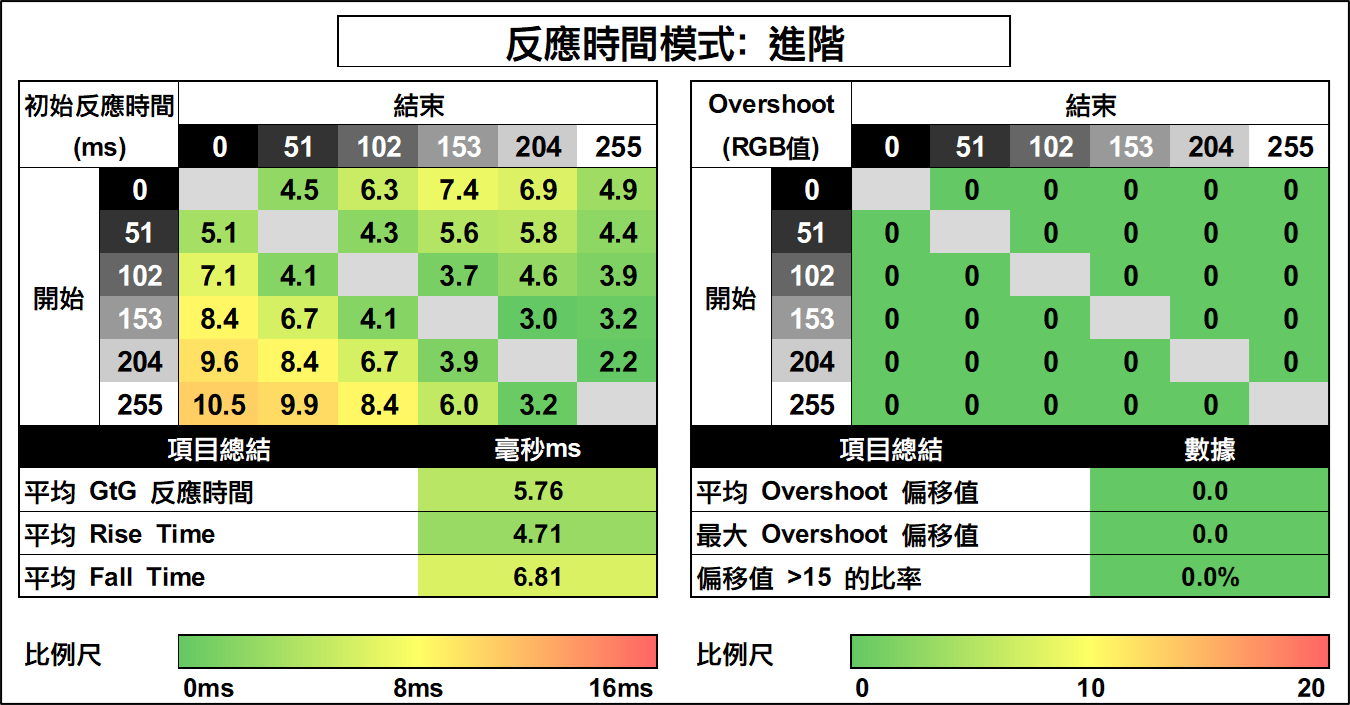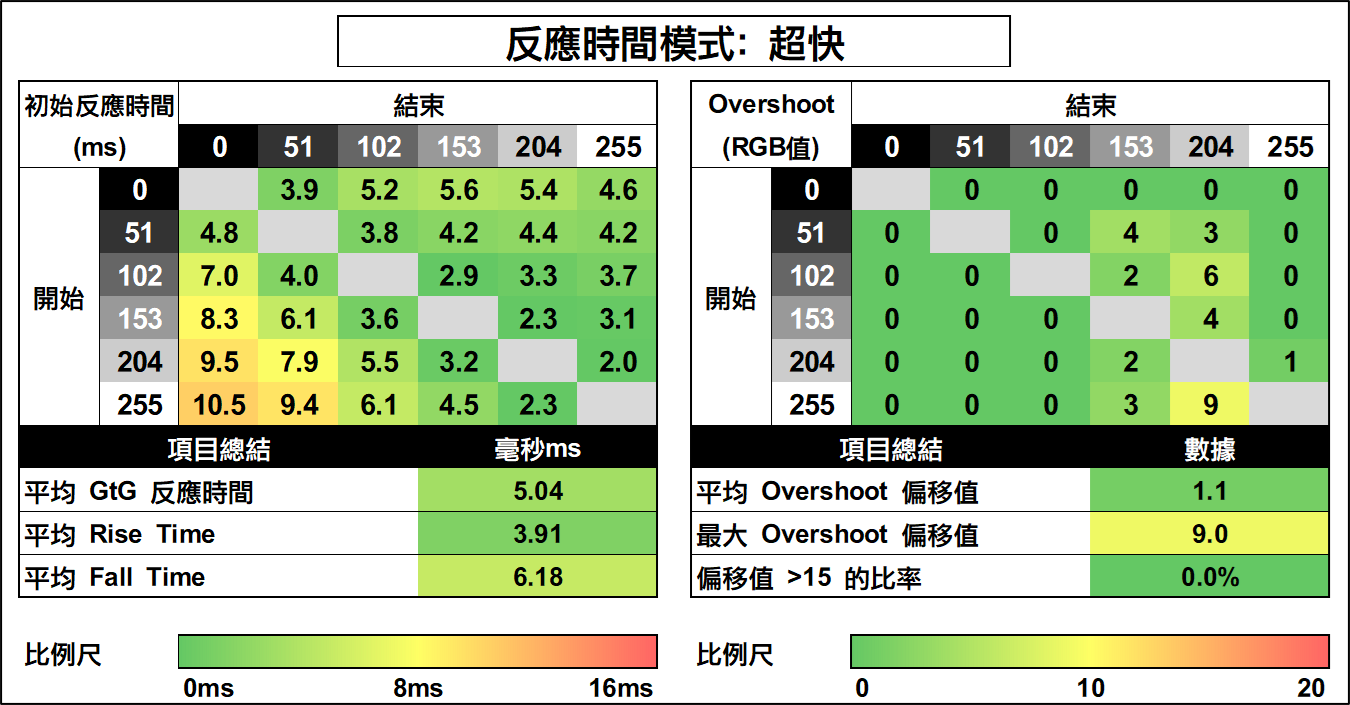 The test results show that the average response time of the MACHENIKE MK32UGSC2 at the "General" response time level (which can be regarded as not enabling the Overdrive mode) is 6.38ms, which is similar to the 7ms specification provided by Innolux. In the "Advanced" and "Ultra Fast" levels, the average response time is reduced to 5.76ms and 5.04ms respectively, which can basically meet the 6.94ms update cycle required by the 144Hz refresh rate under most grayscale transitions. And there is no serious Overshoot offset problem. The author is quite surprised that the manufacturer did not use the Overdrive mode to spell out the specification of 1ms initial response time for publicity purposes. After all, this is a common publicity tactic for gaming monitors in recent years.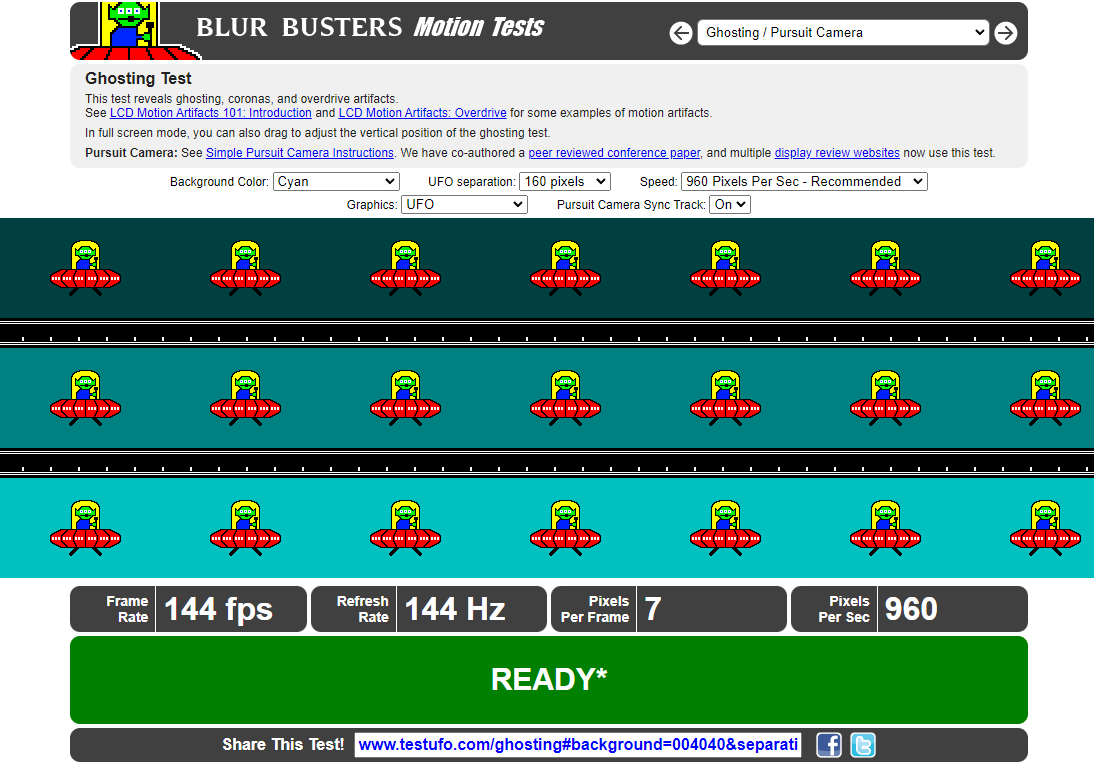 ▲ Check the afterimage level of the display through the Ghosting Test website tool
(For details, please refer to the instructions provided by the BLUR BUSTERS network)
However, looking at the data alone may seem abstract, and then the author will use the Ghosting Test function on the Blur Busters Motion Tests website to take pictures and compare the actual effects of the monitors at different response time levels.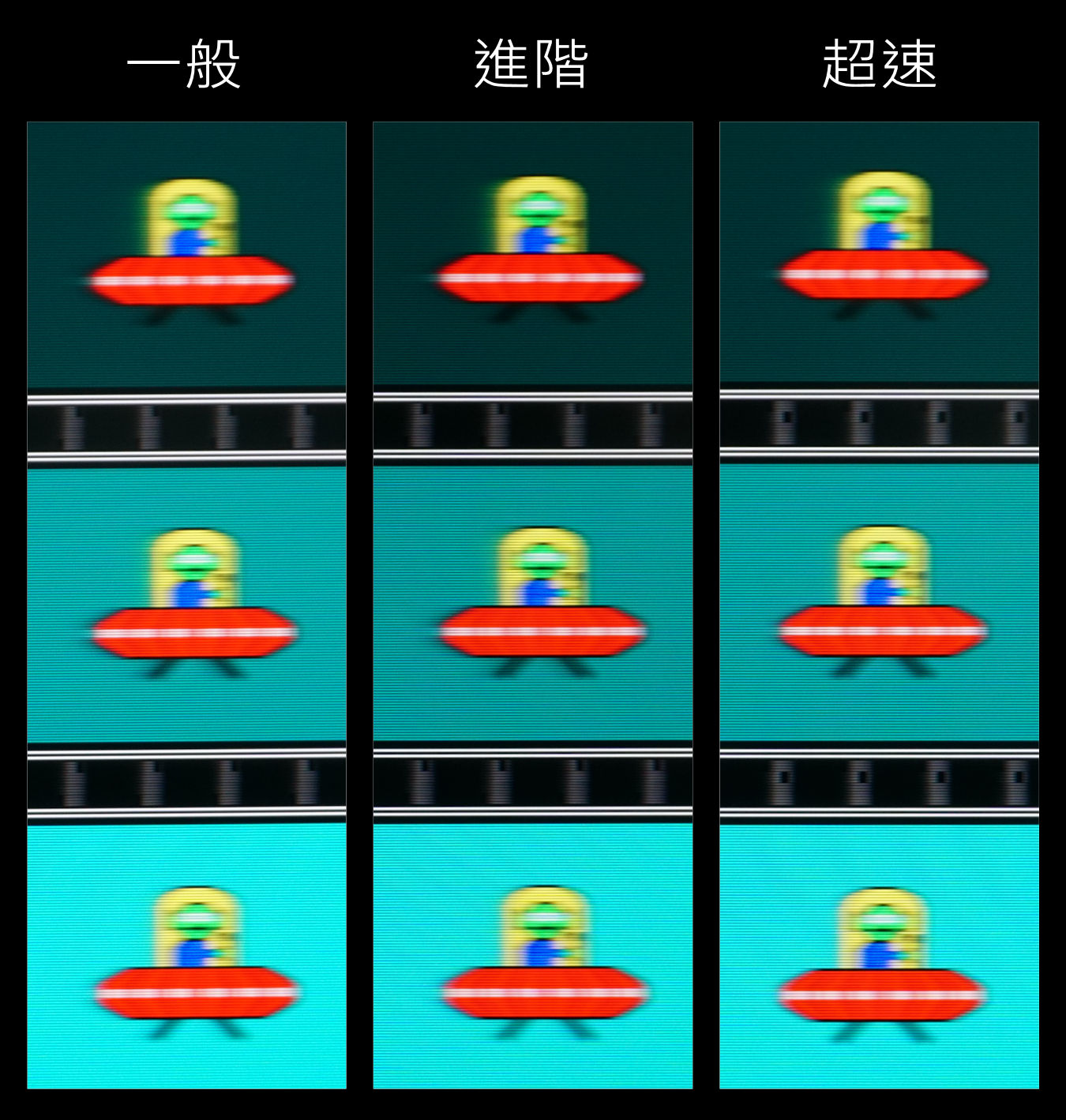 ▲ Comparison of reaction time level effects
From the picture above, we can see that MK32UGSC2 has little difference in pixel transition speed under the three reaction time levels, the overall afterimage problem is not obvious, and there is no visible ghost/reverse afterimage, the actual viewing performance is in line with the above Response time and Overshoot offset test data, looking at the above data and real shooting effects, the author recommends that readers can choose the best "ultra-fast" grade for daily use after getting started.
Added 1ms low motion blur mode
However, even if the display has an extremely low response time, due to the persistence of the human visual system, there will still be obvious motion blur problems when observing high-speed dynamic images. To solve this problem, MACHENIKE MK32UGSC2 has a 1ms MPRT mode, which belongs to a black frame insertion technology (Black Frame Insertion) achieved by controlling the backlight module to quickly strobe, because this will allow the human eye to receive the picture signal The time is reduced, so it can effectively reduce the problem of motion blur caused by the phenomenon of persistence of vision, making the picture look clearer. In this part, the author will adjust the response time level to "ultra-fast", and continue to compare the visual difference after switching on and off the 1ms Mode with the same test method as observing the afterimage.

▲ 1ms Mode switch effect comparison
As can be seen from the comparison chart above, turning on the 1ms Mode can indeed bring clearer moving images, and the English strings that follow the UFO pattern quickly move from completely unreadable to clearly readable, but the disadvantage is that the backlight is turned on The overall brightness of the screen will also be reduced if the time is reduced. In addition, it is easier for users to feel dizzy and uncomfortable when watching high-speed strobe screens. The author recommends that users only enable this mode when playing competitive games.
400nits peak brightness, support for HDR mode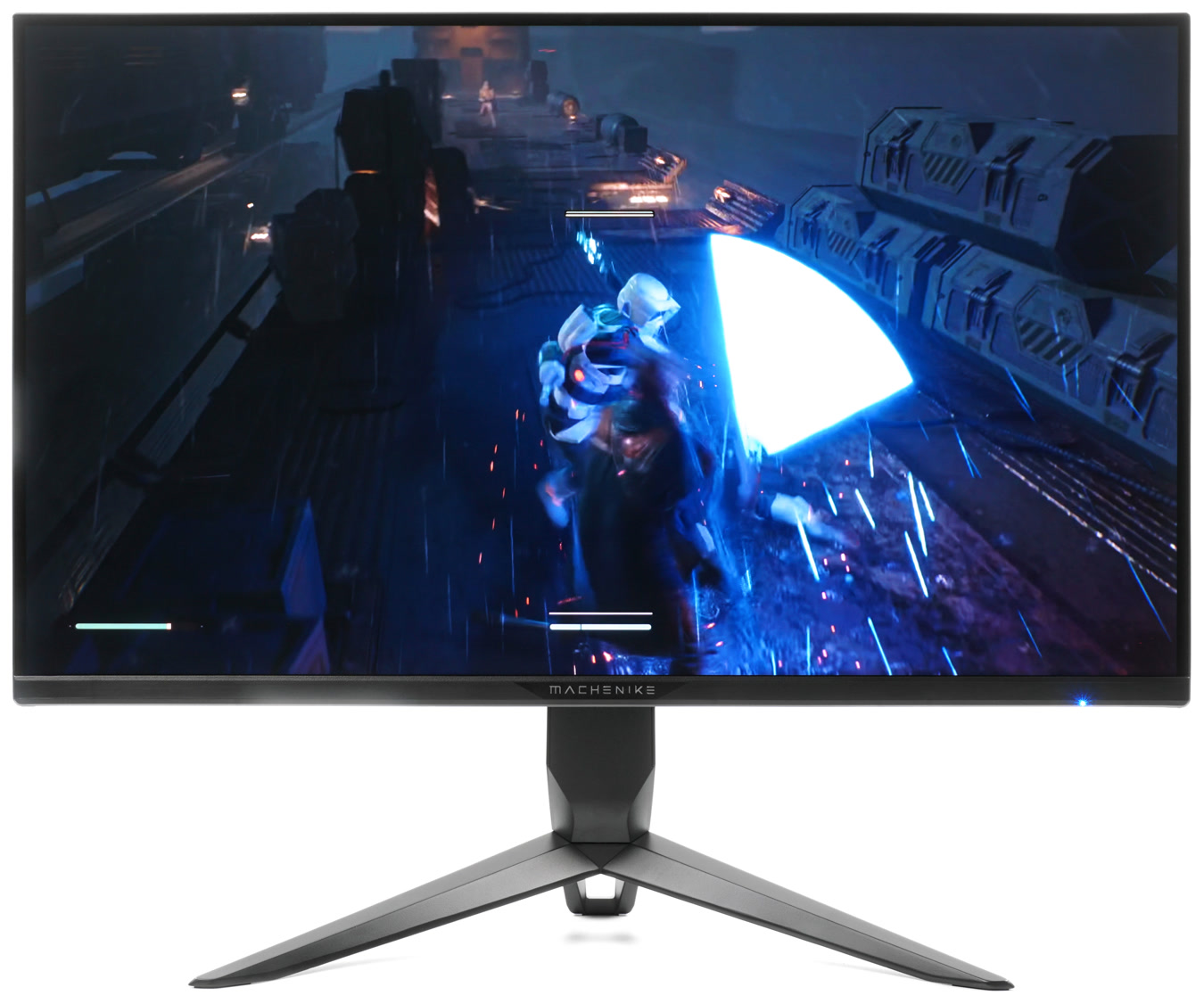 ▲ Support HDR content display
The official specifications of MACHENIKE MK32UGSC2 indicate that its SDR brightness is 350nits, and the contrast ratio is 1000:1. After actual measurement, it is found that the white point brightness is about 397nits and the average contrast ratio is 972:1 under the 100% brightness setting, which is in line with the official specification. .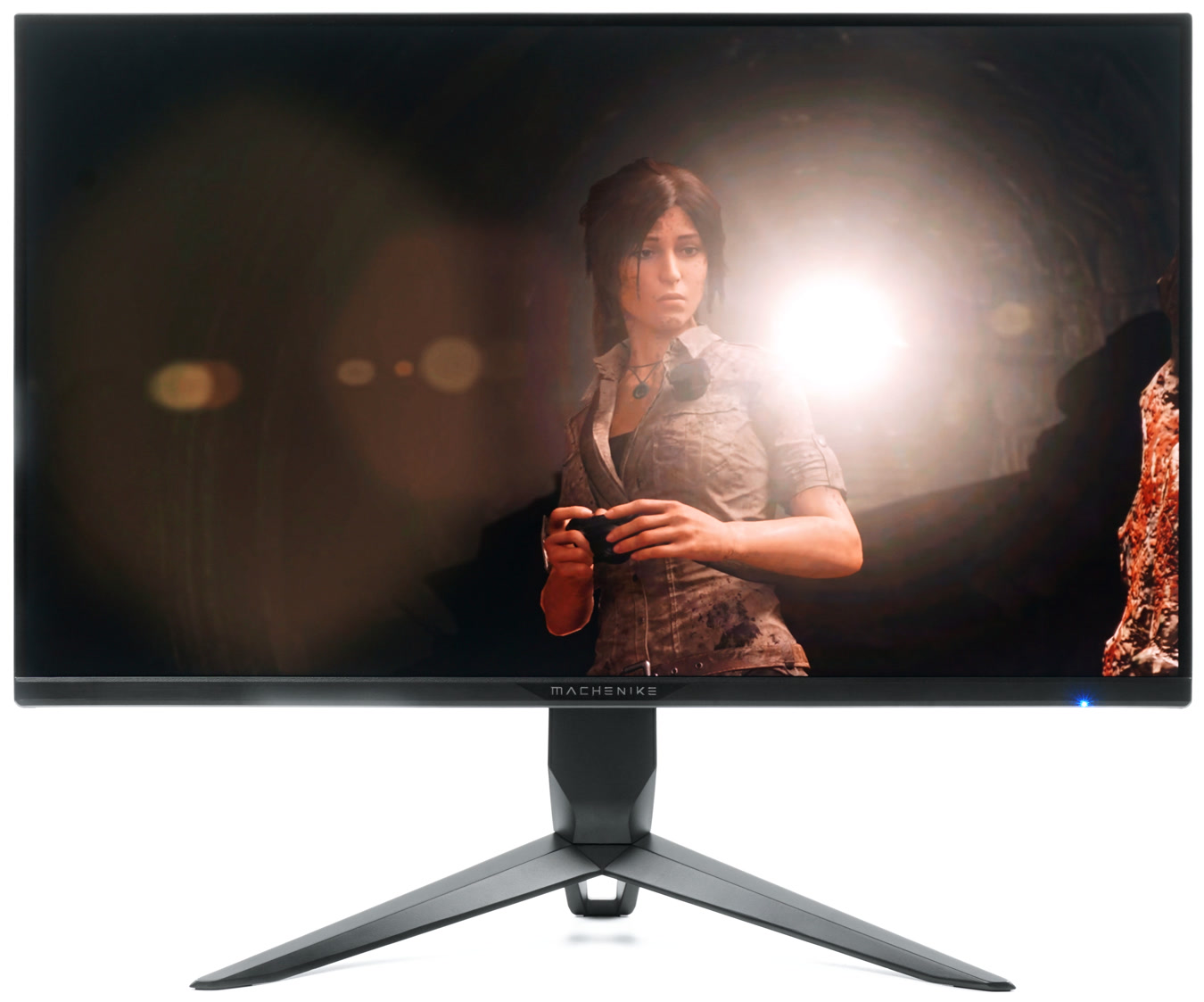 ▲ The details of the dark part are weaker
In addition, the display supports HDR content display. The official specification states that its HDR peak brightness is 400nits. After actual measurement, the HDR peak white field brightness is 407nits, and the static contrast ratio is 1033:1. Due to the limitations of the characteristics of the IPS type panel, and the lack of partition backlight technology, the dark part obviously cannot be darkened, the ability to restore the details of the dark part is weak, and the overall HDR performance is mediocre.
HDR
407.53
0.3946
1033:1
100%
397.07
0.4086
972:1
75%
269.69
0.2792
966:1
50%
175.46
0.1818
965:1
25%
101.98
0.1064
958:1
0%
41.57
0.0441
943:1
90% DCI-P3 wide color gamut, support 10-bit color display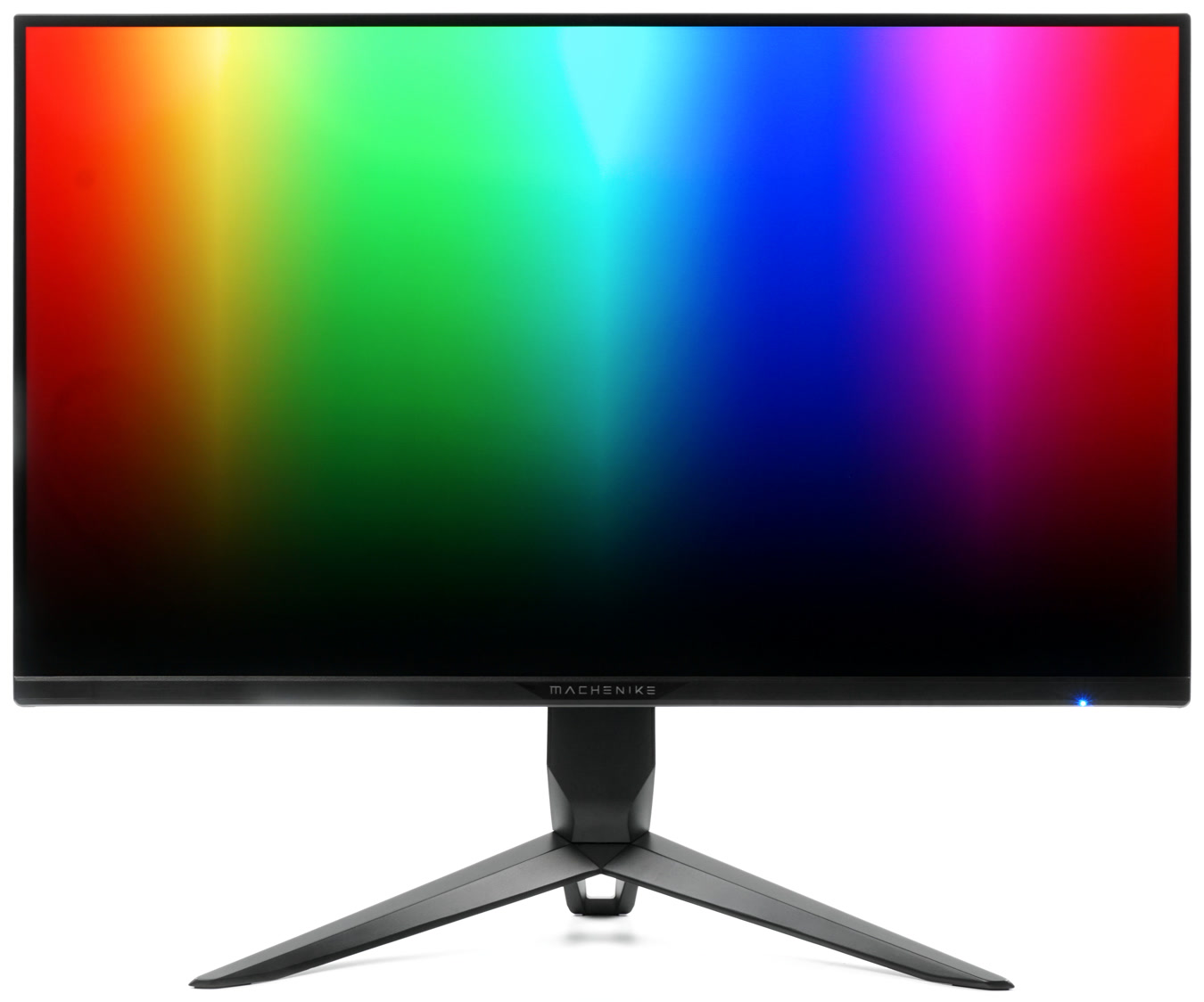 ▲ Support 10-bit (8-bit + FRC) color display
In terms of color, the WLED backlight panel of the MACHENIKE MK32UGSC2 display uses a combination of green and blue LEDs and red phosphors. Compared with the common blue LED + yellow phosphor solution, it has a more balanced three-primary color performance and a lower blue light level. In addition, the LCD panel natively supports 8-bit color depth, and adds FRC technology to increase it to 10-bit color depth. Displays with bit color depth have certain advantages and can present natural and smoother color gradient effects.
In terms of color gamut, the official specifications say that the monitor has 90% DCI-P3 color gamut coverage. At the same time, there are multiple image modes in the OSD menu that optimize the picture for different usage scenarios and different game types. However, since the modes are only changed The basic settings of the default brightness, contrast, color temperature, etc., the color gamut coverage of each mode will not have much difference, so the author only tested the color gamut of the factory default mode of the monitor.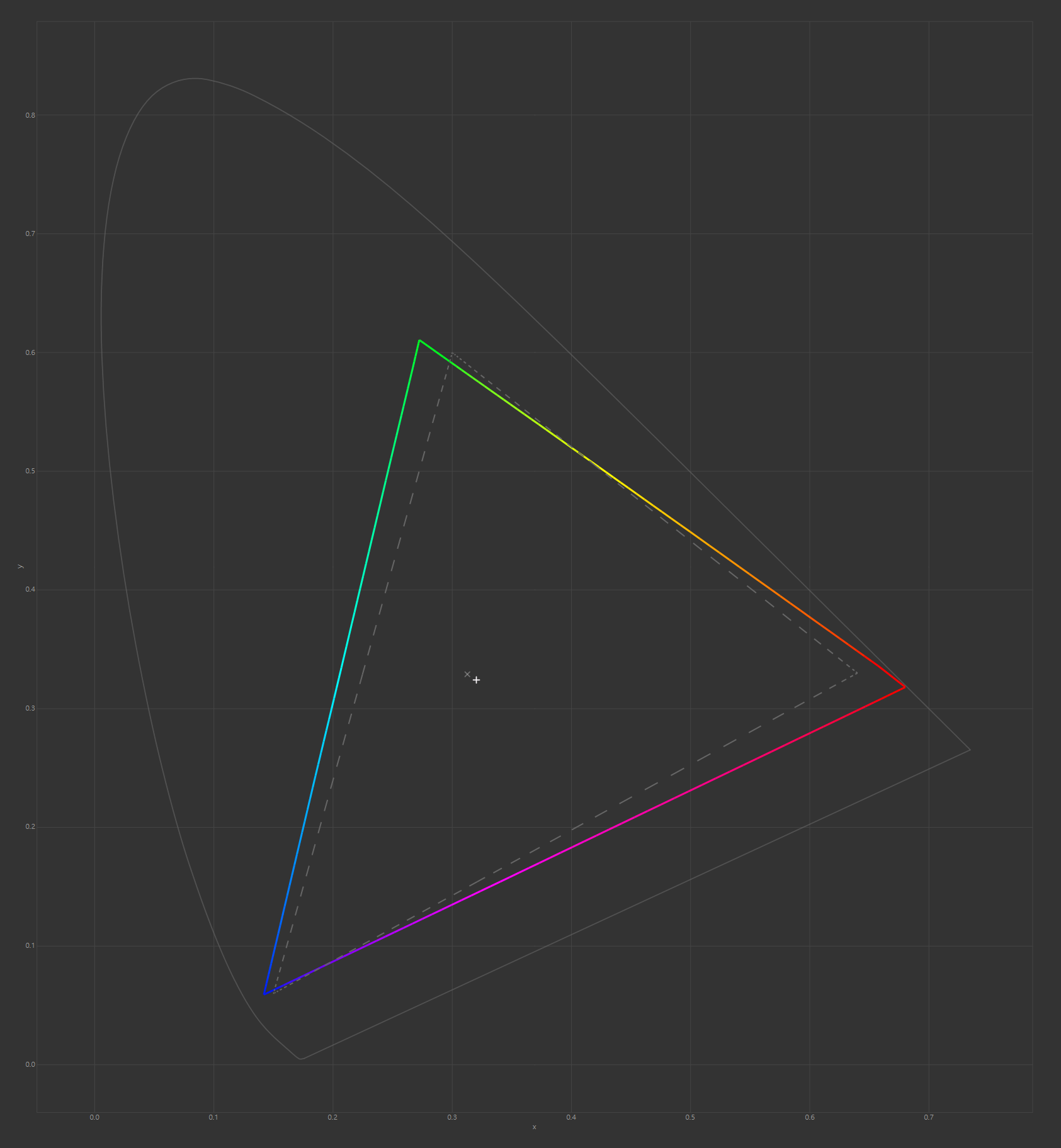 ▲ The color gamut volume range of the display under the factory default value
(The solid line is the color gamut of the monitor, and the dotted line is the sRGB color gamut)
The test results show that the color gamut of MK32UGSC2 can reach 127.4% sRGB, 87.8% Adobe RGB and 90.2% DCI-P3 under the factory default value, which is very close to the officially declared value and can present quite rich color content.
Factory default
99.1% / 127.4%
82.6% / 87.8%
84.8% / 90.2%
HDMI 2.1 + DP1.4a + 65W USB-C input interface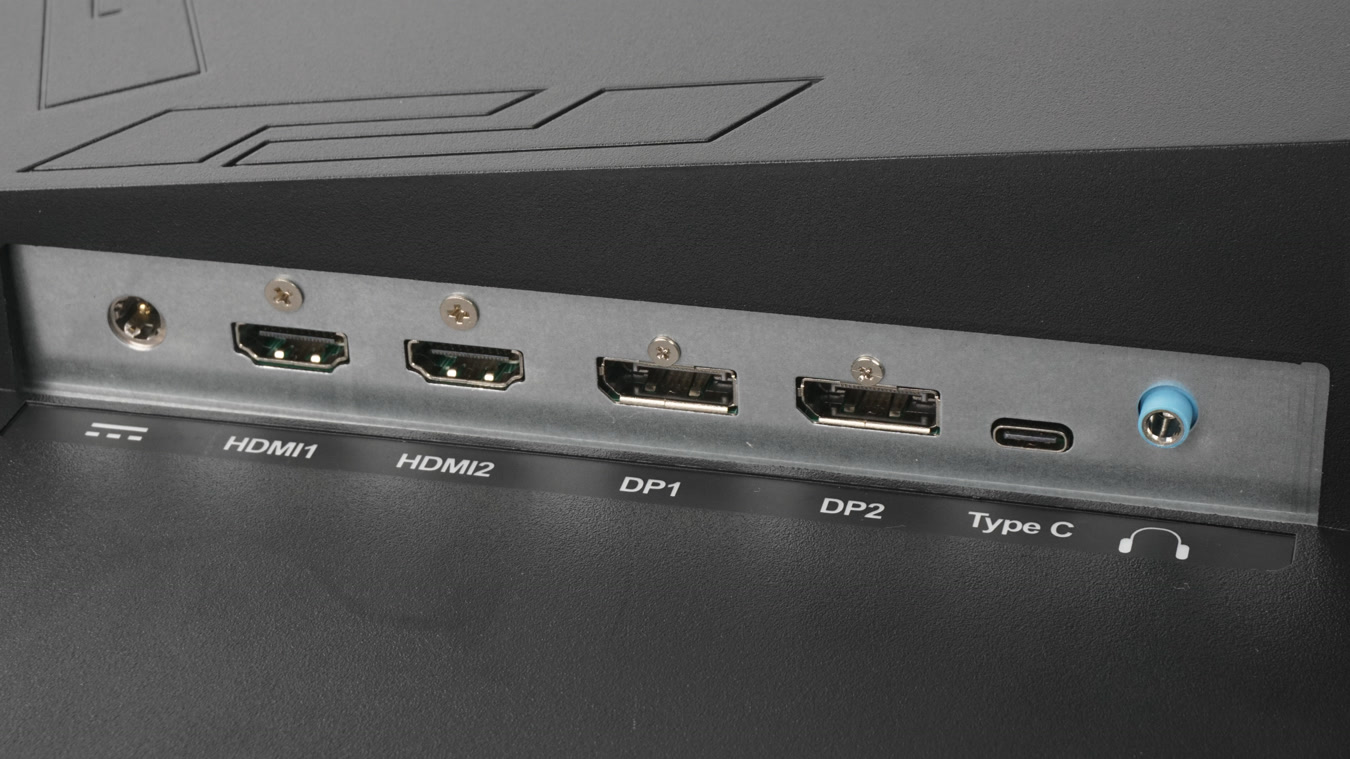 ▲ Display the list of input ports
In terms of display input, MACHENIKE MK32UGSC2 has 2 sets of HDMI 2.1, 2 sets of DisplayPort 1.4a and 1 set of USB-C display input interfaces. All interfaces support a maximum resolution of 3840 x 2160, 144Hz refresh rate, 10-bit color depth and RGB 4:4:4 color format input.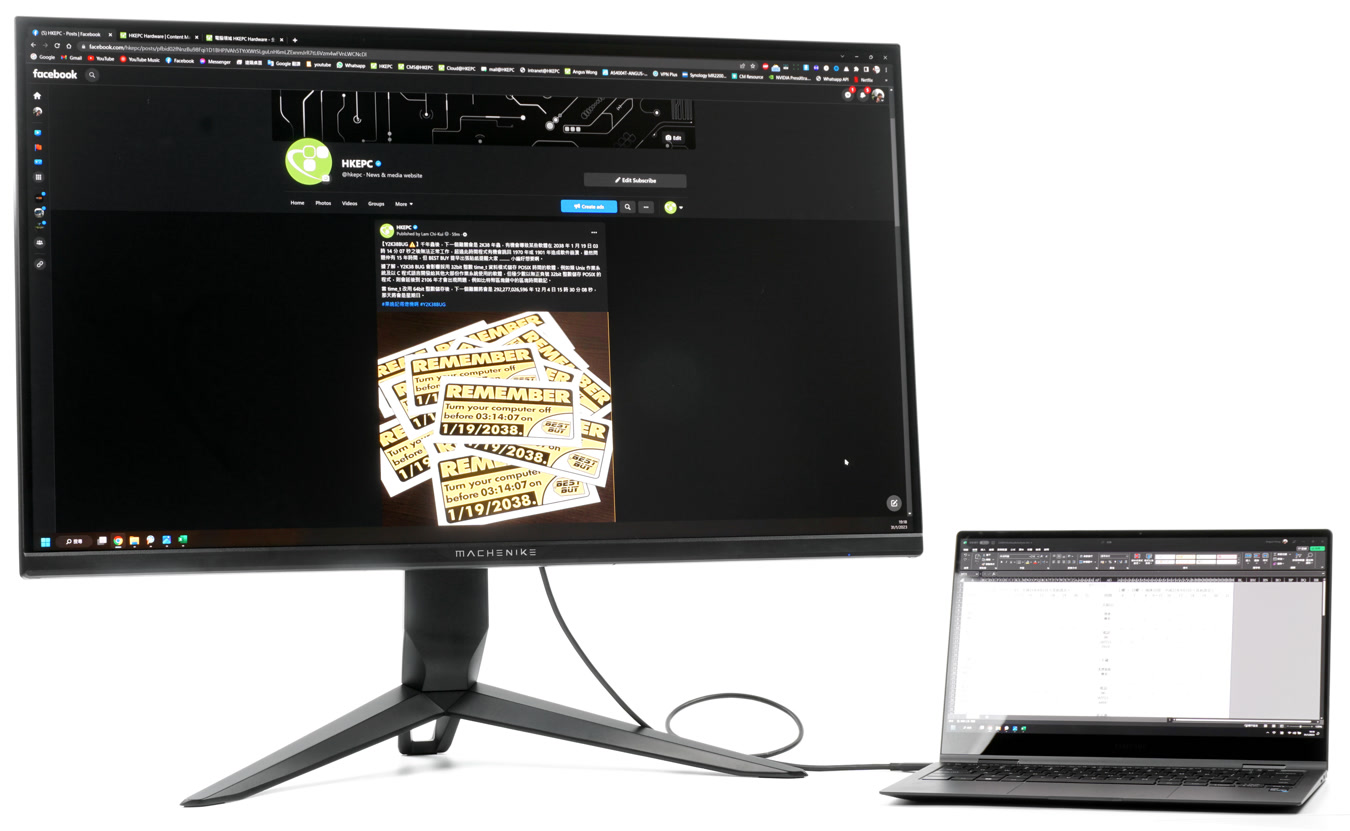 ▲ Support USB-C one-line connection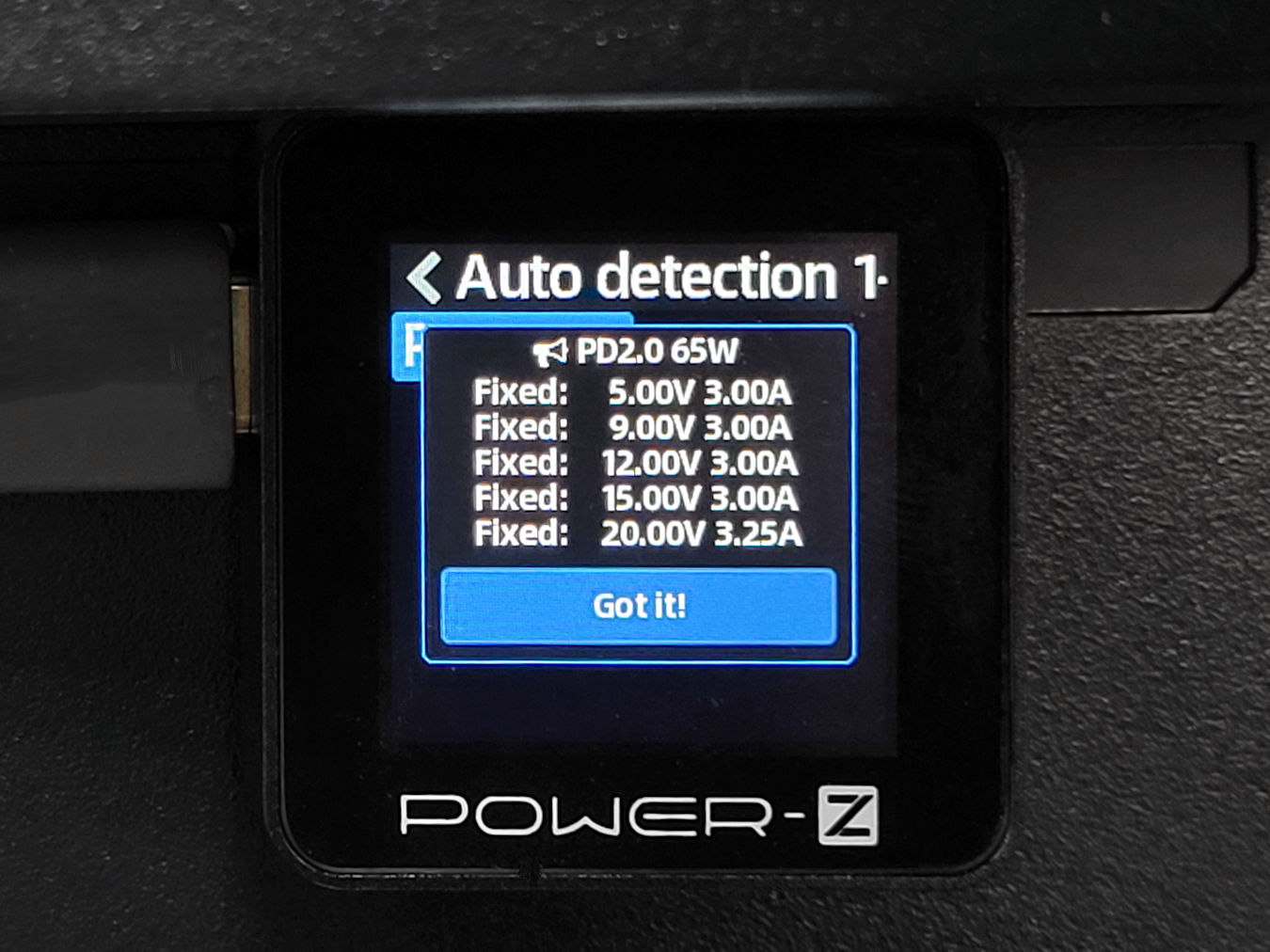 ▲ USB-C interface supports PD2.0 65W output
In addition to supporting display input, the USB-C interface also supports up to PD3.0 20V⎓3.3A 65W fast charging output, allowing users to connect devices such as laptops or tablets with one line. In addition, the interface will use all 4 sets of SuperSpeed ​​Data transmission channels as DisplayPort channels, providing the same transmission bandwidth and input format support as DisplayPort 1.4. At this time, the two USB downstream interfaces will only support USB 2.0 speed, as listed in the table below The best display settings supported by the three display interfaces are displayed.
3840 x 2160
144Hz
10-bit RGB
✔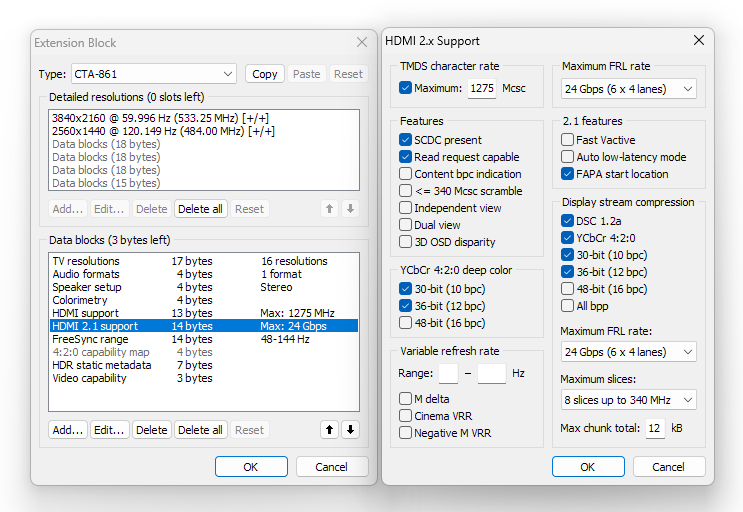 ▲ Belongs to half-blood HDMI 2.1, only 24Gbps bandwidth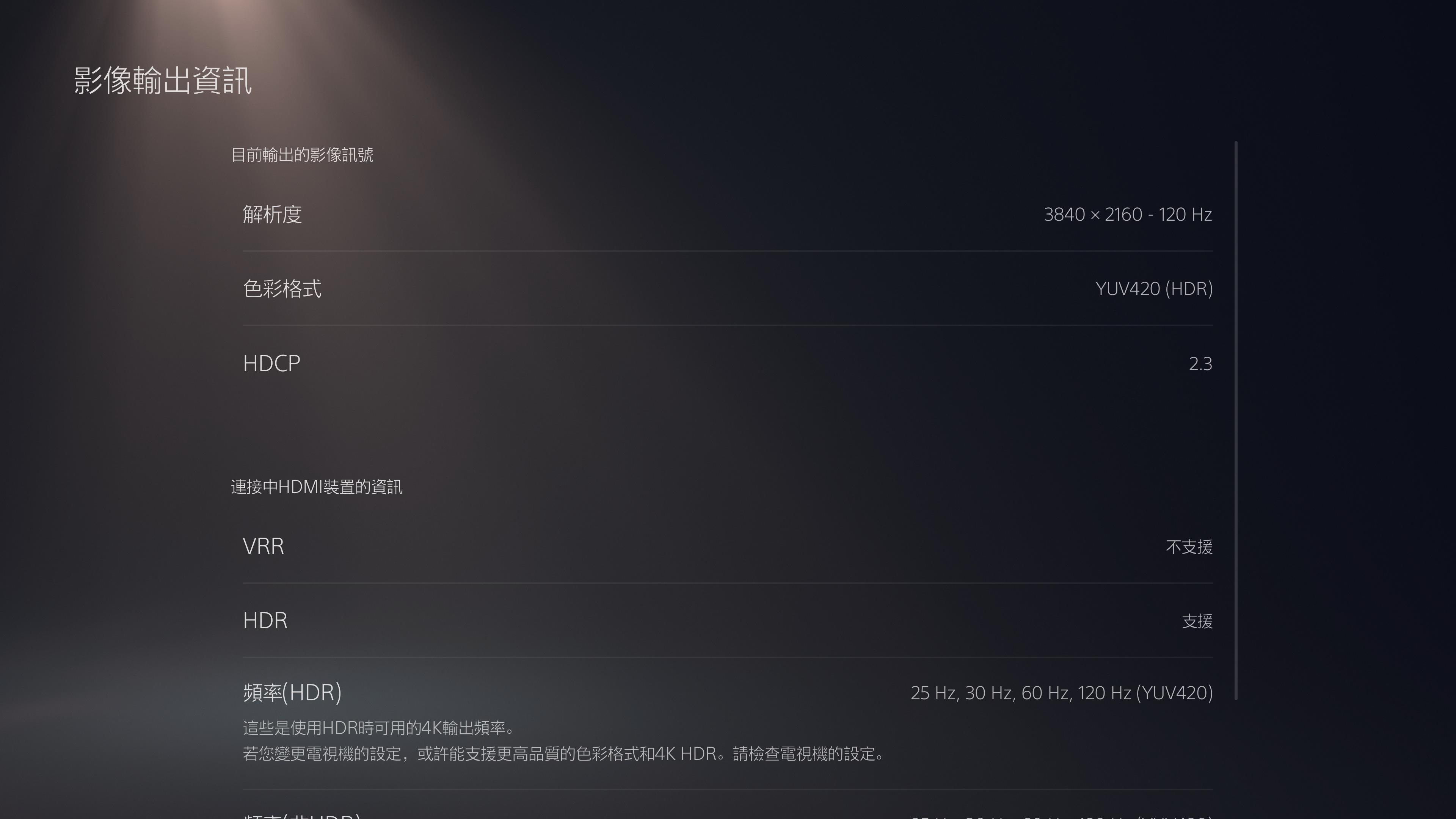 ▲ is downgraded to output in YCbCr 4:2:0 color format
However, it should be noted that the two sets of HDMI interfaces belong to HDMI 2.1, which is commonly known as the half-blood version. Each FRL channel only supports 6Gbps bandwidth operation, and the 4 channels provide a maximum bandwidth capacity of 24Gbps. It needs to cooperate with DSC 1.2a lossless compression Technology can provide 3840 x 2160 resolution + 144Hz update rate + 10-bit color depth + RGB 4:4:4 color format input. However, since Sony PlayStation 5 does not support DSC technology, when connecting to PS5 with 4K 120Hz resolution, it can only support YCbCr 4:2:0 color format with higher compression rate instead of YCbCr 4:2:2. There will be a slight drop, but generally speaking, it should not be noticeable.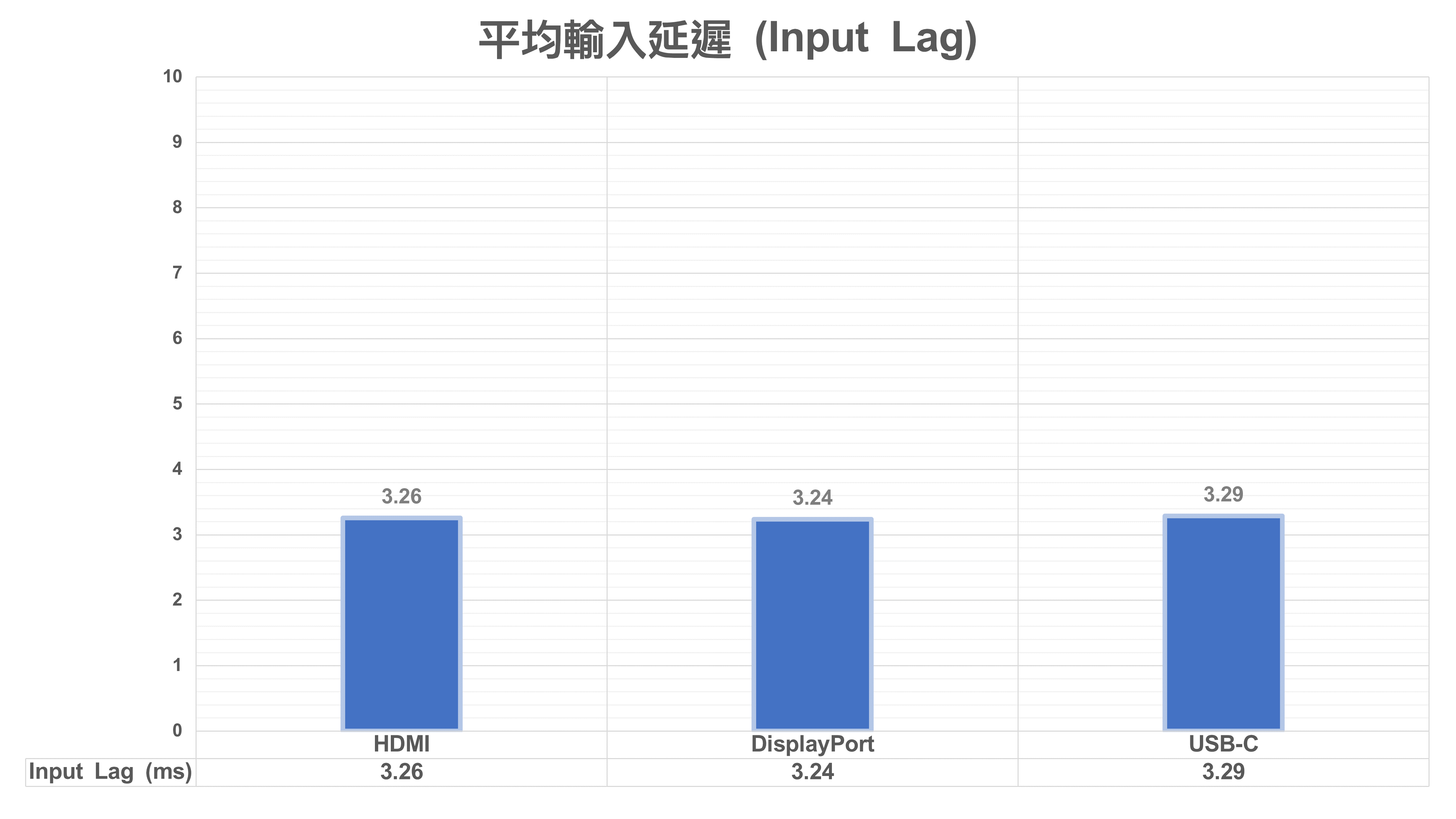 In addition, the author also conducted an input lag (Input Lag) test on the MACHENIKE MK32UGSC2, using the instrument to measure the time from when the display signal is sent to when the screen is successfully output to the display. The results show that the average input delay of each display input interface of the monitor is only 3.26ms under the input of 3840 x 2160 resolution and 144Hz refresh rate, and the input delay performance is ideal.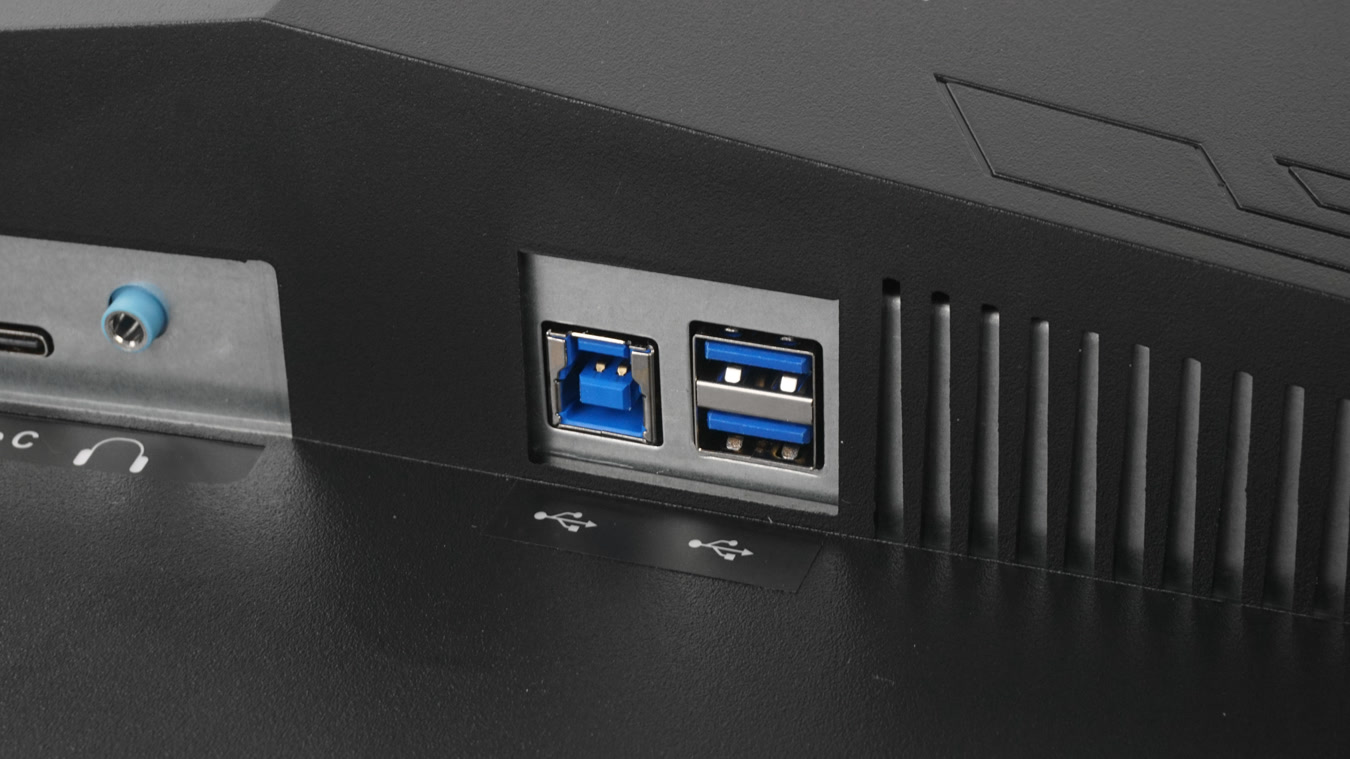 ▲ With USB 3.2 Hub function
In addition, it has a USB Hub function, as long as the device is connected to the USB 3.2 Gen 1 Type-B interface of the monitor, it can provide 2 sets of USB 3.2 Gen 1 Type-A interfaces for users to connect peripherals such as mouse, keyboard, handheld and microphone device.
In terms of audio output, the monitor does not have a built-in speaker, but it is equipped with a 3.5mm headphone jack, which can output digital audio sources to external speakers or headphones.
MACHENIKE MK32UGSC2 32″ Gaming Monitor
Price: HK$4,499
Enquiry: Hornington (3626-9898)
Editor's comment:
For a 32-inch 4K 144Hz IPS gaming monitor priced at HK$4,499, MACHENIKE MK32UGSC2 has already done its homework. Not only is it equipped with a panel from a major manufacturer that is common in products of the same specification on the market, but it also has sufficient connectivity, HDMI 2.1 and DisplayPort 1.4 Each has two groups, and also has a 65W USB-C interface that supports one-line connection. However, the functionality is relatively weak. Even the common auxiliary crosshairs and frame count are not provided, and there is no standard color gamut mode. If the factory can make up for these functions through firmware updates in the future, it will be lost. up.