Keshet 12's news edition leads the ratings of last night's broadcasts (Tuesday) with 14.95 and 431 thousand viewers. News 11 continues to enjoy the World Cup figures and achieve 10.1% and 277 thousand viewers. Network 13 with a steep drop of up to 5.5% and 151 thousand viewers.

The battle of the giants between Iran and the United States, which was broadcast here at 11, undisputedly dominated the prime time slot with an impressive figure of 21.1% and 656,000 viewers. Keshet 12's VIP winning kitchen with a nice figure as well – 16% and 433 thousand viewers. Network 13 suffered a painful disappointment when they broadcast the game between England and Wales (0-3) and were at 3.7% and only 98 thousand viewers.

The World Cup games continue to conquer the free time as well, when this time the leading game was the battle for the ticket to the round of 16 between Ecuador and Senegal (2-1 victory for the Senegalese) which drew 10.6%. In second place is Keshet 12 savings plan with 10.4%. Shesh with Oded Ben Ami stood at -5.4%. Five with Rafi Reshef – 4.9%, first edition in fifth place in the pre-prime rating with 4.3%. The sixth place was taken by network 13 with five broadcasts with Sharon Gal which achieved 4.1%. The strip is closed by program three with Ofer Hadad – 4%.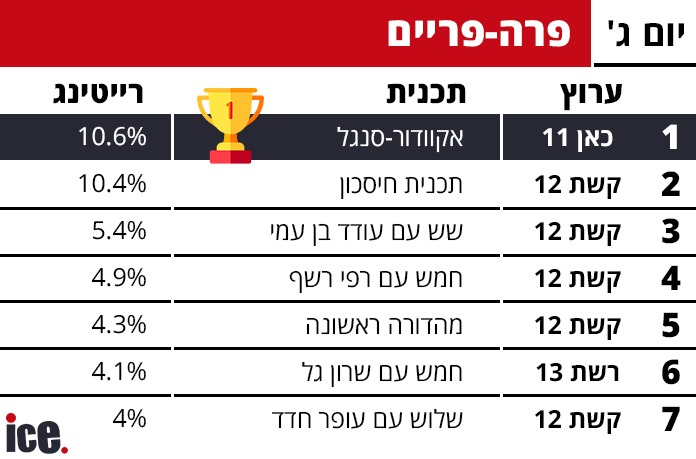 Request 12 The morning data recovered in relation to Monday's morning news broadcasts stood at 4.8%. Network 13 and the world broadcasts this morning presented a weak figure – 1.9%.
In Light Night Keshet 12 leads with 9% for Guy Pines when he also lives at night on the channel immediately behind him with 5.1%. The channel presented by Guy Lerer broadcast on network 13 was 3.8%, the day that was also network's 3.3%.
Comments to the article(1):
Your response has been received and will be published subject to the system policy.
Thanks.

for a new comment
Your response was not sent due to a communication problem, please try again.

Return to comment
1.

Why is Channel 14 not here?

Shumbled


11/2022/30

Reply to this comment

0

0