Doogee S98 Pro, a rugged smartphone. Suitable for use with any type of work. The device has passed the MIL-STD-810H military standard test and is waterproof and dustproof to IP68 and IP69K levels, but the Doogee S98 Pro is not only good for its toughness. It also comes with a MediaTek Helio G96 chipset, a 6.3-inch screen, FHD + resolution and a large battery up to 6,000mAh, supports 33W fast charging, Power Delivery. Thermal camera and Night Vision camera mode that can be used for both still images and video.
appearance
Look & Design
The size of the Doogee S98 Pro is large enough. With dimensions around the device at 172x82x15.5 mm and weight of 320 grams, it is considered a large size according to the Rugged Phone that focuses mainly on toughness.
LCD display screen, 6.3 inches wide, FHD + resolution (2340×1080 pixels), 19: 9 aspect ratio, covered with Gorilla Glass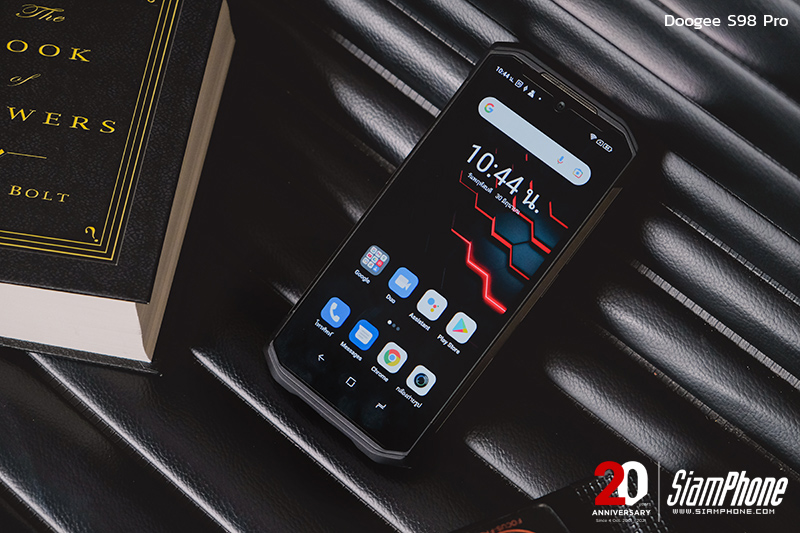 Above the screen, the Doogee S98 Pro uses a teardrop-shaped notch. In it, there is a 16MP front-facing camera on the right, the front-facing camera is a status notification light. and the edge of the screen is a speaker box for conversation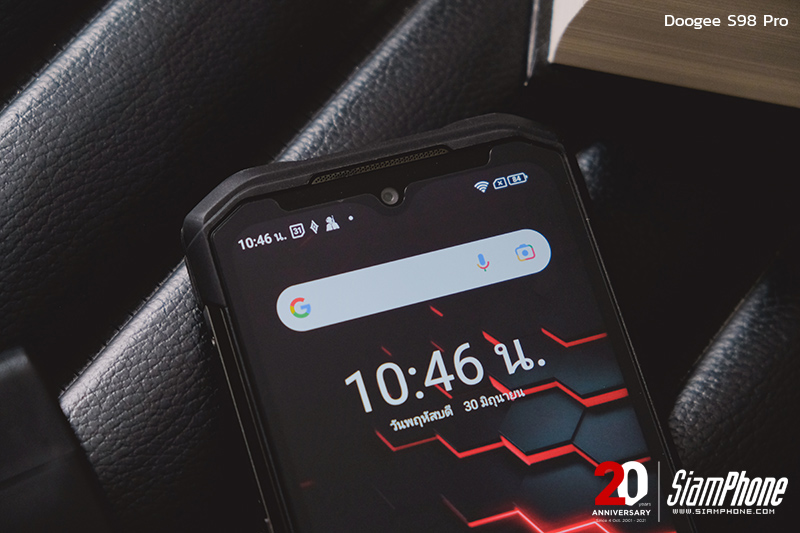 bottom of the display screen No hardware buttons The navigation buttons come in the form of software in the display screen.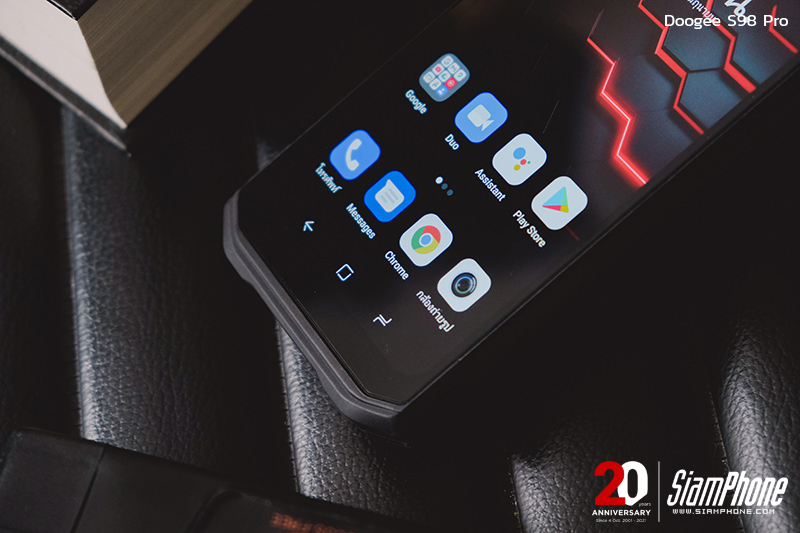 On the left side of the device, the Doogee S98 Pro has a SIM card tray slot on top. which is a 3-channel tray that supports 2 Nano SIM slots and the other is a TF Card (MicroSD Card) that supports a maximum capacity of 512GB; Press to activate the set function.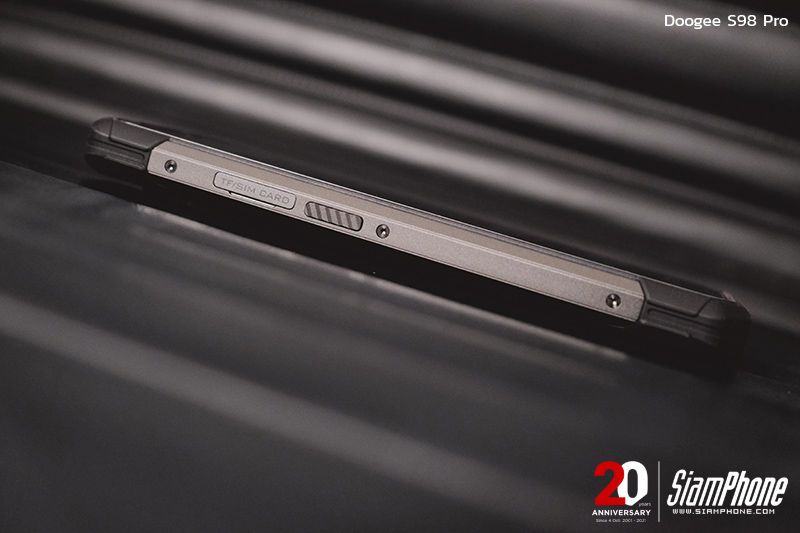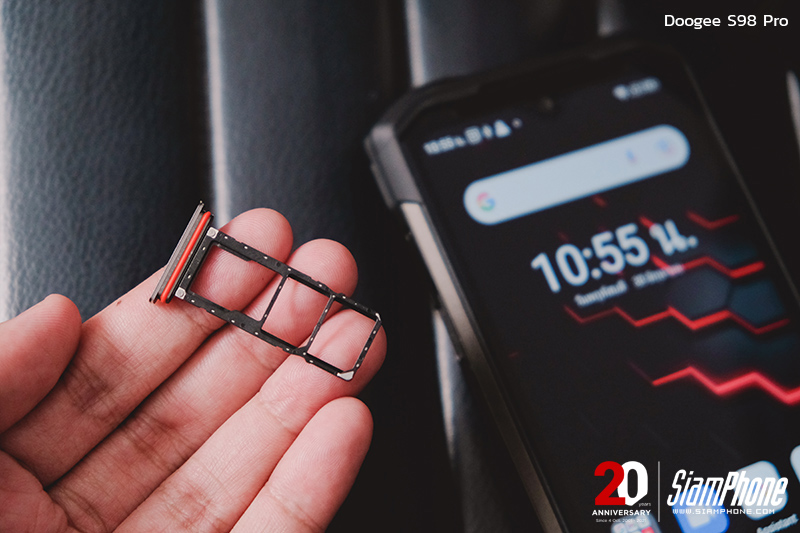 right side of the machine There is a long button for increasing the volume and reducing the volume. and the small button is the power button In addition, the bottom has a fingerprint scanner. which the scan is separate from the power button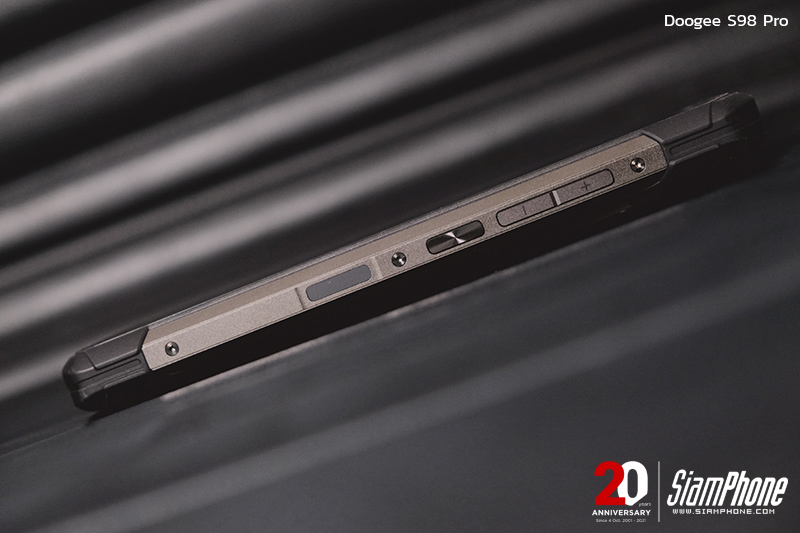 The top of the Doogee S98 Pro has no buttons or ports.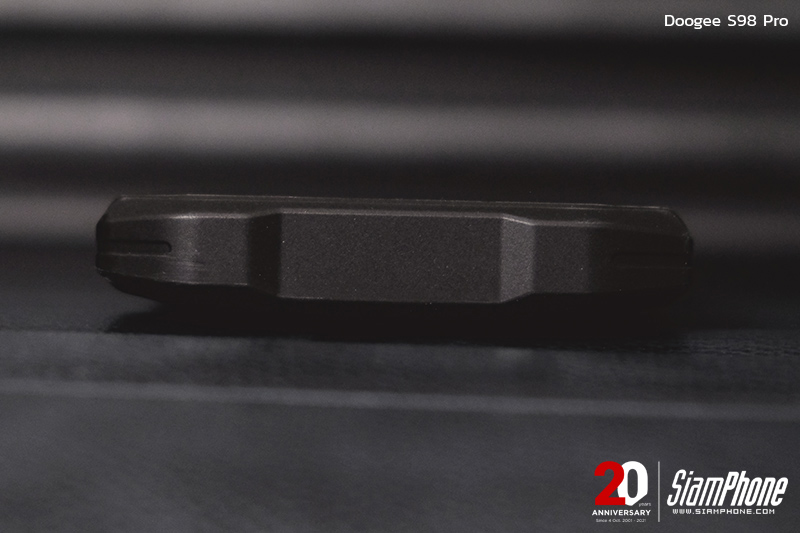 the lower part of the machine In the middle is a USB Type-C port with a silicone cover closed, and 2 on the left and right are audio speakers.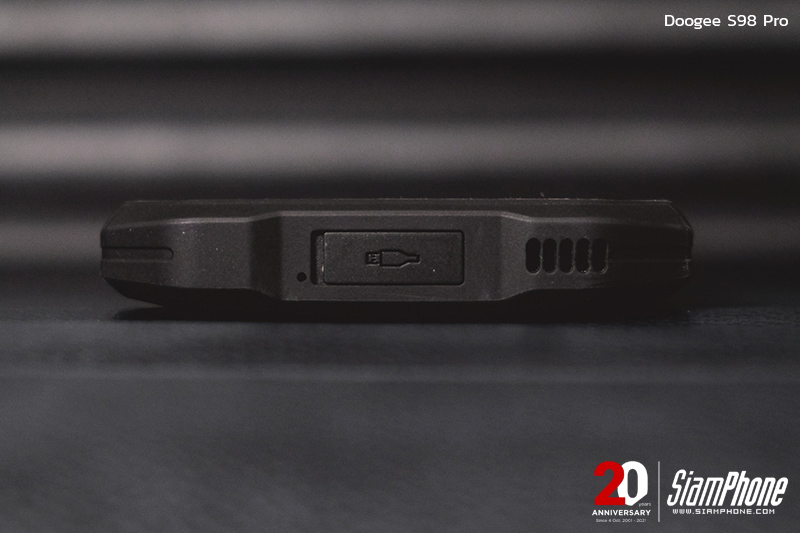 Attached to the back cover, the Doogee S98 Pro back cover has a pattern inspired by alien ships, which will look futuristic, especially the camera module that feels like a passenger light door. As for the rear camera, there will be 3 together, on the far left is a 20MP Night Vision camera, in the middle is a thermal camera. and the far right is the main camera, 48MP resolution, while the flash light is placed around the main camera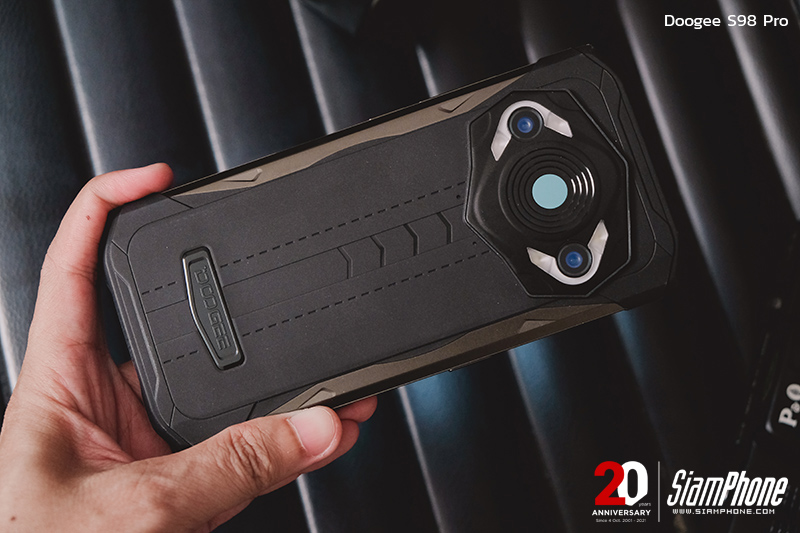 accessories inside the box
Doogee S98 Pro body
Power adapter 33W Type-C port
USB Type-C To Type-C cable
plastic case
SIM tray opener
screen film and the machine is stuck
User Manual and warranty card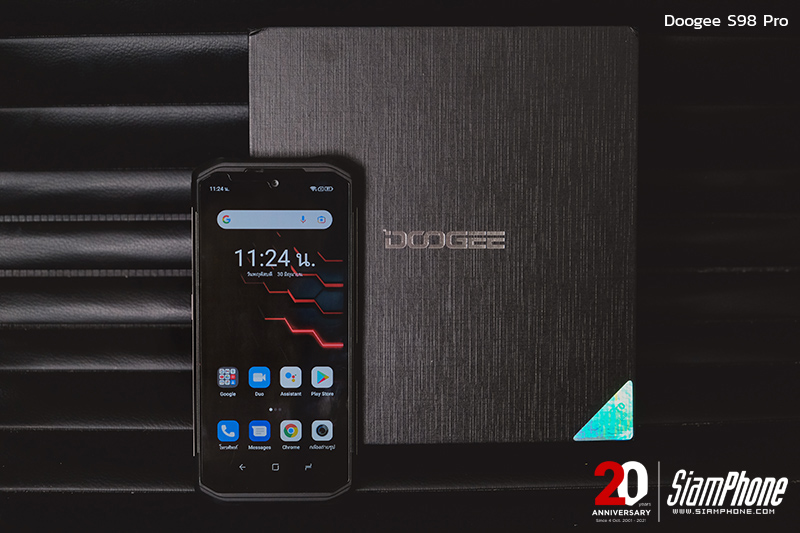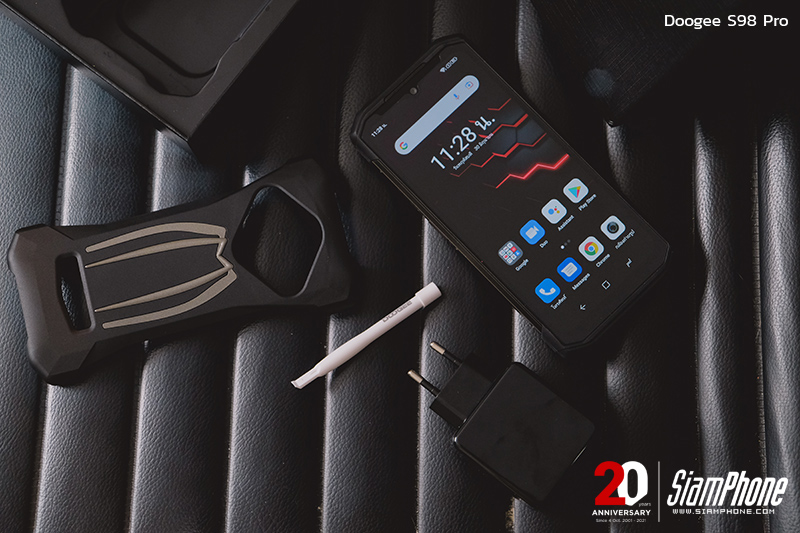 Doogee S98 Pro specs
Around the machine: 172x82x15.5 mm
Weight : 320 grams
Display screen: TFT-LCD, 6.3 inches wide, FHD + resolution (2340×1080 pixels), 19: 9 aspect ratio, covered with Gorilla Glass
Chipset: MediaTek Helio G96 12mm Octa-Core speed 2.1GHz
Graphics chip: ARM Mali-G57
RAM : 8GB
ROM: 256GB UFS 2.2, add TF Card up to 512GB
Operating system: Android 12
3 rear cameras with flash
– Sony IMX582 main camera, 48MP resolution, f / 1.8 aperture
– Night Vision camera, resolution 20MP, aperture f / 1.8
– thermal camera
Front camera, 16MP resolution, f / 2.0 aperture
Network : 4G / 3G / 2G, supports 2 Nano SIM slots
Connectivity: Wi-Fi 2.4/5GHz, Bluetooth 5.1, NFC, USB Type-C port
Location : GPS | Glonass | Galileo | Beidou
Waterproof and dustproof standards: IP68 and IP69K
Biometric security system: face scanning, fingerprint scanning on the side of the device
Battery: 6,000mAh, supports 33W fast charging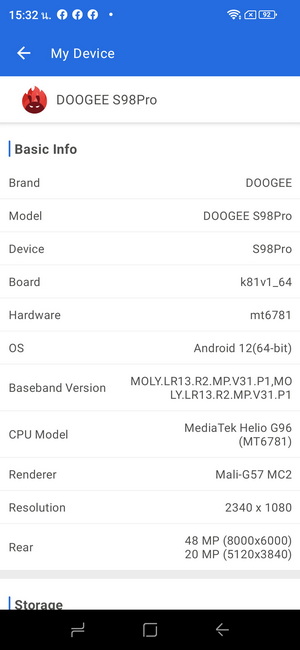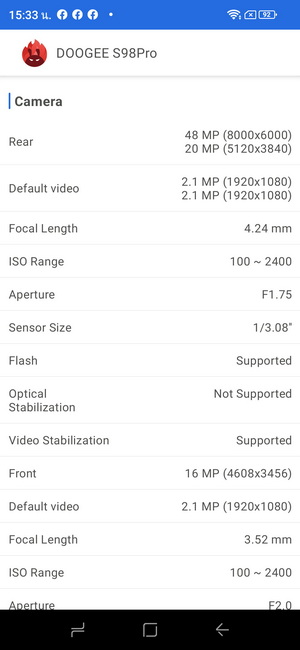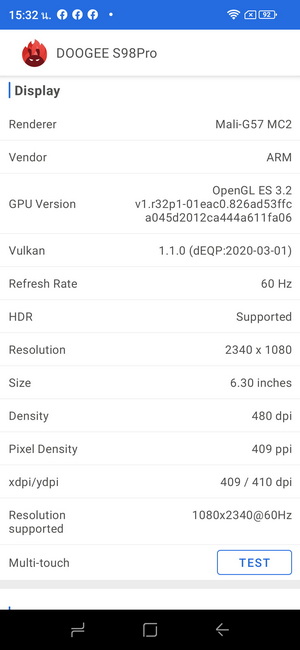 RAM and internal storage
There is only one RAM + ROM option, 8GB + 256GB, UFS 2.2 is a good size. Smooth to use and able to store data But if that's not enough, you can find a TF Card (MicroSD Card), which supports a maximum capacity of 512GB.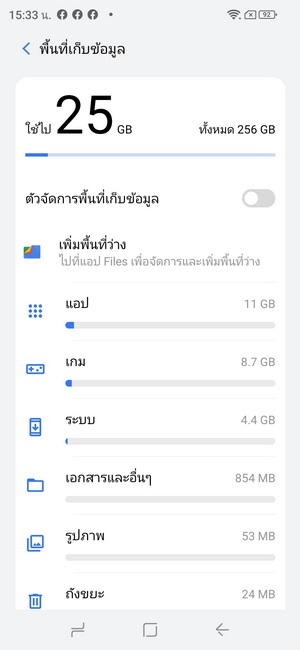 operating system
Doogee S98 Pro runs on Android 12 out of the box, which has a new UI that looks easy to use. and a better security system It also supports many other functions for smooth operation.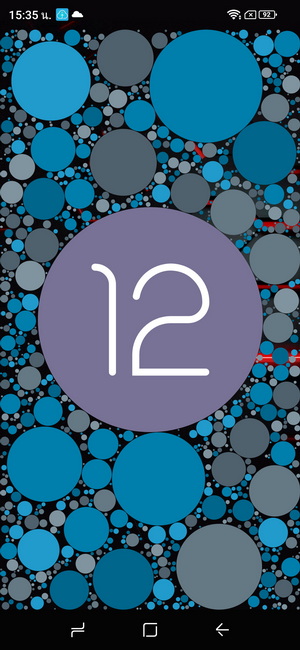 home screen
The home screen will keep apps. all in the home screen various icons It can be customized at Settings > Display > Home Settings. The standout part is the quick tool tray. which has large icons that are easy to use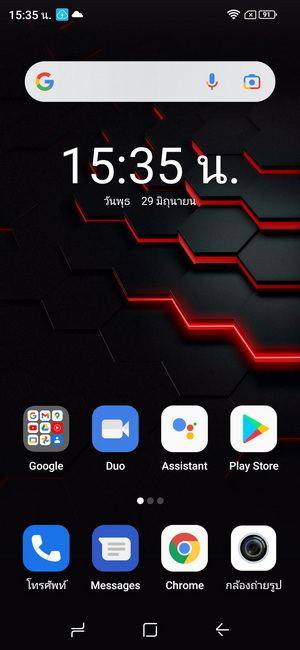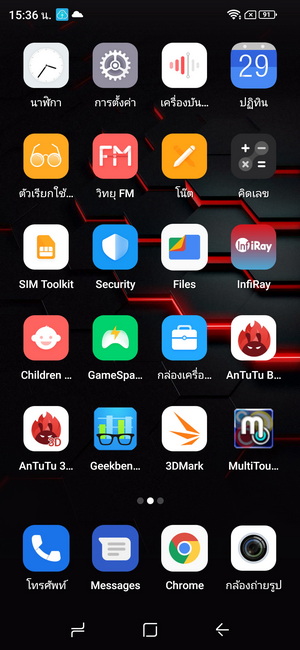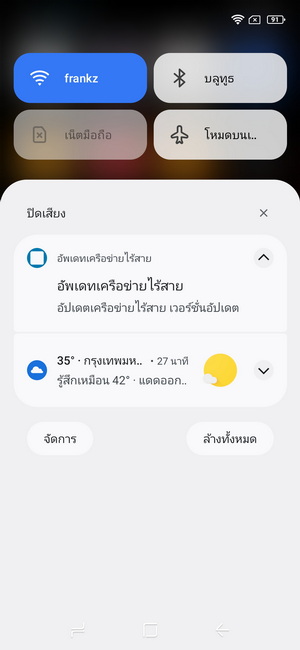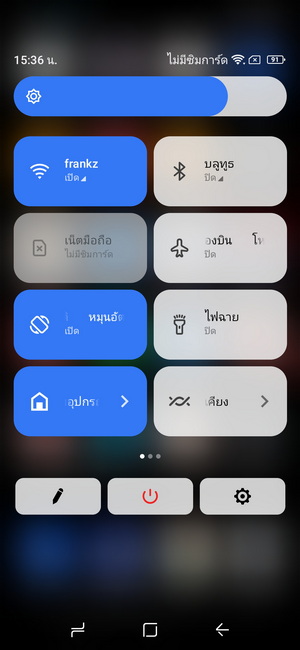 navigation buttons
The default navigation buttons are 3 buttons, consisting of the back button, the home button and the previous app button, but users can switch positions. Or you can switch to gesture navigation buttons as well by going to Settings > Navigation bar.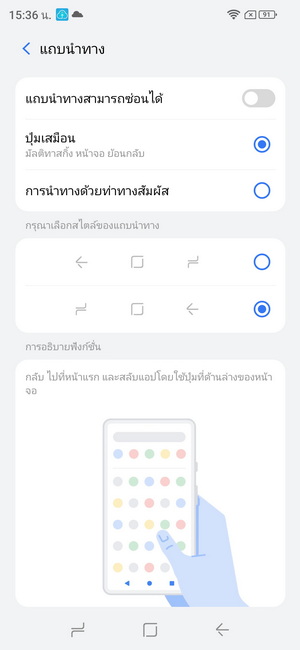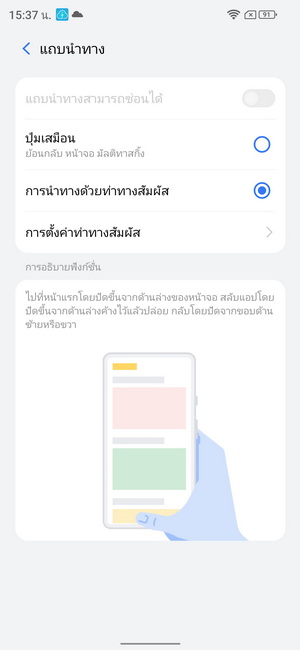 keyboard
Using the keyboard is worry-free because Google's Gboard is the default keyboard. and supports Thai language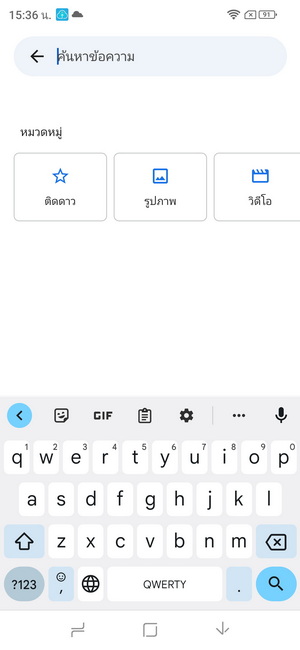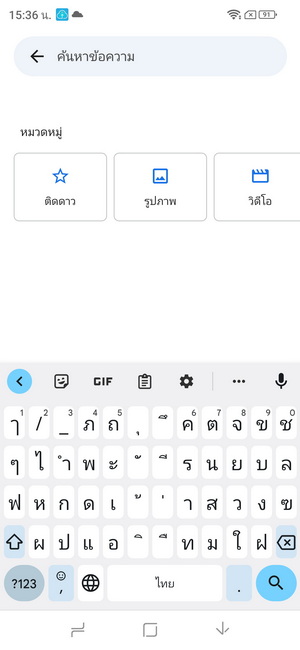 dark mode
Dark mode when enabled will change the theme to black. and use white letters Help to use in the dark or in low light to be more comfortable This can be enabled at Settings > Display > Dark.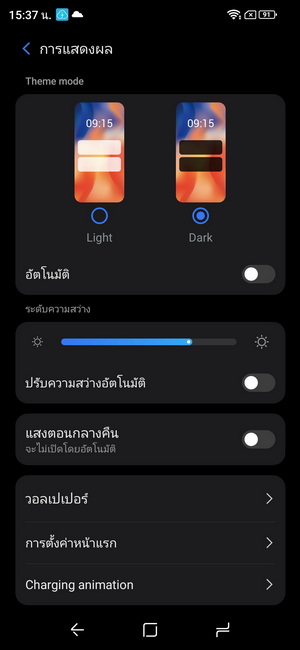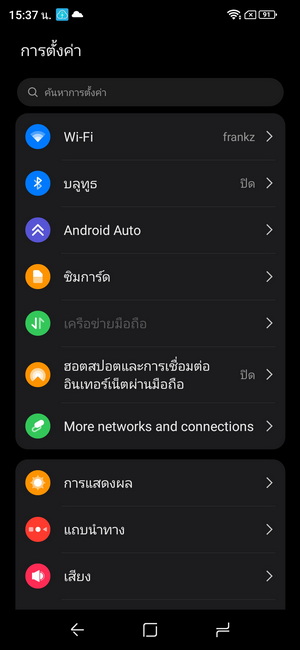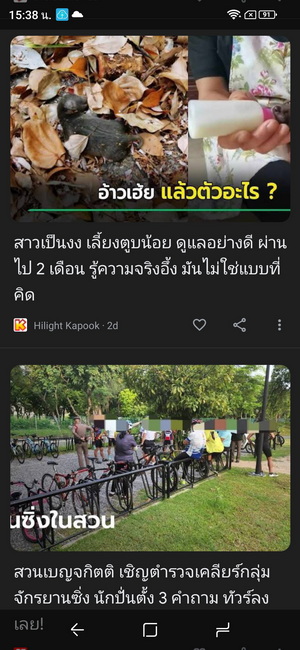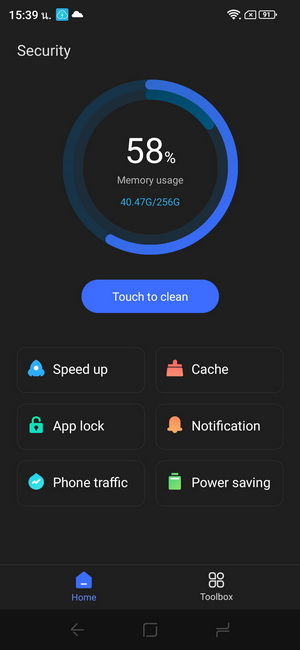 glove mode
The group of people who are suitable for using the Doogee S98 Pro will be the go-to people. Or work in any type of construction, industrial work, or mechanic work, etc. Of course, sometimes you have to wear gloves to work, which Doogee S98 Pro has a hand mode to support at this point. help to put on gloves ready to touch the screen normally You can enable it at Settings > Smart Assistant > Glove Mode.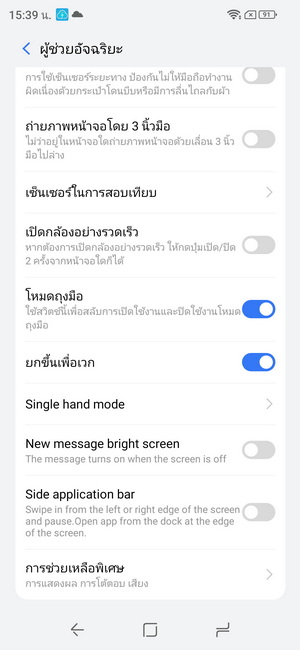 smart key, custom key
Adjustment buttons on the left side of the device It's a button that allows you to run quick tools. Which users can choose at Settings > Smart Keys, with 3 types to choose from: press 1 time, press 2 times and press and hold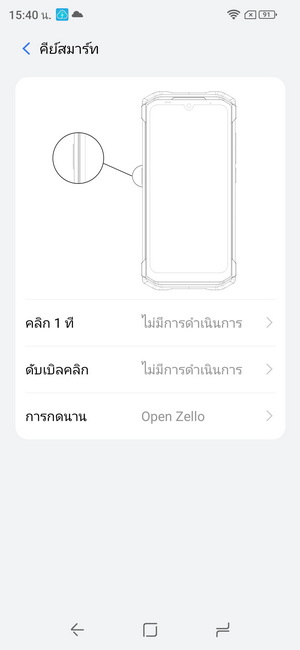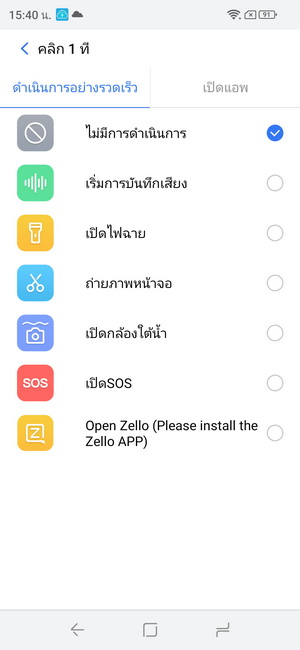 Speed ​​test and display of the machine
AnTuTu Benchmark speed performance test results: 296,433 points
Overall performance test results Geekbench 5 scored Single-Core: 494 points and Multi-Core: 1152 points
Graphics test results with 3D MARK (Wild Life): 1153 points
Multitouch screen inspection results up to 10 points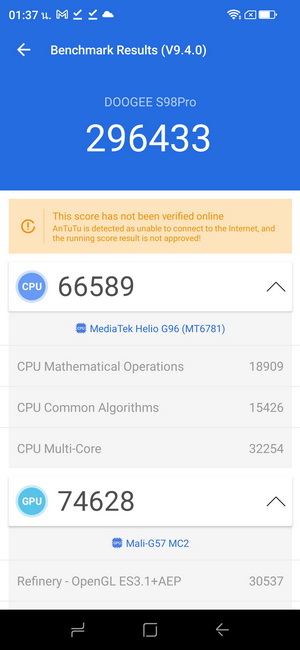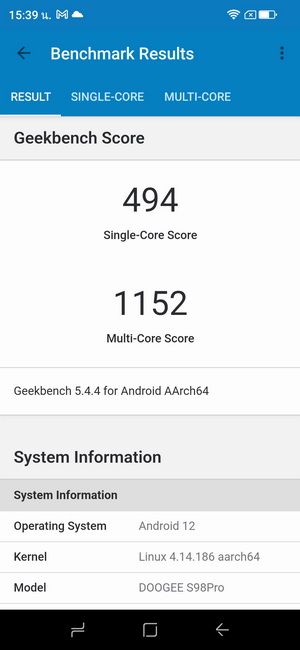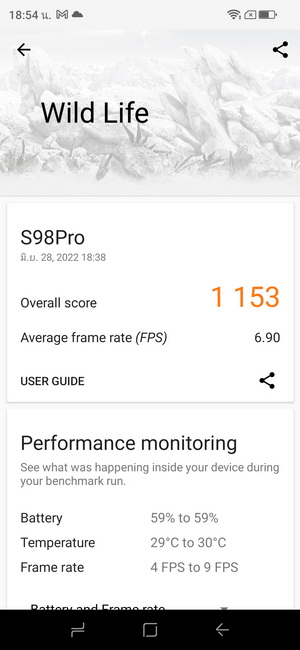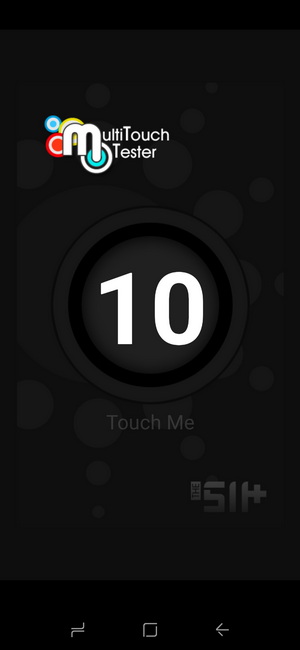 Test the sensor with the Android Sensor Box program. The sensor was found as follows.
Accelerometer Sensor measures the acceleration due to inclination.
Light Sensor detects light
Orientation Sensor The sensor adjusts the viewing angle of the screen.
Proximity Sensor turns off the screen automatically while talking to your ear.
Gyroscope Sensor The sensor detects the rotation of the smartphone.
Sound Sensor measures the sound level.
Magnetic Sensor measures the intensity of the magnetic field.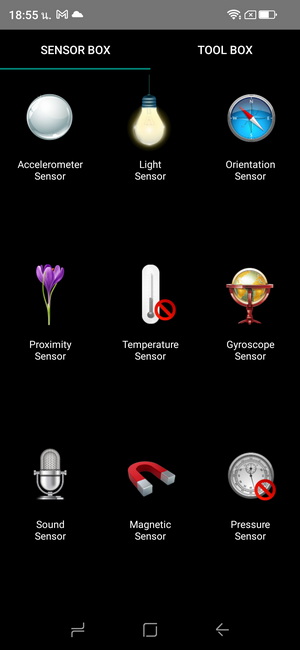 interesting point
Special & Features
confident stamina with military standards
The Doogee S98 Pro is a Rugged Phone. Of course, durability is a hallmark of this model. The frame around the machine uses aluminum alloy material mixed with TPU and has a strong frame. Called to be resistant to shocks very well. It is also tested in harsh weather conditions and is drop tested to military standards like MIL-STD-810H to withstand drops from a height of 1.5 meters.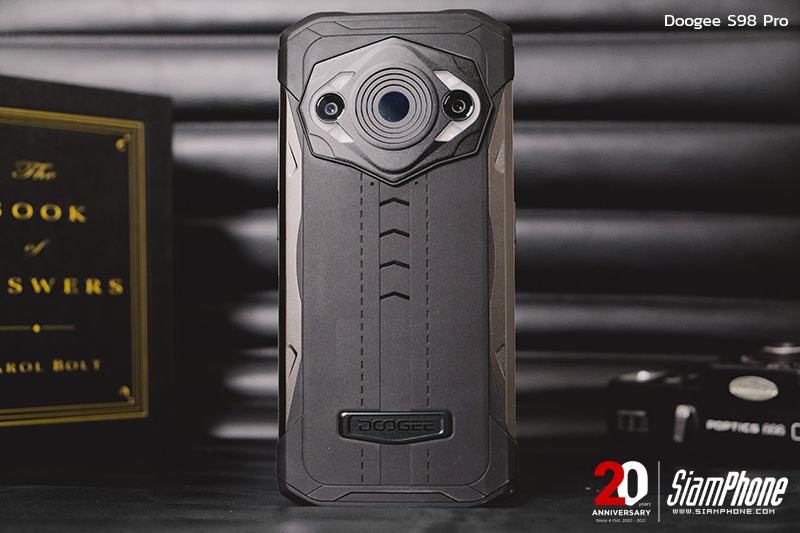 Complete with waterproof and dustproof standards
In terms of water and dust resistance, the Doogee S98 Pro will come with IP68 and IP69K standards, can be submerged in water at a depth of 1.5 meters for 30 minutes and dustproof with a PM 2.5 level, considered another Rugged Phone that is ready for all conditions.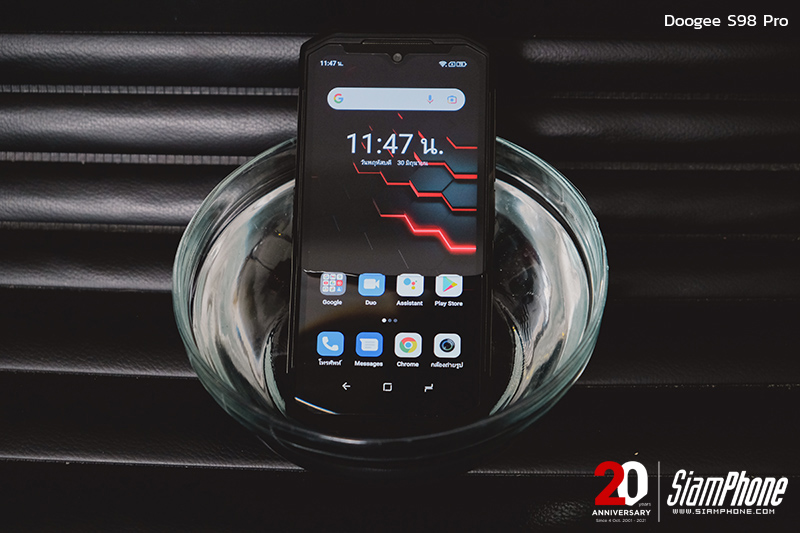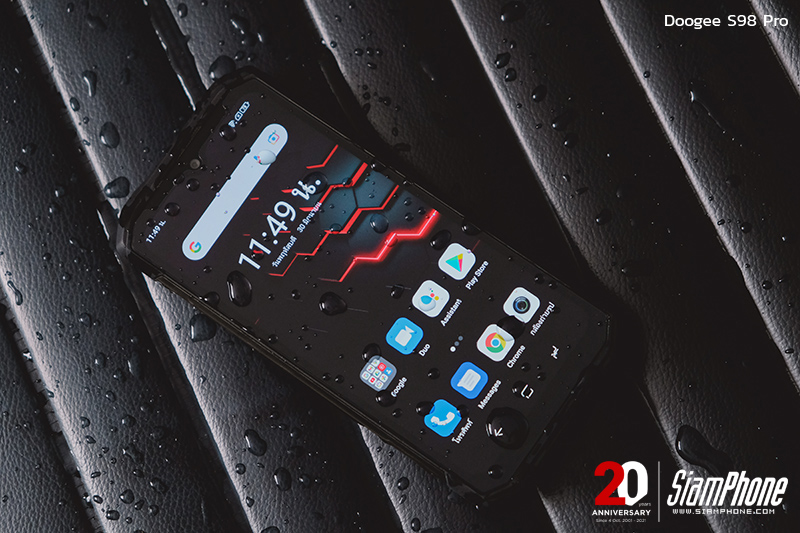 Operate a thermal camera with the InfiRay app.
thermal camera It is a highlight of the Doogee S98 Pro, which can be used via the InfiRay app, which has many calorimeters inside. whether it is an overall measurement or measure points It can be used at the person icon on the top right. There are also 11 different thermal capture view options that can be customized via the icon in the lower left corner, and the IndiRay app can also capture still images. or video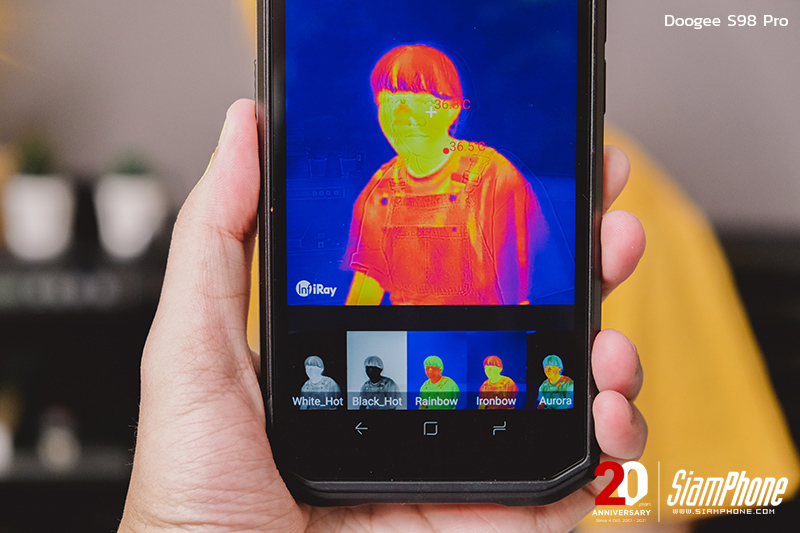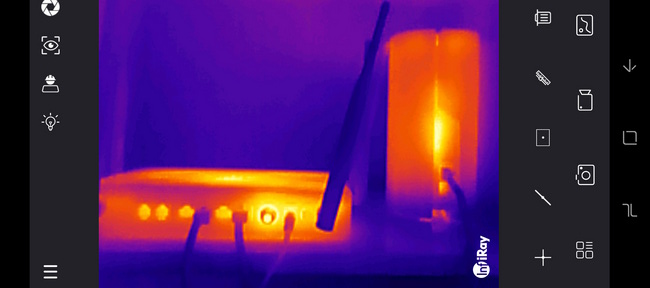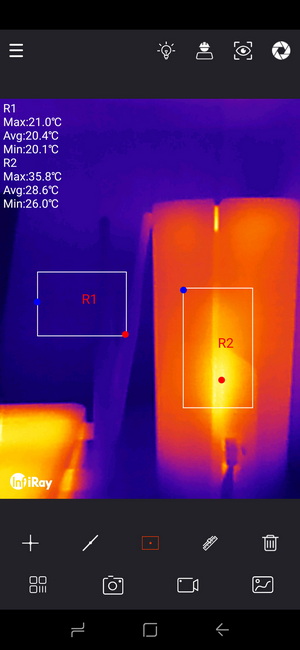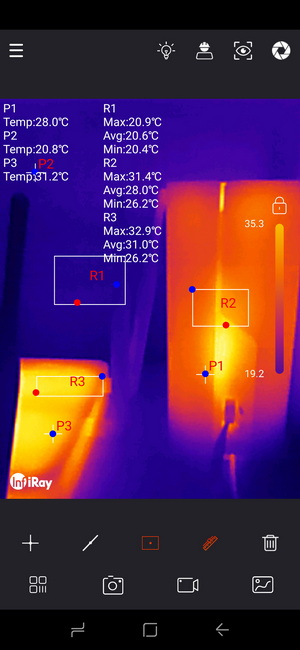 The accuracy is only +- 2 degrees. It also measures from -15 degrees to 550 degrees. Not only that, video recording is still good with a resolution of 256×192 pixels, frame rate 25Hz.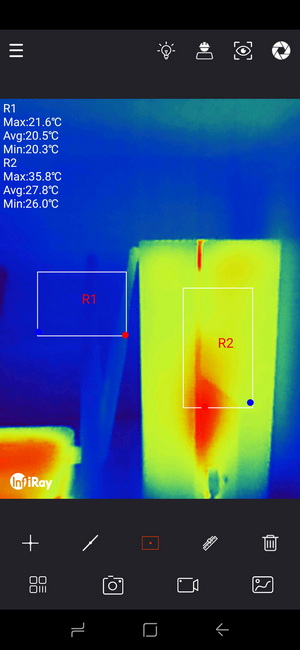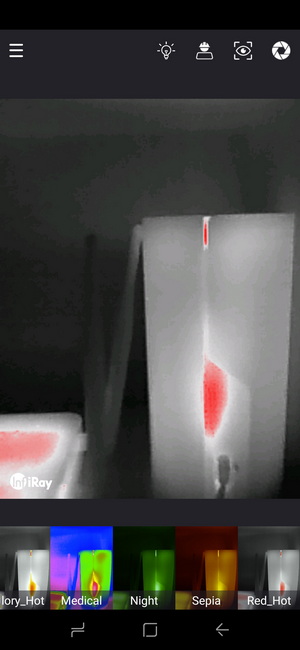 6.5 inch display screen
The display screen can be displayed well. which is a 6.3-inch wide TFT-LCD screen, resolution FHD + (2340×1080 pixels), 19:9 aspect ratio, covered with Gorilla Glass, can be used to watch movies, watch series, beautiful Or the gameplay is good as well. You can also wear gloves to touch the screen comfortably. with glove mode on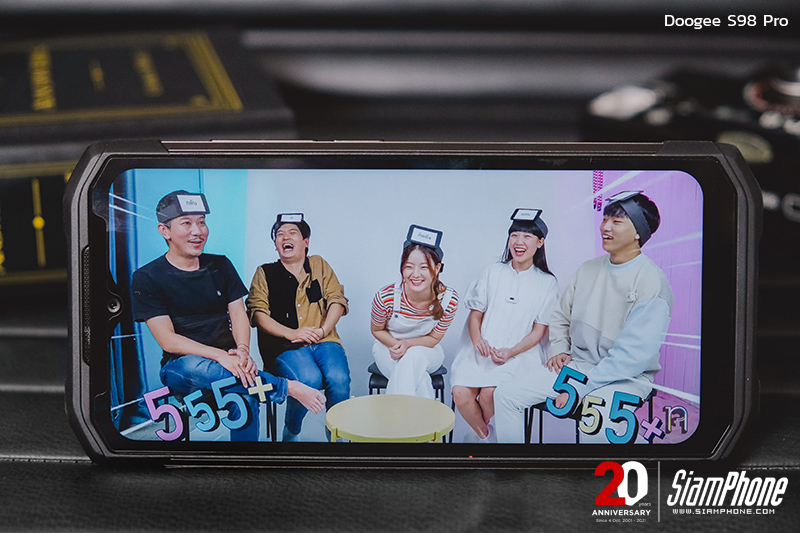 toolbox
In work, you can use Doogee S98 Pro to help work by apps installed from the factory, there will be an app called Toolbox. Inside there are various tools. For technicians supporting work such as a plumb to help measure sea level, protractor, loudspeaker, plane gauge, compass, etc.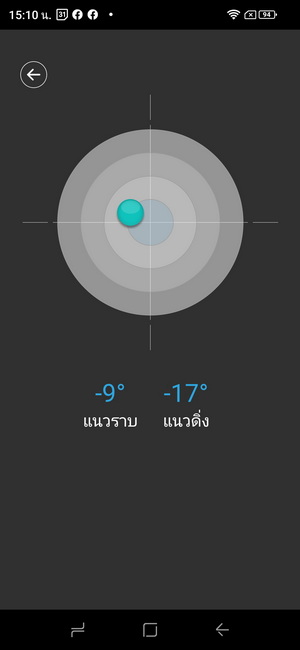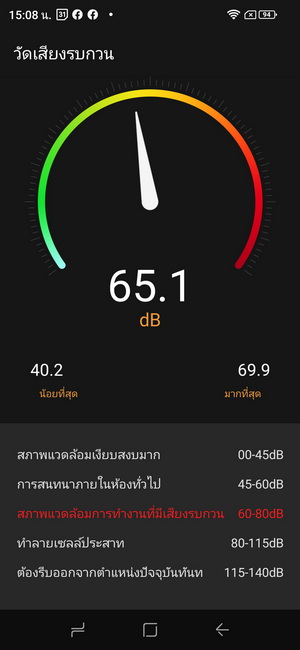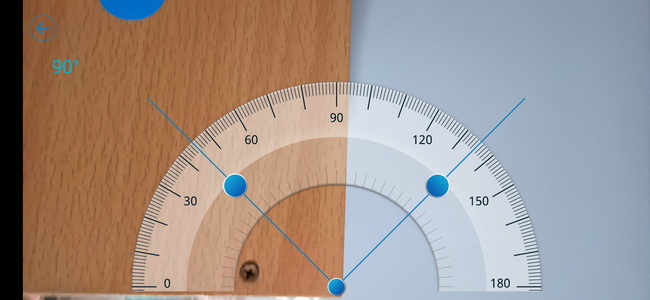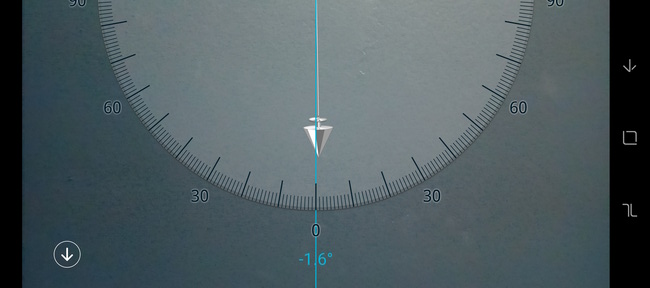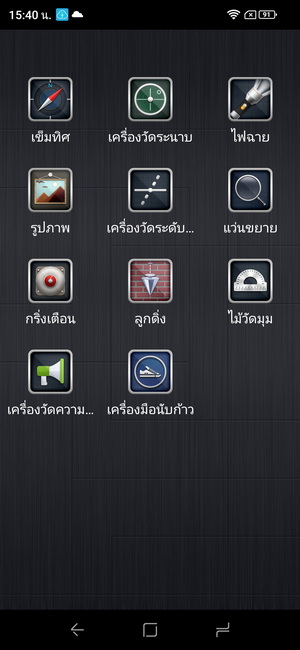 launcher or easy mode
Launcher or Easy Mode will modify the UI to make it easy to use. Help with quick use or have to pick up Doogee S98 Pro to use during busy work. can be started from the app A launcher in the home screen and a factory installed app.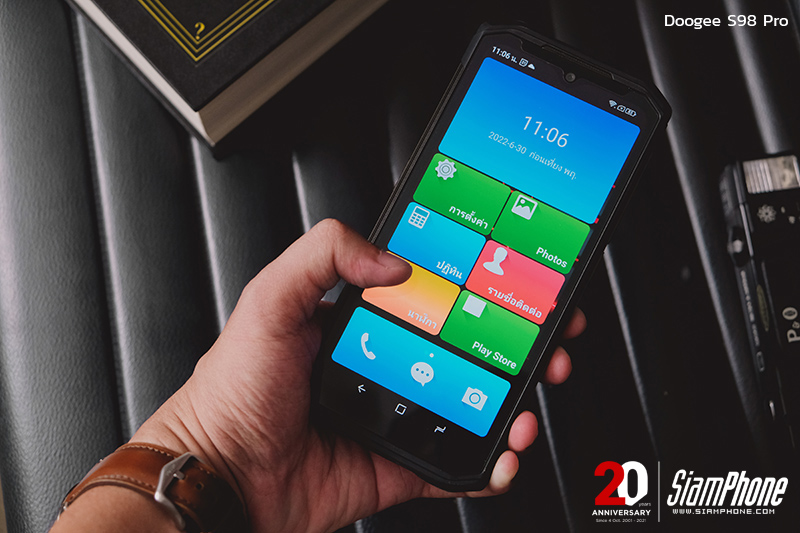 MediaTek Helio G96 chipset supports 4G
Normally, Rugged Phone uses a chipset that is not very powerful. Focusing more on general use, but Doogee S98 Pro uses a powerful chipset to a certain extent, which is a 12-nanometer MediaTek Helio G96, which uses the basics smoothly. and can also be used to play games that require mid-range graphics specs as well. It also supports 4G signals.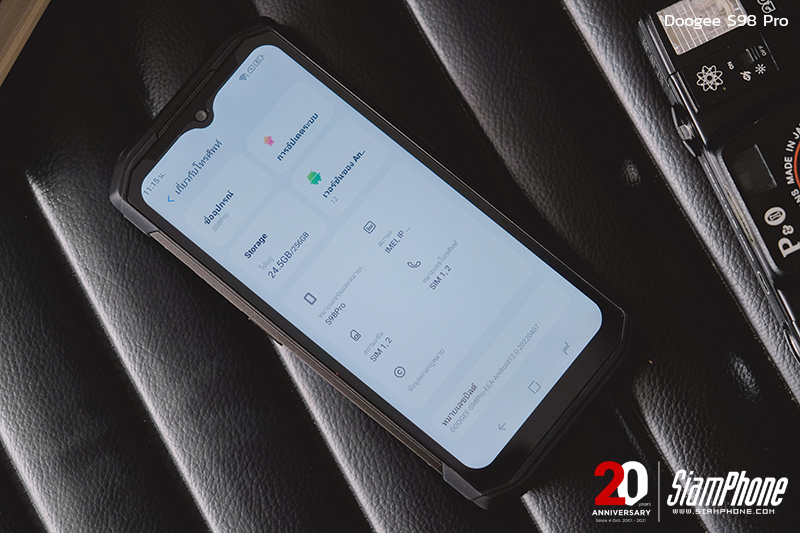 test game
The Doogee S98 Pro is a Rugged Phone, but gaming is good, with the MediaTek Helio G96 chipset coupled with MediaTek HyperEngine 2.0 Lite technology for better gaming. and push the frame rate to be still
PUBG Mobile : Graphics can be adjusted at HD, high frame rates. which the play was smooth enough no problem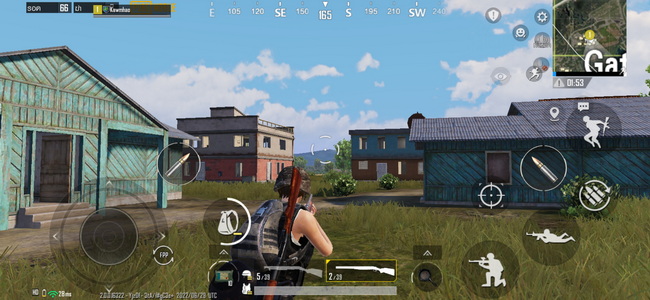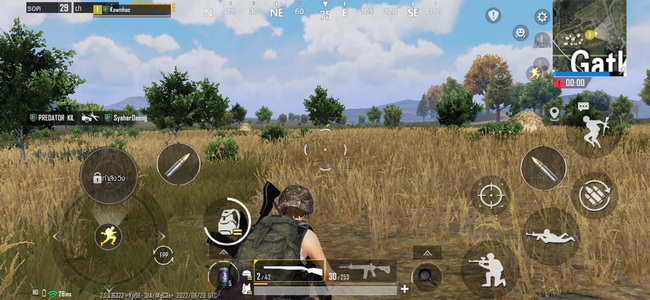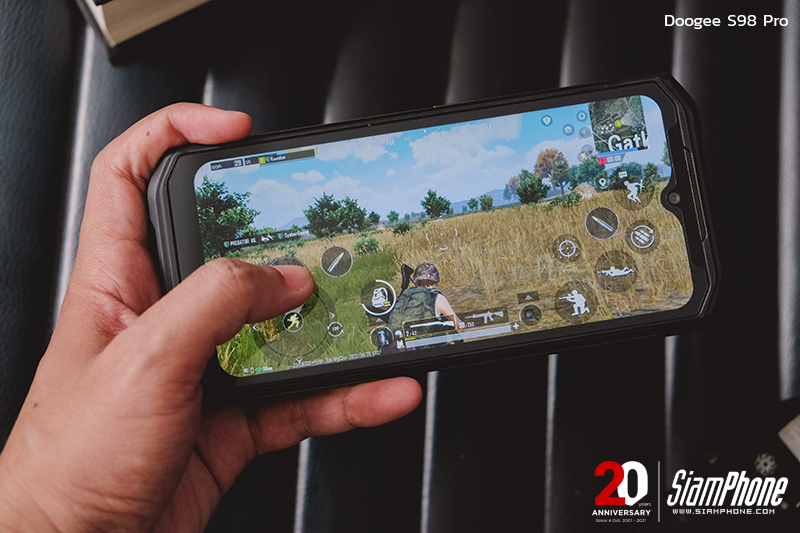 ROV : For ROV games, the highest level of graphics can be adjusted. and push high frame rates as well But the playback will get a frame rate of 45fps, not 60fps, but at the 45fps level, it can be played smoothly.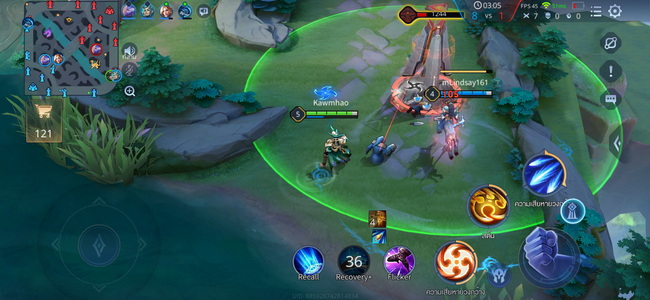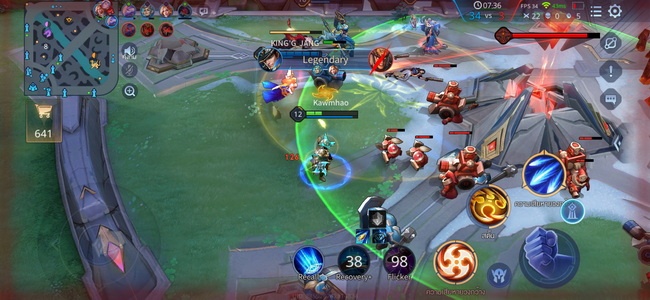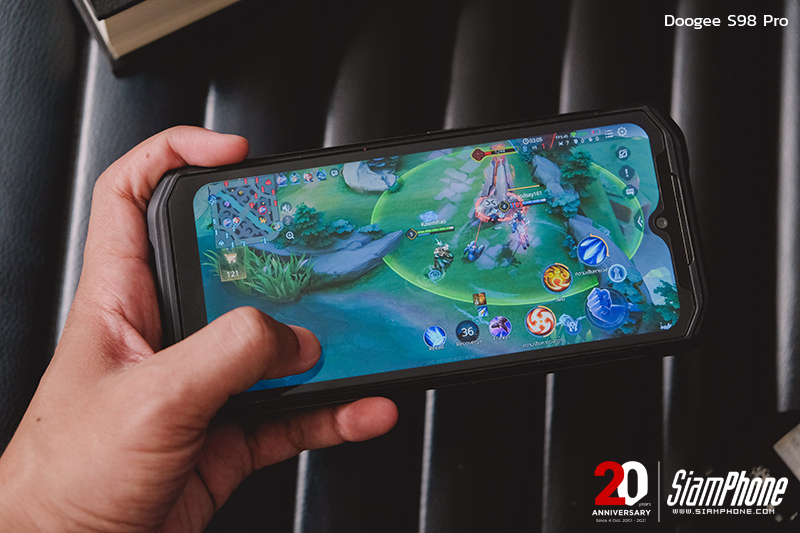 biometric security system
Doogee S98 Pro comes with two biometric security systems: face scanning and fingerprint scanning on the side of the device. for scanning the fingerprint on the side of the device The scan is not at the power button like a normal smartphone. but will have a separate scan next to the power button which the scan is good But the first use Touch scan may not be very good.
6000mAh battery, 33W fast charge
In addition to the tough machine The story of the battery is equally durable. Doogee S98 Pro has a large battery size of 6,000mAh, which from the test used to play PUBG Mobile games, HD graphics, high frame rates and ROV games, adjust everything for an hour of eating. Battery from 24% reduced to 12%
In addition to charging It supports fast charging via a 33W cable. In the test from 15% of the battery, it took 1.40 hours to come back to 100%.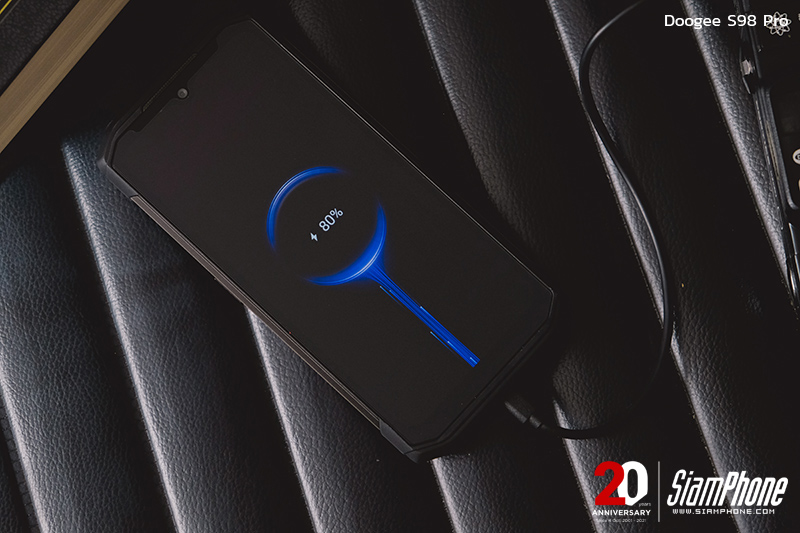 Using the camera works with AI.
The camera of the Doogee S98 Pro stands out from the general camera, the Night Vision camera, which can capture still images. and video in the form of Night Vision, the normal camera There will be a resolution of 48MP and a front camera with a resolution of 16MP. There is also an AI system that recognizes the scene, helping to make the picture more beautiful. Just press one shutter button.
high resolution mode
high resolution mode It is the best use of a 48MP camera. The images that come out will have a resolution of up to 10816×8112 pixels, known as a large image. high resolution making every part of the picture very clear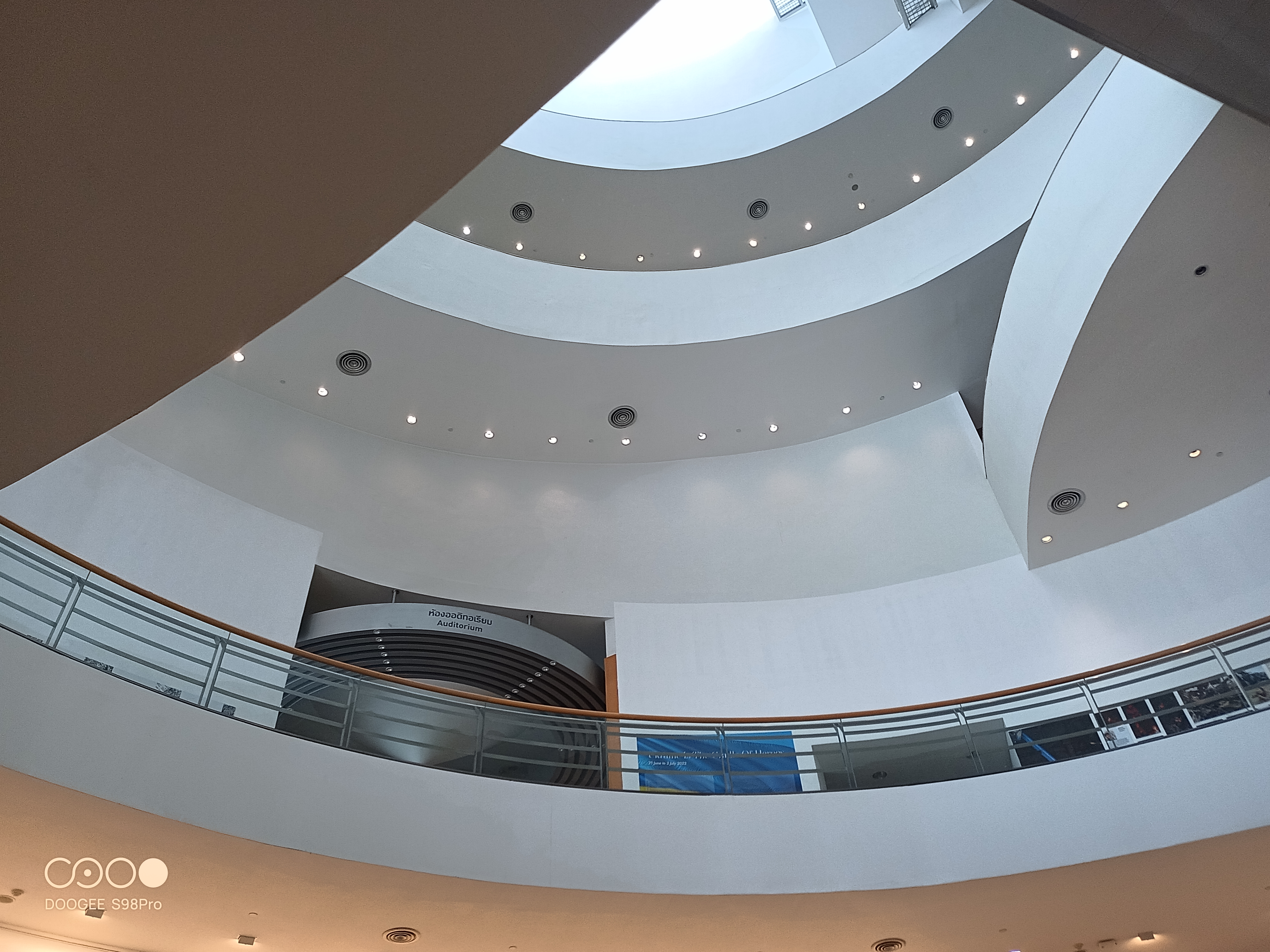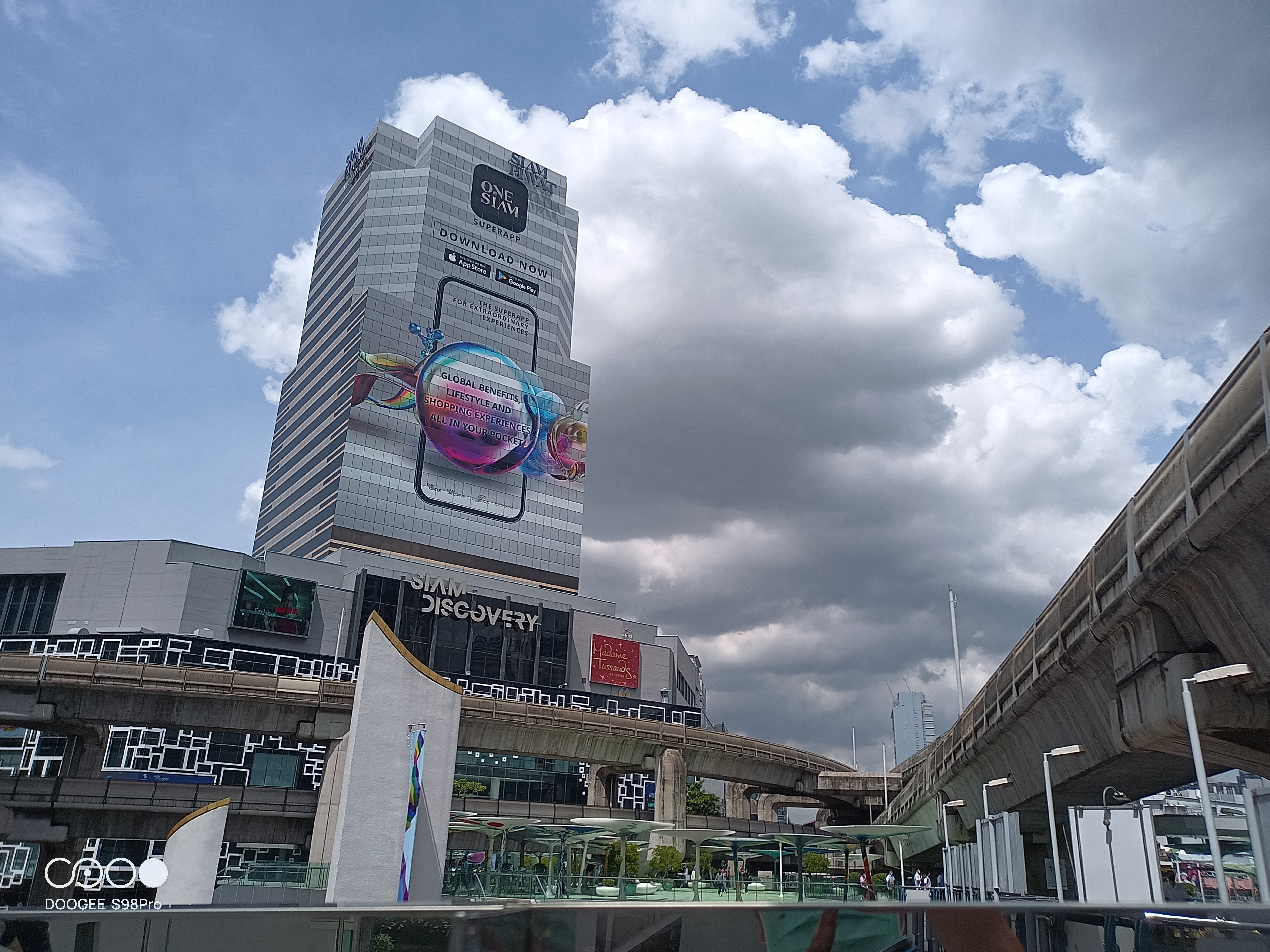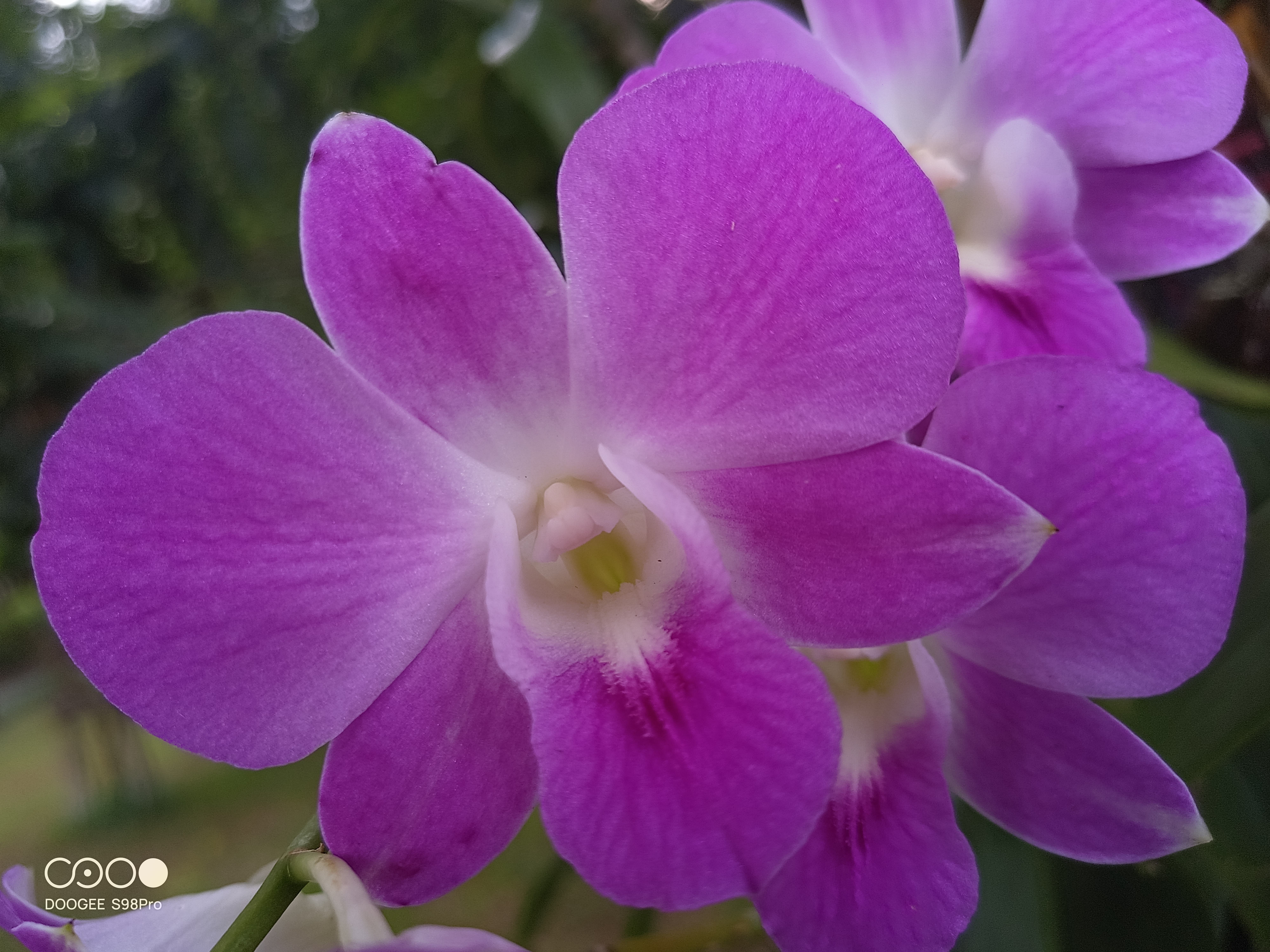 night mode
Night mode photography It's good enough. Provides beautiful colors at night. and also provide good details.
Human portrait mode or Portrait mode
Taking a clear picture of the face after blur from human mode It is considered good enough. Although there is no Depth lens to help, the software blur has cut the back. and the front part is beautiful Blur can also be adjusted. and can customize a beautiful face as well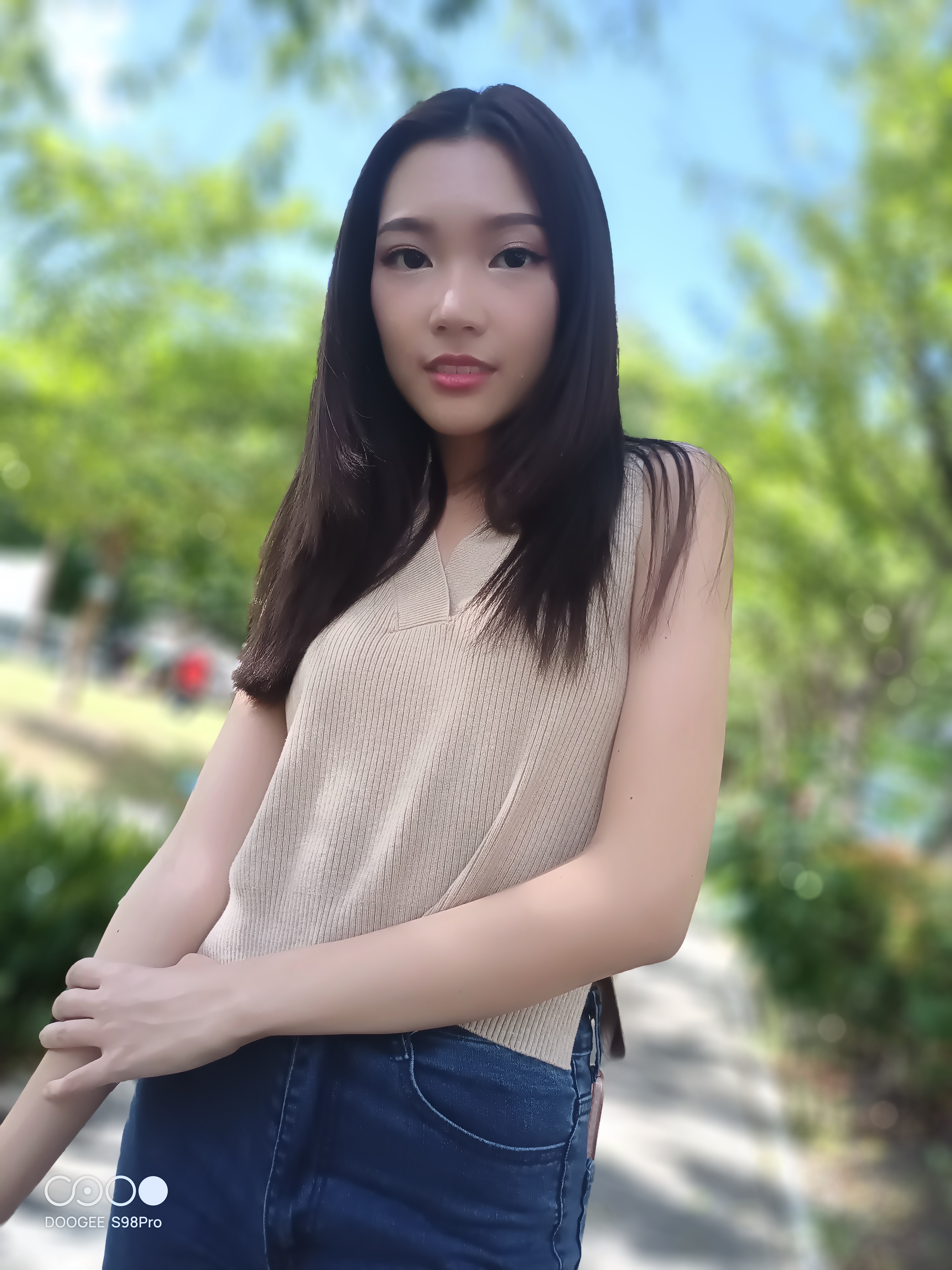 Night Vision mode
Night Vision mode is the highlight of the Doogee S98 Pro. or record video in night view Because it uses a 20MP Night Vision camera and supports 2 Infrared cameras, the image in the dark will come out as a black and white image. or video recording can be up to 2K resolution at 30fps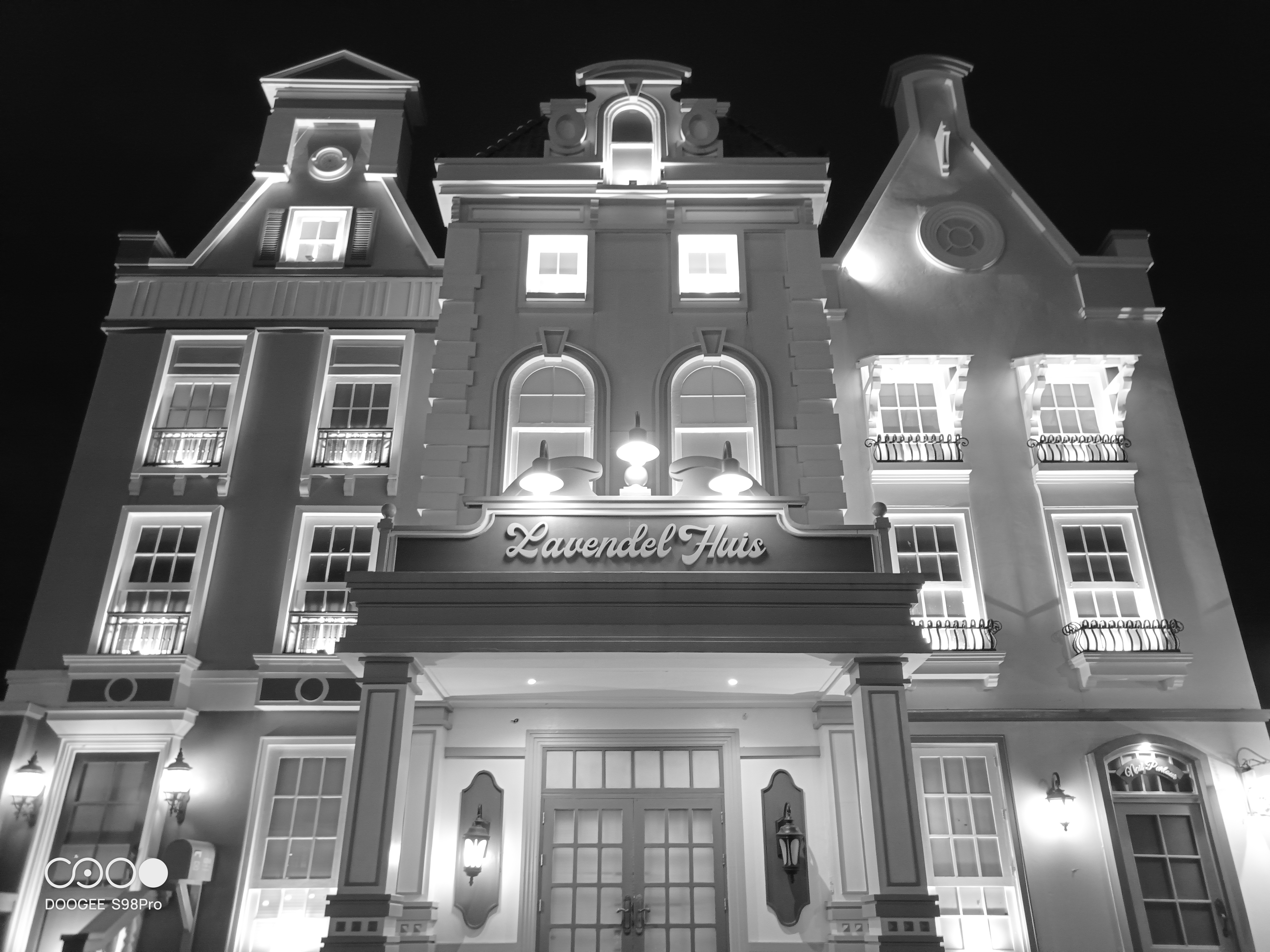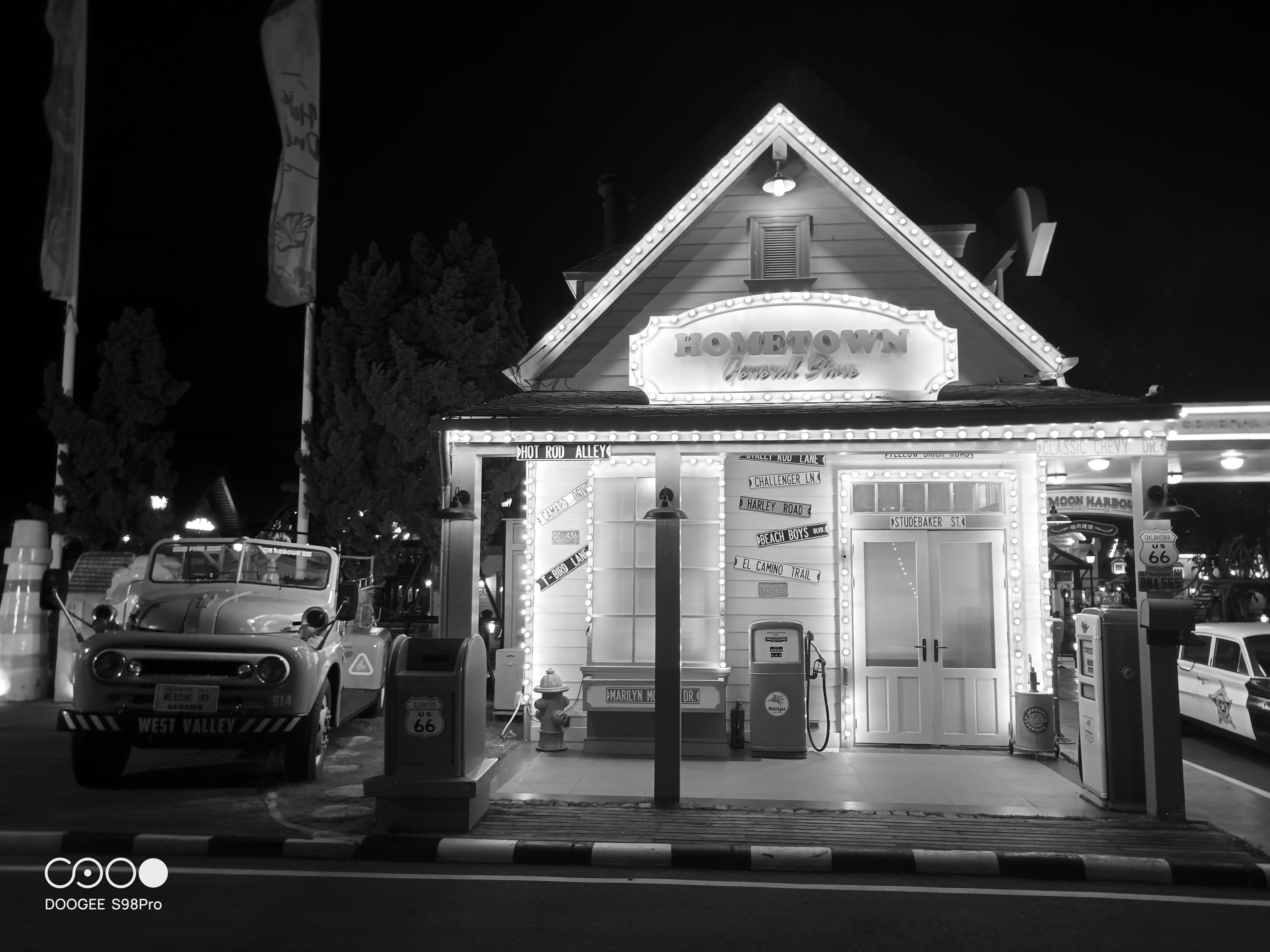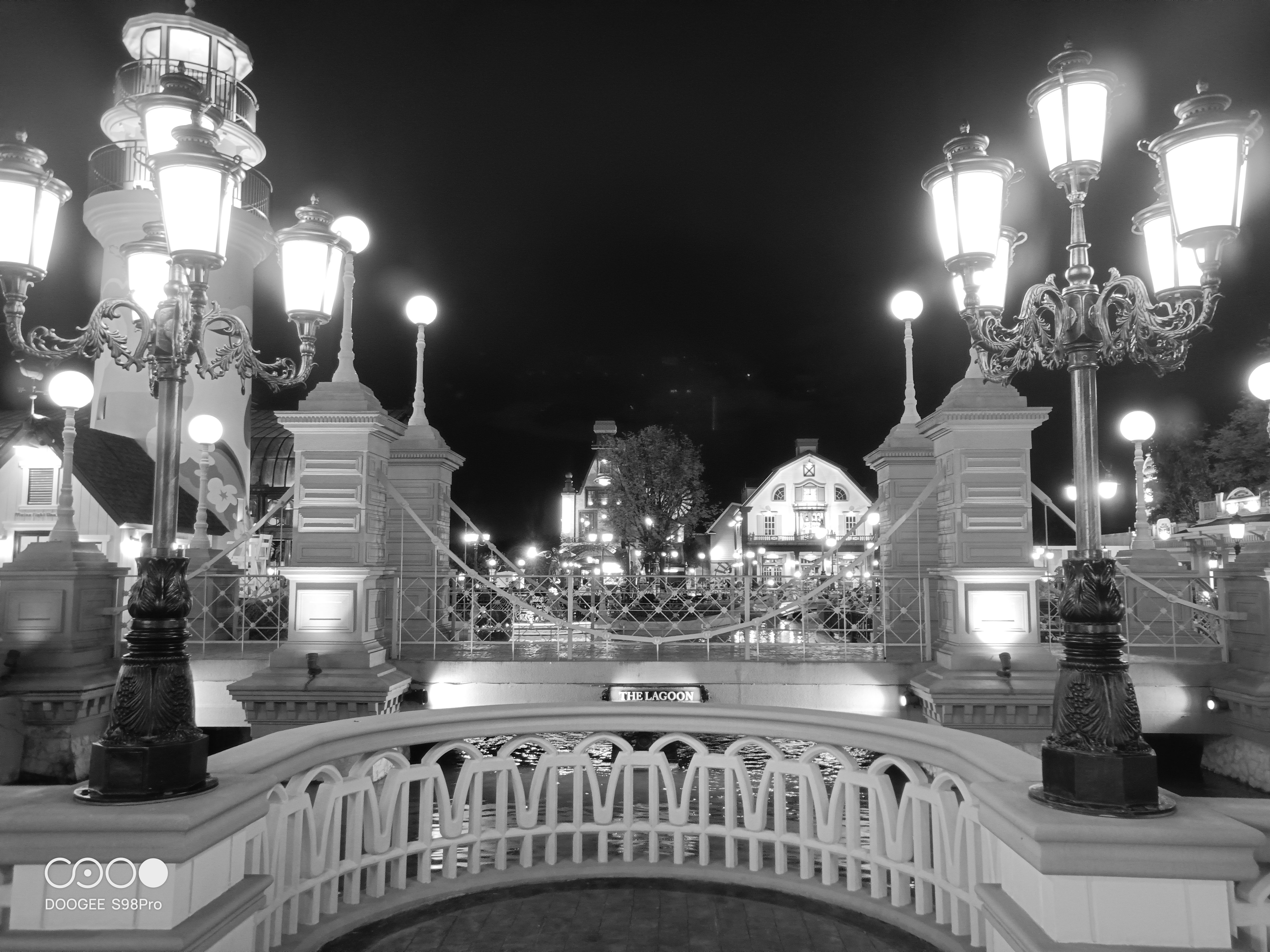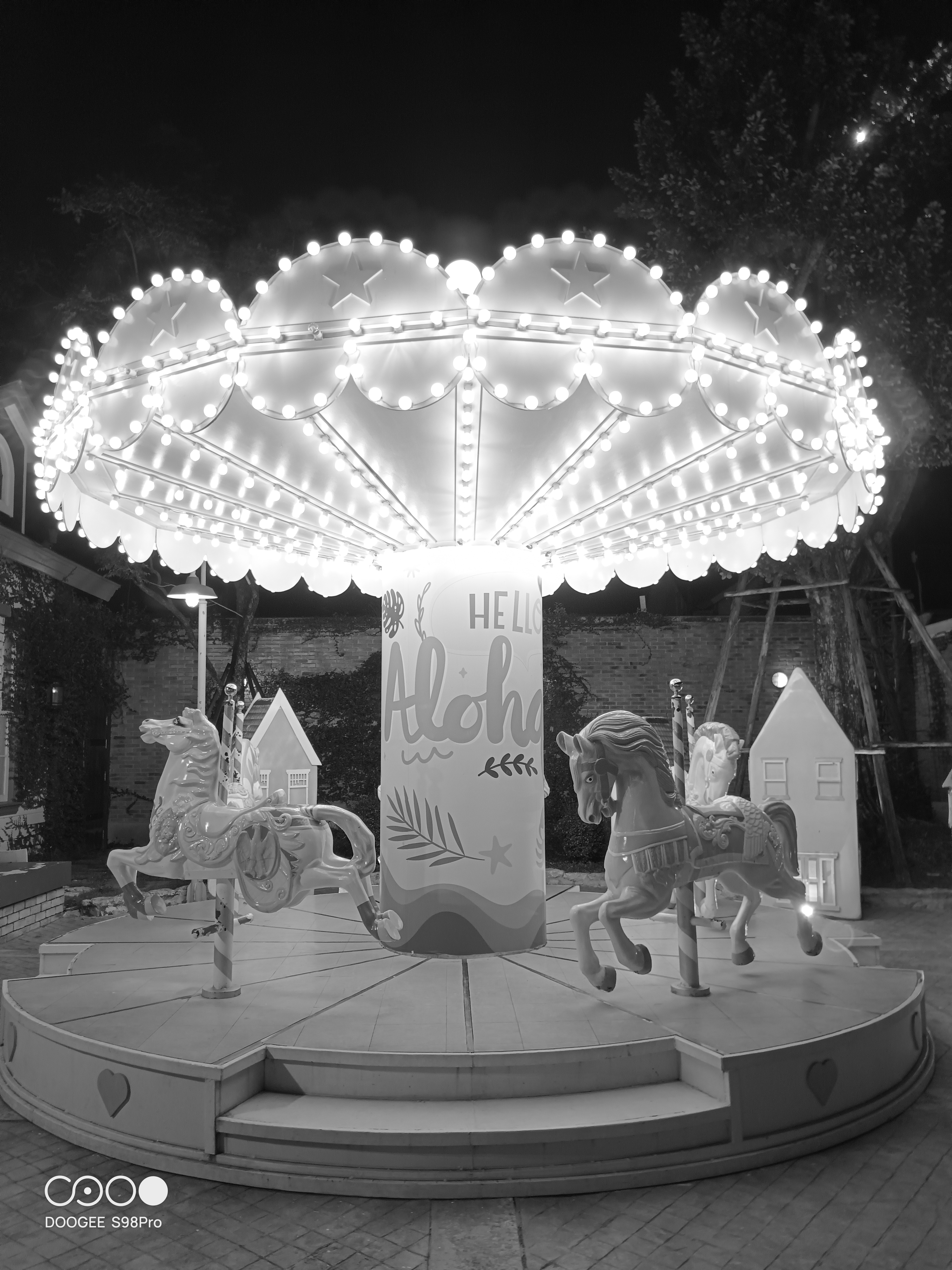 Take a picture from the front camera
The front camera has a resolution of 16MP. It is considered quite beautiful. Takes selfies or video calls fairly well. But if you want to customize a beautiful face Must be adjusted to use in human image mode instead.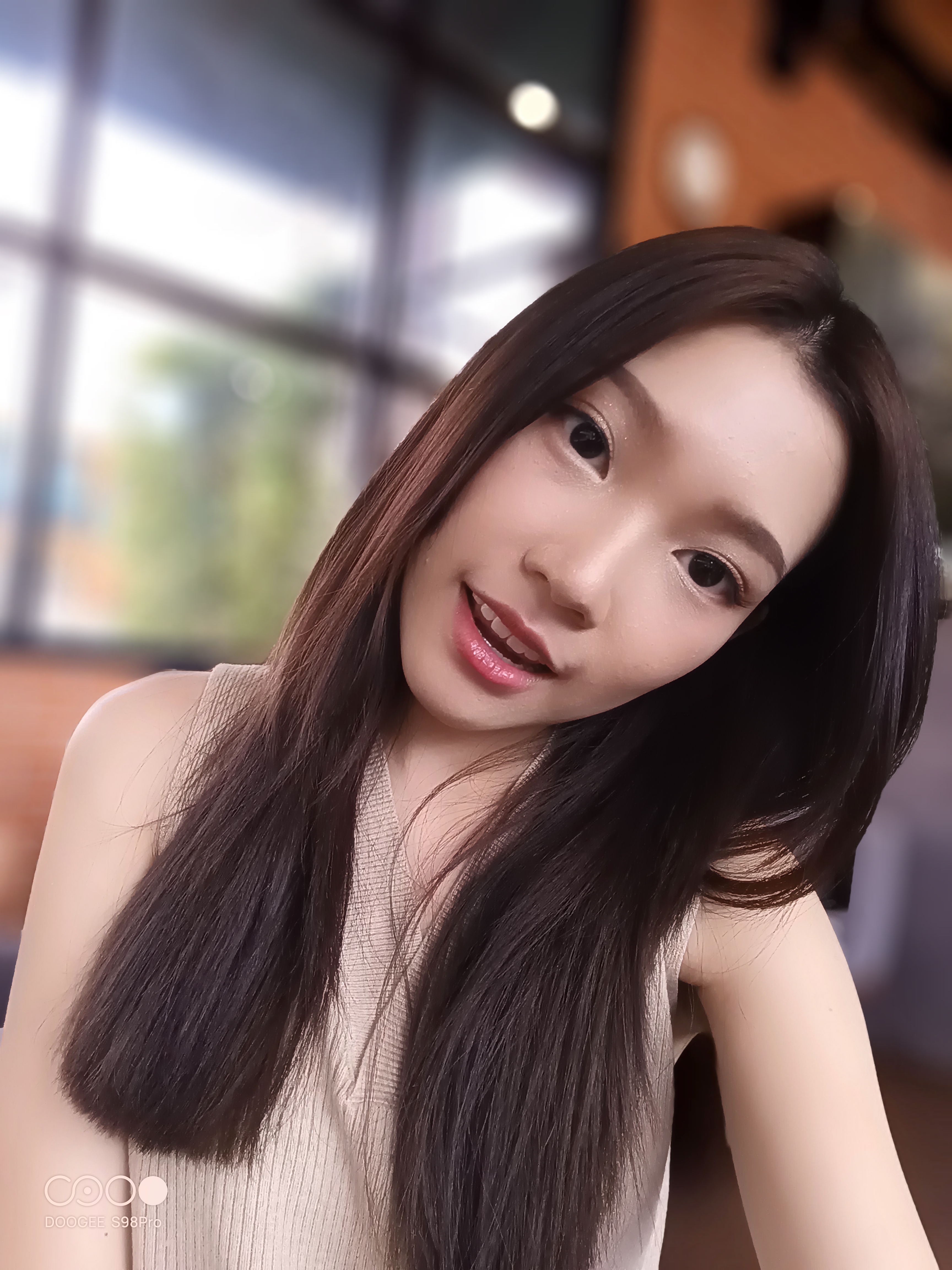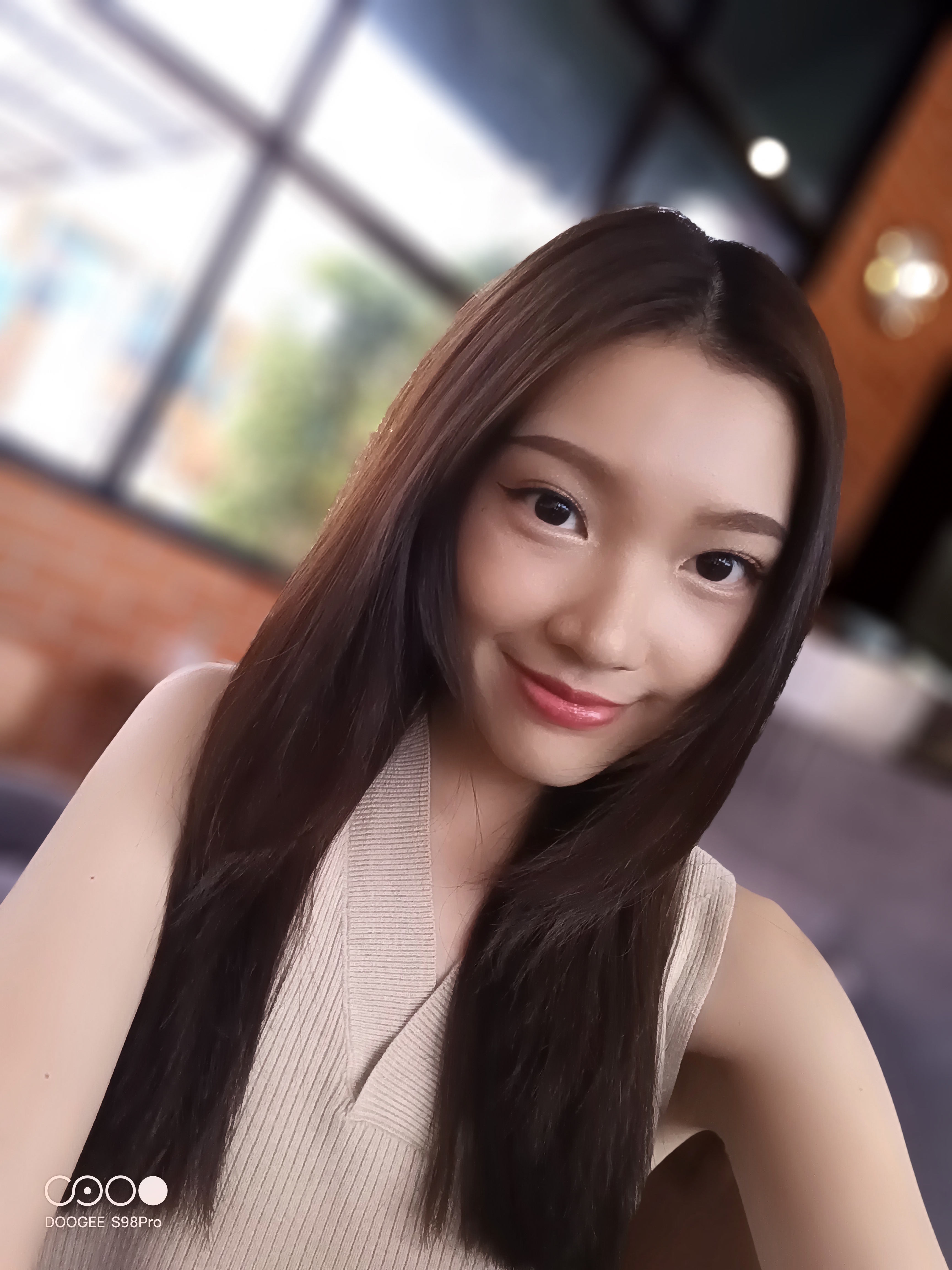 price and distribution
Doogee S98 Pro, the ultimate Rugged Phone with thermal camera power The price now is also considered attractive, with a price of around 11,000 baht (may change according to each promotion period), available in only black color. You can buy it through AliExpress or follow the link here. https://bit.ly/3bqZjy4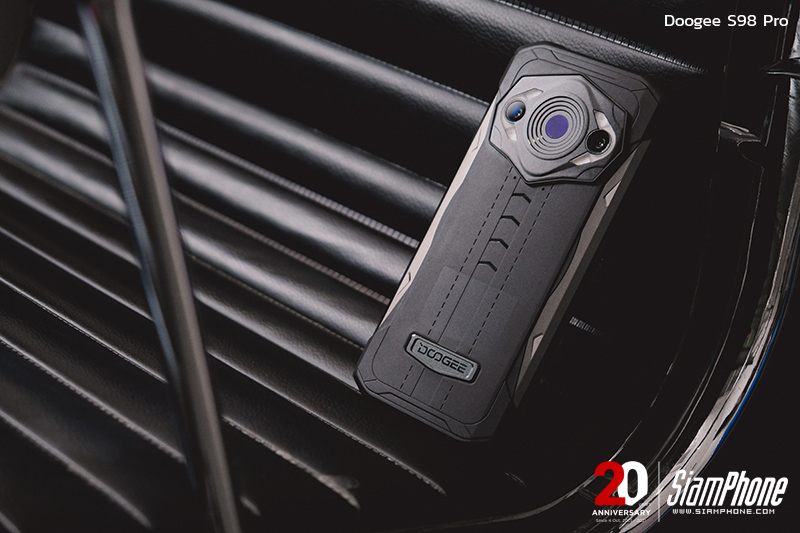 User Information Comment with: Doogee S98 Pro
Device catalog : https://www.siamphone.com/spec/doogee/s98_pro.htm