Another non-bank credit company is making its way to the Tel Aviv Stock Exchange. This week, Shelnir Business Consulting and Marketing submitted the draft prospectus for its issuance at Ahuzat Beit. The credit company, which is controlled by Lahav Sadeh (50%) and Nir Shoshani (50%), will seek to raise about NIS 30 million at a value of NIS 100-80 million (before the money).
Schlenir is primarily concerned with providing credit to companies against receipt of deferred checks, which were given to those companies by a third party. The company, whose main customers are small and medium-sized businesses in Israel, explains that the issuance of its shares will be used to finance its day-to-day operations, repayment of loans and debt replacement. In addition, it noted that in the future it will seek to expand its financial services and types of credit.
Read more in Calcalist:
As of the date of the prospectus, which Nir serves 303 active customers, the company's credit portfolio reached NIS 100 million at the end of 2021 and NIS 121 million at the end of March. According to the company's data, its average bad debts over the past decade have totaled only 0.15%.
Like other credit companies, Lanir reduced its marketing activities and credit portfolio during the Corona period – while lowering its reliance on large borrowers and spreading the portfolio to smaller borrowers (while charging higher interest rates). In this context, it stopped working with one of its sources of financing – a non-banking entity that provided it with interest-plus loans of Prime Plus 7.4%. Against the background of the change it made in the sources of financing, the company's revenues in 2021 decreased by 4% compared to 2020 – to a level of NIS 10.08 million. Its net profit jumped by 22% to NIS 3.3 million, compared with NIS 2.3 million in 2020. However, the company's activity in 2021 was lower than in 2019 (pre-Corona): revenues fell by about a third and profits fell by more than 40%.
Since December 2021, the company has a fixed dividend policy of distributing 30% of profits. Therefore, in 2020 it distributed a dividend of NIS 2.3 million, and in 2021 it distributed NIS 4.4 million – both higher than the company's profits in those years. From the beginning of 2022, it distributed a dividend of NIS 800,000. The company's cash volume and cash value amounts to NIS 8.6 million.
The prospectus also reveals that as part of Schlenir's engagements with credit companies and its disengagement from them in 2020, the company is waging a legal battle against the non-bank credit company Peninsula. In 2008, Schlenir signed an agreement with Peninsula, in which it was agreed that the latter would provide Schelnir with discounted check discounting services for its customers. According to Schnell, the parties signed a new agreement in 2018 under which Peninsula will bear up to 50% of the risk for financing checks of some of Schnir's customers.
However, Peninsula announced in early 2020 that it was canceling the agreement and would cease providing credit against deferred checks. Last year, Peninsula turned to the company, claiming that Shelnir owed it almost NIS 7 million for credit activity and interest against debt. The mediation attempt made between the parties this year was not successful – and Peninsula announced that Shelnir already owes her NIS 7.5 million. According to Schlenir's management, the joint liability agreement between the parties stipulates that if Schlenir has a debt against Peninsula, it amounts to NIS 2.7 million – after being divided in half due to mutual responsibility and neutralizing an amount of NIS 1.2 million, for which Schlenir is not responsible.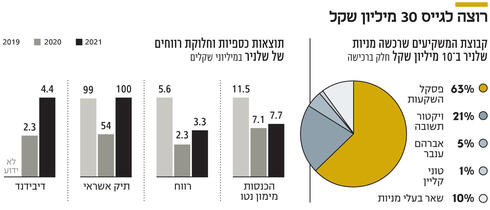 The largest investors in Schlenier are Pascal Investments, which was involved in investments in the kibbutz industry through the Katzir Fund, and Victor Tshuva. Their holding rate will be determined in light of the success of the offering. Tshuva has in recent years helped many technology companies enter the stock market through their merger into stock market skeletons, including Electrion and Ogwind, when he worked with Zeev Bronfeld and Yaron Yaakobi. The investment in the two companies, amounting to a few million, generated a profit of hundreds of millions of shekels – while the companies priced in a few million are traded at a value of 1.5 billion shekels (Electrion) and half a billion shekels (Augwind). Teshuva, however, was also behind much less lucrative mergers, including being in charge of merging the Axilion traffic light company – which plunged 85% in the past year after several failures in implementing its technology.
Unlike the companies mentioned, Schlenir's arrival on the stock exchange is not done through a skeleton merger, but through an IPO with the responsible underwriters being Apax and Rosario. In December 2021, Schlenir entered into an investment agreement with a group of investors, including Teshuva, which purchased 290,000 shares. Under the agreement, the company will allocate 1,363,363 shares to the group of investors for NIS 10 million (value of NIS 7.3 per share). If the value of the company after the issue amounts to less than NIS 100 million (before the money), Sadeh and Shoshani will compensate Tshuva and the rest of the investors in additional shares. In addition, the group of investors received options in the amount of NIS 1.64 million with an exercise price of NIS 7.92 (the share price at which the transaction was made with the investors). The options will mature upon the company's arrival on the stock exchange, and investors will be able to exercise them at any given moment in the next four years.
Schlenir is the 15th non-bank credit company to be listed on the stock exchange since 2020, after direct financing, Gamma, Gamla, Manif, Melran, Makhlol, Michman, Gibui, Barkat, Bull, Blender, Yont, Piment and Finance Value. In addition, two companies in the field have failed on their way to becoming public: Credit 24 and Trea (which is still trying to become public through a skeletal merger). Schlenir's direct competitors on the stock exchange are the Naoi brothers, Peninsula, Opel Blance, SR Accord and Michman. In order to differentiate Shelnir from its competitors, the company is exploring the possibility of launching a campaign in the coming months.