Moldova is interested in developing bilateral relations with Germany and counts on its support in carrying out reforms, fighting corruption and rebuilding the economy. This was stated by the President of the Republic, Maia Sandu, on September 29, 2021, following a conversation with President of Germany Frank-Walter Steinmeier during his official visit to Moldova.
Welcoming ceremony for President of Germany Frank-Walter Steinmeier in Chisinau (09/29/2021)
The program of his two-day stay in Chisinau includes participation in the opening of the Moldovan-German economic conference, meetings with Parliament Speaker Igor Grosu and Prime Minister Natalia Gavrilita, visiting the Museum of Ethnography and Natural History in Chisinau and the College of Engineering in the city of Straseni. Steinmeier arrived in Chisinau at the invitation of Sandu, who paid an official visit to Berlin in May this year.
Germany is a reliable partner with reliable investments
Speaking to reporters, Sandu said that "Germany has always been a reliable partner for Moldova." According to her, "the total volume of assistance from Germany, provided to Moldova over the past two decades, is 290 million euros." We are talking about infrastructure projects, energy efficiency projects, local and regional development.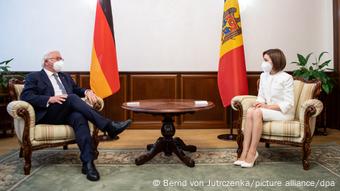 Frank-Walter Steinmeier and Maia Sandu during the visit of the President of Germany to Chisinau
Germany is one of the main trade partners of Moldova. "German investments provide thousands of jobs in more than 400 companies in industry and agriculture. And Moldova is ready for other German investments in various fields," Sandu said.
She also mentioned the recently signed agreement on the employment of Moldovan citizens for seasonal work in agriculture in Germany, thanks to which, starting next year, Moldovans "will be able to legally work in such jobs in Germany with the necessary social protection." In addition, Sandu stressed, negotiations on signing an agreement on the recognition of Moldovan driver's licenses in Germany will begin in October.
Stressing that the visit of her German counterpart falls on an important time for Germany "negotiations and the formation of a ruling coalition", Sandu expressed hope that Berlin will continue the course of developing and strengthening bilateral ties with Moldova.
"Moldova is a vivid example for the whole region"
"The EU needs stable and prosperous neighbors, and reforms in Moldova have become perhaps the most striking and courageous example for the entire region. We consider ourselves partners and advocates for this region," Frack-Walter Steinmeier said at a joint press conference. He said that he was last in Moldova five years ago, when he held the post of German Foreign Minister, and now he saw in the country "a new beginning that I want to support." According to him, Germany will transfer 10 million euros to Moldova for carrying out reforms.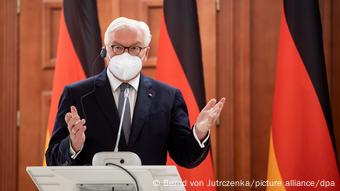 German President Frank-Walter Steinmeier during his visit to Moldova (September 29, 2021)
"We know that when it comes to reforms and the public sector, expertise is needed. It is equally important to ensure energy security, security of the healthcare system, cooperation at the regional level. In addition, we are ready to provide political support depending on the request," the president said. Germany.
He stressed that his country is still ready to invest in the economy of Moldova, where there are already enterprises with German capital, which have created about nine thousand jobs.
The President of the Federal Republic of Germany exposes fakes
Answering journalists' questions, Steinmeier called the information that appeared on September 29 in the press that Germany intends to cancel the visa-free regime with the EU for Moldovan citizens as a fake.
"I was surprised to read this message when I landed in Chisinau today. I turned to the Federal Ministry of Internal Affairs and found out that this was not true. The German government does not intend to change its position on the liberalization of the visa regime," he said.
See also:
.