Weak, discouraged, skeptical and unmotivated. We could say all these qualities about so many contestants in the game so far. But at this time they are most likely to moon. Until Kashti's ouster, we couldn't say any of that about him. But since then, a lot of things have happened in a fairly short period of time: the princess was dismissed, alliances fell apart, alliances were built, and one Guy Rosen who changed clans and became a reinforcement player in Baybain (not that it helped in the last mission, but it certainly wouldn't hurt).
"Survivor" participant reveals evidence: "Sahar Cohen broke the rules, made a pact with me before filming"
A collapsing tribe: if they don't make the right decision in Baybain, they will reach a union at a low level survival
In the not too distant past I complimented Sahar on the way he plays and claimed that I would be surprised if he didn't go far or at least to the Union. The problem is, I've seen him in all situations so far, except for a personal loss. I'm sorry, but with all due respect to his respectable way in the game, it doesn't seem like he's letting up on the elimination, even though the time to overcome such a thing for most contestants to date should have passed a long time ago. For Sehar, they may have actually taken half of what he had on the island, but they really didn't take all of it.
In any case, the balance of power among the losers has changed. Casey, carrying out her plan of the century, attached Shikar Valit to her, and possibly the new Guy as well. This thing leaves Sahar alone and Maya Kay as a floating voice. But, if that wasn't enough for you and you wanted more of this goodness for Casey's alliance, don't worry, the production is here to help. How lucky that this time Guy Shikar rose to the top of the decisions and received a bombshell of a hint for an immunity statuette.
Unlike other times, Guy Liar (who, as I remember, never learned to lie) finally does the unbelievable and teases the members of the tribe who were waiting for him with all kinds of jokes about a meal he missed. Apparently the hunger of the tribe members took its toll, because I couldn't believe that anyone would buy this bullshit, and in a way that simply reveals to him all the clues that he needs to find the statuette.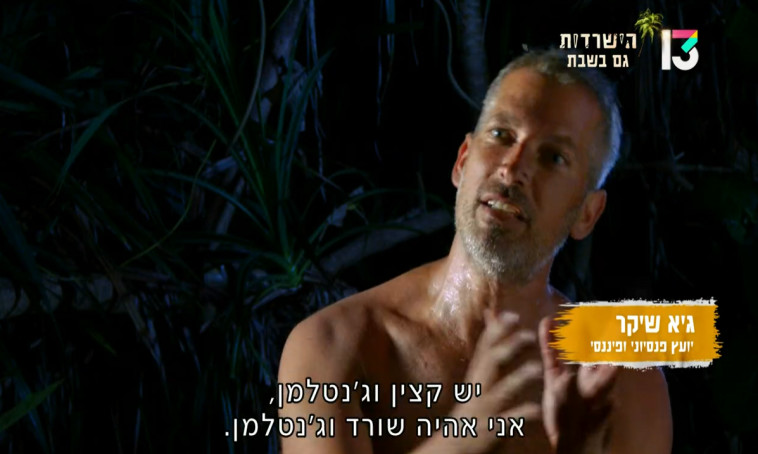 While the tribe tries to focus on the upcoming immunity mission (third in a row if I'm not mistaken), Sahar is still busy with unnecessary emotional wars and is on the crosshairs of almost everyone. He is even on the crosshairs of Tagalog. I have to admit it feels like Sahar just wasn't with us when Keshati was in the game. She deserved the relegation.
At the last tribal council, everyone admitted (including Sahar) that she was the laziest, everyone admitted (including Sahar) that she was the whiniest, and everyone admitted (yes, once again, including Sahar) that she was the most annoying. With such answers, how could Sahar be surprised? How long did he expect them to do a favor and keep it?
Finally, I would love to see Sahar initiate some sort of underground move that could leave him in the unification phase without Alit and Maya. I'm sorry for both of you, but in my eyes floating voices in the game = you don't exist. In any case, the main thing is that the tribe in the next council chooses correctly, because if not, the title of losers will stay with them forever.