After Castro broke the clothing market with an unprecedented operation that caused huge riots and chaos in branches across the country, the Victory chain is also coming to break the meat market. Their new sale offers steak entrecote for NIS 19.99 per kg (instead of NIS 99), but not all customers are so enthusiastic.
One of the followers on Facebook wrote: "Victory is sorry to tell you that today I bought the steak and I was disappointed to the extent of the sole of an edible shoe. I did it better on the fire. I did it on the griddle and also in the oven. It's disgusting. You can't eat at all. I'm sorry for your big disappointment."
More in-
Another wrote: "They're just liars, everything is regretful. I'm talking to them but trying to check where some say they don't know.. I tried calling the branches, none of the branches are working and their customer service even then I told them they tell me so go check at the branches… don't believe everything is a lie and regret" .
It should be noted that it was explained in the banner published for the customers' reference: "Boneless entrecote steak, processed and thawed, kosher rabbinate/part rabbinate". The condition for receiving the benefit is a purchase over NIS 200, which does not include tobacco products and the item in the sale, limited to 4 kg per customer, kosher depending on the branch.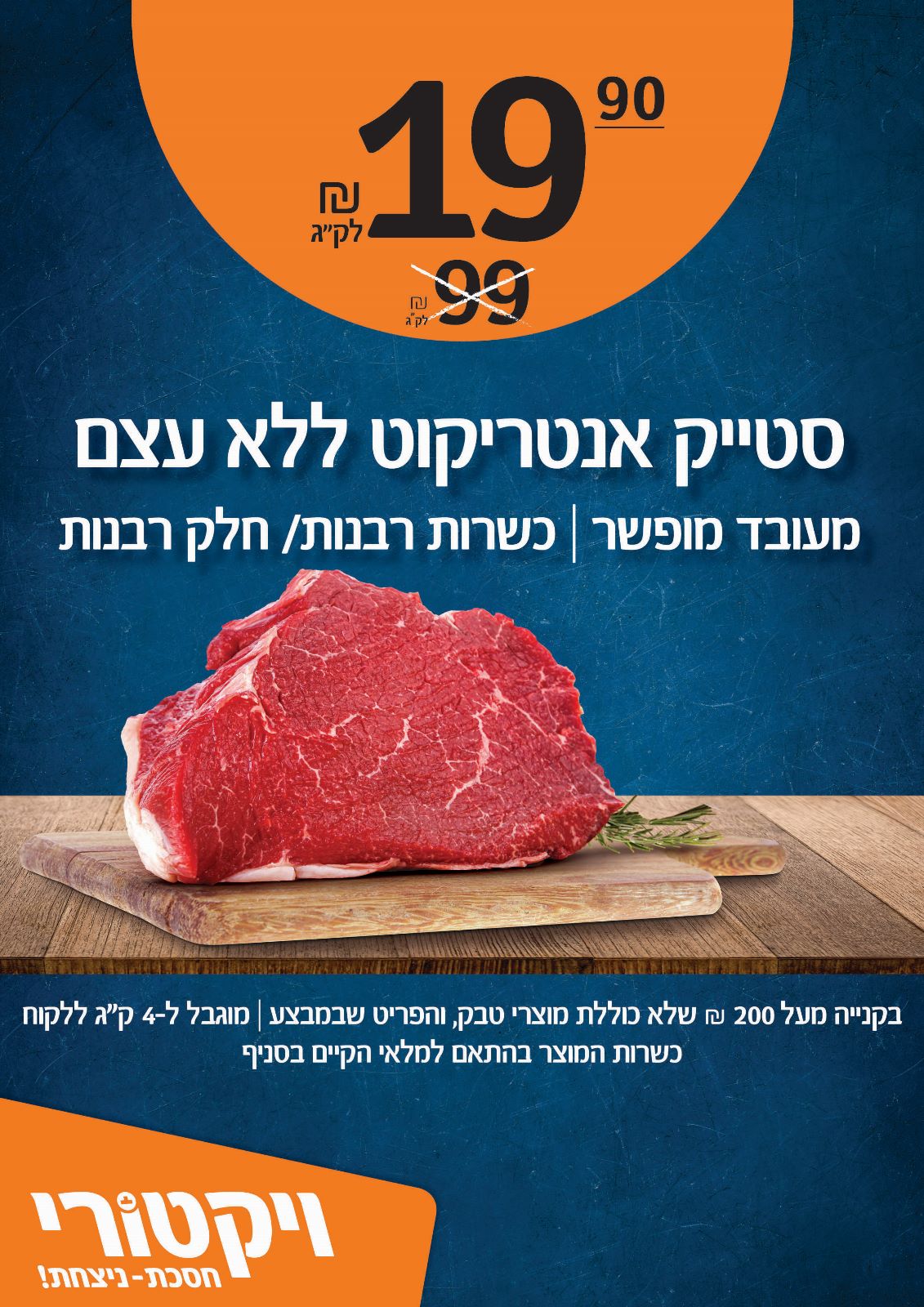 The responses to Victory's post on social media read: "Are you sure it's an entrecote?", "Why not put an entrecote in the picture, for example?", "The stock must have run out," "My mother-in-law asks if it's about seconds or minutes of expiration," "It's frozen and processed 40 per kilo without buying," "This is thawed meat, which means it cannot be frozen again. It will only suit those who want to eat a kilo of entrecote in the next two days."
Comments to the article(0):
Your response has been received and will be published subject to the system policy.
Thanks.

for a new comment
Your response was not sent due to a communication problem, please try again.

Return to comment