Flamenco in Amsterdam has the appearance that one imagines of this city when flying over it by plane. It is deconstructed and rebuilt. He claims, in every corner, himself. The young coexists with the old, and the fog, that's for sure, does not prevent us from contemplating its beauty, embers of contemporary and past times open in a channel so that what is alive flows through all the corners of the city. The Dutch Biennale kicked off last weekend and will continue with an intense program of concerts and activities until next February 9. A festival that finally abandons the streaming that it used as an escape route in the midst of a pandemic and that follows the unusual path that he inaugurated in 2006: making the Netherlands a patrician girl of avant-garde flamenco.
This edition also bets on the vindication of the roots from the contemporary. Farruquito, Alfonso Losa, Maria Moreno, Florence Oz, Israel Fernandez, Joan of the Pipe, Diego Del Morao, Dani de Moron and Vanesa Aibarwhich presented 'Queen of Metal'They are some of the protagonists. This latest production, in which flamenco dance meets the experimental and seeks common ground through percussion, is the only own production of the event. For the staging of the world premiere, it took a whole day of work at a gallop: kilos of iron chain in the scenery, with which he manages to dance as if it were a shawl, a theater converted into a corral to achieve an experience immersive and countless instruments found with electronics that ran at the controls of Enric Montfort.
Among all the protagonists that make up the festival, however, there is one that stands out above the rest. He has curly hair, many many ideas and a Biennial under his direction:Ernestina Van de Noort.
He studied French and, in 1986, through the halls of the institute, he heard Spanish. He charmed her. She went down to Andalusia and was seduced by the summer festivals. She turned around and studied Spanish to be a translator. Fascinated by the language and history, she savored the end of a golden generation: «I presume to have seen great performances by Fernanda and Bernarda de Utrera. To Chocolate, Manuela Carrasco, José Menese and a young José Mercé replacing a Camarón in Écija apologizing for stomach pains at 12 at night. Of everything. At the Amor de Dios academy, in Madrid, I danced for three months, but I didn't like the competitiveness, so I started dancing salsa. I organized a couple of Cuban music festivals in Amsterdam and then the opportunity arose to do an event of something else. What happens to you, they told me. And I chose flamenco. Until today".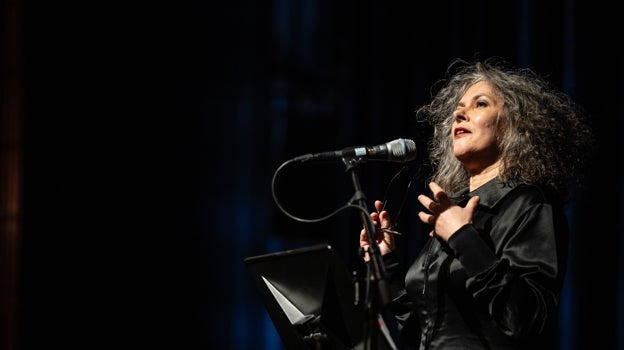 Behind the scenes, he also boasts: «Here the peel It has filled a theater with 1,500 people. The collaboration of Farruquito It had something to do with it, but I felt proud that cante occupied that space. We have experienced many special moments since 2006: the rise of Israel Galvan and Andres Marin and now that of Vanesa Aibar, who has come up with one of those creations from which we take heart and which has been very well received by critics and the public. El Pele throwing a gold watch at Morao's feet, Miguel Poveda with Moraíto and Luis El Zambo embracing each other with a very special chemistry… That, in 2008, worked so well that Moraíto named me Empresa and I just had to accept the nickname. There have been many experiences."
Juana la del Pipa, Queen of the Netherlands

The first night of this edition was dedicated to cante. Juana la del Pipa doesn't like lasagna, but she takes care, after the performance, that no palmero lacks a plate. La Tata, as they say, has succeeded in this framework. The packed Muziekgebouw aan 't IJ theater has paid homage to a cantaora who oozes art offstage. Many in Amsterdam don't know who the Jerez woman is. The majority. But everyone knows, without arguing, that that gypsy is something: her look, her image around the hotel, her hair up, the quiet virulence of her hands and, above all things, the voice of she between cinders
Diego del Moraowhose guitar is about to express itself with words, and Israel Fernandez They were the claims of the opening, but due to their own merits they ended up giving up more space than a guest artist is supposed to. A seguirilla announced the deathly: "Call me a doctor", she asks her with an echo stained with fatigue and her heart tied to the cattails. Just a little bit of screaming comes out of his mouth, but enough blood reverberates inside him for the public, standing upright, to understand everything beyond the language barriers, which are plains if hunger flattens. From the seguirilla del Marrurro he goes on to tangos, where he gets up and makes the audience go crazy. She will also close the vestiges of a memorable party through bulerías.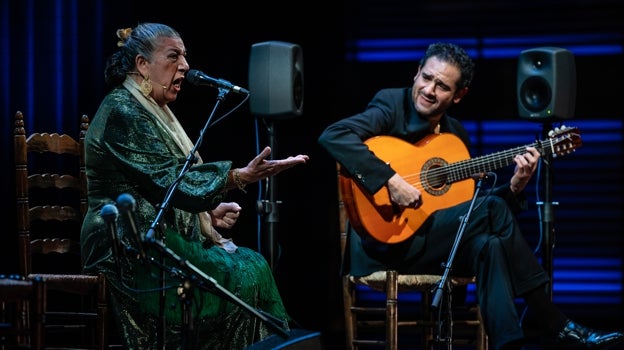 At the exit, many attendees ask for photos. Some are astonished, who admit they have never seen such a high degree of savagery. His expression is always the same: yes, thank you very much, I want to sit down. And he tells, after a colleague shows him the video of his most recent intervention, the key to his success:
"Once, traveling to New York, Those on the plane, who already knew me, left me four free seats so that I could lie down. At the last minute, a mulatto sat next to me. Go for God. I wanted to be polite and wait a bit to give him 'nods', but a few minutes after taking off… Boom, boom», and he nods like someone who sleeps sitting up. «As a reward for the trip I gave him, I gave him a ticket for the City Center. He waited for me outside the theater crying. The next day, she returned with the whole family. He knew this gypsy was something, but he had no idea. He told me that I was like Louis Armstrong. The media put that no, that Tina Turner. But that man was clueless and he told me that he had broken her forever ». His cante, above an exorcism, is a surprise.
And so tradition and avant-garde followed one another between afternoons of wine and mornings of a stingy sun. With sold out tickets and excessive applause. This Bienal has established itself in the flamenco festival circuit as an extraordinary rarity. Have, depending on the show, different audiences, delivered all of them to the artistic fact. Some are Spanish, but not all. And the atmosphere, in general, is well explained by the skyline of the stalls, in which 'Crocodile Dundee' hats, wool caps, bald heads, toupees, gray Afro hair, blondes and jet black hair of various shapes share space . An eclectic milkshake that many young people would define as random and that nourishes the recipe for a different festival. Of traditional heterodoxy and with many steps to walk.