the letter you wrote Baldomero Lopez, with an American passport, but a red heart, to his Asturian father before landing in Korea was prescient. In it he asked her to be strong if they confirmed that he had fallen in combat. It was the last time she initialed her signature. Barely a day later, this American of Hispanic origin gave his life when he threw himself on a grenade to protect his platoon mates. He thus became a Marine with capital letters; a hero who earned the Congressional Medal of Honor and who is still remembered and honored by the United States Army today.
His life, like that of so many other heroes with a Spanish accent, has been forgotten. This is confirmed to ABC alexander casal, of the Historical-Cultural Association ARHEM. Although he also insists that groups like his make an effort every day to bring them to light. And it is not a bluff, nor cheap propaganda. Three years ago, the president of ARHEM, Vincent Suarez, it was proposed to investigate the figure of the good Baldomero. The result has been the inauguration of an exhibition in his honor in San Román (Candamo) and the celebration of a tribute in honor of the soldier, which was attended, at the beginning of September, by members of the US Marine Corps and a delegation from the Ministry defense.
From war to war

In the heat of an August in Florida, our Baldomero López was born in 1925. His father, also called Baldomero, had emigrated to the United States in his youth from Asturias and had instilled in him a love for the land that had remained on the other side of the Atlantic. The militia knocked on his door shortly, in the middle of World War II. The boy, a sports lover at school, was still experiencing that military 'boom' caused by the infamy of Pearl Harbor. However, by his brother's admission, he was told that he was too "skinny" for the army. "He did not give up and worked at home until he was ready," confirmed that relative.
In the end, Baldomero enlisted on July 8, 1943, when the United States had already initiated Operation Bolero and the consequent sending of resources to Great Britain to orchestrate the future Normandy Landings. The chronicles define him as brilliant and shy. Glenn Barrington, one of his former classmates, confirmed to 'St. Petersburg Times' that he was "popular, intelligent, and had a reputation as a good guy." He always remembered him as a nice guy with a sharp sense of humor that came out at the most opportune moments. He, too, was a hard worker, as evidenced by his being selected for accelerated military training as an officer.
Although he lived little World War II. "He graduated in 1947 and, later, he did the eight-month course for US Marine Corps officers, where he graduated in 1948 as a 2nd lieutenant," Ocón told ABC. He then spent a year in Shanghai, after which he arrived at Camp Pendleton. There he was hit by the beginning of a conflict that had been simmering since the separation of Korea into a regime backed by the USSR (to the north) and one defended by the US (to the south). In June 1950, communist forces invaded capitalist Korea and pushed their contingents back to the south of the peninsula. The response of the North Americans was blunt: gather a combined UN army and start the reconquest from Incheon after an amphibious landing.
"López volunteered to go to the conflict and became part of Company A of the 5th Marine Regiment," adds Ocón. His first and last performance in the conflict occurred in the aforementioned Incheon landing. It was September 14 and he had just written a letter to his father asking for cigars when he prepared to leave his barge first, platoon leader that he was. "When you worry about me, remember that no one has forced me to accept this fate," the letter read. 'Baldy', as he was nicknamed, was part of the second wave, but that did not free him from danger. Within a minute, he ran into a boardwalk defended by several bunkers that he had to overcome. "Follow me!" he yelled at his men.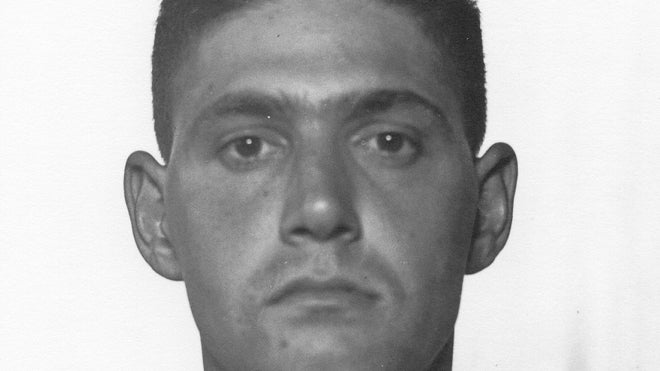 And misfortune happened, as reflected in the citation of the Congressional Medal of Honor that was awarded to him posthumously:
"Exposing himself to hostile fire, he advanced past a bunker and prepared to throw a hand grenade […]. Hit in the right shoulder and chest as he raised his arm to throw it, he fell backwards and dropped the explosive. […] Critically ill from pain and blood loss, and unable to grip the hand grenade firmly enough to throw it, he sacrificed himself rather than endanger the lives of his men and, with a wave of his wounded right arm, he put the grenade under him and absorbed the full impact of it."
-Although he was not born in Spain… can we say that he has a red-and-white part?
Undoubtedly, Spanish and Asturian blood ran through López's veins. His father, of Asturian origin, was born in San Tirso de Candamo, a small town in central Asturias that emigrated first to Cuba and then to Florida at the beginning of the 20th century.
-What was your brief participation in the Second World War?
He enlisted in the navy in 1943, and in 1944 he was sent to the naval academy, graduating in 1947. He practically spent the war preparing to be an officer in the navy.
-A bit of context… What did the Korean War mean for the United States?
It was a brake on communism after World War II. Starting in 1945, the Soviet expansion of Eastern Europe extended to the rest of the continents and territories such as Cuba, Korea, Indochina, etc. The USSR wanted to extend its influence in Europe (Italy and Greece), in Africa (Egypt and the Arab countries) and Korea. After China's intervention, the front was stabilized and the current border was marked. Although the communists continued their Asian expansion in Indochina and unsuccessfully tried to control more countries in Southeast Asia.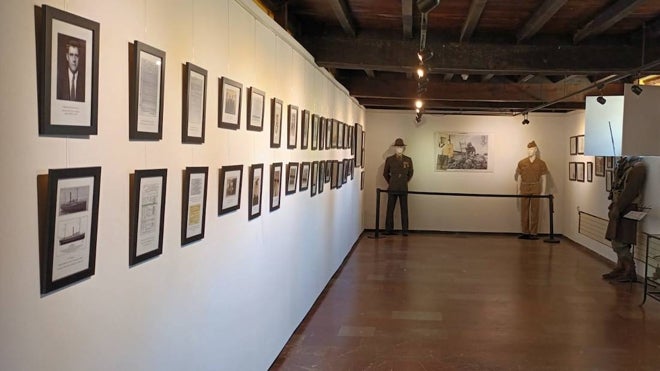 -How was his death and why was it so remarkable as to be decorated?
His death took place in the amphibious assault on Inchon on September 15, 1950. It was around 6:00 p.m., in the 'red beach' sector, when he was preparing to neutralize a machine gun bunker with a hand grenade. As he raised his arm to throw it, he received two bullet wounds in the chest and another in the right arm. His blows caused her to fall backwards between his men with the activated grenade. Being unable to throw it again due to his injuries, he hid it under his body to prevent the blast from reaching them. This is how 1st Lt. Baldomero López died at the age of 25. For this act he was posthumously awarded the Medal of Honor in 1951.
-What involvement did your historical association have in this September's event?
The ARHEM association, since 2019, had planned this exhibition. The idea was to hold it in 2020, but the pandemic delayed everything. It would have been nice because it was the 70th anniversary of López's death, a round date to honor him. In any case, we have worked a lot. His president has investigated the personal and family life of this marine. To the point that we have obtained documents, photos and contacts thanks to the collaboration of his relatives in the United States and Asturias.
The exhibition has involved a great deal of documentary compilation on Asturian emigration to the United States, the Korean War and López's intervention in the Inchon landing. The involvement has been total in terms of research, permits, installation, suppliers, management, explanations to the public… The partners have responded by coming every day to monitor the facilities and offer explanations and information to visitors who came to the living room.
«At the Quantico (Virginia) Officers' Military Academy, they award a prize to the best officer of each company; and this award is called Baldomero López»
-There is an award in his honor in the United States Army…
Since his death, the Quantico (Virginia) Officers Military Academy has awarded a prize to the best officer of each company; and this award is called Baldomero López.
-Why has your story gone so unnoticed in Spain?
The same thing happens to him as to many other stories of emigrants in America. But thanks to Associations such as ARHEM and Sancho de Beurko, in Euskadi, who investigate to bring to light these anonymous heroes of the Second World War and other international conflicts, the society of this country knows about them and can remember them more frequently. I must add that these types of stories have always been rejected. Everything related to the military or military history has been viewed with suspicion by political institutions. There is a fear, fear, and rejection of all military history, whether Spanish or foreign. How is it possible that heroes like Blas de Lezo, Astray, or any of our conquerors or heroes of the reconquest do not have a worthy series or movie that enhances their exploits or their figure? The few that are made on this subject always put the Spanish as scoundrels and murderers.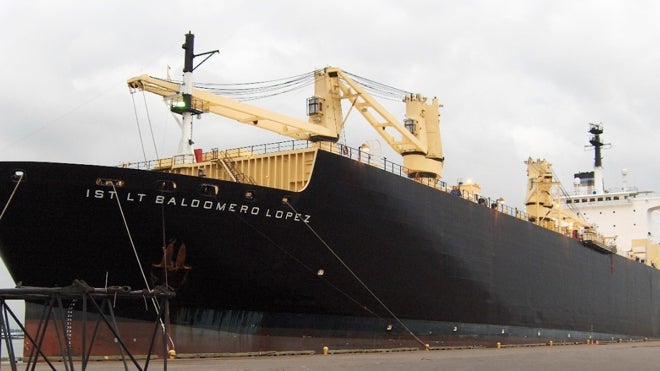 -Do recreation groups like yours help to remember these heroes?
Since the foundation of ARHEM as an association in 2008, one of the premises that has guided us has been the dissemination of history. But also the knowledge of the people who have participated in the armed conflicts of the 20th century, whatever their side. Periodically, talks are held in institutes and schools explaining the campaigns, the teams and what life was like for the young people who participated in them. Several Asturian figures who participated in World War II, in the American, British, Soviet army and in the Blue Division are currently being studied.
-Are groups like yours necessary so that history is not forgotten?
Recreation groups bring history closer to the public by focusing on it in another way, showing what the vehicles, equipment, food, health, training of men and women were like…. It is a more dynamic way that the public can touch . With us you can see 'in situ' what it was like, for example, a radio from the Second World War; or see what the food rations were like at that time. It is different from the books.