On a train making its way through the English countryside, a Chinese-Mandarin-speaking woman's voice announced Bicester Village – a designer outlet center near Oxford. There, Chinese-speaking staff stood by in high-end fashion stores, from Burberry to Tory Burch. But among the owners, this language is no longer heard often.
Chinese tourists, once the biggest driver of luxury sales, have all but disappeared from Europe's shopping centers since China closed its borders in 2020. With no clear date for their return, retailers are having to come up with new tactics.
Instead of easy-to-sell items to high-speed tourists, sales teams now have to slow down and tailor their services to more discerning locals.
This is a dramatic change for a sector that previously focused on serving Chinese tourists. In the decade before the corona hit, Chinese consumers became without a doubt the largest buyers of luxury goods in the world, and were responsible for a third (93 billion euros) of all global sales, according to Bain consulting company.
But they only made a third of those purchases inside China. The rest they did by traveling abroad, especially in Europe. The Chinese shoppers felt that buying from the European flagship stores was more authentic, and it was also much cheaper: they could benefit from European discounts and make tax-free purchases. As a result, the Chinese tourists became the buyers of the high-end luxury goods the most per capita among all travelers, and before the epidemic represented two thirds of the sector's sales in Europe.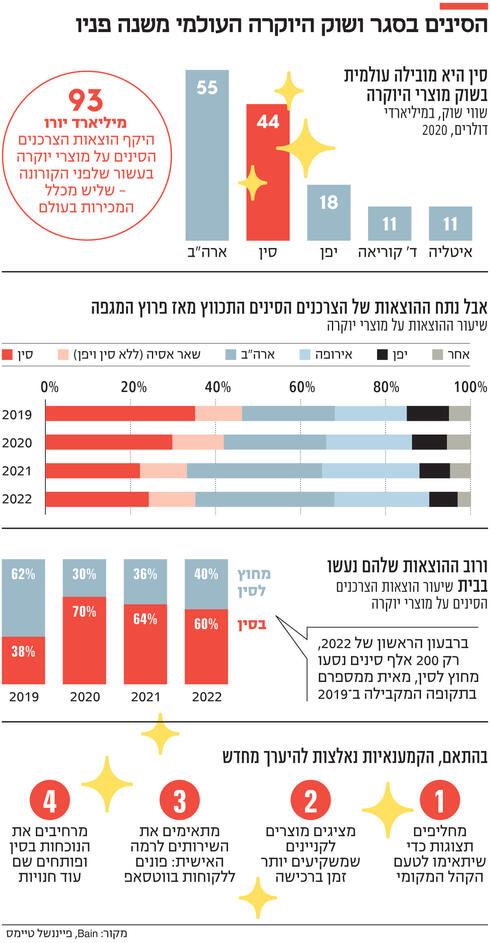 "Before the pandemic, it was like shopping on steroids," said Achim Berg, global director of McKinsey's luxury group. According to VisitBritain – the British Tourist Board, in 2019 the Chinese made up only 5% of non-EU visitors to the country, but they also represented 32% of all tax-exempt purchases, according to data from Global Blue – a tax refund company for tourist purchases.
"Retailers have really built the shopping experience around the Chinese tourists," said Claudia D'Arpizio, Bain's director of global fashion and luxury. Not only have the retailers hired a team of Chinese speakers, they have also focused their displays on products favored by Chinese shoppers, particularly handbags, which those hurried tourists can pick up quickly, unlike clothes, which need to be measured.
Jingjing Zhou, a sales assistant at the Parisian department store Galeries Lafayette, was one of those recruited before 2020. "It was the best time to enter the sales industry," Zhou said. "Very few Europeans learn Chinese, so as a student abroad you can get hired, make great sales and then get a permanent contract. Today, it is no longer so easy for my friends to enter this industry."
The biggest booths at Galeries Lafayette—from LV to Longchamp—have at least one Chinese speaker on duty, but these days, Zhu mainly uses her French. In the first quarter of 2022, only 200,000 Chinese traveled outside of China, one hundredth of their number in the corresponding period in 2019, according to the Chinese Outbound Tourism Research Institute.
While luxury groups such as LVMH have greatly increased their overall revenue during the pandemic through sales in China, they have had to change tactics in their European stores to attract more local shoppers.
"It's obviously quite expensive. All the money has now gone into training because the whole shopping experience has changed," D'Arpizio said.
A recent surge in tourism from the Middle East, as well as visitors from the US who rely on the strong dollar, has helped fill stores. Eduardo Santander, director general of the European Travel Commission, said the lack of Chinese tourists had left the many luxury retailers that relied heavily on them with "a huge sense of loss ", but this led to "a huge effort being made to diversify".
Retailers have begun to tailor their services down to the personal level. During the corona closures in Europe, sales assistants in stores contacted customers via WhatsApp with personalized recommendations. Berg sees "a possible scenario of returning to service and store management as it was done in the nineties, using the little black register that contains all the addresses and preferences of the customers".
"Now much more needs to be done to attract local customers," Berg said. "They can get back to you, they have more time to spend, compared to the international customer who was determined and handled directly." Zhou said the local buyers at Galerie Lafayette are "detail-oriented." "The Chinese tourists, on the other hand, are happy with the existing inventory."
Industry analysts expect Chinese tourism spending to return to pre-coronavirus levels by 2025, but such forecasts depend on Beijing softening its commitment to its strict "zero-coronavirus" policy. And Chinese shoppers are not expected to be a dominant force in the main European shopping streets as they were in 2019. Instead, it looks like much of their purchasing power will stay at home.
According to Yauk Group, a Shanghai-based company that deals in high-end lifestyle consulting, during the epidemic, the luxury purchases of Chinese consumers went from 70% abroad to 70% in China. ", said Ting Zhou, founder of Yauk Group. "But in the long run, it will not return to the proportion of 70-30. It's more likely to assume something like 40-60."
To make the adjustments, luxury retailers are expanding their presence in China. "The next step is to penetrate the cities that are the next thing outside of Beijing and Shanghai," Zhou said. Galeries Lafayette, which was forced to close a branch built specifically for Chinese buyers, plans to open its first store in Shenzhen in 2023.
China-based retail sales fell in the second quarter of this year due to a series of tight shutdowns in Shanghai and Beijing. But in the medium term, forecasts show that the overall dominance of Chinese consumers in the global luxury market is increasing.
According to Bain, in 2020 China was the only luxury market in the world that expanded from year to year. And the share that Chinese nationals were responsible for out of all global sales reached 46% in 2021, Zhou said. "China is the market that remains at the heart of the luxury business and that they will not give up," she said.