The rich and the poor have something in common in The Squid Game – life is not a joy for them. Some do not know how to feed their loved ones, others languish from satiety with life. Why not bring these two worlds together and see what happens? So hundreds of poor losers in "The Squid Game" become entertainment for bored rich people. The rules of the game are extremely simple. Six rounds in total. The losers in each round are eliminated from the game – they are killed. The winner becomes a millionaire.
The series, which has become the most successful in Netflix history to date, is built on simple children's games in which, however, life and death are at stake. Innocuous tug-of-war or brisk running across the field become survival games where every wrong move can cause you to get shot in the back of the head.
But even more chilling are the insidious psychological techniques that force people to remain in a secret tournament and move from one level to another. For the gentle creatures in the audience, this South Korean drama may seem overly violent. But he is curious in how he reflects modern – and not only East Asian – society.
Socio-critical and aesthetic spectacle
Seoul-based director and screenwriter Hwang Dong Hyuk, creator of more than a dozen short and full-length films, came up with the basic idea of ​​Squid Game back in 2008, when he himself, according to media reports, was in financial difficulties. The story of a secret survival tournament seemed too brutal and unrealistic to potential sponsors, and therefore he could not find producers for his idea for a long time until Netflix became interested in it in 2019. And then a pandemic came and the gap between rich and poor became even wider – against this background, the idea of ​​the series suddenly acquired new ominous relevance.
The series is built on the opposition of harmless children's games and deadly and unprincipled games
The series is surprisingly accurate in describing South Korea's social problems, according to film critic Sulgi Li, a fellow at the Free University of Berlin and the Vienna Academy of Fine Arts, and curator of Korean cinema programs. "Jobs are being cut without regard for people, foreign workers are exploited and de facto deprived of all rights, hierarchical structures are becoming more rigid. With the onset of the pandemic, there are more reports of suicide among people without any social security. I think a similar social the trend exists globally, but it is more acutely felt in South Korean society. "
The society reflected in the series is shown in all its multi-layered social diversity – unemployed and labor migrants, fugitives from North Korea and gangsters, businessmen and thieves, doctors and students. All of them have no chance "outside", because society brutally deals with losers. That is why all those who survived the first round continue to play. Because, as one of the episodes of the film says: "There are two hells. And the worst of them is reality."
The Squid Game continues the tradition of stylized violence in the spirit of Quentin Tarantino, where the bloodiest orgies do not evoke disgust or horror. The brutality of the South Korean TV series is more psychological and is created through the opposition of harmless children's games and deadly and unprincipled games. "A simple but very effective technique," concludes the film critic Sulgi Li.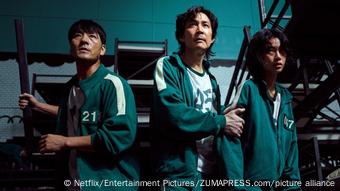 The deck of characters is reshuffled in each episode: confederates become enemies, and not always the strongest survives
He explains the popularity of the series among a young audience by the fact that the series "Squid Game" is very similar in structure to computer games, in which deaths are recorded, trophies and points are collected, and where you also need to move from level to level.
But predicting what will happen next in Squid Game is not so easy. Screenwriter Hwang Dong Hyuk skillfully plays with the audience's expectations and keeps them from getting bored. The deck of characters in the series is shuffled and reshuffled in a new way in each episode, and allies suddenly become enemies, and not necessarily the strongest wins.
The dramatic drama of this series in general for Korean cinema is driven by the cultural and political realities of a society that is both traditional and modern, says Sulgi Lie. "For films and TV shows, these many conflict zones are very interesting. And their radical drama is due to the fact that there is tremendous tension in society."
See also:
.