If you thought that the 240 tire that the Triumph Rocket 3 mounts is already of considerable width, wait until you see the latest release from China that directly attacks the medium displacement custom motorcycle segment, la nueva Xiangshuai Wolverine XS 800, a cruiser based on its twin sister, the Traveler XS 800, which stands out for its huge rear tire.
The latest launch of Xiangshuai ridicules the 240 mm of the already enormous rear wheel of the Rocket 3, a motorcycle that is equipped with a gigantic inline three-cylinder engine with 2.4 liters of displacement and 167 hp. In the case of the Wolverine XS 800, the rear tire is… 360mm!
Yes, you read correctly, this Chinese model comes standard a tire 36 centimeters wide (360/R18) mounted on an 18-inch wheel; There are only two brands in the world that offer such a large tire for a motorcycle: the Thai Vee Rubber and the Chinese Kingtyre, and it is the latter that is in charge of supplying this huge 'donut' as standard equipment for the Wolverine XS 800.
Leaving aside its greatest hallmark, this Asian custom is powered by a in-house V-twin engine that occupies 799 cc, is liquid-cooled, uses electronic injection and has four valves per cylinder. Its benefits are nothing special: it develops 51 hp at 7,000 rpm. and its torque is 59 Nm at 5,500 rpm, reaching a top speed of 160 km/h.
The chassis is made of aluminum from tubes, and behind we find a single-sided swingarm of the same material that has been forged in a gothic design, very metal. For the transmission, Xiangshuai has chosen to leave the chain aside and mount a toothed belt that does not require maintenance, although it does require periodic replacement.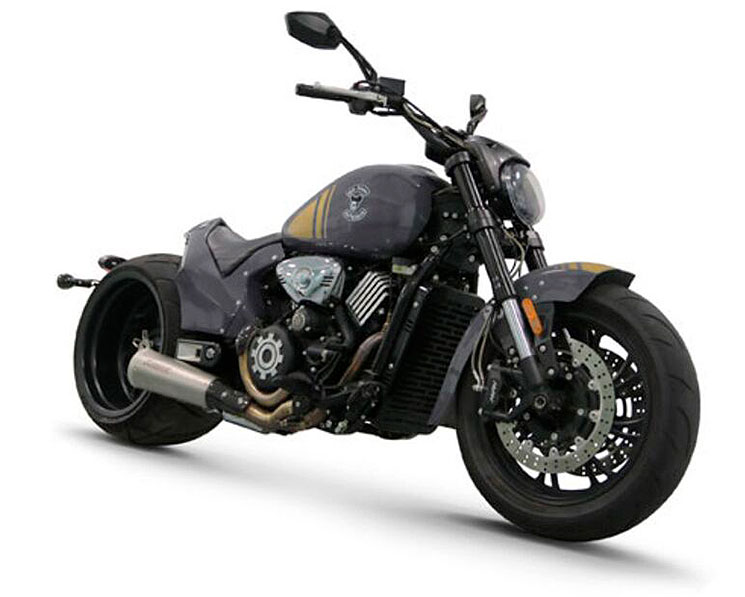 The motorcycle declares 288 kilos of dry weight, a high figure but one that is within logic if we take into account the type of motorcycle it is. The chassis is standard on this type of bike, with an inverted front fork, four-piston radial calipers and an exhaust system that appears to be developed by Akrapovic, finished in titanium. All lighting is LED type.
Xiangshuai has already put this impressive cruiser up for sale in its domestic market for a price of 9,500 euros (69,800 yuan), and at the moment we have no news about its possible landing in Europe, an arrival conditioned by its adaptation to the emissions of the Euro5 regulations and the installation of a non-existent ABS system in the model that will be sold in China, where this system is not mandatory. security.
Read also: (Video) They create a motorcycle with two split rear wheels… will it work?